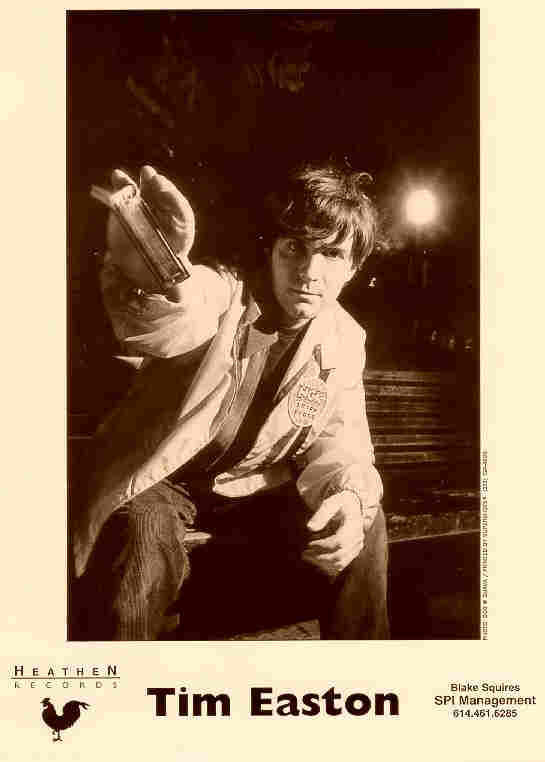 [Tim Easton" Lyrics]
[J.P. Olson & the Haynes Boys "Burn Barrel" Lyrics]
[A letter from Tim]
"Special 20"
Release Date July 28th 1998
Track Listing:
1. Just like home
2. Special 20
3. Torture comes to mind
4. Troublesome kind
5. All the pretty girls leave town
6. Everywhere is somewhere
7. Help me find my space girl
8. Sweet violet
9. Hey Rosine
10. Rewind
With a '47 Gibson and a voice of equal distinction, Tim Easton's knack for modern day story telling invites you on his debut solo album Special 20. His writing has been compared to John Prine and his stage delivery is reminiscent of a young Bob Dylan. Among those who have recognized Easton's skills are Richard Buckner, Mark Eitzel, and the late Townes Van Zandt.
Taking a break from his front man duties in Columbus, Ohio's Haynes Boys, Easton returned to Alex the Great Studios in Nashville to make Special 20 with producers Brad Jones and Robin Eaton (Steve Forbert with Wilco, Jill Sobule, Ass Ponys). Except for the album's opening song, which was recorded at home on a 4-track, Easton was joined in the studio by several musicians including Ross Rice on drums (Steve Earle), Sean Beal on guitar (Big Back Forty), Tramp on mandolin (Lucinda Williams), Brad Jones on bass and keys (Matthew Sweet, Ron Sexsmith), and the legendary Al Perkins on pedal steel, banjo, and dobro. A couple of Haynes Boys made cameo appearances as well as the usual suspects of odd noises and ghosts residing at Alex the Great.
Special 20 is the first link for Easton between street musician and band member. The style varies while the voice remains a constant. The songs carry the listener from hard driving stompers such as the opener Just like home - a surreal roots trek through the days of an American rover - to bittersweet folk ballads with All the pretty girls leave town. The album closes with an epic of bar room eavesdropping entitiled Rewind - a crucial addition to many love sick mix tapes of the future.
When asked why he decided on making a solo album instead of another Haynes Boys release, Easton bluntly stated "I love my band, but the fact is they are extremely lazy and I need to travel and work. Recording with the fringe of Nashville cats was excellent. They were smooth, professional, and of course very quick to learn the songs. The Haynes Boys may be more fun, but I didn't pull out as much hair making this solo record."
Special 20 will be released by Easton and his managers' own label, Heathen Records. "It's going to be plenty of work," he said, "but having the control is refreshing and obviously liberating. We won't be alone as far as distribution is concerned, and we have a good team in place with other folks stepping in to help out - so I can concentrate on writing and performing. As for now I am the chairman of this board and the head of A&R!"
The ten song collection that makes up Special 20, named after a harmonica made by Hohner and used here in the title track as a metaphor for an elusive woman, presents a songwriter who can fish downstream from the best of them and still manage to hook some keepers.




Willie Nelson, Tim Easton,
Raglan Road
Agora Theatre
March 21 ('98)
Opener Tim Easton was the evening's real undiscovered treasure. Showing a great command
of blues/folk tradition and an impressive, gravelly, Dylanesque vocal delivery, he tore through
original material from his upcoming All the pretty girls in townCD, as well as picking appropriate
covers like Townes Van Zandt's "Brand New Companion". Through the course of his half-hour set,
he literally evangelized the entire crowd to his music, even though it's a sure bet the show's
sponsors at WGAR will never play his record.
NO DEPRESSION
Nearly a textbook lonely hearts song, "The Lonesomes" has a peculiar twist
that puts singer Tim Easton's songwriting almost on par with John Prine's
lyrical talent. Another example is the song "Hell on Earth":
That's a mighty strange bark
Two parts hound and one part billy goat
Got a funny way of asking favors
Flat on your back minutes before you pass out
Devil in your eye, fact he's taken over inside
He's gonna ride you your whole life
Though I love you, I just don't like you tonight.


THE SOURCE MAGAZINE
- the self-titled disc from Haynes Boys. Imagine a rock band from Columbus, Ohio,
that is tender when it has to be and jacked-up loaded like the Stones in a honky-tonk.
Is yer whiskey tasting better? It should. These boys got the roots thang down;
likewise the country comfort and the bar rock. Tim Easton does a pretty good staggering
Dylan on "The New Franklin County Woman" too. Go to the head of the class.

OIL
The Music Magazine
this is a RECORDING
Closing Time might have been a good title for this collection of roots rocking
country rockers who sound like they've been permanently installed in a
roadhouse near Highway 61. 'Bitters Past' poses the question -
"I don't want to grow old just drinkin' with you."
Down and out and beaten up like Dylan circa Blonde On Blonde and rockin'
just like The Flamin' Groovies' classic Teenage Head album.
- Brad Harvey-

OPTION
Music Alternatives
Haynes Boys
Timothy Easton has a textured voice like Townes Van Zandt or Paul Westerberg,
one that unobtrusively announces character the moment the singer opens his mouth.
Out in front of the punchy, country-inflected rock of his fellow Haynes Boys,
Easton applies his agreeably ragged vocals to an impressive range of material;
it's honky-tonk with post-punk attitude. Whether he's singing a winsome ode to a
seized car in "Jackie" ("Your new man drives a tow truck; well he ain't got heart,
he's got a big gun, and I don't wanna push my luck"); a punk-tempo, stop-and-start
blues homage to a fiery female in "New Franklin County Woman"; or an unself-consciously
clever, folk-flavored waltz of companionship in "Bitters Past", Easton conveys shades of
meaning and emotion that singers with less interesting voices never could manage. When
the insurgent country backlash hits, I hope bands as good as the Haynes Boys have already
put down roots deep enough to ride it out.
(Slab, 1133 Broadway #1220, NYC 10010)
-Eddie Huffman-