Ronny Elliott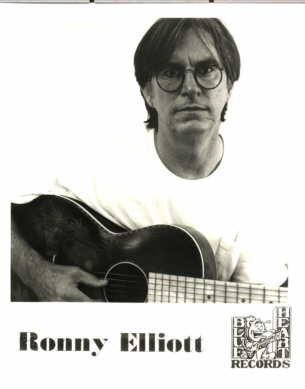 "My Nerves Are Bad Tonight"
All Lyrics
Release Date: January 2000
---
lt's the Fall of 1964 and Ronny Elliott has begun his musical career, playing bass and singing in the Raveons, a Tampa-based garage band. He's pretty sure he's got' the blues but, let's face it, the boy's a hillbilly!
By the early 7O's Ronny has been through stints with the Outsiders, (not those Outsiders), the Soul Trippers, Noah's Ark, Duckbutter and the Outlaws, (yeah, those Outlaws) among others. He's had flops on Knight, Laurie, Providence, Decca and Paramount with these bands.
He's done shows with the Allman Brothers Chuck Berry, the Coasters, the Chambers Brothers, Mike Bloomfield, Canned Heat, Dion, Bo Diddley, the Dave Clark Five, Van Morrison, Gene Vincent and Jerry Jeff Walker along the way. When he opened for Jimi Hendrix with his band, Your Local Bear, in 1967 the local newspaper referred to his music as country rock'n'roll.
He's still pretty sure that he's a rhythm'n'blues musician but his songs call to mind Hank Penny more than Prince Lala.
There have been lots of bands since then but now he's a solo act, usually backed by some twisted version of the Nationals. He's shared recent bills with Jimmy Lafave, NRBQ, Joe Ely, the Bottle Rockets, Jeff Healy and the Fiji Mariners.
Someone coined the musical term, Americana, and he gets called that in No Depression and Billboard. He still thinks he plays the blues.
---
By the time he was 10, Ronny's mom was buying him guitars. He took the instrument up seriously at about 15 and ended, up in his view, as little more than a middling bass player. (He plays rhythm guitar these days.)
In 1964 a buddy he bagged groceries with asked him to form a band, Ronny was reluctant Then he went to meet the singer. From a '57 T-Bird emerged a guy with hair down to his collar wering candy-apple red patent leather shoes with a zipper. His name was Warren Novack. Ronny joined the Raveons.
Before long, Elliot signed on with The Outsiders and played a lot of gigs. Their mamager presented them a song he had co-written called "Snoopy vs. The Red Baron." The band thought it was pretty lame. Before they had the chance to consider it, though, the military draft broke them up. In 1966, The Royal Guardsmen scored a No. 2 hit with the novelty song.
The disbanded Outsiders evolved in to the Soul Trippers. In a Tampa studio, they cut a garage-flavored version of Slim Harpo's blues classic "King Bee." It sold nearly 20,000 copies but needed to break through on a major R&B station to become a smash. WLAC in Nashville was set to add the record, but when ho-shot program director John R. discoverd the band was white, he backed off.
In '66, Elliott hooked up with his pal Buddy Richardson and:forrned Noah's Ark. They landed a deal to cut some singles for Decca, the label home for Ricky Nelson, Brenda Lee and the early Who. Noah's Ark messed with feed back, violin bows and noise - stuff that would soon fall into the realm of psychedelic rock. They cut a proto psychedelic garage song called "Paperman" that garnered a bit of exposure. (Elliott recalls receiving a couple of small royalty checks from Sweden and Japan.)
Elliott quit Noah's Ark in 1968, tried to form an R&B group, but could rarely get all the members in the same room at the same time. The remnants of that outfit constituted Your Local Bear, which Elliott calls a hillbilly band. They opened for Hendrix at Curtis Hixon Hall. "After we finished, our job was to stand behind his Mirshall (amplifler) cabinets arid make sure he didn't knock them off the handstand," Elliott says. Local Bear was a short-lived venture. Next was Duck Butter, a "psychedelic vaudeville hillbilly revue" that featured a front- man Ilarry Hayward, who was also a magician.
By 1970, Elliott had pretty much taken himself out of the scene. He pro moted some shows, including the only time Duane AlIman played a full set with Erie Clapton's Derek & the Dominoes. It was at Curtis Hixon Hall.
Nearly a decade later, as a member of the Wally Watson Band, Elliott got in on Tampa's nascent post-punk scene at Buffalo Roadhouse and Ms. Lucky's. "We were like Rockpile or Mink DeVille, pretty rootsy," Elliott explains. "But we really didn't have that punk base."
He got the bug again in '95 and recruited his old pal Hayward, who took on the drum chair, and several younger (but veteran) musicians: guitarists Steve Connelly and Mark Warren, singer Natty Moss-Bond and bassist Walt Bucklin.
With a crude 8-track set-up in his house, Elliott recorded an album, Ronny Elliott & the Nationials, an unreconstructed, relatively lo-fi effort that received strong critical response and positive reactions from industry peopIe. There was always a stumbling block, though. Bloodshot and Checkered Past out of Chicago said it didn't have enough country/punk flavor. Hightone out of California claimed it was too commercial (a notion that still flabbergasts Elliott).
"I'll buy into the Americana thing because it exists," Elliott says. "I talked to this independent promo guy who books acts like the Cigar Store Indians, and he told me my sound wasn't quite Americana enough, that I didn't quite have it. Geez.. I worked with (legendary rock 'n' roller) Gene Vincent. I resent being kept out of their club because I supposedly don't know what it's all about."
---
Weekly Planet
Music eric snider
The Real Deal
Sitting in a straight-back chair in a well-lighted Florida room on Davis lslands is a living, breathing hunk of Tampa Bay rock 'n' roll history. It's a Tuesday afternoon and Ronny Elliott is nursing a Foster's, telling stories with great relish and a perpetual cockeyed grin.
In 1957, when Ronny was 9, his ma ma took him to his first concert. He saw Bo Diddley, Clyde'McPhatter, Frankie Lymon, Bill Haley & the Comets and others at Fort Hesterly Armory. "1'hat was it for me," the mu sician says in his animated Southern drawl. Elliott went on to play bass and sing in some of the hottest Tampa R&B and garage bands of the '60s. He opened for Hendrix, backed up Chuck Berry. He promoted the area's first ap pearance by the Ailman Brothers.
After a long layoff, Elliott reconstituted his career about three years ago with the half-jokey band Loco Siempre, which gave way to the more straight faced, country-leaning Americana group Ronny Elliott & the Nationals. Elliott recently unleashed his second self-released album in as many years,
A Postcard From Jack, an often riv eting collection of twangy narratives - some of which display his deep rever ence for rock 'n' roll history - featur ing his low, craggy voice.
At 51, Elliott is planning to move from his home town of 45 years. It could be next month, although that's not likely; it could be in the next year or two. He hasn't decided where. Nashville, maybe, or Austin, or some place else where he can take a serious shot at becoming a national recording artist and bring his folksy sound to a wider audience. He has a round of meetings set with industry types in Nashville next month.
As the falling sun dims the room, Elliott's wife and two teenage children bustle into the tastefully appointed house. And you can't help but think: "Ronny, you're in your SOs. Life looks pretty good here. How can you uproot yourself and your family if it hasn't happened for you so far?"
And then you ask it out loud, in a more judicious way. "I realized that this is what I do," Elliott answers. "This is my calling."
It's gotten to the point where Elliott does not think he can make a living as a musician in this community. He says there's always been great music made in Tampa Bay, and would love to see a vibrant scene coalesce. Although he hasn't completely given up hope. he doesn't expect such a lightning strike. "The hitch is, what do you do'?" he says. "Back when I was a kid we used to complain about the (musicians) union. It was run by a bunch of old guys who didn't like rock 'n' roll. Today I give anything to have the union back. Bands got paid more in 1965 than they do now"
Three decades ago. you didn't have to salt away $85 to see the Eagles; you didn't have techno clubs, sports bars,
70 cable channels, pay-per-view, VCRs, video games, home computers and the Internet. Three decades ago, people flocked to the Cuban Club or some armory to see a band and dance. Today, most cities with thriving music scenes either boast a significant history (New Orleans, New York, Chicago. Los Angeles) or arc college towns like Austin and Athens, Georgia. Elliott re alizes all this. It's the reason he hasn't circled Toledo on the map.
Elliott lived with his mother and grandmother jn Birmingham, Alabama until he was 6, when they moved to Tampa. His mother started buying him rock 'n' roll and R&B 45s when he was very young. He heard a lot of Hank Williams on the radio.
Ronny loved all the great early rock ers, but Elvis was his man. In the early '60s, the lad discovered that the King was shooting the movie Follow That Dream in Crystal River. He got a friend of the family to drive him there, and they arrived before dawn. They didn't know where to look for Elvis but s(ion enough happened upon a parked white Cadillac limo with Tennessee plates at the Port Paradise Resort. It wasn't long before Presley appeared. Ronny and company approached him for auto graphs and pboto ops. "Elvis was so nice and polite." Elliott recounts. "He was the kind of guy - he wouldn't leave until you were ready to leave."
In all, Ronny figures he made 10 trips to Crystal River.
---
BILLBOARD:"He was insurgent country before insurgent country was cool."
FOCUS :"...the real deal from way back when...self-effacing to the last-which could be the key to the whole shooting match."
FT. LAUDERDALE SUN-SENTINEL: "Elliott writes up a heartland storm of funny1 honest and twangy songs."
INK 19: "...space age hillbilly..."
JAM: "Ronny Elliott is a bonafide Tampa Bay music fixture."
TAMPA TRIBUNE:"Ronny Ellbtt was playing country rock before there was country rock."
WMNF:"Has the music world finally caught up with Ronny Elliott?"
WEEKLY PLANET:"...a local lcon...near legendary..."
---
Contact: Blue Heart Records
179 Baltic Circle
Tampa, Fl. 33806
(813) 254-5388
---