AUSTIN, Tx
The Meat Purveyours:
You want fries with that?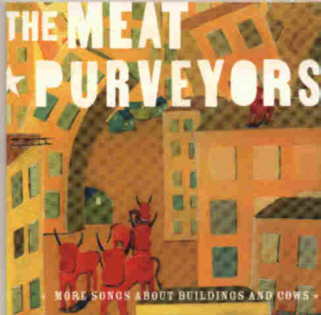 Things seem to move quickly around The 'Meat Purveyors. They had been together only six months or so when they struck up a friendship with Jon Langford of the Waco Brothers, which led to Bloodshot Records agreeing to put out their debut album. When that album, Sweet In The Pants, was released injanuary, they were chosen one of the Wren To Watch" by their hometown paper in a poll designed to predict what local folks from all walks of life are due a breakout year.
~hey're just trying to show how hip they are," The Meat Purveyors' lead singer Jo .Walston says with a sly grin. "The writer we spoke to said that being pickedtor that is the kiss of death for a band, though," con tinues mandolin player Pete Stiles. "Appar ently none of the bands they've ever picked have actually done anything. We're due to break up next week."
A great deal of The Meat Purveyors' ap peal is their wicked sense of humor. They combine a bluegrass sensibility with a will ingness to go places most bands just won't go. For instance, in their live shows, they often play a mini-set they refer to as the Madonna Trilogy that includes a string-band take on "Like AVirgin", allowing the doe~yed Walston to use every ounce of her coy sex appeal.
Likewise; on Sweet In The Pants, there's a version of the Elvis Presley smash "Burning
Love" that's spun on its head and turned into a heart-rending, smoldering waltz - one that can go both ways, so to speak. "When I'm covering a song. I don't change the gender," Walston explains. "I want it to be the original words. I like it to be ambiguous."
"Yeah, plenty of people think we're le~ bians," chimes in standup bass player and background vocalist Cherilyn diMond, with a hearty laugh.
The rest of Sweet In The Pants traces a wide path, from guitarist Bill Anderson's twisted, worldly songs of death, love and de struction, to interesting interpretations of songs from Merle Haggard, Ray Price and Bill Monroe, to a compelling reworking of "Dempsey Nash," a long-lost nugget from '80s Austin~vant garde rockers Glass Eye.
"There is something of a tug-of-war go ing on," Stiles says. "Jo wants us to cover more old country standards. If Bill had his way, we'd be doing four or five Human League covers" - an intriguing revelation, given Anderson's previous stints in such bands as the hard-edged blues-rockin' Hand of Glory and raw punkers Poison 13.
"I try to get us to do more from the blue grass canon," Stiles continued. "Cherilyn wants us to do covers of bands that most people don't know yet, like the Waco Broth ers and Old 97's."
"And our next project will be an acous tic version of M8tley Crue's 'Shout At The Devil',"jokes diMond - though we wouldn't necessarily put it past 'em.
-JIM CAUGIURI (Bloodshot, 912 W Addison, Chicago, IL 60613

---

Who can take a sunrise and sprinkle it with dew? Cover it in chocolate and a. miracle or two? Well, everyone knows it's the stinkin' Candy Man. That's a gimme. But who can take songs by Lou Reed and Daniel Johnston, dress 'em up with salty-sugar Hazel and Alice-style duets, tick-tight mandolin runs, and smoking fiddle solos? And butt 'em up against wiseacre originals that tell hilariously tragic tales of little white pills, sexual comeuppance, taliboys, and backwash? And deliver the whole package with technical integrity and spit? Well, it's Austin TX's own THE MEAT PURVEYORS -- still putting the ass in bluegrass -- with their second release "More Songs About Buildings and Cows." But you knew that, didn't you?

The Meat Purveyors make good -- damn good -- on the promise of last year's stellar debut CD "Sweet in the Pants." Jo Walston still sings 'em Dolly-sweet and Loretta-sassy, Cherilyn DiMond provides rapid-fire bass whomp and harmony croon, Pete Stiles and Bifl whip out alternately tender and terrifying string stroking on mandolin and guitar, and gueststar Darcie Deaville drops in fiddle brilliuance all over the place. It's pretty enough for your maw maw, and punk enough for your vicious little brother. And not to tell you too much about the men and women of The Meat Purveyors, but they're mighty good at straddling - if you know what I mean...

On one side of the fence (where the bluebonnets grow) you get country gospel fervor -- the traditional ""Working on a Building", and spirited, but reverential Bill Monroe and George Jones covers. And on the 'other side of the fence (watch that steaming cow pie, buddy!) you get into some tricky territory -- like the twisted neighbor-hating nuttiness of "We Kill Evil", the harsh-light-of-day tale "Morning After", and the nut-cracking shut-down masterpiece "More Man" --as in "I'm more man than you'll ever be and more woman than you'll ever get." Keep that one in your back pocket for later, ladies.

Recorded in Austin, and mixed primarily by that punk rock legend, Spot - "More Songs About Buildings and Cows" comes from deep in the heart of Texas, and is pure Grade A. A as in Attitude, Appalachian flavor, and a little bit of Anarchy. Is it possible to live in two worlds at once, you ask? Take it from the bi-curious folks at Bloodshot Records, Chicago's Home of Insurgent Country -- yep. Just raise your fist as you two-step and put a little "oi" in your "yee hah." "Yoi-hoi?" Whatever works.

BLOODSHOT RECORDS
bloodshotrecords.com