The Blacks
"Just Like Home"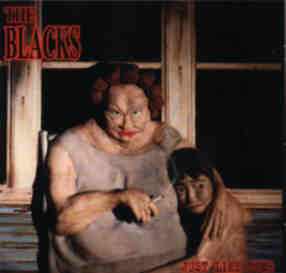 So there's Gina Black on stage, all 6 feet of her, a blonde siren straddling her stand-up bass. She's alternately thumping, slapping, moaning or drawing the bow across the strings in that excruciating yet strangely pleasurable stroke. Is she going to kick my ass? Or proposition me?
And what about her beautiful counterpart, Danny Black? He's the guy behind the guitar (oh, and now he's slinging a banjo.. .wait, he's breathing through a trumpet and blowing my mind); that voice is pure rock 'n' roll, keening and insistent, sexily lazy at the same time.
Then there's the drummer, James Emmenegger, who rides the bass line and drives his kit like John Bonham crossed with Beck. With his arms, hair, and lapels flapping, now we know what Animal's been doing since "The Muppet Show" got canceled.

The Blacks, Bloodshot Records' resident carnival punks, are back with their second CD "Just Like Rome." Spirit of the Cramps and X inspire eleven Black originals, from banjo-laden laments to jangly burlesque songscapes. There's also a sultry cover of the Tom Waits tune, "Goin' Out West," that'll charm all the snakes on the premises.
Step right up, take off that blindfold if you dare; wander off the beaten path, away from the sissy Tilt-A-Whirl and that dumb swing ride; come check out The Blacks' sideshow. You'll be surprised how at home you're gonna feel.

BLOODSHOT RECORDS 3039 W. Irving Park Rd. Chicago IL 60618-3538 USA
www.bloodshotrecords.com
---
Lipstick
killers
Blacks in top form with visual dazzle, thrift-shop gaudiness
by Greg Kot
Tribune Rock Critic
Talk about first impressions,. The Blacks grab the audience's attention just by walking onstage - part hillbilly punk band, part cabaret troupe from Berlin's red-light district. With her false eyelashes, form-fitting party dress and pair of nymphe painted on the body of her upright bass, the statuesque Gina Black alone would be enough to stop traffic on Lake Shore Drive.
The Blacks' visual dazzle, their thrift-shop gaudiness, is just the sort of artifice that makes it worth venturing out on a dreary winter night. The tricky part is follow-through - now that all eyes are on the Chicago band, have they got the musical goods? In this case, the answer was yes, more than enough. Call them lipstick killers, because Saturday at Schubas the four were in prime form.
Drummer James Emmenegger gave Black plenty of room to move, his restraint allowing her to assume the role of a lead instrument on several songs. Then there was Danny Black (no relation to Gina), the band's charismatic front man with the Eddie Cochran hair. He performed triple duty on guitar, banjo and trumpet, but it's his voice that makes the Blacks' songs of sin, sex and dubious salvation ring true. Whether taking on Sam Cooke's "Bring It On Home To Me" or delivering the traditional murder ballad "Dear Little Girl," the singer never sounded out of his league. Like X's John Doe, his voice was plaintive with a hint of grit, dramatic but never maudlin, focused on telling the tale rather than showing off.
When the band revved, Gina Black punctuated the thrill ride with screams that screeched like tires at a drag strip. On "Horrorshow," the music threatened to unhinge completely from its moorings, as Danny Black blasted away on trumpet, the women vamped and wailed, and Emmenegger finally unshackled himself from his disciplined, swing-time tempos and began to act more like Keith Moon.
When Gina Black yodeled on the bedeviled "Crazy," when Danny Black howled at the moon for his "Dolly" or channeled the underbelly of Dixieland while blowing trumpet on "He's Gone" the Blacks flirted with kitsch. But like the Cramps before them, the Blacks realize that respect for tradition and love of the song aren't about reverence and purity. If the Blacks threw a party, Bertolt Brecht, Hank Williams, Lux Interior and T. Rex's Marc Bolan would all be hanging out at the punch bowl, getting drunk and trying on Gina Blacks's fishnet stockings.
---
The Blacks blend influences as disparate as their costumes - roots music and hard rock, country and cabaret - with alchemnical grace.
Peter Margasak, Chicago Reader

These guys and girls are to Hank Williams as Jon Spencer is to Muddy Waters.
John F. Butland, Blue Suede News

...Cramps-vintage thrash and a drunken sailor blowing taps...
James Mann, Ink 19

---

Bloodshot Records
www.bloodshotrecords.com