BLOODSHOT RECORDS
"horsemen of the bluegrass apocalypse"
SPLIT LIP RAYFIELD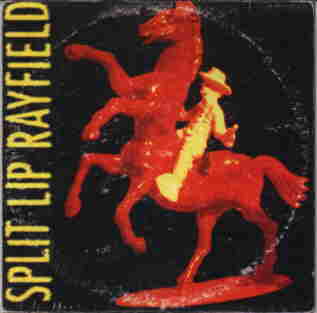 Can you feel it, friend? It's that eerie green-skied still before a twister -- that heart- stopping silence that'll scare the peanuts out of your M&M's -- that hair-raising calm before a shitstorm: SPLIT LIP RAYFIELD is about to boil out of the Kansas prairie like a force of Mother (fucking) Nature -- with lightning- quick guitar picking, banjo wrangling and strangling, and the relendess WHOMP of the rusty trusty "Stitchgiver" (a one-string "bass-enstein" made out of a Ford truck gas tank and a weedwacker string) -- it's a blast of cyclonic sonic fury from three pissed-off bonafide farmboys. Brother, you'd better high-tail it to the root cellar straightaway...
From BLOODSHOT RECORDS -- Chicago's "Home of Insurgent Country" (home of THE WACO BROTHERS, ALEJANDRO ESCOVEDO, NEKO CASE, and ROBBIE FULKS, to name a few) -- comes SPLIT LIP RAYFIELD's self-titled debut CD of all-acoustic scorched earth thrashgrass. Kirk Rundstrom (Wichita, KS), Eric Mardis (Lawrence, KS), and Jeffrey Eaton (Gumbo, MO, POP. 80), go with what they know -- whipping out originals about cars, farmer tans, cars, liquor, tractors, hillbilly girls, and cars. "Split Lip Rayfield" also delivers a couple of obscure diesel-fueled covers about trucking -- "Long Haul Weekend", "Pinball Machine", and a classic ode to gas-o-leen -- "Tiger in My Tank" . These Kansans know how to drive, they know how to pick, they know how to rock: wide ass open.
SPLIT LIP RAYFIELD combines (no pun intended) an "ain't it lonely out there" mix of sorrow, boredom, and anger in their vocal harmonies, true-to-flatland-life lyrics, and frenzied, razor-sharp playing to make one helluva storm -- twisting metal and bluegrass into fearsome shapes, blowing the roofs off of barns coast to coast, and leaving two- headed calves stuck in the trees. It ain't no shtick, and that's what makes it feel so scary -- and feel SO DAMN GOOD.



BLOODSHOT RECORDS 912 W. AIX}[SON CHICAGO IL 60613-4339 USA
www.bloodshotrecords.com
---
Split Lip Rayfield'a music is a brand of postpunk nouveau bluegrass so idiosyncrati cally firey, it shouts unholy testamentaries to Charlie Daniels' band of demons. Almost uni formly lightning-fast -- and plumb full of stunt pickin' -- the band's self-titled debut CD show cases SLR's finest material, and catches the group at the top of its game in the perfor mance department.
Through the first three tracks of Split Lip Payfield, the tempo knob is tumed to 11 and broken off. "Coffee" and "Outlaw," both sung by primary lead singer Kirk Ru~dstrom (ex-Scroat Belly, Technicolor Headrush, Wink-' mg Spaniard, Red Lizard), feature supersonicr trad-based song structure with cascading banjo riffs and sweet backup harmonies from SLR newbie Eric Mardis. (Metalhead Mardis got his banjo chops in Lawrence's Creek Bank Ghetto Boys, and currently plays lead guitar in his retro metal outfit Snake Bite. The third track, "Long Haul Weekend," evokes the Stanley Brothers immediately; bassist leifrey Eaton's pinched, nasal vocal delivery fits right in with the hill billy trucker motif, and the brief harmonies on the chorus are vintage hoedown material.
Eaton smacks his stand up gas tank bass with each beat, adding a skiffle feel to the pro ceedings. The homemade one-stringed instru ment has never sounded better, either, than on Split Lip Rayfield. Notoriously' dtfficult to amplify in live situations, the large, hollow metal instrument booms, pops and chunks gloriously on the CD.
The songs contained herein are an ex cellent cross-section of the band's ever~hang mg repertoire. Sprinkled throughout the lineup of unmistakable originals ("Combine," "Flat Black Rag," "Bambumer") are several well-cho sen covers, each of which the band makes its own.
"Pinball," for instance, is an obscure song Eaton discovered a number of years ago on a truck-drivin' compilation tape. The origtnal, a desperate, lonely ~(and badly recorded) pinball junkie's lament, is forgotten instantly upon hearing Split Up Rayfleld's full-throated, ter rapin-paced rearrangement. (This is one of the few slow spots to be found on the CD.)
Similarly, tne band's runaway take on the 60s country hit "Tiger In My Tank" (in refer ence to the Esso Gas slogan of the day) is de livered with such fervor, it's difficult to imagine another version at all, much less the midtempo drawl of lim Nesbitt's original.
The material is great, and the perfor mances are ins'pired through the length of Split Lip Rayf,eld. Kirk Rundstrom has never been in finer form as a guitarist -- his numerous years shared onstage (and in the Pecan Grove) with ex-bandmate Wayne Gottstine have cer tainly rubbed off on him. On the new CD, Rundstrom takes some hot leads, where be fore he would have smiled and bowed out. Mardis' worshl'p of Ritchie Blackrnore is reflected in his playing; it's not rock, but the bulk of Mardis' fills, trills and rolls come off as more Frank Zappa than Grandpa lones. And Eaton's relentless, percussive whomp is extraordinar iLy precise -- the man is a machine.
While the unitiated will almost certainly compare Split Up Rayfield to other late-model bluegrass/country remode!ers (most notably the Bad Livers, who share SLR's punk rock bloodlines), such comparisons are lazy. Split Lip Rayfield is representative 'of a larger aes thetic, emerging in increasing doses through American culture. Sick of corporate music in its myriad formats, punk-influenced artists to day are reinventing the face of modem musi cal. The indie spirit -- uncompromising, bold and fresh -- is every bit as potent in the coun try scene as in the rock world; with great la bels like Bloodshot carrying the torch, Split Up Rayfield just might conquer the earth.



SPLIT LIP RAYFIELD
Split Lip Rayfield
Bloodshot Records