First things first:
I play on this CD, so let's just toss journalistic distance out the window right now. Long before I accepted the offer to squonk along with the Sovines for this project, I had become a ravenous, drooling fan of the band. That's why I have no problem proclaiming that the Sovines are one of the very best combos this country has to offer & that they ought to be sipping Moet et Chandon, or at least PBR out of the high heels of that red_haired gal on That 70's Show right now.
But they're not that famous yet.
Notice I said yet, because I really do think that the Sovines can overcome even a populace overwhelmed by pre-millennial tension. America-- hell, the WORLD needs the combination of dead solid perfect songwriting that these boys command & the sheer joy of performance that shines through every single recording & live show. I'm here to tell you that you will not find a sound on this greenhoused earth that stirs together greasy truckin' music, Bakersfield twang, & good old punk rock the way Matt, Bob, Ed, & Pete do it.
---Mark Wyatt, February 1999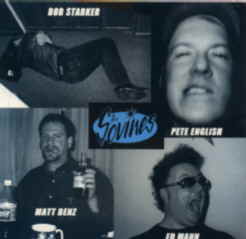 The Sovines:
Bob Starker - acoustic/electric guitars, sax, vocals
Matt Benz - acoustic/electric guitars, 6 string bass, mandolin
Ed Mann - electric bass guitar
Pete English - drum kit & backing vocals
Ringers:
Mark Wyatt - accordion, organ
Pete Remenyi - dobro
Barry Hensley - pedal steel guitar
Jaon Dilgard - hobo harp
Produced by the Sovines; Engineered & Mastered by Pete English. Recorded at Laughing Bay Studio, Columbus, OH, 1998
Graphics: Sideshow Studio. Photos: Pete, Matt, Al Huckabee, & Jamie Swedburg.
Wyatt & Remenyi appear courtesy of Hayden's Ferry Records
Contact The Sovines:
305 West 6th Avenue, Columbus, OH 43201
Ph: (614) 294-4211
Email: mattbenz@sprynet.com
Also available, on cassette only: Owner Operator & other smash truck drivin' hits! (Semi-Tone 002)