Concert Review
SOUTH FILTHY
Vera, Groningen
June 9th, 2005
Session RICE MOOREHEAD aka Amberjack Rice
Alt. Country Cooking, Radio Winschoten
June 9th, 2005

Written by Johanna J. Bodde
Session Photos by
Bob Honhoff
South Filthy Photos by Peter Pricken

These days almost all of the exciting things in life start off with a simple E-mail. Rice Moorehead sent one to Theo and me about his upcoming tour as a bassplayer for South Filthy. He knew us from the radio-show Alt. Country Cooking, where we frequently played the albums he made as singer-songwriter/guitarist Amberjack Rice. The first date of that tour caught my eye immediately: on a Thursday evening at the Vera in Groningen, only half an hour's drive away from Winschoten on the night we're on the air! We decided to invite Rice for an interview and a session... He was excited about the idea and then a whole lot of E-mails were sent back and forth, between Rice, me and Robert, the very helpful bookings-agent/tour-manager. We figured out the timing for the visit to our studio, the transportation, our technical possibilities and most important of all: we found an acoustic guitar for Rice! He plays the electric bassguitar in South Filthy, so that's the only instrument he has with him on this tour. He's lefthanded, like millions of people on this planet, so you would say it's not so hard to find a lefthanded guitar. Wrong! Finally Bob, a fellow DJ and also musician/guitar-collector (he loves the rumor going around that he owns 250 guitars!) helped us out with a beautiful Martin-guitar and put on the strings "the other way"! Rice mailed that he was very happy with our solution: "A righty strung for lefty will work great." In the meantime I tried to find some information about the band South Filthy. Wow, these guys all have quite a musical history! It was like the old days were back, when I used to come home from doing my show for a "pirate" (illegal radio-station) and listened to the late night programming of the VPRO with all these rare & obscure recordings. It's going to be, indeed, exciting!
-----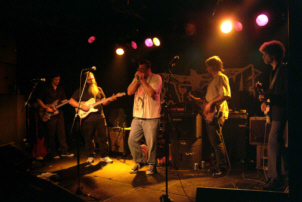 Thursday evening, close to 7 pm. On my way to the studio I stop at the supermarket to buy "stroopwafels", Dutch syrup-cookies made with real butter. We try to get all American musicians hooked on them... Theo hosts the first hour of the show in the usual way and I make a big pot of coffee. One by one everybody comes in: Bob with his guitar, Andre - who loves live-music and brings a camera, Peter the engineer - who specializes in broadcasting interviews and sessions. Then Robert enters the studio, bringing "his two Americans"! Very cool, to meet Rice for real... He wears his black hair much shorter than on the picture, the long ponytail is gone. Wonderful, Walter Daniels, the harmonica-player/singer from South Filthy is here too! Quite an honor to meet him, he plays or has played in so many bands and collaborations, that I counted a total of around fifteen... The best-known are probably Jack O'Fire, '68 Comeback and Big Foot Chester. Peter works hard to set everything up, Rice is tuning his guitar and sound-checking, in the meantime we all drink coffee with "stroopwafels" and get to know each other. When the technical things are done, Bob - who makes an extra recording for his own radioshow, Rice, Walter and I move to the other room. I'm happy that Walter also likes to participate in the interview, he is talkative and has a good sense of humor, just like Rice, the perfect people for this live-on-air interview. That's always somewhat risky, if things go wrong, they go really wrong! Not now, this is a very nice chat about music. I'm asking Walter about Earl "Poole" Ball, the legendary pianoplayer who worked with Johnny Cash and is now featured on the South Filthy-album. Of course I want to know from Rice what it was really like, to play as a seventeen-year old at JB's Hideaway in Knoxville, Tennessee. Then it's time for the session. Walter plays his famous blues-harmonica with Rice, on the first song "What I Deserve". Then Rice plays three "relatively new" songs and of course his great "Presidential Blues", I just love his remark: "We have a problem in America, let's leave it at that!" What a superb session...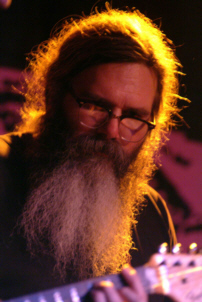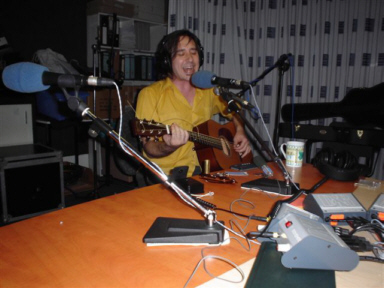 The fun isn't over yet. Bob offers me a ride, so I can attend the concert of South Filthy in Groningen. It also means that I finally get the chance to spend some hours in the famous club Vera, one of the advantages of moving way up North. Yes, I like it here and I fully understand why the Vera has such a good name among musicians and music-lovers! After a short "hello" to Rice and Walter, it's almost time for them to start playing at a quarter past eleven. Walter announces South Filthy as the "Memphis-Austin Roots Explosion" and he's right on the money! They start off with the Hickoids song "Brand New Way Of Living", Walter mixes song with spoken word and fabulous harmonica playing, Rice sings harmony while playing his bass and there are three guitarists on stage: Monsieur Jeffrey Evans, Jack Yarber and Ron Franklin. Drummer is very energetic Ed Miles, who is obviously having a lot of fun playing. The second song is "(She's My Pretty Little) Screwdriver" from the new album and now I hear why Walter is called the "Harmonica Feedback King", almost unbelievable what he does holding that mouth-harp towards the amp! Time for Monsieur Jeffrey Evans to sing leadvocals on "Hot Dog", a Buck Owens-song but only recognizable if you know it. Monsieur Jeffrey, looking impressive with greyish beard and black-rimmed eyeglasses, his hair tied in some sort of knot, was in bands like The Gibson Brothers, '68 Comeback and CC Riders. Next up is the guy in the black hat, Jack Yarber, also known as Jack Oblivian or from The Compulsive Gamblers, The Cool Jerks or Tav Falco & The Panther Burns, he brings in the louder rocking sound, no surprise with his garage/punk background. Then the leadvocals are taken over by Walter again, "L.A. County Jail", great Jeffrey Lee Pierce-song! So the show continues, the driving beat keeps going, Ron Franklin even swaps his guitar a couple of times for those samba shakers! The gentlemen don't seem to have a setlist, they just play and have fun, sharing the leadvocals and the solos. Walter is a real entertainer with his funny announcements and microphone-effects, he definitely has a lot of charisma! He sings lead on Chester Burnett's "Somebody's In My Home" and on the original with the weirdest title I've ever heard: "Spell Of The Big Tits (Is Over)". "It's fun to have such a big band", he says, announcing Rice on leadvocals: "He was on the radio earlier, he did great on bottleneck..." Rice admits with a cool sense of humor: "Yes, I did!" After his own song, he sings harmony with Walter on the title song of the second "South Filthy"-album, "Crackin' Up" and the last song is "Surfin' In Death Valley". But the audience of between 80 and 100 people wants more of this great stuff and they ask in a very inventive way, by beating beer-bottles on the stage and the monitors! That must be a specialty of the Vera, I've never heard this before... Of course, South Filthy comes back for another three songs, Ron Franklin and Monsieur Jeffrey sing both one and inbetween the band plays their amazing instrumental version of "When The Saints Go Marchin' In"! We want a second encore and we get it. Jack says: "Great beats! We'll play to the bottle-beat!" At ten minutes to one it's really over, after lots of thank-you's from Walter and Monsieur Jeffrey. I didn't know at first what to expect exactly, not knowing the albums. It was more roots than rock actually and I just loved it, I had a wonderful time... And that's what I'm telling the musicians backstage, especially our friends Rice Moorehead and Walter Daniels!
-----
Written by Johanna J. Bodde, June 10th 2005, for Insurgent Country, Germany.
www.insurgentcountry.net