SIXTY ACRES
Matt Feich: vocals, guitar
John Teague: drums, vocals
Niall Hood: bass, vocals
Eric Corbin: guitar, vocals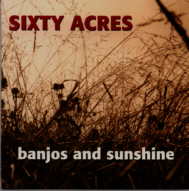 Sixty Acres writes and performs their own songs. Their sound is similar to The Wallflowers, Neil Young, Semisonic, The Jayhawks, and Tom Petty. Sixty Acres has performed extensively since entering the Washington, DC music scene in April of 1997. In the early 1990's, drummer John Teague played in the supergroup Bad English with Neal Schon (Journey and Frank Zappa), Jonathan Cain (Journey), and John Waite.
"some of the best rootsy rock"
The Washington Post
On January 19, 1999 the band released its debut CD "banjos and sunshine" on Dren Records. The CD was recorded in Phase Recording Studios at Atomic Music in College Park, MD. It can be purchased at amazon.com or by mailing us a check for $12 made out to Sixty Acres.
"very accessible and even radio friendly"
-Bethesda Gazette
P0 Box 42348 Washington, DC 20015 (202) 966-3664
www. sixtyacres . comn

---
The Washington Post
On the Town
NIGHTWATCH - SPOTLIGHT - RECORDINGS - COURSES
By Eric Brace
Washington Post Staff Writer

OLNEY IN AMERICA
If you just can't make the scene downtown, head way out of town and visit the Grand Marquis Cafe in beautiflil
downtown Olney. A small storefront bar and restauaant set in the corner of an aging shopping center (18320 Olney Vil lage Mart Dr., 301/26~0500), the Grand Marquis offers live music every Saturday night to go along with its ambitiously huge menu. (Fresh fish; overflowing sandwiches, dozens of pastas and pizzas, soups, salads, quesadillas and lots of bar staples like wings and ribs and such.)
For a strip mall joint, the Grand Marquis is surprisingly charrning, with little Christmas lights twinkling all over the place, and fake flower bouquets busting out of trellises. The back room holds an L.shaped bar, four hanging televisions (carrying sports, mostly) and lots of inflatable beer propa ganda, but the good stuff is in front when a band like Sixty Acres is on stage, as the quartet will be Saturday night.
Fronted by songwriter Matt Feich, Sittty Acres has been playing its rootsy folk-rock for just a year. "Our first gig was at the Crossroads in Fairfax on... let me think," says Felch, pondering. "It was April 17, 1997. So this gig will be exactly one year since our debut. Spooky, huh?" Hey, I ain't scared if you ain't. The band Felch gathered through the classifieds to bring his songs to life is made up of drtimmer Dana Kelly, bassist Niall Hood and violinist/keyboardist Bryan Seith. "We're still looking for a lead guitarist," Felch says, hoping to save money on another ad.
The 32-year-old spends his days at the Red Cross doing biomedical research and only recently turned to songwriting with any real seriousness. "I've always played for friends and at open mikes, but I just decided it was time to get a band together and give this thing a try." His heart-bending songs are influenced most heavily by his big two, Bob Dylan and Nell Young, and the sophisticated simplicity he brings to his compositions shows that he learned much from listening to the masters.
With a plaintive tenor reminiscent of Young or maybe James McMurtry, Feich easily fills his waltzes and ballads with all the sadness that you'd expect from songs with titles like "I Love You, Goodbye."
If you can't make it to Olney Saturday, catch Sixty Acres Sunday at Arlington's Galaxy Hut (703/52~8646), or hear Felch performing solo Thursday at the "alt.country" song- writers showcase at JWs Restaurant in Falls Church (703/241-9504), along with Kevin Dudley, Randy Thompson, Randy Austin and Man Veitch.
---
Bethesda Gazette
Wednesday, October 7th 1998
SixtyAcres settles down in alternative country
by Brian A. Gnatt
Staff Writer
The local scene's lack of cowboy hats and dusty plains hasn't hindered Sixty Acres in the least.
Group frontman Matt Feich, 32, of Ger mantown knows the Americana roots- rock essentials.
His vocal twang and matching guitar style also rival ~hat of two alternative country greats, Son Volt and the Jay- hawks. His lyrics can be as hard-hitting or off-the-wall as Bob Dylan's.
Band members' influences range from Dylan, Neil Young and Tom Petty to mod em rockers Radiohead and Wilco. Still, it's Sixty Acres' folk-tinged rock sound that tbrusts through to the foreground.
That's also evident in its lyrics. Feich's Jay Farrar-Ilke tenor sings his own words about hardship and heartbreak with the honesty of a plainsman in the Wild West.
Despite the band's more eclectic coun try-rock spirit, the music is still very ac cessible and even radio-friendly.
Bassist Niall Hood said he hopes that factor helps the group's chances~with the public and record companies.
Felch said major record labels have begun to pop up at performances and show some interest in the band.
If anything becomes of the notice, it will not have been much of a wait.
The group formed less than two years ago. Looking for a band, Felch placed an ad in the District's City Paper. Hood, 29, a math teacher at Sandy Spring Friends School, responded. And that was that.
Other members have rotated in and out, but FeIch said the lineup has solidified with Dana Kelly on drums and Bryan Seith on piano and fiddle.
Sixty Acres, named on whirn after a Raymond Carver short story, is preparing to release its first album late next month.
Titled "Banjoes and Sunshine," the record collects 13 of the band's best songs recorded during a six-month period, mostly last fall and winter.
Hood said folk-rocker John Wesley Harding'has helped Felch work on song structure and composition.
The band gave Harding a tape at one of his shows, and now he and Felch corre spond via e-mail, Hood said.
"We're starting to build a following, es pecially in Arlington," said Felch, a bio medical researcher with the American Red Cross.
Felch wrote all of the songs on the new disc, with help from Hood on two tracks, "Me or Him" and "Goodbye."
One of Felch's favorite songs, the de ceptively upbeat album opener "Colors," is about a broken relationship. Security fails, it's a countdown, I put my dreams in a washing machine, And the colors bleeded to some I've never seen.
The band has some fun, too. On "My Car," Felch sings: This song is not about a woman, It's about my car. I wanted to drive off a bridge on my way home from a bar.
In concert, the band rocks even harder than on record. Beyond turning up the guitar a bit; the group sometiines likes to throw in a cover song and totally reinter pret it, Hood said.
A personal favorite of his: AC/Dc's "You Shook Me All Night Long" played county-rock style with a blaring fiddle solo.
"I just try to have fun, and I think for the mostp~ we do," Feich said.