Sally Timms
"Cowboy Sally's Twilight Laments"
Bloodshot Records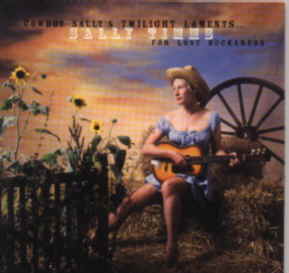 I had the craziest dream last night. You know the kind I mean? When your head and the bed are spinning (it ain't passing out if you hit the mattress) and you conk out with all the lights on and all your clothes on, and the radio is buzzing and parking--stuck
between two stations? You can't tell if you're awake or asleep--everything's so vivid and nearly tactile- but weird, weird, weirrrd.
When it started off, I was wandering and lost in the Painted Desert, dressed only in a pair of Lone Ranger pajamas. It was a cold and clear midnight, under a million crystal stars. But, suddenly, the stars all turned into tiny teardrops -- and I heard a
beautiful, honeyed voice singing from far away -- but getting louder and louder. Suddenly I saw SALLY TIMMS (you
know, that highbrow canary with the lowbrow vocabulary from that UK art-punk band, THE MEKONS?) floating down out of the sky like some kind of wild west Mary Poppins. She was twirling a blue velvet lariat -- in which she had lassoed a surreal cowboy band. She was drifting down with her players in tow, like they were a bizarre bunch of balloons. I tell you, I never heard anything as pretty and sad as the music they were making as they touched down.
There was TOM RAY (x-THE BOTTLE ROCKETS) with layers of Band-Aids on his fingers, playing bass on a stringed cactus -- and JOHN HERNDON (from TORTOISE) was drumming away on a snaggle-toothed longhorn skull -- JOHN RICE (from THE PINE VALLEY COSMONAUTS) was playing a little bit of everything (but he was wearing a Chanel
sheath dress, and insisting over and over in a loud effeminate voice that his name was "Celine"...) -- JESSICA BILLEY (from
MOONSHINE WILLY) was sawing a fiddle bow across a hank of her own hair, pulled tight from scalp to fist -- and JON RAU HOUSE (from GRIEVOUS ANGELS) just kept blithely sliding a roll of quarters back and forth across the top of a barbed-wire fence, making the steel strings moan in the moonlight.
And Cowboy Sally just kept sighing and singing those cowboy songs. She sang tunes I never heard before -- songs by JEFF TWEEDY, ROBBIE FULKS, THE HANDSOME FAMILY, and JILL SOBULE. She sand songs that you could just tell she had written herself -- including a Spanish canciope that would make you cry in your cerveza. Then she even sang a JOHNNY CASH ballad that I knew by heart. It was lonely, but it was lovely. Oh yes.
The sun was just beginning to rise and I saw my house on the horizon. Then, all of a sudden, JON LANGFORD (MEKONS, WACO BROTHERS, tomorrow the world...) galloped by on a mammoth saddled rattlesnake. He was shouting something about Dr. Strangelove and buckets of milk, but I couldn't really understand what he was saying. His mouth was crammed full of doughnuts. And then I woke up.

---
Billboard, Oct 9, 1999
Declarations of Independents
by Chris Morris
FLAG WAVING: The title of Mekons Vocalist Sally Timms' third solo album, due Nov. 2 from Chicago-based Bloodshot Records, is highly descriptive of its contents: "Cowboy Sally's Twighlight Laments... For Lost Buckaroos."
Timms-who, like her Mekons mates, transplanted from Leeds, England, to Chicago dui~ing the '90s-says, "What I wanted to make was a very pretty record. It comes out as sad, and somewhat poignant... Some of it's quite playful, some of it's camp, and some of it's sort of uneasy.
"Twilight Laments" unfolds as a kind of country music reverie, styled as a faux radio show (complete with intro and outro by MC Barry Mills) for contemporary cowpokes. It kicks off appropriately with a cover of the Sundowners' "Dreaming Cowboy"
and contains an unusual waltz-time version of Johnny Cash's "Cry Cry Cry." But the meat of the album is 5everal new songs by some outstanding alt.country writers.
Besides three originals by Timms and her Mekons colleague Jon Langford, it includes two songs by Chicago's Handsome Family; a traditional ballad rewritten by Wilco's Jeff Tweedy; and a startling Robbie Fulks tune, "In Bristol Town One Bright Day," that sounds like it was penned by a 19th-century balladeer. The set concludes with a beautiful take on Jill Sobule's "Rock Me To Sleep."
Timms' ever-lovely voice gets stellar support from a fine cast of instrumentalists. She says, "I was lucky with the people who played with me."
The sidemen include Fulks, Langford, Tom Ray of Devil In A Woodpile, Andrew Bird of Squirrel Nut Zippers, John Herndon of ,Tortoise, and, most valuably, multi-nstrumentalist Jon Rauhouse of the Grievous Angels.
"He's a llttle hidden gem," Timms says of Rauhouse, who is backing her on tour, supplying Hawaiian steel guitar; banjo, and mandolin accompaniment. "He's a very inspired musician."
In all, "Twilight Laments" is a work of considerable maturity, which Timms ascribes to a change in her working methods. "A year ago, I reassessed the way I tackle things...and came at it in a different way personally," she says, adding that the quiet, spare arrangements on the album - so different from the Mekons' brawling attack-"gave me a lot of leeway to play with my voice more."
Of course, Timms will be returmng to the Mekons fold, where she has been a core member since the mid'80s. She says the group is working on a new album: "We have strict rules - we have to make a good record this time. No slacking¶."
Timms is now on a monthlong North American tour with Freakwater.














ricjz®