Roots Of Heaven IV Festival
Patronaat, Haarlem
May 1st, 2005

Written by Johanna J. Bodde
Photos by

Peter Pricken
-----
The first warm day of the year, according to the radio it's going to be at least 25 to 27 degrees Centigrade. I could just enjoy the sun, but I prefer to enjoy the music today! The interesting line-up of the Roots Of Heaven Festival is too tempting... It means another rather complicated plan, another long ride by bus and train but I do arrive on the crowded platform of Haarlem's trainstation. I notice a man with a lot of luggage and a guitarcase walking towards the elevator. Guitarcase? Darned, it's Jason Ringenberg!! He looks different wearing his baseball cap. In the meantime he's too far away among the passengers to say hello, maybe he won't even recognize me anymore, that interview took place two years ago, but it was fun for sure! Let's see, it must be possible to walk from here to the temporary building of the Patronaat. I've been there once before for a concert, with friends in their car. But I know Haarlem a little bit, that's a weird coincidence: one of the (true) spy-stories I wrote took place in this same neighborhood! Too bad, they apparently tore down the old cigar store, which was used as an important address for contacts. As I'm early, I take my time to walk around a bit in these small streets, I sit down for a while to soak up the sun and then... the doors to music are being opened! Although I seem to have vanished from the guest list, they know who I am & what I do, so I don't have to pay for my ticket this time. (Thanks, Theo, Jos and of course Miss Patronaat Eline!)
-----
Now I need to drink a lot of water, I want to say hello to the familiar faces of my friends, I see info and flyers and free music magazines... Before I know it, the lights dim in the Big Room and that's

MIA DOI TODD

on stage! Definitely a lady I wanted to see in concert for a long time already, at Take Root 2003 she passed us by while we were busy interviewing and we never got the chance to hear her sing! She has her very own sound, relaxed, modest and a bit jazzy at times, she makes good use of the vocal range of her warm alto and does interesting things with her acoustic guitar. No kidding, she makes it ring like a harpsichord at times, just enchanting! Mia looks like a pretty doll in her black top and wide gypsy-skirt, isn't she half Japanese? She thanks us for coming out on this beautiful day: "Here, we're in a dungeon..", she jokes. Most of the songs are from her new album and I hear lines that grab my attention: "East of Eden, West of Garbagetown", or this one: "We woke up from our sleep, took turns at the sink, went back to bed", that gives away a sense of reality! "Autumn" is beautiful and so is "Deep At Sea". The compositions often have an unusual structure, with an unexpected ending. More creative lyrics, "I'm looking for a window into your heart", lateron she uses the words "soul" and "mind" there. More creative guitarplaying too. She's asking quietly and politely: "I'm not sure how long I'm here to play for, do you know that?", I also like her speaking voice! Another great line in the last song: "I pray to a non-existent God". That was one beautiful performance, Mia!!
-----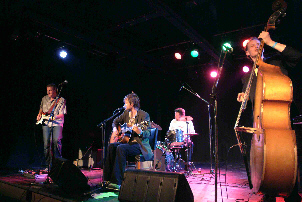 Smutfish
Copyright by Peter Pricken
It doesn't get too crowded at the festival, there are too many things to choose from in music land this time of the year and the sun outside is probably the biggest competitor. I hope sales of all the drinks for thirsty music lovers will make up for lack of ticket sales, as I really like it here! I actually start to like it better than the pretentious Blue Highways Festival... We don't have to choose between acts, after the show in the Big Room is over, the Small Room (with rows of seats!) opens up and almost everybody goes over there, no pushing and shoving like in Utrecht, convenient!

SMUTFISH

is a Dutch band, from Den Haag, singer-songwriter Melle de Boer plays a visibly often-used acoustic Gibson, there's the big acoustic bass, the drumkit and a Fender for the guitarplayer. The first song has a long intro, the music of Smutfish is described as americana / country noir, just think of Willard Grant Conspiracy and Sixteen Horsepower, then you'll have an idea. The second song, from last year's album "Lawnmower Mind", is my favorite: "I was brought to you with the limousine inside my head", it has a melody that sticks without you realizing that at first. The next one has a great Byrds-like chorus and the guitarplayer uses various effect pedals, put together on stage in the upper end of a briefcase, smart! A few songs are quite experimental and ask for good listeners, Smutfish isn't always so easy to approach, but they're really caught up in their concert, especially Melle. "Got To Have A Drink" and "On And On" are played, the weird sound coming back on the last one is being made by the guitarpick on the very end of the strings, next to the screws. Some people leave the room, maybe just to get a bite to eat, but it concerns the singer: "There are some nice songs coming up!" They want to play something fast and catchy again, called "Leather Pants". Melle says: "If you can start that off, I don't know it anymore!", but the guitarplayer explains: "I'm a real "play along" kind of guy...", in the end it works out anyway and they close off with "Red Balloon", where the bassplayer gets a chance to use his bow on the thick strings during the intro! It was a good mix between audience-pleasers and the more difficult stuff, definitely an honor for a Dutch band in this musical genre to be invited to play at a festival!
-----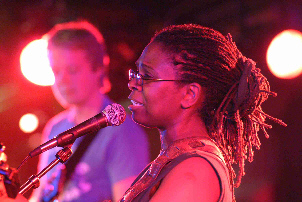 Ruthie Foster
Copyright by Peter Pricken
Back to the Big Room, there are a few seats here too, on the platform in the back and in case they're all taken, the steps to that platform will do! It's

RUTHIE FOSTER

's turn to play now and she holds up her glass: "I mix my booze with my gospel!" Not sure what to expect from her music, but this is certainly a funny lady. She plays acoustic guitar, wears a sleeveless black t-shirt and black pants, her braided hair is put together in a ponytail and she takes off her eyeglasses, when her face gets all "shiny" as she calls it, from the heat. The bassplayer at her side is being introduced as Alex and then the second song is already announced, "Up Above My Head" by Sister Rosanna Thorpe. Wow, Ruthie has an impressive voice indeed and she loves to sing in the key of C, according to her that's the "people's key". She chats like she knows us for years already, telling that Sam Cooke is one of her favorite singer-songwriters: "I love what he does with a melody!" She tried to write something in the Sam Cooke-style, "Another Rain Song". After singing her heart out on that one, she wipes her face with the towel: "While I was singing, one of those lights came on and it felt like the sun!", she beams, "I'm working on my tan here..." Ruthie spreads her arms and that's a real cool joke coming from a lady with an ebony skin! The next song is a "small town blues", about her hometown of 500 people in Texas and then she tells something about the civil rights movement in the 50s and 60s, introducing her song "Cross Over", she says: "Positive change starts with one person!" I don't know much about Ruthie, but something tells me that she probably didn't have such an easy life. Yet, she came out very strong and confident, she just radiates positive, optimistic thoughts! On the info sheet about the festival her vocal is being compared with an Aretha Franklin or Ella Fitzgerald. She fools around a little bit, doing some vocal exercise, challenging the audience to try it also. "An Ocean Of Tears", a song from the 40s by Big Maybelle Smith is followed by a story from her childhood, more spoken word or comedy than singing. About her family, the records with sermons of the Reverend Franklin (indeed, Aretha's father), the "amen-corner" in the church and the looooong "note" one of her aunts used to sing. This is great, everybody in the audience listens and is having fun! Ruthie ends the show with two old songs, "Walk On" by Brownie McGhee and "Travelin' Shoes", about "death and moving on". Of course we all demand an encore and she comes back for an a-capella version of Son House's "Don't You Mind People Grinning In Your Face". This show has been a very pleasant surprise!!
-----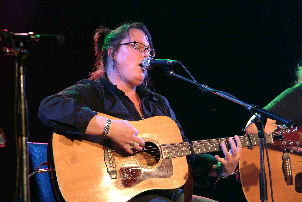 Terri Binion
Copyright by Peter Pricken
The doors to the Small Room are open already,

TERRI BINION

will play here, together with Dutch folksinger Marjolein van der Klauw and her partner Jacques Bico, we know them from the group Powderblue. Guitarist Stephan Jankowski usually shares the stage with The Watchman (Ad van Meurs). I've seen Terri before, during her first tour in The Netherlands, she played on her birthday and was moved by the kindness of the audience, people actually brought her presents! She looks good today, I like her hairdo with that small ponytail on top of her head. All four musicians are sitting on chairs, in typical informal folk concert fashion, everybody plays acoustic guitar, Jacques has also a good-sounding dobro there, Marjolein and Terri take turns singing lead-vocals. First Marjolein, with her version of the well-known "Cuckoo Song". Terri says hello to all of us, she seems very nervous and that's a pity, not necessary at all either. Hey girl, we luv you!! She sings "Locomotive", "Seven Hours From The One I Love" and a brandnew song: "Pall Mall Cigarette", about blowing smoke-rings, Stephan plays a totally brilliant guitar-solo somewhere in the middle! Marjolein feels at ease on stage and does her old and new Powderblue-songs, "Look Me In The Eye" ("I'll try to keep my eyes open while I sing", she says) and of course the catchy radio-hit "Busfare"! By the time Terri sings the title-track of her album "Fool", she feels more comfortable, the dobro fits perfectly with the song and a rousing version of "Porch Song" closes off. It was good to hear you again, Terri!
-----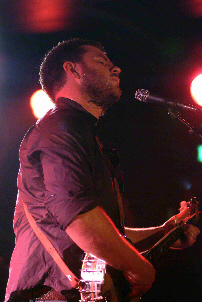 Ben Weaver
Copyright by Peter Pricken
BEN WEAVER

from Minnesota, I've been looking forward to see him in concert for quite some time. Reviewing his CD "Hollerin' At A Woodpecker" was quite an interesting experience. He's a muscular man, probably in his late 20s, with a beard that looks like he shaves it off every two weeks. He plays with a band, regular line-up of drums, bass and leadguitar, another electric guitar for Ben himself. I'm not so sure if that is going to work... This is a singer-songwriter with dark, poetic lyrics as his strongest point and how much are we going to understand of those words over the solid electric sound? Let's try, after all I figured out that album without lyrics in the booklet too. "Wings of a dirty dove - it's called love." Followed immediately by the second song, which has rain as one of the subjects, then the third and Ben hasn't said a word to the audience yet! It's a long song, the guitar threatens: "That girl from the Sunshine State, how she ran down the road with your heart". Ben picks up his banjo for the next couple of songs, "You can grieve all you want, in the arms of your lover". Hey, he speaks to us: "Good afternoon!" Uh, excuse me, it's 8 pm, Mr. Weaver? He says something nobody can understand, explains then that they flew in from Ireland. Up next is something he does by himself, about love and hunger and birds in the dishwater sky. Back to the electric guitar for "Voice In The Wilderness", his voice sounds raspy, the guitarist sings harmony on the next song with slurring notes: "I'm going down forty-five, it got so dark I forgot I have eyes". The applause is just weary, this is a low point in the show, where everything starts to sound the same. Ben's songs don't have real choruses, each and every one hits another minor key and the lyrics are too darned hard to understand over the loud instruments, besides all that he's not very talkative. He really should have done much better with an all-acoustic line-up or even just by himself with an acoustic guitar! Maybe he senses it too, that it starts to go wrong... He actually announces "Ella Mae" from an earlier album and that is a fast rocker, he is doing his best, he sweats like crazy. Before the last song he thanks the audience, tries a word Dutch and says he's glad to be back in "this lovely country". He keeps going quite fast, "the tracks go East, the train goes West", at the end he introduces his band and he even comes back for a new song as an encore. Well, what to think of this concert? Maybe Ben's just an introvert wilderness man, I'll give him the benefit of the doubt and I would go to listen again IF he just does it the acoustic way, so I can understand ALL the lyrics!
-----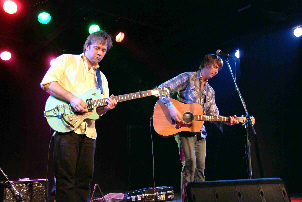 Shannon Lyon
Copyright by Peter Pricken

SHANNON LYON plays quite often in The Netherlands, yet it never worked out for me to go & see him. Roots of Heaven is the perfect opportunity! We're back in the Small Room, I like it here in the second or third row of seats. Friends sitting all around me, not everybody knows everybody very well, but we keep joking about keeping an eye on each other or biting each other in the neck! Shannon, the blond blue-eyed Canadian, appears on stage with his acoustic guitar, proposing a toast with his glass. What the heck is he drinking? I see a slice of lemon floating, that must be iced tea! He wears a jeans outfit and sneakers, taking the time to explain how his "Little Backyard Song" came about. He tells that he goes into the studio next week, here in The Netherlands again and he obviously looks forward to that. He also plays an enthusiastic harmonica during the second song. Then Bart Jan Baartmans joins him on stage, the best Dutch sideman for visitors from overseas, miracle worker on the strings and a great singer-songwriter in his own right. He plays acoustic slideguitar on this one, his mintgreen electric guitar and the cream colored Fender are also waiting. Yeah, I like Shannon's show, he does his own special thing. I just need to get used to his somewhat deep-in-the throat way of singing, he does that ending the lines in particular and he isn't always articulating very clearly. But his energy makes up for every possible flaw, he totally gets into the feeling of a song. "Beautiful Useless Words" is very impressive, about being raised in a Baptist home. I like his stories inbetween, he lived for two years in Arnhem and put his stuff in storage when he left, so he went back today and found his old LP's there. Musicians do their recognizable every-day things too! I don't know why, but I always like to hear a little about that. It makes even the most famous stars human again, I guess. Shannon also plays "Yellow", the first song he wrote, when he stayed in this country and another one, about Barcelona. He wipes off his guitar first and then himself, he took his jacket off already, really working himself into a sweat. He remembers another song he wrote in Arnhem, about a ship on the Rhine, he takes out the harmonica again for that one. BJ smiles in the meantime, throwing in his fabulous solos, like he doesn't even have to pay attention to what he's doing, that's called real talent! Shannon is also not sure how much time he has, but the "last song-signal" usually comes when the musician starts wondering. And of course Shannon and BJ play an encore for us!
-----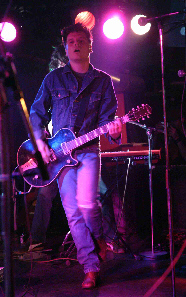 Jake Brennan
Copyright by Peter Pricken
Now I really need a "pit-stop" and a lot of water!! Then I'm just in time to see

JAKE BRENNAN & THE CONFIDENCE MEN

start their show in the Big Room. He says hello, introduces his Confidence Men (on drums, bass, keyboards and electric guitar), telling that they came from Boston for the two festivals here. Jake is a young man, my guess: mid 20's, curly hair, arm full of tattoos, jeans and t-shirt on, he's the son of Dennis Brennan! This type of music is usually a bit too loud for my taste, I always say: "Everybody can rock, but what do they have to add that makes it special?" Here's that energy & enthusiasm, for sure, in Dutch we would call these guys "young dogs"! Jake jumps around on stage, often singing a line through the guitarist's microphone along the way: "We're trying to have a good time here!" He announces some of the songs, "Mixed Message At The Tone", that's a cool title. "Good morning!!", he yells. Oh no, not him too! Another American in a time warp? He's just joking, he borrowed Ben Weaver's acoustic guitar as his own broke during the transportation by plane: "It's a depressing mess!" He announces a semi-new song, "I Wanna Know Why I Ever Loved You" and then they go cow-punk with a Moe Bandy-tune: "It was always so easy to find a happy woman until last night I was looking for mine!" He says about old country star Moe Bandy: "I'm not even sure he's still alive..." "Believe Me" is slow and nice, "as pretty as we get" according to Jake, while the guitarplayer fools around with a camera, taking pictures of the audience. "Come on, man, it's been 45 minutes since we played our last song", Jake gets him back to action and the louder all-electric stuff. "She's Walking Away" is a brandnew song and they do another one, which will be the first song on a new record. The last piece they play, "Bird's Eye Looking For Birds" kicks off with drums, Jake has put down his guitar and twirls the microphone stand around, ending with a few screams. This was much more fun than I expected!
-----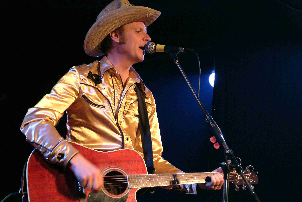 Jason Ringenberg
Copyright by Peter Pricken

JASON RINGENBERG will be the last one to play in the Small Room. My friends from the "Oud-Beijerland connection", who are giving me a ride to Rotterdam tonight, tell me that they plan to go home after this show. I beg for one song of Jesse Dayton, I've seen him only once before, they saw him several times. That's no problem, so all attention goes now to Jason, who struts on stage with his usual overwhelming energy. He has his acoustic guitar strapped on already, he wears one of his specially designed gold colored satin shirts, his straw hat, tight black jeans and of course cowboyboots! He does his own funny introduction and starts immediately with "Honkytonk Maniac From Mars", he even imitates the steel guitar solo... Jason also has a serious side, he sings "One More Black, One More Blue" and he knows a whole lot about history and geography, unlike the average American. He is even aware of the fact that Harlem in New York is named after this city Haarlem, during the time the Dutch owned Manhattan. He knows some Dutch words and expressions too. "Rebel Flag In Germany" is a true story from his latest album, he tells another true story about a lumberjack who got angry at him during a show in Homer, Alaska, he just has such a great sense of humor and showmanship! After telling that he listened to Phil Ochs during his teenage years, while his friends listened to Led Zeppelin, he sings "White Boots Marching In The Yellow Land" and I notice once again what a beautiful tenor voice Jason has, he sounds just great tonight. Another political statement is about the "New-Fashioned Imperialist", also from "Empire Builders". Just like "Tuskegee Pride" and he tells the whole story about the fighter squad with all African-American pilots, that didn't lose one bomber they accompanied during WW2. Wow, what a knowledge, I -journalist by trade- knew only a little bit about that. Of course Jason looks back on his cowpunk days, we can put in a request for a Jason & The Scorchers song, that is going to be "Blanket Of Sorrow". He dances around the stage, like he has elastic legs: "I can still rock, it just takes a little longer to recover!" he laughs. "Rainbow Stew", the old Merle Haggard song is also done the fast way, Jason swings the guitar around his body at the end. Then he tells about the children's project, as he is also Farmer Jason and has actually more success in The States doing that act as being himself! He gives us a sample with "The Tractor Goes Chug Chug Chug". Time flies when you're having fun, when Jason gets his "last song-signal", he laughs: "It's going to be a long one, trust me!" First he tells an extended story, people call him a singer-songwriter now and he finally accepted that, kind of. "Do you know the difference between a singer-songwriter and a puppy? Eventually the puppy will stop whining!" Continuing it gets more and more hilarious, with the woman in Sweden who demanded that he should play a Carpenters-song for her birthday! Indeed, he ends with his own funny version of "Top Of The World"! One thing's for sure, Jason will stay on our list of "Heroes" for a looooong time coming.....
-----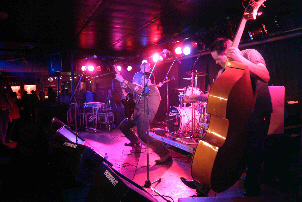 Jesse Dayton
Copyright by Peter Pricken
It's almost midnight and

JESSE DAYTON

closes off the festival in the Big Room. I've seen him last year at the Q-Bus in Leiden, dedicated musician and very nice guy, he still has the same band: Elmo on upright bass, Erik is the drummer and Brian the amazingly talented steel guitar player, he also handles the banjo. Jesse is a superb guitarist too, he looks handsome in his black shirt with Christmas flowers (!) and he plays a somewhat simular setlist as last year. He's just the same bundle of energy, seeing every detail that goes on in the room, adjusting a few knobs of the amp while passing by and playing on, wanting to squeeze every second out of the show. "You know I like to bullshit with the crowd, but I have only an hour tonight, so let's play some music!" Music being his trademark mix of rock&roll, rockabilly and lots of honky tonk country. "She spends my money like waterfalls", those are the kind of lines going with that sound. His fourth song is a cover, something by The Gourds this time. And on it goes, until the steam is literally visible on stage, "King Of Broken Hearts", "Tall Walkin' Texas Trash" ("I've seen the world through a whiskey bottle"), "Let's all get stoned and listen to George Jones". Jesse introduces the band, proposes a toast: "The beer is stronger here than in Texas, so if we get a bit loopy..." and thanks us for staying late: "We'll give you your money's worth!" He notices that Erik just destroyed his snare drum: "He's busting the drums back here, that means we're rockin'!!" Hey, I like that optimistic view on things... Weren't we supposed to leave after one song? I knew Jesse would win the guys over to stay until the end! Jason Ringenberg is passing by, guitarcase and a bag in his hands, ready to leave. He can't resist Jesse either, he puts his stuff down and stays to listen. Eagle-eyed Jesse sees that of course and starts announcing that he is an "old school Jason & The Scorchers fan", then he invites Jason with him on stage and they improvise on "Folsom Prison Blues", ending with Jesse's superfast solo, I wouldn't have missed this for the world! The last song is from his latest album, great subject: "Singing honkytonk in the nighttime, working for the suits today". They jam for a while as an encore, with the banjo, doing "Georgia On A Fast Train" and I mean a FAST train... Jesse Dayton is the perfect choice for a last act around midnight!
-----
Perfect festival too!! I really can't find anything to make remarks about, I can only find well-meant compliments: great set-up with the two rooms and the timing, interesting line-up, the sound has been incredibly good: hats off to you, boys and girls! Maybe you could try to move the date away from the so-called "big" festivals, there are always good acts on tour that you can book but no music lover goes to three festivals in three consecutive weekends, not even me... It feels darned good, to have soaked in music for almost nine hours! The world outside apparently has been soaked by a thunderstorm, so everybody and everything feels refreshed. I'm very happy with my ride (thanks Ronald, Henk, Armand), now I could stay until the very end. We fold ourselves in the two-door car, one of the acquired albums disappears in the CD-player and there we go!
=====
Written by Johanna J. Bodde, May 7th 2005, for Insurgent Country, Germany.
www.insurgentcountry.net
=====