Ronnie Glover
"Nothing ever changes"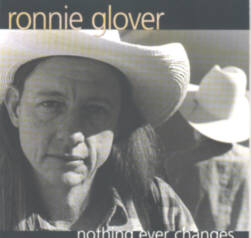 Western Americana
Ronnie Glover is a Southwesterner. He is a native Texan, born near the stoyards of Ft. Worth and grew up south of town in a small rural community. After high school and a few semesters of college, he embarked on a southwestern pilgrimage living in New Mexico, then Arizona, performing in bands throughout the West.
His musical influences came from diverse origins; the Saturday TV shows of the Wilburn Bros., Buck Owens, Bill Mack; Classical and Gospel music; but none had greater impact than the Austin based Texas artists of the early seventies. Artists such as Willie Nelson, Steve Fromholtz, Willis Alan Ramsey, Michael Murphy, The Lost Gonzo Band and others.
After over two decades of traveling and playing in bands while acting as band leader, Ronnie decided to try his hand at solo performance. He discovered a bare bones approach allowing him more freedom to entertain a live audience. His current show is capable of changing with his audiences while combining music, son-writing and comedy.
Glover's new disc, Nothing Ever Changes is his first solo release. The project's western flavor is enhanced with a myriad of acoustic instruments and also provides a dose of western electric. From the Cajun waltz, Louisianna Louisianne to the swinging I Don't Know, and on to the rockin' western tragedy, Sonora's Death Row, his work and interpretation display a unique quality that bare his diverse influences.
"My favorite style of song is the ballad. I've always enjoyed a good story; especially one that puts the listeners into the story and perhaps takes an unexpected twist somewhere along the way. The greatest reward I have received from my musical career is the friendships I've made and the personalities I've encountered along the trail. My horizons have been broadened by many characters. To me, it's all about people; meeting and entertaining people."