BLOODSHOT Records
"...What sets (The Rip To,tes) apart from their competition isn't their roadhouse work ethic or the obvious delight they take in rummaging through pop music's attic. No, it's their songwritiingg that makes them notable and quotable."
Mike Joyce - Washington Post
THE RIPTONES
Cowboy's Inn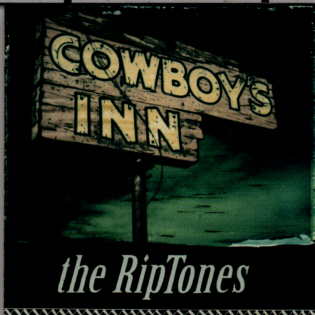 In the little microcosmic burg of Bloodshot Records (home to Neko Case, Alejandro Escovedo, Andre Williams, The Blacks, and other upstanding citizens) Chicago's RipTones play Opie Taylor to The Waco Brothers' town drunk Otis. Their love of happenin' American roots music is so giddy and unaffected, you might think they were wide- eyed little squirts at Christmas -- staring into a store window full of cool old records by Ricky Nelson, Webb Pierce, Carl Perkins, The Everly Brothers, Hank Thompson, and Elvis Presley.
Don't get me wrong, though -- this ain't no cheesy retro re-hashing. As they showed on their last Bloodshot release, Extra Sauce, The RipTones know how to cook with gas -- and now Cowboy's Inn boasts an even leaner and meaner RipTones line up: Jeb Bonansinga returns with his Johnny Horton-cum-Dave Alvin guitar and vocals, stand-up bassman Earl Carter (with his manic-panic, bundle of sinergy antics) is back with a tone that's fat and tight -- just the way he likes it, and the newest RipTone, Kurt Wiesend, pounds out a harder, deeper drive on the drum kit. Producer Ian Spanic (of The Spanic Boys - and producer of Extra Sauce) once again twiddles the knobs with playful authority - - and tastily applies his expert guitar flourishes, and the sweet harmony vocals of his Pop, Tom Spanic (keepin' it in the family, y'know).
The eleven originals which make up Cowboy's Inn once again showcase The RipTones' uncanny ability to snake seamlessly between the worlds of raucous rave-up rockabilly, gritty honky-tonk, and classic country & western -- Cowboy's Inn has bite.

BLOODSHOT RECORDS 912 W. ADDISON CHICAGO IL 60613-4339 U.S.A.
www . bloodshotrecords.com
---
The RipTones ink
GA VIN Record To Watch, Rob Bleetstein:
"Take a little bit of Sun Records' era Orbison & Presley, mix that with Buck and the Bakersfield honky-tonk, and you've got a mix to mess with from these Midwestern rockers."
THE CHICAGO SUN-TIMES, Mary Houlihan-Skilton:
"To experience the Riptones on CD is only part of the picture: the groups' live performances are rip-roaring events."
NASHVILLE BANNER Best Bets, Michael Gray
"Chicago roots band The RipTones rip through road-house country, rockabilly and surf... World renowned, no, but a good time for sure."
ILLINOIS ENTERTAINER, Gwen lhnat:
"The Riptones punctuate their poignant countrified lyrics with the perfect music to back them up: a slappin' upright bass, a pistol shot snare, an occasional mandolin, and a constant rub board.
GAVINAmenc ana Picks, Eric.Shea:
"...the Riptones have r~~~rded an enticing hybrid df' songwriting styles. The menu here carries a flavor of traditionalfy:: rich roots music packed with a sweet punch of rockabilly that will have the kids swinging i4 juke joints from coast to coast.. a beat that would feel right at h9me with Big Sandy and his Fly Ri~ht ~ -- -~
OUTRE, Chris Dickinson:
"...a compelling mix of primitive rock'n'roll, hard country, and surf. True, the Riptones have absorbed the genuine rockabilly intensity of Sun Sessions Elvis, Gene Vincent, Carl Perkins and Jerry Lee Lewis. But they've equally absorbed the spirit of 1 940s boogie pioneers Maddox Brother and Rose, the hard-country-edge of Texas honky-tonker Ernest Tubb, and some of the Dorsey Brothers swing."
COUNTRY POST, Edgar Ames Shelton:
"...a band with a lot of original material and promise. Their style is straightforward 'look you in the eye' and blow out the walls."
AUSTIN CHRONICLE (SXSW Picks & Sleepers), David Lynch:
"Adding to the fine Bloodshot menu with Extra Sauce, the Riptones prove from the deep South to serve up a heaping dish of country-blues-rock."
you don't have to be
THE ILLINOIS ENTERTAINER, T.F.:
"...this freewheeling Chicago outfit has certainly rounded up some catchy melodies. There's also an appealing sense of humor throughout these tunes,. ..you'd still be hard pressed to find a C&W album that's more fun."
INK NINETEEN, Mark Chester:
"...Country to the hilt, smiling and swinging in a style, mixing backwoods swagger with Beatles-quality melody making and catchiness. ... If you're looking for something a bit more genuine than the most recent, mopey, 'alterna-country', look here first"