www.cavitysearchrecords.com
RICHMOND FONTAINE
"LOST SON"
CSR 49
For an album to connect, the songs have got to change your perspective. Make you think. Draw you in. That's what'll happen when you check out Lost Son, the seductive, incisive third record from Richmond Fontaine. It's a flowing collection of songs that slow down and drift into sorrow or rev up and soar into rage. It's Willy Vlautin's finest moment as a songwriter, a flexing of narrative skills that brings to life seedy characters and unfortunate souls.
Every song's about a guy that gets himself into a fucked-up situation," says Vlautin. "Or gets himself out of one."
The Reno, Nevada-born singer and guitarist got himself into the fucked-up situation of fronting a band in 1996, shortly after setting up shop in Portland, Oregon. Naming the project after a character in one of his short stories, Vlautin led Richmond Fontaine to the forefront of the Northwest's countrified punk scene. The band's first two discs, Safety and Miles From (both on Cavity Search), garnered comparisons not only to lik~minded acts from Uncle Tupelo to the Minutemen, but also to darkly evocative fiction writers such as Raymond Carver and Larry Brown.
For Richmond Fontaine's third Cavity Search record, Lost Son, Vlautin penned a set of excruciatingly detailed songs, then worked out the lively musical arrangements with bandmates Dave Harding (bass), Paul Brainard (pedal steel, mandolin, backing vocals) and Joe Davis (drums). The quartet spent three weeks at Portland's Jackpot Studios, with ex-Freewheelers frontman Luther Russell producing, and with engineering help from Larry Crane and Joanna Bolme (who've worked with Elliott Smith, Quasi, and the Spinanes). To insure the band's highest quality sound to date, the tapes were sent off to John Fischbach, the New Orleans engineer and producer who's lent his skills to a diverse catalog of artists from Stevie Wonder to the Circle Jerks.
Richmond Fontaine's songs have always sounded effective even in their rawest form, but this team of experts has crafted an album that lets the creepiness and catharsis in Vlautin's stories cut through like never before. The icy strings of acoustic guitar and mandolin heighten the drama in the haunting tale of foul play on a mountain road, "Cascades." Echoed drums (played by ex-Fabulous Thunderbird Jimi Bott) and pedal steel twang underpin the eerieness surrounding a runaway in "15 Year Old Kid in Nogales, Mexico." Songs about shady characters ("Ft. Lewis," "Pinkerton," "Muddy Conscience") match Vlautin's hardened, disgruntled vocals with a relentless punk stomp. In the stunning album closer, "Hope & Repair," cello, violin and acoustic guitar set a melancholic background for a stirring mystery about a man who tries to rescue a prostitute from the streets, with tragic results.
"When we were recording that song," Vlautin recalls, "Everybody in the studio had a different idea of what happens to the man and the prostitute. I wanted to let people decide for themselves."
People don't usually get so engaged in an album that they care what happens to characters, but Lost Son is a different kind of record. It changes your perspective. It makes you think. And, like a great novel or an enrapturing film, Lost Son draws you in.
Other Selections:
CSR 36 RICHMOND FONTAINE SAFETY CD
CSR 42 RICHMOND FONTAINE MILES FROM CD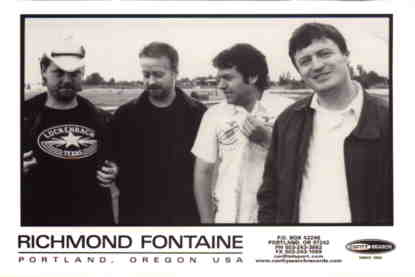 BIO

Combining elements of punk, country, and folk music, the members of Richmond Fontaine provide a captivating backdrop for the heart-wrenching tales of lead singer Willy Vlautin. Vlautin's lyrics, which are often compared to the short stories of Raymond Carver, bring a vision of the West which is both vital and compelling. Bleak characters occupy the songs, ready to break out of the prison that everyday life has brought them. Wistful pedal steel, melodic bass, jazz-inflected drumming and ringing electric guitar serve as the only escape for the occupants of Richmond Fontaine's songs.

History:

Richmond Fontaine formed in 1994 when Willy Vlautin (guitar and vocals) met Dave Harding (bass) at the Portland Meadows horse track. The two quickly discovered a mutual affinity for the music of Husker Du, the Replacements, X, The Blasters, and Willie Nelson. Naming themselves after a down and out character Vlautin met in Mexico, Richmond Fontaine began playing the Portland club circuit.

After signing to Cavity Search Records in 1996, Richmond Fontaine released their first record, Safety 1997 saw the release of MiIes From. These records gained them notable praise from music writers, who loved the band's dark lyrics and powerful music. The band embarked on numerous Midwest and West Coast tours where they developed a devoted fan base that craved their high-energy, fiery live shows. They also shared the stage with such artists as Mike Watt, Jeff Tweedy, Jonathan Richman, X, Joe Henry, Palace, and Golden Smog.

1999 brings the release of their strongest record yet, Lost Son. Produced by Luther Russell and recorded at Jackpot! Studios in Portland, Lost Son shows the band at its peak, moving from plaintive folk songs to punk rock flare-ups to sing-along choruses in the blink of an eye. With a solid lineup featuring Vlautin, Harding, Paul Brainard on pedal steel and Sean Oldham on drums, Richmond Fontaine is only getting better. With their sites set on U.S. and European tours, the band is always ready to prove why their music matters.