BLOODSHOT REVIVAL
are pleased as all get-out to present a series of unreleased transcription recordings from the 1930's through the early 60's, featuring some of the greatest names in country music history ...
Perfect Specialty Show material: WESTERN, COUNTRY, COWBOY MUSIC, OLDIES, and RE-ISSUES
* Rex Allen *
"The Last of the Great Singing Cowboys"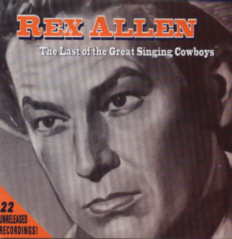 Bloodshot Records, Chicago's "Home of Insurgent Country" (where upstarts ilke The Waco Brothers, Alejandro Escovedo, Neko Case, Andre Williams and The Pine Valley Cosmonauts come home to roost...),and our friends at Soundies, are proud as hell to launch our subsidiary imprint -- ladies and gentlemen, witness the first releases in what will be a dazzling array of goodies from country rnusic's storied past -- brought to you by BLOODSHOT REVIVAL!
None of these recordings has ever been released In any form. These budget-priced CDs and cassettes are lovingly re-mastered from the transcription lacquers, and feature excellent period artwork and liner notes. Other notable releases slated for '99 include collections from Spade Cooley (out in April 1!), Ernest Tubb, Sons of the Pioneers, and Hank Thompson. FILE THESE RECORDS UNDER COUNTRY -- WITH A CAPITAL "C".
First up is the "Arizona Cowboy" himself -- REX ALLEN. In keeping with the Bloodshot/Chicago spirit, the songs in this collection were recorded during Allen's 1946-1949 heyday as the star of Chicago's WLS Barn Dance (a radio show that surpassed the Grand Old Opry in influence well into the 1960's). On "The Last of the Great Singing Cowboys," you get fast-paced instrumentals, velvety ballads, smooth trio harmonies, and story songs -- with a crack backing band of accordion, fiddle, guitar, and swinging stand-up bass. This stuff smokes, folks.
It's a new day in the bunker, comrades. These are beautiful recordings from country music's seminal glory days. Everyone from Granny on down will love it and want to swing along. Just think! No more Bloodshot-induced family rifts! This stuff is fancy-good. Resurgent country anyone?
www.bloodshotrecords.com
BLOODSHOT RECORD 912 W. ADDISON CHICAGO IL 60613-4339 USA