Blackie & The Rodeo Kings
BARK
True North TND 300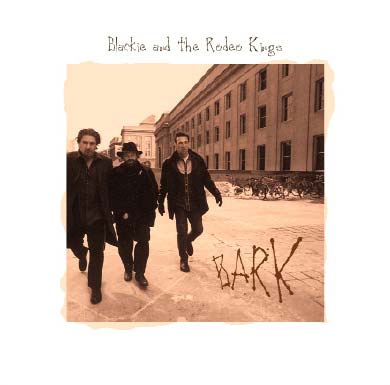 Supergroups, have they ever been away? Ever since The Cream there have always been bands that have combined the talents of three or four individual artists in order to have some fun or to sell a few albums. Lately we have seen The Resentments that may qualify as such, and here's another one, which has been around for quite some time. BARK consist of Stephen Fearing who's again in the great shape that he displayed on his latest That's How I Walk, Tom Wilson and Colin Linden, who can't do anything wrong anymore after his gorgeous production of the tribute to Gordon Lightfoot. On their third album they frequently spark off the necessary inspiration and enthusiasm that should characterize these collectives, especially when they simply ROCK. That's when they are at their best, just check out the opener Swinging FromThe Chains Of Love, Water Or Gasoline or Had Enough Of You Today. Especially the latter song hits it where it hurts; the Stones would have wished they had one like that on any of their later albums. This is Southern Rock at its very best and fortunately this atmosphere lingers on throughout this fine album, and not only when the slide guitar is raging. The good thing is, there is much more than just that! Halfway through the album the guys prove they are well capable of writing a touching ballad as well, to which Born To Be A Traveler and Heaven Knows Your Name eagerly testify. Moreover, Tom Wilson easily takes on a Robbie Robertson persona (Stoned), Colin Linden pays homage to Warren Zevon (House Of Sin), and there are fine covers, one from their hero Willie P. Bennett and another by Bruce Cockburn. All this rock solid material makes for one of the most eclectic roots albums to have been released this year.
Korby Lenker
Bellingham
Singular Recordings 2028 20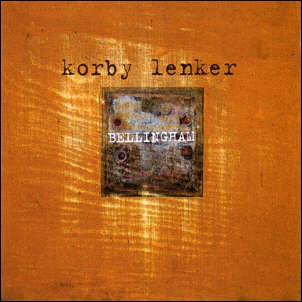 Alt. Bluegrass? Alt. Bluegrass!
Korby Lenker, from Bellingham, Washington, has formed a remarkable roots duo with his musical partner, string wizard Mike Grigoni. They have created an extraordinary sound, transforming the traditional bluegrass of, for instance, The Monroe, Stanley or Louvin Brothers to a modern-sounding form of Americana, which they themselves call alt. Bluegrass. On this album, their maiden effort, they show how their deeply-rooted love for and knowledge of bluegrass music is fertile ground for an amazing link-up of contemporary, narrative acoustic songs, as we have come to appreciate from young, leading troubadours like Slaid Cleaves or Brian Webb and instrumentation that we know from American traditional music. Prize number Papercups, which refuses to leave your head for days on end, fits seamlessly in Brian Webb's repertoire. The album is fully acoustic; the beautiful vocals, to which Jolie Holland contributes generously, are supported by bassist Andrew Simmons Korby Lenker's guitar. But the leading part is without any doubt for the masterly Mike Grigoni on dobro, who manages to add fascinating colours to each particular song in an extraordinary fashion. Both Korby and Mike have warm voices, which complement each other perfectly. Moving ballads alternate with catchy, up-tempo songs. All have been written by Korby Lenker, except the classic The Angels Rejoiced Last Night from The Louvin Brothers. Which illustrates their background beautifully, but even this song sounds as if Korby himself wrote it only yesterday. Truly an astonishing achievement. Which befits this astonishing album perfectly.
Various Artists
Moon Over The Downs – The Trailer Star Tribute
Super Tiny Records STR0002

Fascinating fiction.
One of the most beautiful Americana records that have been released over this past year is without any doubt this captivating album. The "tribute to a star that never was" is a concept album conceived by Shaun Belcher, a most creative character who, amongst innumerable other activities, runs the Flyin Shoes website. The fictitious Trailer Star is the deceased musician to whom this album has been dedicated. Shaun wrote the lyrics for 15 songs and had them put to music and recorded by a fine selection of Americana artists, mostly troubadours from the folk genre. Sometimes the songs are more rock-related, like the solid Kinks-ish Clown's Car by Jim Roll and Brian Lillie, with a heart-warming Augie Meyers-organ. The 15 tracks are 15 beautiful songs, which, in spite of their diversity, constitute one coherent whole. They paint a picture of the darkish, Twin Peaks-like world of Trailer Star. As the album is actually a chain of great songs, it is nearly out of the question to mention its highlights. Let's try it anyway: the haunting The Devil's House by Claudia Scott and the renowned multi-instrumentalist Fats Kaplan will deprive anyone of one's sleep. These Wishing Fields, One Horse Town and My Little Town by Bob Cheevers, Dan Israel en James McSweeney respectively, are intimate, personal revelations in the style of Guy Clark and Willie Nelson. There's the intriguing, almost chilling November Morning Sun by Cicero Buck, with the highly talented vocalist Kris Wilkinson, whose harmonica creeps up and down your spine. Lambchop's Deanna Varagona calls up goose pimples with the dismal Bled Dry, Ronnie Elliot relives Johnny Cash in the dark Devil's Address, there's an obsessive violin in Brian Lillie's Drowning Moon, with direct, unemotional vocals. Need one go on? This has become an album that will absorb the listener completely, that will embrace him, to never let him go. The fact that the greater part of the proceeds of the unique project will be donated to Cancer Research in Great Britain is yet another incentive to buy this must-have album.
The Gibson Brothers
Long Way Back Home
Sugar Hill SUG CD 3986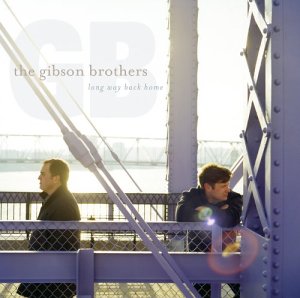 What an impressive number of fine bluegrass albums has been released lately, and this one ranks among the very best. After the blood infusion by O Brother Where Art Thou?, innumerable talented musicians (unfortunately there are quite a few less talented, dollar-driven musicians as well!) have got rid of unwarranted self-consciousness and make themselves heard loudly; and quite rightly so. The Gibson Brothers are a exceptionally fine specimen in this raised level of bluegrass, as their 7th release and second for Sugar Hill may well be the most beautiful album brothers Leigh and Eric have released in their successful, decade-long career. Their original line-up has seen dobro-player Junior Barber leave (he teamed up with Gary Ferguson), but as he has been replaced by the likes of the great Rob Ickes plus the inclusion of Jason Carter on fiddle, who's complaining? Basically these guys play classic bluegrass, deeply rooted in tradition with impressive close harmonies which they no doubt have their gospel background to thank for. Is there anything that can beat sibling harmonies? They do however not shrink from expanding their horizon and adding a contemporary edge to their music; how about The Band's Ophelia or Kieran Kane's Mountain Song, which forcefully opens the album, as choice covers? Not to mention their respectful rendition of Gordon Lightfoot's title track. Respect and love for the genre shine through all the tracks, creating an intimacy that is even reminiscent of Roy Orbison in the touching Dreams That End Like This. Alison Krauss and Union Station will have a hard time topping this one with their upcoming album!
Bert van Kessel