Stace England
talks about: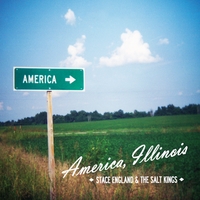 For a number of years (2002-2007) Theo Oldenburg and I did the radio show 'AltCountry Cooking' together. Sometimes he would hand over a promo especially to me: "Listen, this is something for you!!" He was always spot on! One of those discs was 'Greetings From Cairo, Illinois' by Stace England, released in 2005. Music and history combined > perfect! I remained in close contact with Stace ever since.
Let's look into Stace's bio, to get an impression of his own history: "Stace England hails from Southern Illinois in the Midwest and found his creative footing in Chicago during the early '90s with House Afire, one of the first country/roots bands in what was to become a very vibrant altcountry scene. House Afire enjoyed tremendous fan support and released one album: 'Progress' in 1992. He returned to the isolation of rural Southern Illinois and recorded a project of aggressive folk material under the name Tecumseh, releasing the well-received 'Bearings' in 1995. His next musical adventure was with the alt/slasher/country-rock outfit Jubilee Songbirds, which released the eclectic 'Birds of North America' in 1997. England released his first solo record, 'Peach Blossom Special' in 1999, and a power pop CD in 2003, 'Lovey Dovey ALL the Time'.

The concept/historical album 'Greetings From Cairo, Illinois' was a culmination of five years of research, hundreds of conversations and "countless hours of general hanging around" in what he describes as "the most fascinating town in America, bar none." The CD traced Cairo's history from 1858 to the present through the Civil War, lynchings, the blues years, civil rights struggles and spectacular decline. England was joined on the CD by top musicians from Southern Illinois, Los Angeles and Nashville including altcountry legend Jason Ringenberg. 'Greetings From Cairo, Illinois' led to international interest in England's music and stories from Southern Illinois.

With 2007's 'Salt Sex Slaves' Stace England, along with his stellar core band The Salt Kings tackled another bizarre slice of unknown US history weaving true stories of brutal salt production, slave breeding, kidnapped free blacks and murder in a supposed Free State, the Land of Lincoln, into a volatile, provocative stew.

With 2010's 'The Amazing Oscar Micheaux' England and The Salt Kings set their sights on the incredible life story of Metropolis, Illinois born filmmaker Oscar Micheaux. After leaving Little Egypt he spent time as a Pullman porter, traveling all over the US and as far as South America. He then became the only African American to homestead a farm near Gregory, South Dakota. In his isolation he began to pen semi autobiographical novels, starting with 'The Conquest' in 1913 and 'The Homesteader' in 1917. A small, black owned movie studio approached Micheaux about making the standard short film of the period based on 'The Homesteader', he instead formed his own film company and wrote, filmed, produced and directed the sprawling epic 'The Homesteader' in 1919. It was a sensation in Chicago and other cities. Then, in a direct challenge to D.W. Griffith's racially charged 'Birth Of A Nation' Micheaux released his masterpiece 'Within Our Gates' in 1920. Audiences were stunned. The film remained lost for almost 60 years until a single copy was discovered in Spain in 1990. His triumph was the equivalent of making 'Citizen Kane' without any financial backing from Hollywood or other connected sources. Micheaux bested Orson Welles in accomplishment, and by two plus decades, yet he is virtually unknown to most Americans. The CD was featured on NPR's Weekend Edition and led to an innovative film festival tour."
The new project: 'America, Illinois' - songs from a post 911 United States filtered through the lens of the tiny village of America in Pulaski County, Illinois - one of the poorest regions in the country. More recent history, as we all still know exactly where we were when 'it' happened and we first watched in disbelief the gruesome images from New York City. The day everything changed for everybody in the whole world! The day innocence and trust seemed to have died.


"This is our American experience from September 10, 2001 to today". That's the theme of the CD and the songs are smart, insightful and well-written, as we came to expect from Stace and his co-writing Salt Kings. Charlie Tabing (guitars, dobro, accordion) takes over the lead vocals on the tracks "You're Not From Around Here" and "Eden". Stace himself is not so much an excellent singer but more important: a personality, his voice has character - just like Bob Dylan's or John Prine's. He also plays guitar on the record. Bassist Ron Johnson sings background vocals and Dane Spalt is the drummer. Guest musicians are Matt Enbring (keyboards) and Dave Anderson (pedal steel). The music goes -on the sequence of stories- from country ballads to midtempo to rock and back again.


"Illinois" is a short instrumental piece, composed by C.H. Chamberlain in 1925, played by Stephanie Wooley on violin and viola. First full (rock)song "Asleep In America" sounds slightly experimental, while "Tear In The Sky" has a memorable country melody. For "Cairo Annie" the marching rhythm and The Not Shy Kids Choir go very well with the strong story of a female military recruit. "Chapel Hill Bottoms" has a bit of a rockabilly rhythm, "Villa Ridge" a psychedelic touch, while "Eden" sounds hopeful on uptempo countryrock. "America, Epilogue" wraps up the concept nicely, giving a little push to the many people who work with perseverence to give their town / state / country a better future.


The album even has a bonus track: "Oh! Susanna" the traditional written by Stephen Foster, which was the entry of Stace England & The Salt Kings for: Neil Young's Cover A Cover Song That Neil Young And Crazy Horse Covered Contest. Excuse me? Doesn't matter, it rocks without mercy!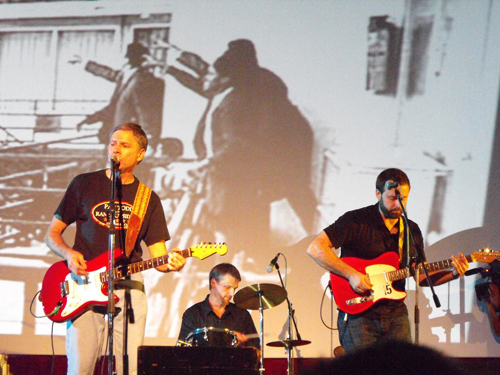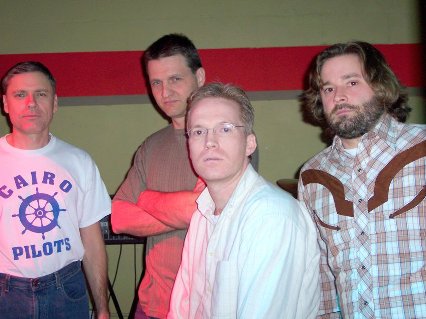 Stace England himself tells us:

"The America, Illinois CD was our attempt to process the disturbing events in the United States after 911 and to do it from our location in the southern part of the State of Illinois where we live.

We apologize to European listeners for not including a booklet or more extensive liner notes, that was a mistake on our part. In the United States we did not want to tell people what to think, but to simply challenge them to think about their feelings about the two wars, Iraq and Afghanistan. We thought a booklet might do so and decided to leave it out.


What we witnessed in America, Illinois were very patriotic and in the case of Iraq, mislead young men and women volunteering for the armed services after 911. They did so in larger numbers than much of the country because of the poverty here. They then started to return damaged both mentally and physically.


"Illinois"
- We included the Illinois State song because it is lovely and it set a tone and a location for the story.
"Asleep In America"
- This song takes place the day before 911, September 10, 2001. The country was doing very well and people were generally happy and at peace. But we were
asleep
to the growing danger our overseas political policies had set in motion.
"Tear In The Sky"
- Tear In The Sky is the 911 event and the first week afterward. In our lifetimes we have never seen a more traumatic, yet unifying moment.
"Cairo Annie"
- Cairo Annie is a fictional character but she represents the many soldiers from the area who signed up for military service because they could not find a job. It's a rich man's war, and a poor man's fight as The Resentments sang.
"Mound City"
- Mound City is a United States National Cemetery near Cairo, Illinois that contains the dead from many wars including the US Civil War. It is a deeply moving place and makes one focus on the true cost of war.
"Confluence"
- This is a song about emotionally damaged soldiers coming home and struggling with the relationships they had before the war, friends, family, significant others and so on.
"Chapel Hill Bottoms"
- In the small town of Chapel Hill Bottoms a soldier meets an African American preacher who tries to cast the demons of war out of his mind and body. The soldier confesses to killing people during the war and the preacher tells him it's OK and he is forgiven, and some healing begins.
"Sandusky"
- In another tiny village, Sandusky, another soldier returns home and finds healing and begins to live life again because he is so welcomed by the community.
"You're Not From Around Here"
- Our band was very happy about the election of Barack Obama. But we encountered so many people in the white villages around America, Illinois who were very afraid of him, but could not seem to explain why. The song is about their irrational fear of a good president.
"Villa Ridge"
- In this song a soldier is lead to the grave of a Korean War Veteran, Lacy Sullivan, who was killed on the same day the Korean Armistice was signed and placed into effect. The soldier finally understands the meaning of war and conflict and this allows him to begin a meaningful healing process.
"Eden"
- This is a song of celebration. We will survive and be happy in spite of our poverty and the wars.
"America, Epilogue"
- This is our song of hope for America and the world - we are optimists :-) Many people feel the United States has never been more divided. We feel the country has been through much worse and we'll get through this. At the end of the day, the Salt Kings are Illinoisans and Americans. We're proud of our country, warts and all. We'll continue to do what we can musically to show the problems our country has but also work toward a better future.
"Oh! Susanna"
- We recorded this version of the song for fun during Neil Young and Crazy Horse's (my favorite band of all time) Americana contest. We liked the song enough to include for a bonus track.
Although it touches on some very heavy subjects, this album breathes HOPE and we can't have enough of that...
-----
Written by Stace England & Johanna J. Bodde - September 2nd, 2014.
=====