In 2009 I listened to Matt Harlan's music for the first time. Open minded, as I always try to be. That was his debut CD 'Tips & Compliments' and he could have been just another singer-songwriter from the big state of Texas. But he turned out to be much more than that! The lyrics of the first song "I got a bad phone call from Elizabethtown - Said my brother, he's back in jail" got me interested and already the second song completely convinced me: "The skinny trees of Mississippi are dancing past the window". And then there was "Waiting For Godot": "Trailer parks are always first in line to feel the flames" and "Over The Bridge": "It's my first night back - and I'm cooking smack - in a barroom filled with gambling fools instead. Man, the levees broke and the floods came - and I'm left standing seven hours away." Excellent!!


Just when I was writing this piece, Matt posted on FaceBook: "On this 9th anniversary of Hurricane Katrina making landfall in Louisiana, I'm making my song, "Over the Bridge", available for free. It was written in response to Barbara Bush's infamous "let them eat cake" moment when she remarked that sleeping on cots and living in the Astrodome was "working very well" for evacuees that were "underprivileged anyway". As a brand-new Houstonian visiting the Dome that day to help distribute water and listen to people's stories, I didn't get the same impression. I saw people who were standing strong in the face of adversity and making the best of what they had in the aftermath of a disaster. Although you could tell how grateful some folks were for having a place to stay and the hospitality they were shown, I couldn't say anyone that I met was living it up. Perspective can make all the difference in the world... so I wanted to share a little of mine with y'all. Be kind to each other."

With his second album 'Bow And Be Simple' the man from Houston literally came a bit closer, as he recorded it in Denmark with our friend MC Hansen and his band, better known as The Sentimentals. He even covered MC's song "Baby Blue". Vocalist Rachel Jones made appearances and we were told she was Matt's longtime girlfriend.
Fast forward to a Wednesday night early October 2012. Matt was touring in Western Europe with the MC Hansen Band and needed one more show to break even. Dollard Radio was still in its prime back then, so my colleagues Peter van Zeijl (host of 'Folk Enzo') and head engineer Peter Jurgens set up a connection to the concert in... the garage of the Van Zeijl house in Drieborg! After my own radio show I hurried by train to Bad Nieuweschans, almost on the German border, was picked up and landed in the middle of a nice dinner where also Dan Krikorian, a singer-songwriter from California, was sitting at the table. That concert - rocking in rather primitive circumstances- was absolutely great, one of those moments in music history you'll never forget! The Danes left for Denmark that same night and we talked some more with Matt. He planned to pick up his girlfriend Rachel from Amsterdam Airport the next morning and... he was going to propose to her!! He had his grandmother's rings with him and he was bloody nervous...


Well, he had nothing to worry about, when we saw Matt and Rachel again the following Sunday at the Roepaen Festival - they were blissfully happy together! So much, that it inspired Drew Landry (one of the other performing artists) to finish a new song backstage and specially dedicate it to the newly engaged couple. No more 'GFF' (GirlFriend Forever) for pretty Rachel - as she joked just before singing one of their beautiful duets! I think it was one of those 'best days in my life' for everybody: the music, the attentive audience, that beautiful room in the old monastery, even something magic in the autumn sunlight through the windows.....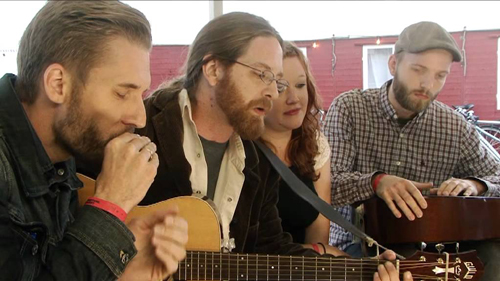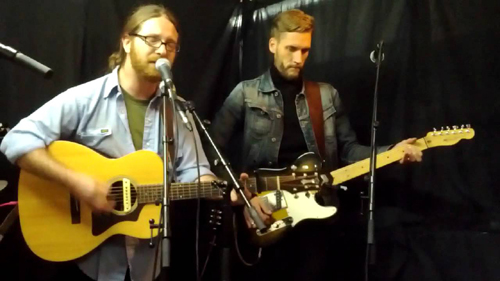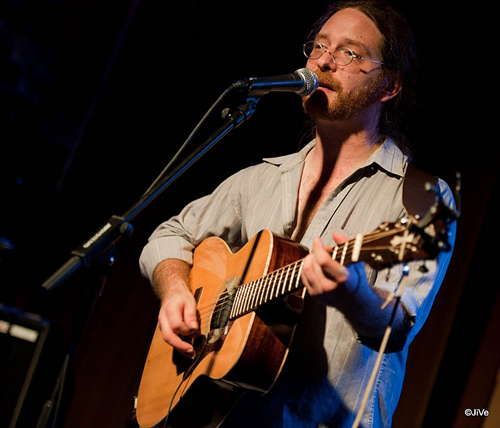 And here is Matt Harlan's new CD: 'Raven Hotel'! Recorded in Austin, with some of the best players in that city: veteran producer Rich Brotherton (acoustic & electric guitars, banjo, lapsteel, dobro, bass, synth, vocals); Bukka Allen (accordion, organ, piano); Floyd Domino (also on keys); Glenn Fukunaga (upright & electric bass); Mickey Raphael (harmonica); among others. Of course Rachel Jones (Mrs. Harlan) sings again, even a solo vocal on "Riding With The Wind". Matt himself plays acoustic guitars and their sound always stays in the center of the recording. The result is a fine blend of altcountry.

Matt is a storyteller, his voice is good and pleasant to listen to, which is more than adequate for the purpose. If I needed to make comparisons, I would probably say: John Gorka, Slaid Cleaves, Guy Clark and John Prine.


The stories can't be all from his own life, he has the gift of listening when others tell about what happened to them, also of observing the scenery and landscapes. He intelligently creates the rest - into another collection of great songs. Too bad my promo copy didn't have a booklet with the lyrics this time, but if you purchase the album it will certainly be there!


Opening track "Old Spanish Moss" gets some fine violin playing by the young Maddy Brotherton, a story about life's ups & downs, disguised as a waltz. The road song "Second Gear" touches the heart in true and melancholy folk tradition. "We Never Met (Time Machine)" definitely has the best title! Nostalgic song "Raven Hotel" describes Matt's own world as a travelling musician. "Old Allen Road" has a Mexican touch, with accordion, Spanish guitar and upright bass, but it's the desolate and sad kind, just like the six minutes long story about two murdered migrant workers. We know what we can expect from dynamic "Rock & Roll" - a gritty electric guitar like in the early countryrock, but "The Optimist" turns out to be an introvert story from a woman's perspective, not optimistic but bittersweet rolling along: "Rain just means everyone's allowed to cry". "Burgundy & Blue" is a nice jazzy surprise with the upright bass and the tenor saxophone, played by John Mills. On the countryblues ballad "Slow Moving Train" the great Mickey Raphael adds his harmonica and Rachel sings a crystal clear duet vocal. Last track "Rearview Display" refers to the asphalt, stretching all the way to the horizon; this is the only co-write - with George Ensle and Buffalo Rogers.
To make a long story short: all three albums by Matt Harlan are highly recommended, every music lover should go to one of his concerts (with band or just with Rachel) and don't forget: always take time to dance beneath the trees with that Old Spanish Moss!
-----
Written by Johanna J. Bodde - August 29th, 2014
=====