-----
Jeffrey Whitmore Halford grew up listening to music on a two dollar transistor radio. Now that is something I can relate to! Apparently his family was rather poor, he was born in Dallas but then they went to California, moving around a lot in the area between Los Angeles and San Francisco. If he's not touring, we can still find him in the City by the Bay and that's where he also made his seventh album! I went through my collection and I only found 'Railbirds' from 2005, a fine album with guest appearances by Chuck Prophet and Augie Meyers. But good artists age like fine wine...


This is rootsmusic as it should be! With influences from blues, country, folk and rock - still sounding like nobody else but Jeffrey Halford. We hear the honesty in his genuine voice as he tells his stories about good times and bad times, about traveling and coming home and all the people who inspired him. If he were a playwright or a novelist, he would probably be compared to Sam Shepard and Jack Kerouac.


Jeffrey shows off a beautiful guitar on the front cover and he plays various guitars indeed: acoustic, electric, the famous 'National Resophonic' and he uses the slide - that's my kind of player! The Healers are: Michael Messer (drums), Paul Olguin (electric bass guitar and acoustic stand-up bass) and Adam Rossi (piano, organ, cajon, percussion - he sings too). They have a good chemistry as a band. I'm very pleased to see my favorite Tom Heyman among the guest musicians! He plays pedal steel and an extra electric guitar on two tracks. Tom toured with Chuck Prophet's Mission Express in Europe, but I still remember him best in The Court and Spark: playing in San Francisco (a church building) and that concert is still in my Top Ten of all times! He just made his third album as a singer-songwriter. Another familiar name: Victor Krummenacher, he took care of the CD graphics for Jeffrey, but we know his music too: Camper Van Beethoven and Cracker, also some solo work.

Let's listen to the music! The album starts off with the title track "Rainmaker". A memorable melody makes a good title track. Bruce Kaphan (Talking Heads, Sheryl Crow, Black Crowes) guests on guitar - a guarantee for a great solo.

"Lost Highway"
is a solid rocker with a driving beat and a grinding slide guitar, it's almost like the angry guitar talks back!
"Mexico"
has that feeling of an old western movie, the tempo slows down in guitar work with riffs and effects. Somebody gets drunk and emotional, it's way too easy to be seduced...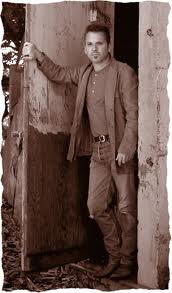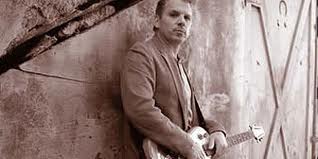 "Play Some Vinyl" - yes!! This track starts off with the scratch of a record, predictable but I still like that sound! This is retro-rock with a sixties feel, lots of keys and a sultry rhythm that makes you want to dance. Well, that's what records are made for!

"Thunderbird Motel" is an emotional folk ballad, with a layered tremolo guitar and Kathleen Sloan guesting on violin towards the end. Only Jeffrey knows if it really exists - but we all might have passed by this motel, on some dark night...


"Second Chance" contains a desperate plea for forgiveness, full of regrets and sadness. It's a folkblues, where Jeffrey plays that 'National Resophonic', we hear cool riffs during the bridge and also great soulful backing vocals.


"Nature's Choir". For some reason various new songs make me think of early work by The Kinks these days! Bruce Kaphan then adds a feel of country here.

"North Beach" fits very well with the previous track and gets the 'focus' honors on the info sheet. It's a stripped down bluesy rocker with a nice rhythm, a fine slide guitar solo and some keys. Guest drummer is Trey Sabatelli (Jefferson Starship, Todd Rundgren).

"Cry Of Hope" - here we finally find Tom Heyman, who makes the pedal steel -indeed- cry with echos in the background. The lyrics have a somewhat political undertone: Americans need to keep faith!


"Harry We Need You". Could have been a poppy theme song for a TV show. Goes very well with the previous track: in Jeffrey's younger days everybody was protesting - when people didn't like stuff, they hit the streets and they called out for the leaders they did like! I still remember that too. Again with Tom Heyman, now on electric guitar.

"Joaquin" is a perfect song to wind down, a nicely constructed, mellow acoustic ballad.


Let's close off with a beautiful line from the info sheet: "These songs, like a strange new mirror, emanate a reflection that calls us to our better nature".
-----

Written by Johanna J. Bodde - August 13th, 2014

=====