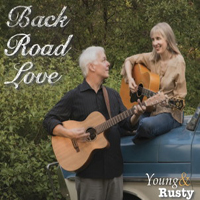 Young & Rusty
'Back Road Love' EP
(Motherlotus Records, 2014)
www.youngandrusty.com
www.sueyoungmusic.com
www.rustynelsonmusic.com
Sue Young and Rusty Nelson, a Folk and Americana duo from Austin, Texas.
Sue's pure voice and Rusty's rough edged vocals combine in a perfect blend. The songs and sound on their debut recording '
Back Road Love'
evoke a simpler time: cruising down a country road, wading in a cool creek, or taking a ferry boat ride across the Mississippi.

I already got to know Sue's music by listening to her album 'Gliding' (2012) and she impressed me very much with her song "Black Water". The subject of this track was obviously the disastrous oil spill after the explosion of BP platform Deepwater Horizon off the American Gulf Coast. There can't be enough coverage of this cover-up, so I considered Sue an immediate friend!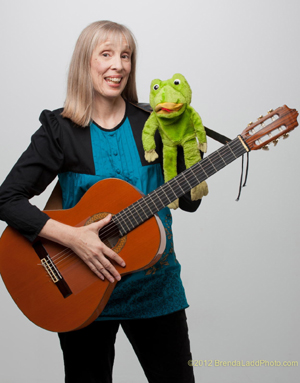 Singer-songwriter Sue Young has been a musician for over thirty years. Her voice has been called 'angelic' as well as a 'powerful medicine'. Growing up in a supportive and musical family, Sue's first instrument was ukulele, which she started at age eight, before switching to guitar at age eleven. She cut her teeth on Joni Mitchell, Joan Baez and Judy Collins. The Youngs were a large family and moved around a lot. The result: Sue loves travel and has been forever inspired by a year spent in Ecuador from 1977-1978.

Along with a pristine voice and perfect pitch, Sue developed a distinctive finger picking style. The combination got her steady work for seven years at clubs and restaurants in Albuquerque and Santa Fe, New Mexico. Solo and with various groups, including Govinda - a jazz rock fusion band, where her vocal style was once compared to 'Appalachian scat'.
In 1985 Sue moved to Austin to be part of the live music scene there. She began teaching Spanish and music to kids, and this led to a vibrant new career as a children's songwriter, entertainer and storyteller. She turned her attention to writing songs and h
er efforts were rewarded: she became a four time Kerrville New Folk Finalist. She has opened for such luminaries as Lyle Lovett, Jimmie Dale Gilmore, Townes Van Zandt and Jesse Winchester. During this time, Sue also started writing inspirational songs and singing in churches throughout Texas.

Her latest solo CD 'Gliding' earned her a 2013 Texas Music Awards Nomination for Female Vocalist of the Year. It is a sensitive and beautiful album, with influences from not only folk and country, but also jazz, Latin and some rock and pop. Still readily available from Motherlotus Records.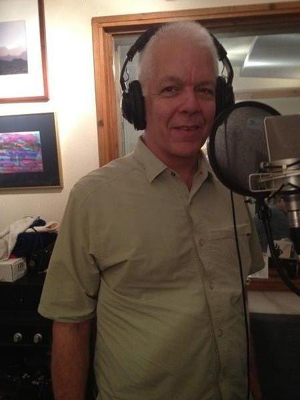 Rusty Nelson grew up in LaFayette, Louisiana and in Corpus Christi, Texas. In 1989, he was minding his own business working in the advertising business in Austin when he started writing songs. A year later, Rusty signed a writing deal with a Texas based publisher who had connections in Nashville. In 1996 he took the plunge and moved to Nashville. In 2002, he returned to Austin, feeling pretty much done with music. Rusty got his life back through an intense yoga practice and study of the Gurdjieff Work.

In 2009, Rusty approached Sue after one of her church performances. With a lyric in hand, he asked Sue if she might be interested in a song that he had started. Not long after that meeting, Sue and Rusty teamed up to write together and the results were magical. Soon they were performing together, bringing their unique songs and chemistry to the stage.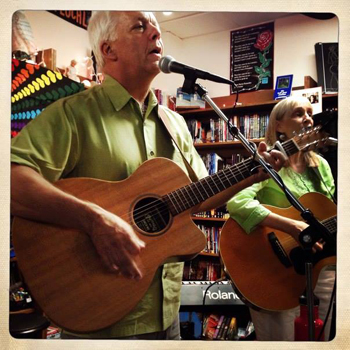 Sue and Rusty now offer their first official release as a duo: the EP 'Back Road Love', produced by Bradley Kopp at The Ranch in Buda, Texas. The EP features ace sidemen including Kopp himself (guitars, slide, dobro, percussion), Richard Bowden (fiddle) and Chip Dolan (accordion). Sue and Rusty invite you sit back and enjoy the ride…

1. "Back Road Love": The voices of Sue and Rusty blend lovely together. Richard lets his fiddle speak in this Celtic flavored country ballad.

2. "In Your Eyes": Sue first takes the lead vocal: "In your eyes, I am beautiful". Rusty follows: "In your eyes, I am handsome". I love it - I don't care if it's predictable in a Dolly Parton & Kenny Rogers way, people just should compliment each other way more often! Wonderful guitars too, by the way.

3. "Where The Ferryboat Used To Run": Nostalgic song, written by Rusty Nelson, going back to his youth in Louisiana. He even mentions the Atchafalaya and that certainly is a long, difficult word to use in a song! Gives me the same feeling as John Prine's "Paradise". The great Chip Dolan adds some tasteful accordion. My favorite on this EP!

4. "I Feel Joy": The tempo picks up in a joyous, fresh ode to the significant other. Very nice arrangement with the fiddle and sprightly dobro.

5. "Take Me": Yes, another love song, that was to be expected with an album title like this! A bit bluesy, which fits Rusty's slightly hoarse vocal very well. I hear Bradley Kopp is having fun with his guitars again!

6. "Later Than It Seems": The last song also starts off with fiddle, giving it somewhat of a late night jazzy feeling.
A breath of fresh air that lasts a full twenty-one minutes. Effortless harmonies by voices that fit perfectly together. Relaxed slow to mid tempo songs, simple but positive lyrics that many people can relate to - the tracks speak for themselves. Clever chord progressions, warm sound, no unnecessary overproduction. Back Road Love - Back Road Beauty!
-----
Written by Johanna J. Bodde - November 16th, 2014.
=====