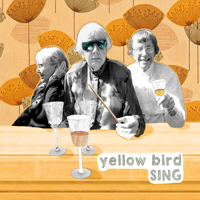 Yellow Bird is a fresh take on Americana music - folk, Appalachian, country, blues. The international band is made up of two singers, Manon Kahle (USA) and Lucia Cadotsch (Switzerland) and three Berliner musicians, Ronny Graupe, Uli Kempendorff and Michael Griener. The quintet tells stories of heartache and love with irony, sass, warmth and wit.

The band's sound is defined by unique tight harmonies and arrangements that put guitars, (bass)clarinet, ukulele, banjo, drums, bass, fiddle and percussion to good use.

One thing is for sure: we don't need to fly across oceans (or make artists do that), to hear some jaw dropping, awesome music. These fine musicians already found each other and are now based rather close by. They don't mention old-time jazz influences, but I certainly hear those too. Think Meschiya Lake and her band, that's the only name I can come up with, that very slightly resembles what is done here. Yellow Bird definitely has its own, very distinctive sound!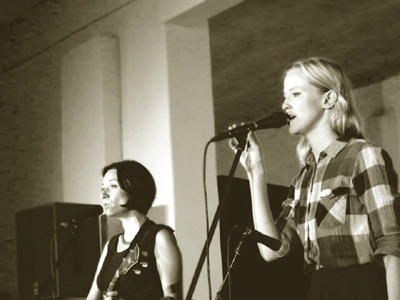 The two ladies, Manon and Lucia, sing like birds indeed. They harmonize beautifully and their voices blend together like they are the proverbial sisters. As Manon is American born, there's no pronunciation or other language issue (as sometimes occurs in European bands). What makes this group so special is also their one of a kind rhythm. As I have mentioned before on this Insurgent Country page: a drummer can make or break a performance. Well, Michael is very, very good and he adds many creative percussion sounds too. Very rare: they have a (bass) clarinet! Played by Uli. I also like the return of the brave little ukulele in today's music and of course the banjo is the new rock instrument of the near future!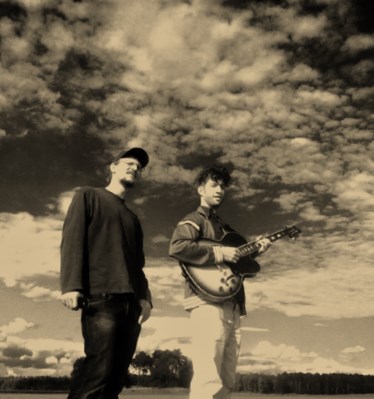 The album has a lay-out in pretty colors, from yellow to grayish green. The picture on the front cover is not really my taste, but this is a funny idea. The disc starts playing with an original, written by Marion: "Shame & Scorn". Immediately showcasing all the available talents: duet vocals, banjo, rhythm, clarinet. Barely halfway the track I was already sold! Yellow Bird also has impeccable taste when it comes to picking their cover songs and traditionals. I know almost all of them, but they are almost unrecognizable here and that's exactly the point of recording a cover. Respectfully making it your own! I think heroes like Charlie and Ira Louvin would have appreciated that. "Hello Walls" is a surprise, sung by a female lead vocalist and that chorus is spot-on. The band has their own beautiful jazzy "Yellow Bird" song, Michael whistles very convincing and that's some great percussion there... Don Gibson's "Oh Lonesome Me" is played the catchy rockabilly way, Ronny on electric guitar here. Yes, solo and don't stop! "A Thing" is another original, penned by Manon and sung 'a capella' for the biggest part. Perfect timing, ladies! Another example is their question-and-answer in "Hello Stranger", with a warm and fuzzy clarinet as the third party. I really start to hear these old songs in a new light and that's probably exactly what the band wants me to do! "Lovesick Blues", with the right early fifties country feel, a little bit of a yodel, electric guitar and lots of enthusiasm. "Faded Love" gives the ukulele a starring role, but it gets competition of the kick drum in the slow jazz of Hoagy Carmichael's "Lazy Bones". The sequence of these generous fifteen tracks is well thought about. "Your Cheating Heart", the Hank Williams classic, is another highlight. Is there another version anywhere with clarinet solo? Just saying... In "Bury Me Beneath The Willow", the traditional recorded by The Carter Family in 1928, the lady singers harmonize again like angels. The title track "Sing" closes off the album, a rhythm based original written by Lucia, it fits seamlessly with all the other songs.

This CD certainly made a rainy day a lot brighter for me and I hope it will do the same for many music lovers out there!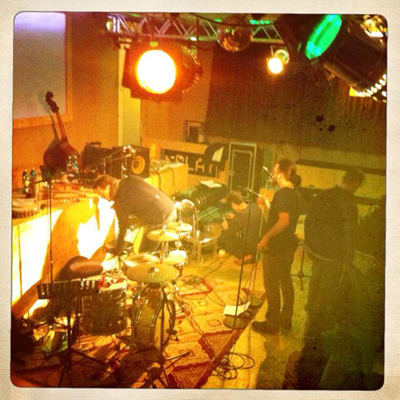 The Yellow Bird

BIO

:

Yellow Bird plays FolkCountryBluegrassRoots-Music and tells stories of heartache and love. The tight-knit harmony of the two singers (one American and one Swiss) is backed up and spurred on by a fantastic, yet unusually orchestrated rhythm section.
Manon Kahle grew up in Vermont, surrounded by the many styles of traditional music from the United States. She sang and played tunes with her family, toured Europe as part of the Village Harmony Choir and had a Contradance Band with the folk singer Sam Amidon and the pianist Thomas Bartlett when she was in her early teens. "Well, my brother is a professional tree-climber, but he is also a great Banjo-player and fantastic on Bodhran and Irish Flute," she says. For her, the band is about more than just playing some tunes, it connects her with the landscape and family she left behind in the States.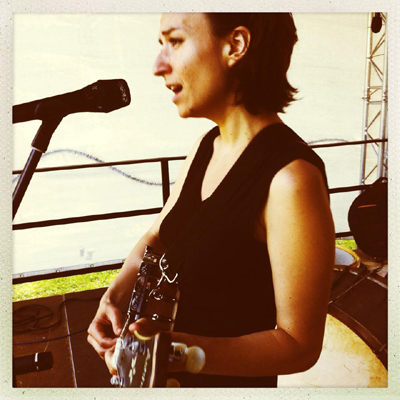 At 23, after her studies in Theater and French, she moved to Berlin and during the following decade she acted in German speaking films, TV-productions and at the theater. She has also been working as a voice-over artist and illustrator.

While still in high school in Vermont, she crossed paths with the Berlin-born reed-player Uli Kempendorff. At that point neither of them was thinking too much about starting a band together. Only in 2011 in Berlin (and ironically at a birthday party), Yellow Bird was born. There Manon, Uli and the guitarist Ronny Graupe, played and sang a few songs and were spontaneously joined by the singer Lucia Cadotsch. It was so much fun that they wanted to play more together. Michael Griener joined the band a year later, and has had ample opportunity to put his collection of Vintage drums to good use and pay homage to some of his favorite drummers like Jay Bellerose and Levon Helm.

"When we play 'standards' of the genre, it's about preserving their special quality and transporting them into our time and sound", says Uli. "We don't believe that we need to give them 'new life' - because this kind of music has been more than alive and well for decades. But the music needs authenticity and we can only achieve that by making the stories our own and playing the songs our own way." He adds: "The songs may be simple, but that doesn't make it easy to play them well." Lucia Cadotsch, who has been crossing musical genres and borders with her quartet 'Schneeweiss and Rosenrot' for ten years, adds: "The thing that touches me most about Yellow Bird, is the way of making music - the way I remember from my childhood, which inspired me to become a musician. I also like that in these traditions, the melody itself usually provides a happy antidote to the drama which takes place in the lyrics."

With the exception of a growing number of originals ("Shame & Scorn", "A Thing" and "Sing" on the current album), Yellow Bird's repertoire is derived from Appalachian songs, Country and deep-rooted Folk and Bluegrass. "And aside from Traditionals, we also adapted evergreens by Hank Williams and Hoagy Carmichael as well as Patsy Cline and The Carter Family," says Michael.

The band produced 'Sing' in an 'old school' way: "We recorded almost everything together in one room, where Lucia and I sang together into one mic," says Manon. The Stibbtone Studio in Berlin Kreuzberg, where Jamaican Reggae-Stars and Gentleman have recorded, has a lot of vintage equipment including the analog mixing board formerly owned by Frank Farian.

Yellow Bird tried to preserve as much of the original sound of the recordings as possible, avoiding digital tricks in post production. "Most music used to be passed on by oral traditions, hence the simple forms and melodies that invite the player to add a personal twist to them. On a lot of original recordings, you can hear how the musicians naturally embellish and vary the melodies and work with uneven forms and improvised parts which follow the singers in a given moment. That's what makes this music so personal and warm," says Ronny Graupe.

Yellow Bird follows in these footsteps with their interpretations by adding their own spices and aroma to the traditionals, thereby bringing them to the present day and making them their own.
Written & compiled by Johanna J. Bodde - February 25th, 2015.
=====