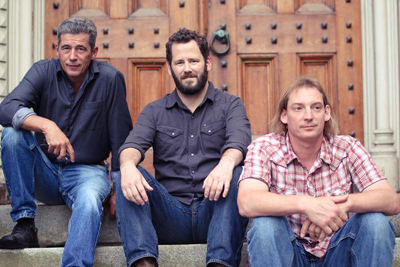 The TRACKS
:

1. "Sorrytown": The EP opens with the title track, a beautiful heartfelt country ballad. Very good melody, great singing and playing, especially the pedal steel guitar stands out here: softly whimpering in the back and then getting loud where required. In the meantime, things aren't going so well in "Sorrytown", although the music is loud in the bar, the whiskey usually don't help much!

2. "Methadone For A Woman": A fast outlaw country track, played by the full band including honky tonk piano, Wylie adds great harmonica parts here. The love story sounds complicated, being addicted to a femme fatale... Although the title sounds strange at first - this is a very smart metaphor.

3. "Adios Blanquito": We go South of the border, with an excellent slow desert rock ballad! Lots of ominous atmosphere, created by the acoustic guitar and mandolin, keyboards and outstanding percussion.

4. "Crying In My Dreams": All three Woedoggies are good singers, so they take turns on lead vocals, adding to the diversity of the music. Here a lovely female chorus is brought in and Leon Campos plays some fine piano solos again. This is another sad song about a lost love, although the melody sounds rather upbeat, just like it was always done in songs by the old country stars.

5. "Face Up": The only cover on the EP, written by James C. Ryan, of course we know and love him! Ah, the fiddle comes jumping in... This is a very fast and catchy bluegrass track, with fine mandolin parts too (that was to be expected in a Jimmy Ryan song) and spot on tight harmonies. Hm, where does the love go, when the rent hasn't been paid and a certain somebody spends too much time in bar rooms?

6. "Ink Black Ocean": Already the last number, this comes closest to altcountry. Dark and haunting with beautiful choruses. I love the way the song flows and builds op.


---
A total of 23 minutes worth of music proves to be way too short of course! Well, there's always the repeat button.

The Woedoggies didn't make empty promises, this is some great old-school country. Honest, not too complicated, no (commercial) pop influences, just the emotions and the twang. It can be that simple and what's not to like? I don't need to make any critical remarks. I noticed they have a tasteful cover song list too, I can easily imagine myself having a memorable evening in a Vermont venue with the Woedoggies!
Wylie wrote: "Thank you for your support of the Country / Americana music community!" Thank you, Woedoggies, for releasing great music!