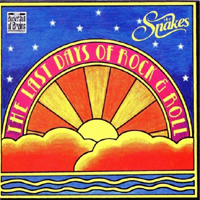 THE SNAKES -
Who are The Snakes?
Simon Moor - Vocals & Guitar / John O'Sullivan - Bass / Chris Jones - Drums / Tim Hughes - Keyboards.

The Snakes were most probably formed on a Tuesday afternoon in 2002, London, England.

Of the original lineup, Simon Moor is the only known survivor, bassist Alex Culpin having fallen into a vat of cider after the first album. Drummer Dan Tilbury left England for Wales, before leaving Wales for Denmark, only to leave Denmark for Wales again. He will never play the Dane. Geography is not his best subject, but he is very good at woodwork. You may think his favourite country is Wales, but it is in fact Wiltshire. Meanwhile, guitarist Richard Davies left the band to pursue a unicorn rampant on figs, with an almost imperceptible lisp. He is now pursuing legal action based on a short poem. Sometime soon, acoustic guitarist Peter Smart is pursuing Richard in the nearly new small poems court next door.

Thus far, three albums have been released by The Snakes: 'Songs From The Satellites' (2006), 'Sometime Soon...' (2010) and 'The Last Days Of Rock & Roll' (2013). They would have released more, but they didn't. Some say it is because they are lazy. Perhaps. Or stupid? Could be. But mostly, it's just about the money, where is all the money, they say? Do you have any?

Despite all this, and almost miming to the words of their song "The Band Played On", the band did indeed do dat dough and played on...

They have recently returned from a successful season in the Gailforce Theatre production of Aladdin, on Nuneaton Pier, each member of the band alternating the part of Widow Twanky for two shillings sixpence a quarter.

In 2015 The Snakes hope to bring about World Peace or alternatively to become Ultimate Fighting Champions at the upcoming event this year in Barnet.
Wish them luck! They are going to need it! (by Eamon Korner)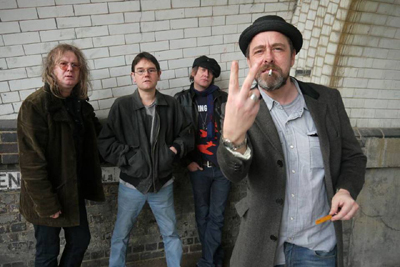 ---
Long ago and far away, well sometime in the 80s and mostly in Wiltshire, there were various things happening that nobody knows or cares much about now. Does The Band of Gypsies mean anything to you?! Did they dye in vain? And then, of course, there was Celophane Aeroplane (who invented Brit Pop) and Tiny Monroe (who didn't). Many have wandered, but few are from Wolverhampton. Society was changing, people had hair both short, long and medium, sometimes on the same head.

Oasis had drained the life out of the oasis that was once a moist clothing retail outlet. A New Country was rising from the empty clothes hangers of yesterdays chip & pin rappers, rising like a Phoenix from Arizona.

And then it happened. The chance meeting of Richard Davies' near fatal automobile fender and Simon Moor's thin but manly leg, upon the killing fields of Muswell Hill. It was 2002. Each recognised the other as their former Band of Gypsy band mate (despite the now lack of eye liner). Richard invited Simon to stand up, while Simon invited Richard down to his level. The pair began working on songs that would form the back bone of the set and first album for a new band, a band that would soon be know simply as THE SNAKES. (Yeah, nothing to do with the Whitesnake off shoot of the same name, or any of the other 300 bands called The Snakes... Gawd help us, it wasn't that simple after all!). Anyway, enthused by a new found enthusiasm to be enthusiastic, Simon & Rich called upon some trusted allies, enlisting the mighty Dan Tilbury on drums (Band of Gypsies & Celophane Aeroplane) and bass man about town Alex Culpin (Tiny Monroe) to become The Snakes (The New Original Snakes UK, copyright pending)!

Before you could say 'What do you mean by Americana?' they were regular fixtures on the London Alt-Country scene, playing The Borderline, Come Down and Meet the Folks and What's Cookin', to name but a few.

An EP was released and a song was included on the What's Cookin' compilation CD, 'What's Kickin' Vol 1'. That song, "I'll Be Around" caught the ear of Mark Lamarr, who became a champion of the band (though we never made him fight anyone, we didn't stop him either).

Then came the first album... 'Songs From The Satellites', (2006 Holiday Disaster Records), which gained immediate praise from BBC TV & Radio Legend Bob Harris who declared himself a fan (we haven't head a whisper since then), while Mark Lamarr went one step further by inviting the band into the studio for a live session on his BBC Radio 2 show, recorded at the legendary Maida Vale Studios (near London's Queen Victoria Beckham & Albert Square Museum), having been particularly impressed by the dark, twang laden delights of "I'll Be Around".

Pete Smart, meanwhile, had joined the band by this time, bringing along his acoustic guitar, harmonica and background vocals skills to the four. With a gig in London's Leicester Square (near Leicester), in front of a large and enthusiastic audience member, things seemed to be going very well for the band.

Then came time to think about making the follow up, the difficult 2nd album. (If I was in a band I'd miss out the 2nd album and go straight to the 3rd, saves time AND money). It took a little longer than planned. In 2007, Alex left the band after a fashion, to be replaced by Johnny O who, in addition to bass, also added a range of instruments, song writing and vocals to the mix. Bridging the gap between albums, the 5-track EP 'Extended Player' was released in 2008, prompting Americana UK to dub the band 'The new heroes of British Country Rock'.

The 2nd album 'Sometime Soon...' was finally released on Red Eye Music in 2010. It was received extremely well by press and radio, with Mark Lamarr playing tracks on a weekly basis on his BBC Radio 2 show and gaining a 4 star review in Uncut Magazine. Further gigs around the country and a BBC Radio Wales session raised the band's profile further.

Tracks were included on two significant compilation CDs, 2010's 'Divided By A Common Language Vol.1', a review of which described the band as 'Muswell Hill's own Whiskeytown' (even though at this point none of the band lived in Muswell Hill), and a double album release from Germany entitled 'Country Rock Heads Vol. 1' along side the likes of global stars Keith Urban, Lady Antebellum, the legendary Joe Brown and Kevin Costner (the bloke from Field of Dreams? I didn't see that coming!)
The band also recorded "Never Going Back To Nashville" for Never Records, as part of the Merge Festival.

Work on the next album began in 2011, with twelve songs recorded in a week long session. Ranging from simple sparse arrangements to full on kitchen sink extravaganzas, the album includes nods to many of the band's heroes, including Mott The Hoople, Gene Clark, Mink DeVille, The Stones and The Who. Released on Bucketfull of Brains in May 2013, many songs from the album have become favourites in the live set and gigs to promote the album culminated with a storming headline set at the What's Cookin Summer Picnic. In September, the band were invited to headline a Warren Zevon tribute night in London, along side label mate Benjamin Folke Thomas, which was a resounding success. The band were joined for that gig by long time friend Tim Hughes on keyboards. Tim went on to become a full time member following Richard's departure in Spring 2014. His proper debut with the band was supporting The Rockingbirds at The Lexington.

The band are currently working on songs for another album, or else they're in the pub.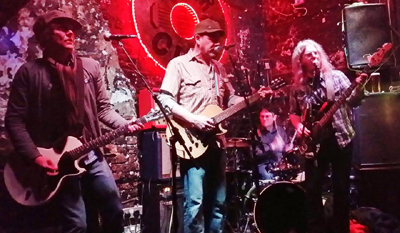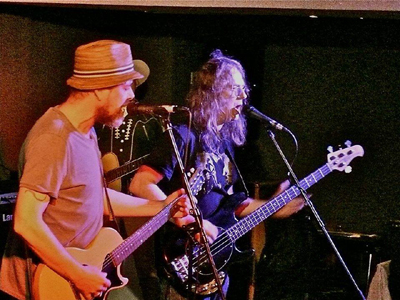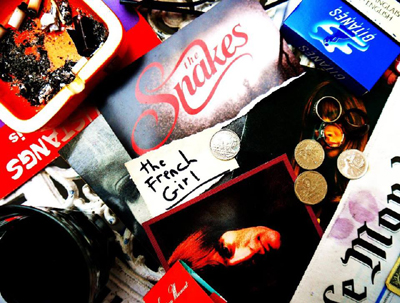 The ALBUM:

And now... Some information about The 3rd Album: 'The Last Days Of Rock & Roll'! With new drummer, ex-Mega City Four's Chris Jones and with Richard Davies still prominently playing on the record: electric and acoustic guitars, bouzouki, dobro, mandolin and also adding vocals.

The eclectic new CD sees the band expanding on their established alt-country repertoire from Stonesesque country swagger through soulful Celtic folk to the dirty rock & roll of Mott The Hoople and Mink DeVille, sharing a bottle of bourbon with Tom Petty and Bob Dylan along the way.

This is also the first Snakes album to feature a cover version, with the enigmatic "The French Girl", a long lost gem discovered via Gene Clark.

'The Last Days Of Rock & Roll' is not so much a lament for the good old days of vinyl and valves, as it is a declaration of defiance against the age of intangible downloads and disposable TV Talent shows. It expands on its critically acclaimed predecessor 'Sometime Soon', with the added instrumentation of violin, sitar, saxophone and pedal steel, plus a special guest appearance from The Redland Palomino Company's singer Hannah Elton-Wall.

Over the last ten years, The Snakes have become known as the bad boys of Alt-Country, with their guitar fuelled Rock & Roll. Go on, do yerself a favour...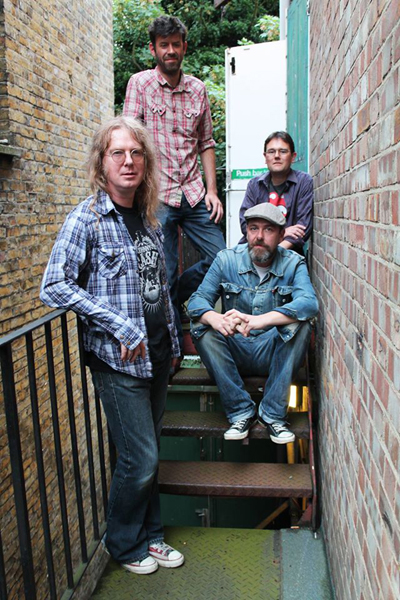 The TRACKS:

1. "Too Hard": This album starts off with a wonderful dynamic true country rocker and kicks the door wide open for a warm welcome! Simon Moor has a beautiful voice for this genre and added bonus is the great duet vocal by Hannah Elton-Wall, of The Redland Palomino Company, a band The Snakes shared a drummer with until recently. Also the band I wrote one of the very first Insurgent Country reviews about, years ago...

2. "The Band Played On": A melodic song, with an epic feel from the classic Californian type of countryrock harmonies and the Hammond organ, played by Nick Beere. It accelerates from coiled energy to the thrill of a frenzied rocking crescendo. The Snakes explain: 'It was put together by John, based on a band jam he'd recorded. Lyrically prescient, it foretold of the subsequent line up change... I should have known there was something wrong / When the drummer stopped and the band played on."

3. "The French Girl": Written by Ian Tyson and Sylvia Fricker, recorded in 1966 on their LP 'Play One More' and covered by Bob Dylan and The Band during The Basement Tapes sessions in 1967. Also covered by the late great Gene Clark with The Gosdin Brothers, but left on the shelf until 1991's 'Echoes' and a 2007 re-issue. The Snakes know for certain how to pick something special! They also play folkrock here, similar to the chiming sound of The Byrds, including the 12-string guitar. Splendid choice.

4. "Three Little Wishes": Announced as a heartfelt promise of love from a father to a child, wistfully delivered by Simon to his daughter. A typical sentimental, traditional country ballad, with some fine pedal steel, played by John.

5. "The Last Days Of Rock & Roll": The long (6m21s) title track, featuring the 'Cottonmouth Choir', including both Hannah and Alex Elton-Wall, of The Redland Palomino Company. Waiting for the promised 'rock & roll' this is at first an epic pop rock ballad, where Simon hits all the emotional buttons, surprisingly working up to an emotional gospel like crescendo. I hear the outrageous sitar and Anthony Walsh even plays a saxophone. Like The Snakes explain: "This is a song of two halves, three minutes of enticingly crafted lyrics and chords, followed by three minutes of one single chord in a glorious extravaganza, that builds like a tower of power, in an unstoppable homage to the golden age of rock & roll, turning the vibes up to eleven". And then the sitar runs out of steam and the track fizzles to some shattered clapping...

6. "Guardian Angel": Written by Richard Davies. Easy on the ears, a classic soulful heartbroken love ballad, clearly paying homage to Willy DeVille and Warren Zevon, with also a bit of that South of the border feeling. Great Spanish guitar and there goes the electric solo! "And the guardian angels / Look down from a midnight sky / They try to do the best they can / They try to keep their hopes alive / And the saints and the losers look up as they walk on by / They try to do the best they can / But they don't stand much of a chance / On a Friday night." I mark this one as a favorite!

7. "Make Mine A Broken Heart": Blues harmonica on the intro, played by Pete Smart and another great plaintive (slide) guitar part, the classic piano is cool too in this catchy flowing melody in classic seventies country rock vein.

8. "Jerry's Chair": The Snakes explain: "This hauntingly poignant song, with an intro shrouded in Celtic mist, mourns the loss of bassist Johnny's father. Written after the death of his dad, Jeremiah, a well known presence in many pubs of Coventry. The song ponders his absence, as seen through the eyes of his drinking buddies." An emotional one indeed, Jim Willis plays the violin and Kate Duffy the tin whistle. This track is quite different, but the theme makes me think of Slaid Cleaves' excellent song "New Year's Day". The same sadness wrapped in a deceptively upbeat melody and arrangement. Gorgeous!

9. "The Last Train": A melancholic power ballad, building up with piano, mandolin and fine guitar, runs a little too long though. Strings by Nick Beere.

10. "Look What We Could Have Been": Announced as: "The Snakes with the dial set to 'epic', this is Simon's tailor made classic, stitched with vintage cloth left over from the making of Ian Hunter's flares". The guitar solos stand out, there's a bit of Bob Seeger noticeable here, but then we go a little too far into stadium rock territory.

11. "Here We Go Again": An obvious wink at Mick and Keith in their much younger "Honky Tonk Women" days! "The free wheeling rock & roll stomp of this track was written by guitarist Richard, and sees the band revelling in booze and blues a la The Faces & Stones, in a perennial tale of tavern banter", according to The Snakes. "Crying into our drinks / Talking about the government". A very good, rough & raw closer.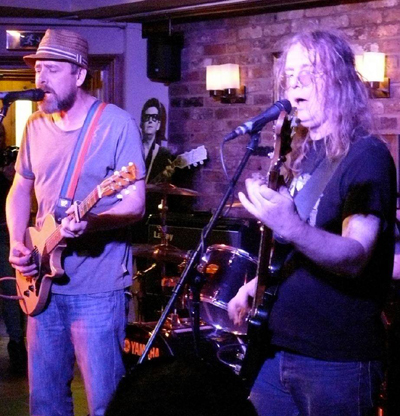 The Snakes are a fixture on the British 'alt-country scene', they play because they love it - and they have fun noticing their audience having a great night too. It shines through on their record (and I'm glad I finally received the promo, after almost two years). There will always be a group of music lovers embracing this somewhat nostalgic music, with its classic sixties and seventies sound. Mixing folk, country and rock into an exciting variety of tracks, mostly (co-)written by the prolific pen of Simon Moor. Very good vocal parts, skillfully played by a full band of multi-instrumentalists, very nicely arranged and recorded. The title is probably a wink at 'The Golden Age Of Rock and Roll' by Ian Hunter's Mott The Hoople. Well, with bands like The Snakes the last days of rock & roll haven't even begun yet!
-----
Written & compiled by Johanna J. Bodde - March 12th, 2015.
=====