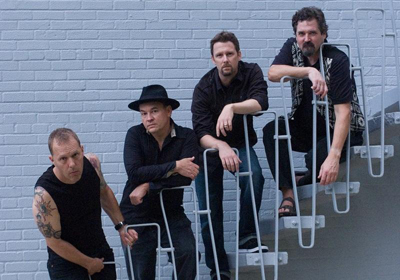 The Cousin John Band
'Jellyfish!' (2011)
'Broken Heart Tattoo' (2014)
Both albums self-released
www.cousinjohnband.com
"In October of 2009 four musicians disappeared in the darkness near Greenbelt, Maryland while recording an album... Two years later their recordings were found." And we see three men carrying electric (bass)guitars, one with drumsticks in his back pocket, wander off into the woods! That was their debut album 'Jellyfish!' (2011), sent to me together with recent 'Broken Heart Tattoo'. Apparently, they found their way back!

The Cousin John Band is: John Mobley, David O'Brien, Tim Howe and Joe Goltz. CJB music is a hot mixture of folk, country, blues and tight harmony. It tastes just right, there is no genre for this, so it is perfect for the band's irreverent attitude.....
In live shows, CJB often covers music from artists such as the Rolling Stones, Little Feat, The Allman Brothers, Delbert McClinton, Stevie Ray Vaughn, Aerosmith and the Eagles. Original music ranges from country to blues rock, to ballads, and a touch of funk. The diverse mix of music, great sound, and fun atmosphere keep the crowds on their feet until the very last note.

CJB just released their second studio album, 'Broken Heart Tattoo'. Fans had waited two years for this project to complete, and it turned out to be worth the wait! The release of the (finally) finished album was a huge success, as the new music had begun to blaze brightly upon the rootsmusic scene, garnering raves from notable music press. CJB hopes to complete a series of live videos later, so stay tuned!
---

In the Nation's Capital Washington D.C., while the world's elite gather to hammer out laws and world affairs, the back rooms of bars and nightclubs are filled with the sounds of blues, jazz, rock, and go-go. It is here that the Cousin John Band pushes the rootsmusic boundaries of Americana. While CJB's sound and soul is anchored in bluesrock, they season their sound with ample dashes of country, bluegrass, R&B, swing, and funk.

CJB was founded in 1999 by John Mobley (a part time songwriter and musician, a full time dreamer and an electrician), teaming up with one of his many cousins, Chris Mobley. John divided his formative years between living in the DC area and in rural Kentucky, where the seeds of a true passion for roots music grew while fishing and hunting with family (a mixture of holy rollers and outlaws) and working on his grandmother's tobacco farm. Today, CJB features John's lead vocal and bluesy rhythm guitar along with Joe Goltz, Tim Howe, David O'Brien. While none of the current members are actually cousins, they feel a familial bond having worked and played together for so many years. Each member is a seasoned musician with decades of experience prior to banding together as CJB. After countless endeavors that didn't make it past the first year of the local party/bar scene, CJB is a breakaway dream come true for all of the 'cousins'!

David O'Brien: drums, vocals, sound engineering and recording in Nomad Studios, most of the recordings and videos are done through Dave's studio.

Tim Howe: bass, vocals, harmony arrangements. Tim is a published composer of choral music, as well as a CJB band-member who makes our 4-part harmonies really sing.

Joe Goltz: lead guitar, dobro, harmonica, vocals - also an occasional sitar and almost anything with strings.

Fans watched the band grow through local TV appearances, a movie song placement, a featured spot on a 150 nation peace exhibition at the UN and much more.
CJB's live performances are both eclectic and electric featuring a wide range of original music mixed with covers. With bluesy guitar riffs, tight harmonies and buttery grooves, CJB is energetically building a loyal following with a home base in the Mid-Atlantic area and fans around the world.
---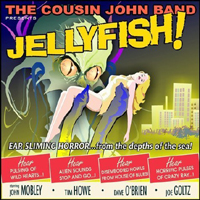 'Jellyfish!'
:

The Cousin John Band climbed out of the primordial ooze of what happened in our brains in the 60's and 70's with the Stones, and Eric Clapton, and CCR, Little Feat, Bonnie Raitt... Blues, rock, roots music, western rock, we have a deep connection to music that came before and to artists who pioneered rock&roll from blues, and who have blended genres together to create new sounds like rockabilly and R&B... We are doing something new with something timeless, and calling it Cousin John Band music. It's gritty and greasy and it swings and slides and gets your attention. Don't give up on music, there's a lot coming.

If you are interested in purchasing 'Broken Heart Tattoo', just pick up a copy of 'Jellyfish!' too, please? If only for the great B-movie style lay-out and most of all for these lyrics, the weirdest and most brilliant desperate love song I have heard in a long time: "I know it wasn't right / And then I'm holding you all night / You're like a riptide / And I'm your suicidal jellyfish".
---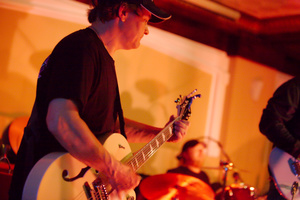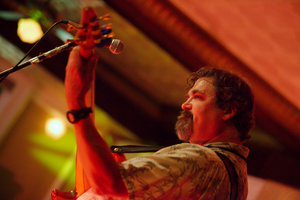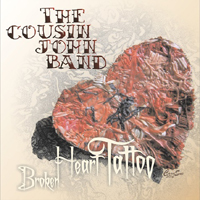 'Broken Heart Tattoo'
:
Cousin John tells: "We were grateful to be working with producer Chris Murphy, whose work has helped make recent albums by The Nighthawks shine, among others. Six of these songs got a boost from the talent and creative wizardry of George Marinelli, the stunningly innovative lead guitarist of the Bonnie Raitt Band, possibly the greatest rootsrock band of all time), whose guest appearances helped make magic in many of the songs. He and I tossed song ideas back and forth via the Internet during his world tour with the Bonnie Raitt Band and we picked a handful to do together... So, I paid some visits to Nashville, at a top-shelf recording facility, with engineering help from wizards John Stinson and Cliff Goldmacher, George graced us with tasty guitar riffs and angelic mandolin phrases... I am so freaking happy to know him!"

1. "110 Years": Staying together and holding the one you love in your arms until you're one hundred years old, that's more often said and sung. So, why not give it a unique twist and make it 110? Cousin John has a great, somewhat raw voice, perfectly equipped for rootsrock like this - a bit John Hiatt and little bits of Randy Newman and Joe Henry. Great guitar work by George Marinelli, who also plays the mandolin, making a modest appearance in the beginning. Dan Reynolds guests on keyboards.

2. "She Got Angels": "When rolling wheels sound / Like a strumming guitar / And the radio is far away / From the song in your heart". Cousin John sure knows how to pick his images. George Marinelli plays an excellent slide guitar and again some mandolin here. A slower song, but it has the same vibe, also thanks to the keyboards.

3. "Push You Away": A line we can all relate to: "While the more I love you / The more I push you away". Haven't you been there yourself? At the receiving end usually? A soulful blues ballad, George sounding terrific again on his slide guitar.

4. "Foolin'": A long (5m27s) ballad. Heartfelt singing with wonderful harmonies and excellent electric guitar solos, now played by Joe Goltz. This sounds very much like Van Morrison. Typical man's lines: "I don't mind / You could keep me company... / But I don't want you getting too close / I got to be free". Right, gentlemen?

5. "Broken Heart Tattoo": The title track, catchy soft rock with more fine harmonies. John got a tattoo to honor his late sister SaraJane and the image of a broken heart inspired him to write this song. Having lost a sibling myself, I understand him so well, when he almost cries in pain: "These scars won't go away"...

6. "Down To You": The only cover on this album. Written by Bonnie Raitt, George Marinelli and Randall Bramblett for Bonnie's album 'Slipstream'. Cousin John enthuses: "You're also really gonna love this song, appearing for the first time unplugged on the CJB album. Guess who plays mandolin on our version? I can't say enough about George's talent and his big heart, he is just a super great guy!"

7. "Lenore's Out!": This is a democratic band, all members get a chance to showcase their own songwriting talents. This is Joe Goltz's humorous contribution, he also croons the leadvocals and whistles on the intro. A lazy jazz song with John Goltz (related?) on upright bass and Larry Graubard playing a saxophone.

8. "SaraJane": Quite a change in mood from one track to another. Definitely the best and most beautiful song on this record! A very personal tribute to sister SaraJane and her magic farm: "Do you love every lost soul / Do they still find you". The arrangement is just gorgeous, with acoustic guitar, heavenly violin, mandolin and a full gospel choir. I would buy the album for this song!

9. "Mary's In A Bathtub": I really wish the band had given the sequence of the songs more thought. This is another funny track, too much of a change in subject again. Tim Howe wrote this in a relaxed country style and therefore also sings the lead vocals.

10. "Leather And Steel": A great country blues ballad, featuring dobro and harmonica, played by Joe Goltz. Intriguing historic story too and Cousin John sings the lyrics like he lived them.
11.
"Baby Baby"
: Ah, rock&roll! A bit of an early Los Lobos feel and sturdy electric guitars left and right. I love the enthusiastic chorus at the end!

12. "Dreams Are Yours To Keep": The last track is for David O'Brien. He wrote the song and does a very nice job singing the leadvocals. A little feel good 'Mr. Sandman' lullaby with influences from the 50s, including surf guitar.
---

What a fine refreshing rootsrock album! I love the groovy influences from blues and soul. Great heartfelt singing, including all the four part harmonies. These are songs with a heart, whether it is a loving or a broken heart, it's all about feelings and emotions we can relate to. While, at the same time, the music makes us feel a whole lot better!

-----
Written & compiled by Johanna J. Bodde - January 25th, 2015.
=====