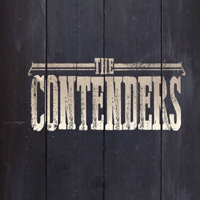 The Contenders
'Meet The Contenders EP'
(Self-Released, 2014)
www.wearethecontenders.com
www.jaynash.com
Meet The Contenders: singer-songwriter Jay Nash and drummer Josh Day. Jay says: "Wish I could change the world with a story and a song..." I think we are on the same page here! They formed the duo back in 2012 and they play a blend of folk, rock and country, taking the name from one of their songs, "The Contender". This debut EP is released digitally, but devoted fans can pick up their vinyl copy at one of the concerts.
Jay Nash and Josh Day have been players and poets for the better part of two decades. They have been making music, telling tales, drinking whiskey and having fun touring together as
The Contenders for the past two years.

Jay Nash's music is like the river that raised him: strong and deep, with a little bit of lullaby and a big strong current. Twenty years ago, he played loud in bars along the Saint Lawrence River, in the reaches of New York so far­flung they're almost Canadian. For the last decade, he's journeyed the US and Europe solo, he released his debut album in 2005, selling over 60,000 records without ever putting ink on a conventional record deal. Now living in the green mountains, the quiet cold of winter rarefies wit and musicianship into the kind of Americana that knows where it comes from.

Hailing from the sweet, sticky hill country of North Carolina, Josh Day brings a percussive virtuosity that shapes the music and supports the vocals. With shining creativity and fine­boned craftsmanship, Day has that special something that resonates with audiences and always feels like a party. Be it playing bluegrass with the Kruger Brothers, touring with Sara Bareilles, or drumming for Jennifer Nettles, Day keeps it busy and honest, just what one would expect from a man who plays with so much heart.

Lady Luck introduced Nash and Day at Room 5 in Los Angeles over a decade ago and they are friends ever since. They both loved The Band and whiskey, so the eventual collaboration was inevitable. Faithful disciples of Rock'n'Roll and musician's musicians both, Nash and Day have given a big stage to their talents and drives with this debut EP, so meet The Contenders!
The tracks...

1. "The Contender": A catchy mid tempo country melody, that captivates immediately. Jay, singing lead vocals, has a very pleasant voice and the music is well played with a great guitar, everybody will feel like humming along in the choruses.

2. "Maybe, Katy": Oh yes, that piano - they listened very well to The Band! Which is fine by me, I love them too. I can't find out from my info, if all instruments are played by Jay and Josh or if they had guests in the studio. Katy breaks down on the telephone, which makes for a classic love song.

3. "Lincoln 1958": A slow burning atmospheric ballad - the pedal steel is also back here, creating the sounds of a wind swept prairie. It reflects on the conversation between a couple, living in the Heartlands, way back when - about their future. I can almost see the images...

4. "Back In Time": Great intro: Josh starting off with a drum solo, then that awesome piano joins in. Again a strong vibe from The Band, rocking out with powerful vocals and guitar solos.

5. "Long Way Down": Closing off with another uptempo Tom Petty type of song - cool guitar and nice choruses.
I think that The Contenders exactly reached their goal with this EP: luring music lovers to their concerts! Yes, I would go and want to hear more and get that vinyl with -hopefully- a sleeve full of recording information and lyrics and pictures...
The bio of The Contenders mentions:
"The legend Levon Helm said that if you give it good concentration, good energy, good heart, and good performance, the song will play you. If that's true, then Jay Nash and Josh Day are well and truly played by the set of songs in their debut EP. The collection breathes with musicality and grit in the tradition of heroes: The Band, Tom Petty, The Dead, Dylan. Thrumming and heady, with a steady heartbeat and a hint of honky­tonk, this EP speaks of wanderers and highways, lovers and losers, good times and missed chances, swimming pools and movie stars, all with a ferocity born of hard work and honed skill."
More interesting info from the Examiner: Jay Nash never felt comfortable being the boss, but as a singer-songwriter who had been doing his own thing for years, it was just part of the gig for him. So when he hired drummer Josh Day to accompany him on the 2013 tour for his album 'Letters From The Lost', it was business as usual…until it wasn't anymore. "We played 70 or shows together, and it was great," Nash recalls. "The songs started to take a new shape with him on stage. He's a great singer and he's got a very creative presence as a drummer, so I wanted to see what would happen if we tried writing together. I know what happens when I write by myself, and that's all well and cool, but I was really eager to write with a drummer to have the songs rooted in a rhythmic foundation and have that be a starting point." Day was flattered, but a little skeptical at first when it came to songwriting. "My take on it is that everybody's a songwriter," Nash said. "And the reason I thought that he would be particularly great as a writing partner is because he knows the difference between s**t and shinola. (laughs) He's a great musicologist." The two wound up in a studio in Vermont, and five days later, they emerged with an EP 'Meet The Contenders', a partnership and a tour. Not bad for less than a week's work.

"Josh had never really sat down and written songs before, but he's good at it," Nash said. "The five songs that fell out that week are pretty strong, and I'm excited to get out and play them for people. I don't think there's a weak link in the chain of the five and I'm really happy with the way the recording came out. When somebody like that comes along, it felt like 'all right, we need to make something special here.'"

And they did, with 'Meet The Contenders' showing off the interplay of the duo as they deliver songs that (for want of a better phrase) feel like home for fans of 70s-style rock and country while still sounding current and relevant. Nash is just amped up for people to hear the EP and listen to the songs live. "I'm happy to have a compatriot, a brother in arms in what I'm doing out on the road," he said. "I've been a solo artist for many years, so it's great to have a band mate. As you can probably imagine, in advance of the release of a new recording and the beginning of a tour, there's certainly a lot of excitement and anxiety and all those things mixed into one, and I have a wife and child, so it's always tough to say goodbye to them for a number of weeks. But generally, it's just excitement."

As for the interplay between the two and what makes this project work, Nash says "We recognized pretty quickly that it was a uniquely amazing thing that happened with our voices when we sang together. And there was also something very cool about what could happen with just the two of us on stage and what he does rhythmically and what I do with a guitar that those pieces just fit together perfectly. We had a lot of those moments of realization throughout the year in 2013 where we were like 'wow, that was really good.'" After this tour, which runs through late November, it will be back to the studio this Winter for Nash and Day, but for now, it's a road trip that Nash intends to make a memorable one. "I hope the EP is enough of a tease that's gonna make people want to come out and see the show," he said. "For us, the biggest joy is playing live and making that experience as immersive and intense and emotional and connective as possible. I want people to come into a show and feel a full spectrum of human emotions and at the end of the night feel emotionally and spiritually rung out – in a good way. That's what we're shooting for."
Jay Nash tells a bit more about the writing process to CMT Edge: In late 2013, Nash had gotten off tour and was at home in Vermont, letting his mind wander after his family had gone to bed. "I was still running on rock 'n' roll time, fresh off a tour of consistently late hours," he remembers. "I was sitting on my couch with my 1960 Gibson LG-0, having a nightcap and thinking about my musical life, friends and heroes. I thought about how privileged I was to know so many incredibly talented songwriters, artists and musicians… some of them famous and rightfully so… and some of them virtually unknown or barely scratching the surface of relative obscurity." He adds: "Those were the people who got me thinking. The contenders… the people who had been making music, in some cases, for a decade or more, who had mastered their craft, ridden the roller coasters of success and failure and then soldiered on to travel and play night after night, sometimes for thousands of people and sometimes for dozens." After sharing the idea with Day, they started working on the lyrics about their musical heroes - without being overly specific. By email, though, Nash is more willing to name names. "I think that Josh's playing might be a bit more informed by country and bluegrass music than my approach is. He grew up on Willie, Doc Watson and The Band. I grew up on The Band, the Grateful Dead and Sam Cooke," he says. "So our starting point, the place we really first saw eye to eye, musically, was with The Band. The countrified, folky rock 'n' roll that Richard Manuel, Rick Danko, Garth Hudson, Robbie Robertson and especially Levon Helm was a great reference point." Not to say classic country doesn't inform Nash's own music, though. "I have listened to enough Waylon, Willie, Johnny Cash and George Jones over the years that I'm sure their phrasing and approach have influenced and affected the way that I sing and write songs," he observes. "The greats all have an unshakable resonance, I dare say permanence to their songs. In a way, that was one of the things that we were striving for while we were writing these tunes."
You probably know by now, that I always like these little lists. American Songwriter asked Jay and Josh about their...

Ambitions:
To make great music…heavily inspired by the music that we grew up listening to and which inspired us to pick up our instruments in the first place. We have the hope that the fans will be a integral part of our journey and find resonance in the music that we make.
Turn-Offs:
'Cookie-Cutter' songs that don't tell a story.
Turn-Ons:
Authenticity, clarity, whiskey and electricity.
Dream gig:
Sold out shows at Red Rocks and the Hollywood Bowl.
Favorite lyric:
Pretty much all of Bob Dylan's first four original albums, but this in particular:
Come senators, congressmen / Please heed the call / Don't stand in the doorway / Don't block up the hall / For he that gets hurt / Will be he who has stalled / There's a battle outside and it is ragin' / It'll soon shake your windows and rattle your walls / For the times they are a-changin'.
Song I wish I wrote:
"The Weight" by The Band, "Desolation Row" by Bob Dylan, "American Girl" by Tom Petty.
Five people I'd most like to have dinner with:
Levon Helm, Ritchie Heyward, Elvin Jones, Donny Hathaway and Jerry Garcia.
My favorite concert experience: Josh:
Saw 'The Boss' Bruce Springsteen when I was a child. Immediately felt inspired to play music. Jay: Funny… I had the same experience… and I had no idea that I was going to be so moved by it. It was on the Human Touch tour, which as a record, didn't move me at the time. But man, that concert destroyed me. I'd be remiss if I didn't mention the first time that I saw Martin Sexton perform live. He just elevated my expectation of what could be accomplished in a solo performance. I saw the Jerry Garcia Band in 1993 and it completely transported me.

I wrote this song ("The Contender"): This song is inspired by so many of our friends and heroes that are in it for life. They make music every day and forever because it is a necessity, whether it brings them fame and fortune or a humble existence.
-----
Written and compiled by Johanna J. Bodde - October 31st, 2014.
=====