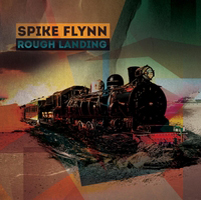 Spike's BIO: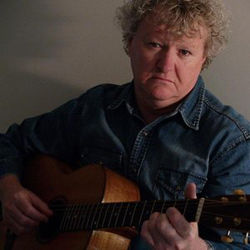 A
fter an extended time away from the music scene, singer-songwriter Spike Flynn made a welcome return in 2010 with a collection of critically acclaimed songs on his album 'It's Alright'. Now his new CD, 'Rough Landing', has been released.
Originally from Forbes, a small town in the Central West of New South Wales in Australia, Spike is now based in Sydney. He infuses home town themes with a dark urban edge and a voice that has seen it all, but not become jaded. He says his influences are as much literary as musical. He acknowledges being influenced by authors such as Franz Kafka, F. Scott Fitzgerald, Kurt Vonnegut, Albert Camus, Gabriel Garcia Marquez, Hermann Hesse and John Steinbeck. Spike's musical influences are the early blues -people such as Mance Lipscombe and John Hurt especially- and country artists such as Doc Watson, Guy Clark, Townes Van Zandt and Jimmie Rodgers. In his performances Spike often includes old blues and country material along with his own songs. He is a terrific finger style guitarist.
Spike's songs explore life with its beauty, pain, sorrows and joys and they often have a philosophical and spiritual aspect to them. His songs are lyrical stories, songs of the mature heart, the heart that has been through the dark night and has emerged on the other side with a tale to tell. Biographically Spike is a very private person, to try and understand him and his history one must read between the lines of his songs. Whatever the details of his personal history, Spike emerged from his hiatus as a songwriter of note.
Spike now mostly performs in clubs and pubs around Sydney and has recently supported international acts Peter Rowan and his Bluegrass Band, Kristina Olsen, John McCutcheon and local acts such as Jim Conway's Big Wheel. Since the beginning of 2013 Spike has been performing often in a trio format as Spike Flynn and The Open Hearted Strangers (with acoustic upright bass and percussion).
He is currently recording another album of all original material which he says will continue his emphasis on meaningful, thought provoking lyrics. As well, an album of songs from Spike and The Open Hearted Strangers can be expected very soon. When performing with his band Spike goes back to his roots, playing a mix of early country and blues tunes, as well as original songs.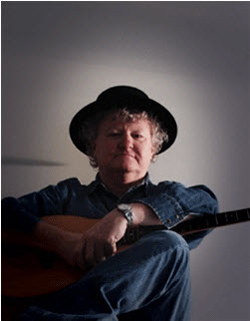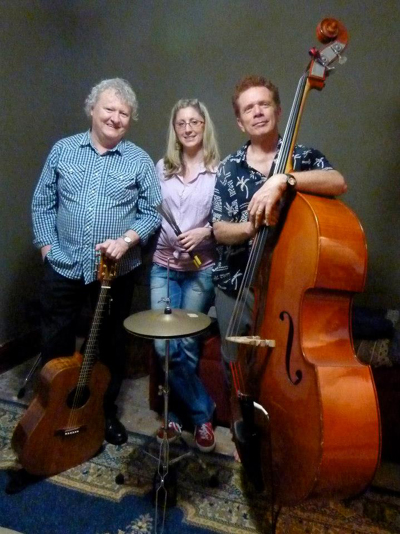 Spike's
ALBUM
:

Spike Flynn has now released his second album of original songs: 'Rough Landing'. His first album 'It's Alright' claimed number 10 on the September 2010 Euro Americana charts. 'Rough Landing' continues the high standard of songwriting fans have come to expect from Spike. He has a gift for poetic story telling.
1.
"Fate And Freedom"
: A 'Ghost Riders In The Sky' type of rhythmic uptempo country song. The excellent fiddle, played by Andrew Claremont, stands out immediately. A stranger walks into a bar and has a few strange (indeed) encounters with Fate and Death, bumming for a cigarette. Spike has the type of ragged road worn voice that fits story songs like this perfectly. I haven't heard of Spike before, but I like what I hear now. Singer-songwriters from Australia unfortunately fly often under the radar in Europe.

2. "Small Town Refugee": Speaking of, the lyrics of this folk song visit Europe in melancholy memories. This sounds very much like a Chip Taylor tune. Donna Amini sings pretty harmony vocals.

3. "Trying To Get Home Blues": Blues with rhythmic bluegrass touches of a nervous banjo, also played by Andrew Claremont. For the first time we hear a bit more of Spike's Australian accent, in the way he pronounces 'home'. Otherwise this could have been an early Townes Van Zandt song.

4. "Frozen Words (Neon Lit Cafe No. 2)": Now that is a wonderful song title! "Smoke trickles thin from the chimney / Like white and blue ribbons of prayer". I start to get what's happening here, I have heard it before from other singer-songwriters. They are very talented wordsmiths, but for the melody they grab something simple and familiar, often quite similar to works of John Prine, Guy Clark and all the other greats. That big jukebox in my head doesn't help: I recognize too many things! It is not really bothering me, luckily the skilled musicians add their own virtuoso touches to the arrangements.

5. "Ragin' Against The Wind": Ah, jump blues - that's a somewhat different sound! A sturdy electric guitar is played by Tony Green, while Spike speak sings to the inner strength in all of us, to get trough life and acquire some love.

6. "All You Lonesome Hobos": Fiddle, bowed bass and mandolin for this poetic word-laden song, reminiscent of the elderly Johnny Cash or Kris Kristofferson. Donna sings harmony again.

7. "Time I Was Leaving": This bluegrass styled song has a very nice melody. "The colors of the rainbow so beautiful and high / Light torn apart by rain in the sky." The production by Damian Flynn, I read that he's Spike's son, is high quality.

8. "Uralla Blues": A picture of desolated Uralla, New South Wales, graces the inside of the CD-cover, which even contains a lyrics booklet, thank you Sir! Not sure what the references to New England in the Winter meant, I looked that up. Besides the American region, the name also refers to a North Eastern part of Australian NSW. We are getting so smart, just listening to music, aren't we?

9. "Don't Let Her Sail Away (Into The Night)": A fine old school country blues, with electric guitar and the always surprising fiddle, Donna sings along too.

10. "Re-incarnation Train Whistle Blues": Harmonica! Played by Spike. This song sounds like the early Johnny Cash train songs, circa 'Hey Porter'. Very interesting lyrics: "'Cause I'm coming back as a big steam train / And you're going to be my destination!" A lighter intermission, an uplifting wink at an otherwise serious subject.

11. "Hero's Mask": "I'd be Tonto and he's the Lone Ranger." Moral of the story: every hero needs a mask.

12. "Trust": A very nice catchy rhythmic track, adorned by the enthusiastic banjo and his musical mates fiddle and mandolin. "Trust is leading with your heart / To forgive without regret / When the world has hit you / When you've been ripped off."
13.
Bonus Out Take Track
: A satiric blues song ends the disc, the character sounding drunk or stoned (or both) on purpose, seeming somewhat out of place.
Spike Flynn has a way with words. I love his lyrics and his storytelling. The arrangements are beautiful, played by the best musicians in his part of the world. I just wish there was a bit more originality in the composing of melodies, so I wouldn't hear references to classics all the time, well, very often. Otherwise, if you like artists like Guy Clark, Chip Taylor, John Prine, Townes Van Zandt, etc. you will also like this CD by Spike Flynn.
-----
Written & compiled by Johanna J. Bodde - April 14th, 2015.
=====