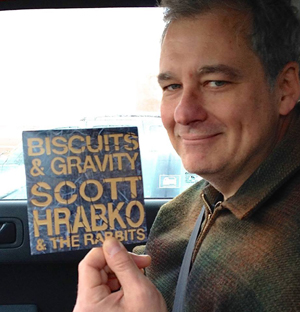 Scott Hrabko & The Rabbits
'Biscuits & Gravity' (2015)
Scott Hrabko - 'Gone Places' (2013)
Both albums Self-Released
Scott Hrabko follows up his critically acclaimed solo debut, 'Gone Places', with another wild ride through the back roads of American music, this time with his amazing band, The Rabbits (Josh Arnold & Emily Tummons) for traveling companions.

Sometimes we find the artists and sometimes artists find us. Scott Hrabko found us. How do we pronounce his last name? The 'h' is silent, which means we can forget about it. That's why Hrabko sounds so good with Rabbits! Scott is a singer-songwriter based in Kansas City, Missouri. His music is a mix of country, folk and blues. Yes, exactly what we like here!

He can trace his roots back to the fertile crescent of the local indie rock scene of the late '80s. He has played with Kansas City's oldest garage band, The Original Sinners, as well as various incarnations of The Splinters and The Andersons in Kansas City in the 80's and Chicago in the 90's.

He released his debut solo album 'Gone Places' in November 2013: a set of funny and poignant songs of love and loss, scattered across the haunted American landscape.
Hot on the heels of that release comes now 'Biscuits & Gravity', recorded with his fine band The Rabbits (Josh Arnold - Bass & Harmony Vocals; Emily Tummons - Harmony Vocals, Accordion & Ukulele), along with their former lead guitarist, Kirk Scott. These days the Rabbits can be seen and heard in various clubs around town, with a long list of luminous locals, including Jason Beers, Marco Pascolini, Fred Wickham and Rob Nold, providing instrumental colors. The Rabbits have appeared at the 10th Annual Crossroads Music Fest and The Folk Alliance Conference at Crown Center.
---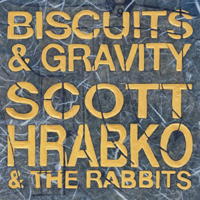 'Biscuits & Gravity':
1.
"Died And Gone To Heaven"
: An opener, like it's meant to be - winning the listener over immediately. A catchy country song with funny lyrics. Scott's voice is beautiful, a little Lyle Lovett with a little Dwight Yoakam and then some of the old country stars, like George Jones, mixed in.
2.
"Lorraine"
: Ah, there's the accordion! Played by Emily, who also sings very pretty harmony vocals, together with Josh. Hard to determine the style, it has elements of folk, country and western swing. Which is the case with truly great music - that it's hard to label. "Come to the phone, the receiver is warm / And your love's a world away / You're digging yourself a deeper hole / With every word you say".
3.
"Ordinary Guy"
: The blues, ominous, like being lost in the swamps... "Neon halos of moths and mosquitoes / And I can't find my way home / A broken windshield in the moonlight / A high and lonesome alarm". What an incredible lead guitar! Too bad, that Kirk Scott ('Rabbit Emeritus') had to move away! More flawlessly sung harmonies and a rumbling bass in a very good mix.
4.
"I Dreamed I Quit My Job"
: Blues influenced rock, something John Hiatt would play. More excellent electric guitar and I love Emily's ghostly whoo-oo chorus. Perfection, 6m33s long. What got tossed? "A balled-up apron in the dumpster / Out by the loading dock / With a new name tag and a brown paper bag". Quiting my job, tempting... What do you gonna do now?
5.
"(Son Of) Valley Of The Blues"
: This song goes back to the "Valley Of The Blues" song on the previous album. "The moon turned blue as an amplifier tube". Delicious lazy feeling in a slow jazzy western swing song. "We follow the lonesome taillights / Into the mystery".
6.
"Donnez Moi"
: I absolutely love that line in French! "Donnez moi tout le monde". Definitely my favorite. Yes, I'm predictable, I always go for the Acadian flavors! Accordion... swooning. Tim Higgins plays drums here, super. "But sometimes I feel like John the Baptist / Screaming in the woods".
7.
"Don't Be True"
: This track starts off as a relaxed bluesy ballad: "Like a necklace of diamonds / The headlights are shining / But there ain't no lights on at home",
showcasing Scott's wonderful voice and perfect phrasing. I'm fascinated by his unusual timbre, with that little 'almost yodel', yes, hard to describe. Then the song picks up tempo to great effect in the middle parts.
8.
"California Got My Baby"
: A unique sound for this country song, with a banjo and even a saw (!), both played by Jason Beers. Another harmony singer here, Deni McHenry. "Driving all night back to you / A ball of fire in the rear view mirror".
9.
"Somebody Else's Sunshine"
: This is a classic country duet, in the style of George Jones and Tammy Wynette. Well, we need good people to fill their shoes, so - nothing wrong with that! "I've got my very own personal raincloud / Hanging over me / Just a sad, old shadow / Where the sun used to be".
10.
"O My Stars"
: The only cover on the album, written by Michael Hurley. A folk singer from the Greenwich Village scene in its glory years, the 60s and 70s. There's even a spider in this song!
---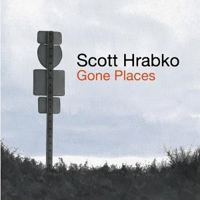 'Gone Places':
1.
"Black Penny"
: "Blue eyes crying in the liquor light glow / Down where the spirits dwell". A very good composition, played by a full band, including great sounding organ and piano.
2.
"Blue, Period"
: Here are the Dwight Yoakam influences. What a fine, uptempo country song! Smart subject being the partner, by his side, talking in her sleep. Left and right a guitar, just the way I like it best. Gary Paredes playing inspired slide solos.
3.
"Baby, You Know Me"
: Country shuffle with some bluesy colors. Sounds like a lost old Merle Haggard recording. "Lost in the ruins of my own doing / Down where the old flames glow".
4.
"How's Your Toe?"
: Instrumental with jazz inspired guitar work and great piano parts, played by Pat Pearce. Silly title though. I like the urgency.
5.
"Lost As You"
: Dead Dog Boulevard, in what city situated? Conversation between guitar and voice starts off this song. "The spirit is gone, but the body lives on / And honey, you can keep the change." Scott plays the roadhouse honkytonk piano himself here. That's a cool acoustic bass too, by Dewey Egbert.
6.
"The Ugly Ever After"
: Lots of witty word play in mentioning (parts of) song titles here. The bouncing rhythm winks at vintage Johnny Cash and the Tennessee Three.
7.
"Valley Of The Blues"
: The original version of the song, that was reworked for the new album. Quite different, but equally beautiful. A much fuller sound, featuring keyboards, lap steel and three guitars, Gary Paredes doing his magic tricks with the slide again.
8.
"Blurry Marie"
: Let's rock! There's also the famous 'Tougher than jerky / Down in Albuquerque' line. Scott should trademark that. Do I even hear a washboard?
9.
"Lonely Satellite"
: A song title that immediately draws attention to this superb ballad. Just acoustic guitar, bass and drums, so the excellent vocals get the well-deserved focus. Darkness Falls is not a town in North Dakota, but I was about to believe it actually exists. That's exactly how strong the imaginary is!
10.
"The Fool In The Song"
: A jazzy piano ballad, the same kind of stuff Willie Nelson sometimes sings. Emily Tummons joins in for pretty harmonies. "So, put me on, baby / And spin me around / Let the diamond ride the vinyl / All the way down."
11.
"Here Comes The Blues"
: Plenty of variety in tone and texture of the music on this disc. Some Texas swing and David Williams plays pedal steel. "By the ice machine at the Elms Motel / Trying to straighten up her hair / Sad, blue eyes on my demise / In the ragged neon glare". Images from the movie 'Fool For Love' (1985)?
12.
"The Problem"
: Don't you hear Roy Orbison? It's been a long time since I compared a singer with him! "They tell me / That your number's disconnected / Those sweet, recorded / Voices on the phone / Calling from approximately nowhere". So cool, that Scott uses long words like 'approximately' in his songs. Doesn't seem to be commercial, but who cares? And then that surprising voice-over... wow!!
13.
"The Woman Upstairs"
: Classic country sounds to close off. Scott & Emily do their George & Tammy thing again. Even a fiddle, played by Susan Newton, steps in.
"But I still dream / Of the same old street / The reckoning ball forgot"
. THAT, my friends, is Songwriting with a capital S.
---

I'm expected to say something now. I'm still flabbergasted, there's so much mediocre stuff out there being celebrated and yet, it took so long before a talent of this caliber got noticed! Well, Scott had plenty of time to observe the world around him and find inspiration, all these years of fine-tuning his singing and songwriting crafts have finally paid off. So, music lovers, don't let me down, please - go & get yourself both albums, otherwise you will short change yourself. I am blown away completely, the same will happen to you!
-----
Interview Excerpts:
By Tom Ryan (Crossroads and Currents, 2010):

Scott Hrabko is about a year into a solo acoustic guitar songwriting journey that started a few decades ago with his group called The Splinters. Great art, like black and white photography, uses contrast to affect us. Scott juxtaposes the finger picking style of folks like Mississippi John Hurt, Elizabeth Cotton, and John Fahey with his own ironic poetry that celebrates the humorous and clever, the old blues with something new, life in the present tense. He likes to live in his songs.

Scott's music has a transporting quality to it. It's like a train ride through some beautiful American valleys and vistas with echoes of Celtic rhythm as a faint heartbeat. It's a trip to Parchman Farm Prison in Mississippi without the life sentence and roadwork, with words that may have you visualizing a page from American Splendor, reading your modern life in a mirror with the cadence of guitar picking that's primordial and simply elegant. He's definitely getting out of himself and crafting a unique style of composition and performance.

What fuels this? Family, first off. Let's just say that this starts with a great deal of love at home for those of you dreaming about going out to the crossroads somewhere seeking a deal with the devil. Second, Scott recognizes the beauty of having an audience; that feedback, not unlike his pre-amp (a Mama Bear) that adds some sweet edgy 'almost feeding back' juice to his performance sound. Then again, maybe his family is his real pre-amp of sorts…

Often musicians pause when asked their influences. Scott offered them without prompting: Loudon Wainwright III, Mississippi John Hurt, and Nick Drake. He connects with their guitar work and writing. This is rich food for the soul and ears, these three examples. Scott seems to appreciate the human enterprise, the risks and hard work associated with creating art. He shared a great deal but listened intently as well. Here's someone who hears and crafts nuance.
In addition to creating great 'songscapes', this musician also illustrates with the pen, pencil, paper, and lately with digits.

Nuance and irony. Scott's becoming comfortable with Scott. Scott appreciates the corniness of country, cuts pieces of his life and glues it together in a collage, and knows that to be vulnerable is to be courageous. He's balancing the comfort with the edge of creativity, the practice, the nervous uncertainty of solo performance, and offering new songs as food for your thoughts. Life looks to be that contrast of basement-time, solitary, playing and practicing, building the hard calluses confronted with the raw, but not often tender nature of a room full of people who may or may not listen. Practice and calluses get you to a place of focus whereby you can smile and stare the audience in the eye and take them somewhere. Sounds simple, like making a collage, right?
-----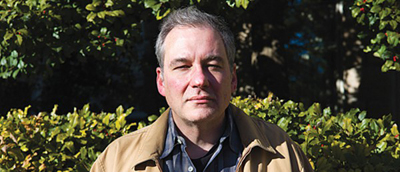 By Natalie Gallagher (The Pitch, 2014):

"You've probably never heard of me," singer-songwriter Scott Hrabko warns in a note attached to a copy of his full-length debut 'Gone Places'. "My musical career has been a textbook example of bad timing, missed connections, stops and starts and detours." Indeed, there have been plenty of detours on Hrabko's musical journey. He started playing when he was 25, picking up a guitar after college and getting involved in some punk and electronic bands. By the mid-1980s, one of Hrabko's first bands, a cowpunk outfit called The Splinters, was playing a few shows around town - some with a young Iris DeMent, who was, Hrabko says, "a lot more rock-and-roll back then."

"I started writing songs, and right away there were sort of low-pressure situations where we could get gigs," Hrabko says. "The Grand Emporium - it was a club on Main Street where on Monday nights they would just let bands play. The Splinters played there, and that's kind of where we got started. We met Iris somehow - I don't know, I think she worked at a restaurant there somewhere. She was writing songs and just starting out, and we wound up singing together and did some songs at Parody Hall downtown. That's another club that doesn't exist."

Hrabko is 53. He'd rather just say 'middle-aged'. He's a little self-conscious, perhaps because it's slightly strange for him to start a music career at this point in his life. But that's what he's endeavoring to do with 'Gone Places'. Recorded and produced mostly at Hrabko's home, with the exception of a few tracks, 'Gone Places' is the second album that Hrabko has ever appeared on. (He was included on a 2005 album by local cover band The Original Sinners.) And if one of its thirteen tracks sauntered through the overhead speakers of a local bar, you might wonder, "Where have I heard this before?" "I don't necessarily belong to my era, in many ways. Sometimes I wish I was part of another era," Hrabko says. "Sometimes I write songs where I actually pretend that rock and roll never happened. As much as I love rock and roll, it's kind of blotted out a lot of music that happened before."

Hrabko's debut sounds like a record belonging in rotation between Buck Owens and Willie Nelson. It feels familiar, the way a classic country album would. Hrabko has forsaken anything resembling punk and electronica: part blues, part western swing, 'Gone Places' is an album filled with slide guitar, pedal steel and jangly piano notes. "It's really the last ten years," Hrabko says, "that I've decided that's where my home is and that's what I am."

The songs seem to have been made for jukeboxes or car-stereo sing-alongs on long road trips. Most of Hrabko's tunes are about the road, recalling places he has been - and a few he has made up. Some of them are new; others stretch to the early 1990s. "This is the thing that is absolutely torture for me about music: nothing ever comes to me in one piece," Hrabko says. "It's always, like, there'll be a line. It was tougher than jerky in Albuquerque. Those lines will just sit in a notebook, literally for years, until I have a place to put them. Writing for me is like juggling these little moments, these little scraps that I come up with over the years, and putting them together in some way."

The little moments on 'Gone Places' tend to refer to women lost and found and blues picked up along the way. Lyrically, Hrabko seems to have taken lessons from John Prine: with folk-taught wisdom, Hrabko is too witty to sound completely heartbroken. On the standout track "Lonely Satellite", Hrabko calls out cheerfully: "From a frozen phone booth in Nevada / I can hardly hold the dimes / I dial your number, honey / A little humbler every time."

Hrabko, a video editor for a market-research company, understands the peculiar situation he's in. "It's really a terrible time to think about a career in music. There's such a flood of stuff. And a lot of it is good," Hrabko says. "I was looking at a lot of stuff around here that came out this year and I was like, 'Well, I should have just waited or something. It's just going to get lost in the shuffle'." He goes on: "I mean, I have no great credentials to throw at anybody. Every band I've ever started lasted, like, two years, so there's really not much to say. I even quit music a couple times because I was just so fed up, you know? But I just had these songs, and I had to get them out there."

Everything on Hrabko's 'Gone Places' is, like the man himself, understated. It's an elegant, confident debut album from an artist who sounds like he has always belonged, as though he has always been around. "I'm not trying to be a big star or anything. I'd just like to stay busy making music," Hrabko says. "That was my goal before the album ever happened. I just wanted to write great songs. That was always my goal. And in the end, I can't decide whether they are or not... It's sort of like, 'I exist. I wrote these.' It's a marker. Hopefully there'll be more, too, now that I've started."
-----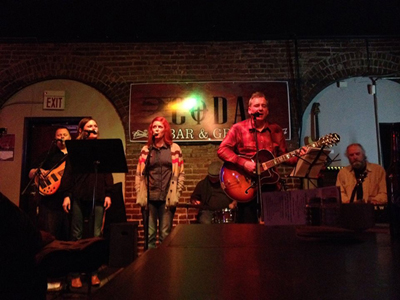 From The Deli Magazine, 2014:
The Deli:
Down and dirty: ONE sentence to describe your music. What is it?
Hrabko:
Singer/songwriterly, semi-autobiographical songs with rambling lyrics, played in a somewhat offbeat country / folk / blues hybrid with an emphasis on soulful three-part harmonies.
The Deli:
How did you get back into writing and playing your own songs again?
Hrabko:
After I moved from Kansas City in the '90s, I had some good bands in Chicago and Austin that maybe twenty people knew about. When I came back, though, I was having trouble meeting musicians who had any interest in the kind of stuff I write. I grew kind of disillusioned about writing songs for awhile and my only connection to music was this cover band, The Original Sinners, playing semi-obscure R&B songs from the '50s a few times a year at parties. When the urge to write started pestering me again, my wife strongly suggested that I get out and play some solo acoustic shows. That was when I asked Howard Iceberg for advice and he introduced me to Elaine McMilian. Elaine booked gigs for me and helped get my music back out in public. She and her friend, the late Tom Ryan, were huge supporters early on. That helped because I was very nervous about the whole thing and had no idea how it would be received. It's not easy to go out and perform without a band, but I'm glad I did; I really learned whether my songs can stand on their own, without all of the seductive instrumentation.
The Deli:
How did you hook up with the rest of The Rabbits?
Hrabko:
I met Emily Tummons a few years ago at the Howard Iceberg tribute show at Crosstown Station. My old band, The Splinters, was invited to play a couple of Howard's tunes; Emily and her sister Beth sang a couple by themselves and with Scott Easterday. Their sound really knocked me out. It was very old-timey - the kind of harmonies you just don't hear these days. I thought, 'I have to find a way to sing with those girls, somehow'. I figured we might run into each other eventually, but right after the show as I was loading up my car, Emily came right up and introduced herself and asked if I ever needed any backing vocals. Beth was too busy with her home life to commit to anything, but Emily wound up singing on my album and then joined The Rabbits. Josh Arnold was the first musician who joined us after that. He had gone to school with Emily and played bass with the Tummons Sisters. He and Emily had sung harmonies before, as well, so they already had all this history. I knew immediately that we had a good combination. He's a great, intuitive bass player, and the two of them just have this telepathy when they sing together. With previous bands I was probably guilty of micromanagement, not letting the musicians be themselves and find a flow, but with Josh and Emily I just say, 'here's the song - go to it', with only an occasional suggestion of what they should do. They're also great people, and very funny. We just lost our bad-ass guitarist, Kirk Scott, who moved with his family to Massachusetts, so we're a trio now, but we have a fourth member lined up; it's just not official yet. Emily sang some harmonies on my CD, 'Gone Places' and we started rehearsing with Josh about a year ago in preparation for the CD release.
The Deli:
What have been your greatest accomplishments as a band?
Hrabko:
I think it has been developing our own unique sound in a very short period of time. I always dreamed of having a band with a strong element of harmony and the first time we sang together I knew it could be something special. And, for me, personally - I was really out of the music scene for years, so getting back into it and being so warmly received is really gratifying.
The Deli:
You released your debut album 'Gone Places' last November. What can people expect from it?
Hrabko:
'Gone Places' came out late last year. That one was me and some old friends and some guest musicians I'd just met, recorded mostly in my basement. Scott Hrabko & The Rabbits are putting the finishing touches on a new album which will be out some time next year.
The Deli:
What does supporting local music mean to you?
Hrabko:
It's about acknowledging how lucky we are to be in a small-to-mid-sized major city smack dab in the middle of the country and we're absolutely surrounded with good music. Can't swing a dead cat. I'll give you an example: we have this local, non-touring band, Dead Voices, who are making music that is just historically good, and they're like our little secret. For the time being we have them to ourselves. It's really lovely to see all this music happening here, because I can remember a time when it wasn't, aside from a handful of true believers. It's not the product of hype, or a response to some kind of market pressure, either. It's just growing on its own, taking its own quirky course.
The Deli:
What has changed about the local music landscape? Why do you think it's growing at a rate it wasn't before?
Hrabko:
There seems to be a convergence of musicians who came up together in the '90s and early '00s, who are all friends and play in each other's bands. Many of the bands just seem to be part of one organism! It kind of sustains itself. It helps that the music is worth listening to. Second, it seems that there are more entrepreneurs around who are musician-friendly or musicians themselves who are starting up venues and record labels, organizing festivals, etc. That infrastructure definitely wasn't around back in the day when a band like mine could play a Monday night at The Grand Emporium or maybe open for somebody at Parody Hall. Third, the Internet. Being able to post your music online for anybody to check out has been a godsend for socially challenged musicians like me, and all of the social media has made it much easier to get the word out. Going around, stapling fliers to telephone poles seems very quaint now. I would also add that there are more true music lovers -especially for live music- than you would think there would be in a town this size, so people do come out.
The Deli:
Who are your favorite local musicians right now?
Hrabko:
It kills me to leave so many out, but I am a huge fan of Mikal Shapiro, Dead Voices, of course - anything David Regnier is involved in, Jason Beers, Marco Pascolini, Howard Iceberg, Brent Jamison, Kasey Rausch, Old Sound. John Greiner, but he just moved to the East coast, so he's no longer local. Emily and Josh from my own band kick my ass on a regular basis.
The Deli:
Who are your favorite not-so-local musicians right now?
Hrabko:
Lately I've gotten into these mysterious, English folky women, like Cate LeBon and This Is The Kit. Also digging back into the late Townes Van Zandt's early catalog and finding I really didn't know all I thought I knew about him. What a lyricist... like William Blake or something! Fred Neill, early John Martyn (a lot of dead guys, I guess!), Michael Kiwanuka.
The Deli:
A music-themed Mount Rushmore. What four faces are you putting up there and why?
Hrabko:
Leonard Cohen, Robert Johnson, Joni Mitchell, Jimmie Rodgers, Captain Beefheart (I know, that's five): great music that has stood the test of time. I've had so many musical heroes that I've either outgrown, disavowed, or gotten sick of, but I still get chills when I listen to these people's songs. It still has as profound an impact on me as it did when I was much younger and knew even less.
The Deli:
What other goals does Scott Hrabko & The Rabbits have for 2014 and beyond?
Hrabko:
Stay healthy, stay busy, stay visible, write great songs, and grow as a band.
-----
Written & compiled by Johanna J. Bodde - February 12th, 2015.
=====