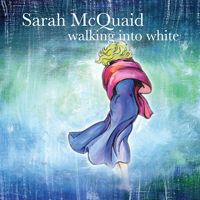 Rising star Sarah McQuaid's voice has been likened to malt whiskey, melted chocolate and 'honey poured into wine' (Minor 7th). A captivating performer, she seduces her audience with cheeky banter and stories from the road, as well as with stunning musicianship; in her hands, the guitar becomes much more than merely an accompanying instrument.

Her musical output reflects her own eclectic background: Sarah was born in Madrid (to a Spanish father and an American mother), raised in Chicago, holds dual US and Irish citizenship, and now lives in rural England. Refusing to be pigeonholed, she spans the genres with both her beautifully crafted originals and her interpretations of material from around the globe and down the centuries.
Sarah was taught piano and guitar by her folksinging mother, and remembers being inspired by meeting her distant cousin, well-known singer/songwriter/storyteller Gamble Rogers, at her grandmother's house in Indiana. From the age of twelve she was embarking on tours of the US and Canada with the Chicago Children's Choir, and at eighteen she went to France for a year to study philosophy at the University of Strasbourg.
She moved to Ireland in 1994 and lived there for thirteen years, working as a music journalist, magazine editor and active member of Dublin's arts community. In 2007, she re-released her critically acclaimed 1997 debut solo album, 'When Two Lovers Meet', and launched her solo career with a performance on Irish national television as the musical guest on John Kelly's popular Friday evening arts show 'The View'.
The same year saw her moving to England and playing major festivals like Sidmouth and Trowbridge, and in 2008 she released her second album, 'I Won't Go Home 'Til Morning'. In contrast to the first album's focus on Irish traditional songs and instrumentals, the follow-up was a celebration of old-time Appalachian folk, with Sarah's arrangements punctuated by her own fine compositions and a cover of Bobbie Gentry's classic "Ode To Billie Joe".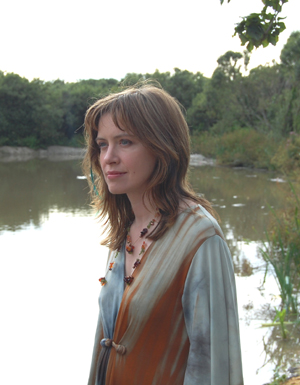 Sarah's first two solo albums were re-released as a double-CD set in North America in February 2010 and immediately went to No. 1 on both the album and artist Folk-DJ chart. At year's end, she had the No. 6 album on the Folk-DJ chart for 2010 overall, and was offered an official showcase at 2011's International Folk Alliance Conference.
Her third album, 'The Plum Tree And The Rose', was released in March 2012 on the Chicago-based Waterbug Records label. Like its predecessors, it was produced by Gerry O'Beirne (Midnight Well, Patrick Street, Sharon Shannon Band); recorded and engineered by Trevor Hutchinson (Waterboys, Lúnasa) in his Dublin studio.
'The Plum Tree And The Rose' represented a departure from Sarah's previous albums, which focused on her arrangements of traditional material, in that nine of its thirteen tracks were originals. Although a thread of personal experience was woven into the material, Sarah truly shines as a teller of parables. Whether she's recounting the life of 16th century businesswoman Bess of Hardwick or standing in a cathedral and pondering the immortality of the soul, the specific detail subtly manifests a universal truth. These are songs that linger in the listener's imagination. Also featured were a 13th century 'alba' or dawn song sung in Old Occitan, two Elizabethan numbers and a cover of John Martyn's 'Solid Air'. The album drew critical acclaim on both sides of the Atlantic.

'Crow Coyote Buffalo', an album of songs co-written by Sarah with fellow Penzance resident Zoë (author and performer of 1991 hit single "Sunshine On A Rainy Day"), was released under the band name Mama in 2009 and garnered rave reviews: Spiral Earth described the pair as "Two pagan goddesses channelling the ghost of Jim Morrison," while The Irish Times said they had "Janis Joplin's freewheeling spirit crossed with Joni Mitchell's lyrical density."

Recently dubbed 'guitar queen' by one festival organiser, Sarah is also known for her use of the DADGAD tuning. She is the author of 'The Irish DADGAD Guitar Book', described by The Irish Times as "a godsend to aspiring traditional guitarists", with a follow-up book on the way that will focus on DADGAD song accompaniment. She regularly presents workshops on the tuning (as well as on songwriting, tour booking and more) at festivals, music schools and venues around the globe.

Now living in Cornwall with her husband and their two children, Sarah currently spends six months of each year on the road in the UK, Ireland, Continental Europe and the USA, with ambitions to extend her range to Canada, Australia and New Zealand.
-----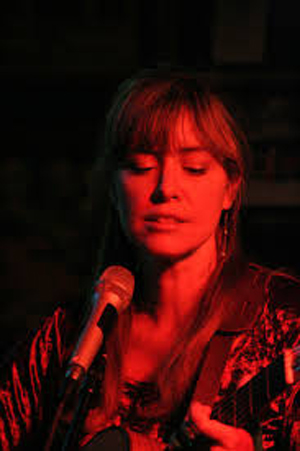 Sarah's ALBUM
:

'Walking Into White' is the fourth solo album from Sarah McQuaid. To record it, she travelled from her adopted home in Cornwall, England, to the small town of Cornwall in New York state, in order to work with co-producers Jeremy Backofen (Felice Brothers, Frightened Rabbit) and Sarah's cousin Adam Pierce (Mice Parade, Tom Brosseau, Múm).

Coming from outside the folk world and having never worked with Sarah before, Adam and Jeremy found and nurtured the raw edge and intensity that have always been present in her live performances, while their occasionally unorthodox recording methods (a mini-cassette recorder mounted on a microphone stand, for example) bring out a striking intimacy and immediacy in both her vocals and her guitar sound. Recorded and mixed in just under three weeks, 'Walking Into White' is by far the most personal and emotional album Sarah has made to date.

Three of the songs take their inspiration from Arthur Ransome's classic 'Swallows and Amazons' series of children's books. The title track uses the arresting image of two children lost in a moorland fog as an allegory for the sensation of stumbling blindly through life; in "The Tide", a mud-bound sailboat becomes a portrait of a marriage, while "Where The Wind Decides To Blow" performs a similar transfiguration on a homemade sailing sled sent hurtling across a frozen lake by an unexpected blizzard. In "Yellowstone", a young boy's obsession with the spectre of volcanic apocalypse sparks a rumination on the buried terrors that haunt us all: "I know I'm not the only one / To fear the ground I tread upon / Volcanos of all kinds / Torment our minds," Sarah sings almost meditatively over a samba rhythm delicately embellished by Adam's cajón and Dan Lippel's classical guitar.

"Jackdaws Rising" takes the form of a three-part round, with Sarah's lyrics and vocal melodies overlapping in counterpoint to a guitar instrumental composed by her friends Pete Coleman and Clare Hines. The other two parts are sung by Adele Schulz (who also contributes beautiful harmonies on "The Tide") and Sarah's manager and touring sound engineer, Martin Stansbury. Sarah, Martin, Adam and Jeremy all supply the stomps and handclaps that punctuate this 4/4 song in 5/4 time - a brain-tickling polyrhythm that was one of many ideas introduced by Adam.

Other guest musicians include Gareth Flowers, whose soaring trumpet brings the upbeat single "The Silver Lining" to a stirring climax (he also duets with Sarah on the title song), cellist Kivie Cahn-Lipman ("Where The Wind Decides To Blow" and Sarah's evocative guitar instrumental "I Am Grateful For What I Have"), and pianist Rob King ("The Tide"). Jeremy plays bass on "The Silver Lining", and Adam pitches in on a plethora of instruments. On the album opener "Low Winter Sun", he uses an electric guitar and an early 1980s synthesizer to create a wash of sound that acts as foil and underpinning for Sarah's acoustic guitar rendition of a church bell peal; elsewhere, he plays everything from the aforementioned cajón to drums, tambourine, bass, vibraphones and air organ (this last item is also played by Martin to fine effect on Sarah's setting of the early 20th century hymn "Canticle Of The Sun/All Creatures Of Our God And King").

Rounding out the album are "Leave It For Another Day", co-written by Sarah with Gerry O'Beirne, who produced all three of her previous solo recordings; "Sweetness And Pain", an a cappella song split into three parts that serve as brief interludes between the other tracks; and a cover of Ewan MacColl's "The First Time Ever I Saw Your Face".
-----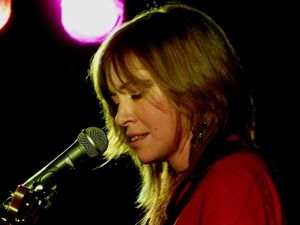 Sarah talks about the tracks
:
"Low Winter Sun"
: I love it that Adam and Jeremy have made my guitar sound kind of like a piano on this one, even though the melody I'm playing is a peal for church bells. The guitar part in the first half is mostly based on the Westminster Quarters (a.k.a. the Westminster Chimes). In the instrumental section that closes out the song, I'm playing a bell ringing method called Plain Bob Doubles, which seems to work quite nicely on DADGAD-tuned guitar. Meanwhile, Adam is using an electric guitar and an early 1980s synthesizer to generate a big wash of sound that glues it all together.
"Where The Wind Decides To Blow"
: This is one of three songs on this album that were inspired by Arthur Ransome's 'Swallows and Amazons' series. I'd spent the past year or so reading aloud all twelve books to my two children, in order, one chapter every night at bedtime, and kept being struck by the metaphorical potential of various incidents. In the fourth book in the series, 'Winter Holiday', two children have attached a sail to their sled and taken it out on the frozen lake. It's all going brilliantly until the blizzard arrives... like so many things that seem like great fun until you discover that you're not in control of the situation and it suddenly gets a bit scary.
"The Tide"
: Another 'Swallows and Amazons' inspired song. This one comes mainly from the fifth book in the series, 'Coot Club', although there are elements of 'Secret Water' (the eighth book) as well. Both books are set in the Norfolk Broads, a network of rivers and lakes that are all subject to tidal influence. At low tide it's important to stick to the deep-water channel, otherwise you risk getting stuck in the mud. And if that happens, there's nothing to do but wait for the tide to rise again. I thought that sounded a bit like life, too.
"I Am Grateful For What I Have"
: I gave this instrumental piece the title "I Am Grateful For What I Have" because I thought it would be good for me to see that phrase on my set list night after night, by way of a reminder and maxim. Not sure whether it'll really work, but it's worth a try.
"Sweetness And Pain I"
: It was only after I'd recorded this a cappella song that we decided it might be most effective if we were to split it into three parts, to be scattered amongst the other tracks as a sort of interlude and recurring theme.
"Walking Into White"
: My third and final 'Swallows and Amazons' song. This one was inspired by an episode in 'Swallowdale', the second book in the series, when two children are walking across open moorland and find themselves unexpectedly engulfed by a thick fog that's rolled down off the mountain they'd climbed that morning. Once again, the situation in which the characters found themselves - groping blindly along, trying to stick together, unable to see where they'd come from or where they were going - felt to me like a parable for life... so much so that I decided to make it the title track of this album.
"Jackdaws Rising"
: On a rare night off during one of my UK tours, Martin and I were staying with our great friends Pete Coleman and Clare Hines in Stroud, Gloucestershire. We sat down to play a few tunes together, Pete on pipes and whistles and Clare on hurdy-gurdy, and the two of them launched into a tune they'd written called '13 Moons', which also happens to be the title track of a superb album they made with their band Brocc. Recognising the tune from the album, I started playing along with it on my guitar. When we'd finished, Pete said "You know, if you felt like writing some words and a vocal melody to go with that tune, we wouldn't object." No further encouragement was needed! The song decided that it wanted to be a three-part round, so I'm very grateful to Adele Schulz and Martin Stansbury for singing the second and third parts. Also hugely grateful to Adam, who (along with so many other great things he brought to this album) had the clever idea of adding 5/4 percussion to a 4/4 tune. I'm a little daunted at the idea of trying to replicate the whole thing live in concert, complete with polyrhythm, but I'm determined to give it my best shot...
"Yellowstone"
: Thanks so infinitely much to my beautiful son Eli Shiels for supplying me with the inspiration for this song. Having recorded a song I wrote about his younger sister Lily Jane on my previous album 'The Plum And The Rose', I'm glad to be able to redress the balance with this one.
"Leave It For Another Day"
: Gerry O'Beirne did a lovely job of producing my first three solo albums, and while we both felt that the time had come for me to work with a different producer, I was delighted when he kindly agreed to co-write a song with me for this album. We wrote it together via email over a period of six or eight weeks, batting MP3s and lyrics back and forth between England and Ireland. I hope Gerry is as happy with the result as I am.
"Canticle Of The Sun"
: St. Francis of Assisi (c. 1182-1226) wrote the 'Canticle of the Sun' in 1225. Originally in Italian ("Laudato sia Dio mio Signore"), the text was paraphrased by William Henry Draper (1855-1933) and published with the tune "Lasst uns Erfreuen"(from Auserlesen Catholische Geistliche Kirchengesäng, Cologne, 1623) in the Public School Hymn Book (1919). It has subsequently appeared in many other hymnals, with various alterations in the words. I've used Draper's original text but left out the fifth, sixth and seventh verse.
"The First Time Ever I Saw Your Face"
: Ewan MacColl wrote this for Peggy Seeger, and it's been recorded by so many illustrious names that I feel a bit presumptuous for having a go at it myself, but I couldn't resist. I think it's one of the most perfect love songs ever written.

This was a fun album to make. It was recorded and mixed in three snowy weeks, at my cousin Adam Pierce's studio near Cornwall, New York (a bit serendipitous, as I live in Cornwall, England), with Adam and his great friend and collaborator Jeremy Backofen co-producing. Martin Stansbury, my manager and touring sound engineer for the past five years, was also very much involved at every stage of the process - being my sounding board while I was writing the songs, recording demo versions to send to Adam before we travelled over to the USA, assisting with album recording (including twiddling knobs and pushing faders as well as singing, playing and advice-giving!), keeping me sane, keeping me company and keeping the whole project moving forward. His uncannily accurate ears were also invaluable when it came to the mastering. Huge thanks to everyone who contributed to the recording!
-----

It happens sometimes, that I'm a bit overwhelmed after listening to a new record, absorbing and trying to understand all the music and subsequent information that was given to me. One of these moments where I ask myself: "Who am I, to review a great album like this?" After all, I myself can't even play a guitar.

I wasn't familiar with Sarah's work, it was first introduced to me by former fellow DJ Peter van Zeijl, who has impeccable taste when it comes to classy female (alternative) folk singers! Sarah is not only a very smart songwriter, but also a brilliant guitarist and she has a rich, strangely compelling, warm voice. This is an ambitious one-of-a kind project, that she pulled off very professionally. A combination of seasoned craft and innovative ideas, while the lyrics read like poetry. I just love the charming idea to use children's books as source of inspiration. "The First Time Ever I Saw Your Face" - when I first started listening to the radio, Roberta Flack's version was a major hit, so this recording rekindles a fond memory.

Last but not least: every album ought to be made like this, with a beautiful lay-out and an lavishly illustrated booklet with all the information a person can possibly think of. Highly recommended, music lovers, you will be just as impressed as I am, guaranteed!
-----
Sarah answered a couple of
questions
from Club Passim Blog:
Looking back on such a long line of accomplishments, can you name an event that occurred in your music career that has helped shape who you are as a musician?
Sarah
: "The move to Cornwall in 2007 was a real determining force in the direction of my current musical career, because it was through doing that this that I met Zoë (author and performer of 1991 hit single "Sunshine On A Rainy Day") and co-wrote the songs for the Mama album with her. That's what made me really start to see myself as a songwriter. Prior to that I'd thought of myself more as a song interpreter who happened to write an occasional song. Working with Zoë on the songs for that album ('Crow Coyote Buffalo', released in 2009) taught me an awful lot about songwriting and inspired me to start working harder on writing my own songs."
How would you describe your musical style in your own words?
Sarah
: "I draw from lots of different genres - folk, jazz, traditional, contemporary, classical, medieval - but I try and bring my own individual style and feel to whatever I do. One thing a lot of people have commented on is that my guitar playing is very much to the fore of what I do - I'm playing harmonies and counter-melodies and counter-rhythms on the guitar, so it's almost as though my guitar and voice are doing a duet, rather than the instrument just backing the voice."
What draws you to the stage?
Sarah
: "There's a buzz and a magic when you're performing live in front of an audience that it's impossible to replicate in the studio or at home. I love it when people at the audience talk back to me, and when I'm getting a good reaction from the crowd it seems to turn my energy level up a notch and make me play and sing better than I would otherwise."

-----
Written by Sarah McQuaid & Johanna J. Bodde - January 18th, 2015
=====