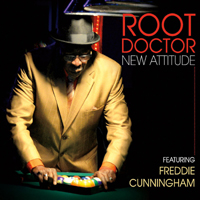 The Root Doctor BIO:

Root Doctor, born of the fertile Lansing, Michigan, music community, had its humble beginnings in the open mic scene of the late 80's. The deeply rooted, soulful connection shared by founding members Freddie Cunningham (lead vocals) and James Williams (bass & vocals) anchors the band's sound. Root Doctor has kept one other constant over the years: A powerful soul / blues sound with precious few peers. The current line-up features prodigal original band mate Mike Skory (Hammond B3 & vocals), Bill Malone (guitar & vocals), and Bobby Gardner (drums), all veteran performers whose abundant abilities allow Root Doctor to continue their long tradition of amazing audiences and wowing critics.

Root Doctor plays a diverse mix of classic soul and R'n'B alongside traditional blues and inspired original material. Along with over twenty years of club, concert and festival performances, they have released five recordings to local and national acclaim. Their latest album is called 'New Attitude'.

The Root Doctor resumé includes appearances with Tab Benoit, Ray Charles, Macy Gray, Buddy Guy, Koko Taylor, Little Richard, Otis Clay, Bobby Rush, James Cotton, Taj Mahal and many more. Their performances have electrified audiences at numerous nightclubs and festivals including the prestigious Poconos Blues Festival, the Detroit Jazz Festival and The Great Woods Music Festival in Beausejour, Manitoba, Canada. Root Doctor is proud to have played the historically significant Idlewild Music Festival three times in recent years.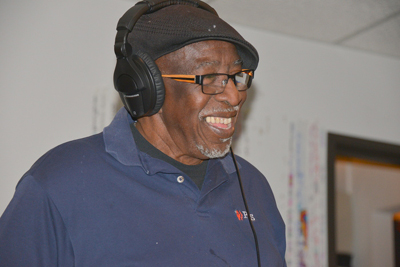 Freddie Cunningham
- lead vocals

Born just outside of Clarksdale, Mississippi, Freddie is the soul of Root Doctor. In a family where talent is plenty (his mother was the choir director at her church for years, his sister Vanessa sings with the Earl Nelson Singers Company of Lansing, Michigan, and his brother Tim is an accomplished jazz saxophonist), Freddie was exposed to music from day one. His mother recalled her son singing before he could talk. By the age of five Freddie was a featured member of his church choir and wowed audiences even then.

After his family moved North to find work in the factories, he joined various pick up bands and even toured a bit with a gospel group. However, it wasn't until he became a formative member of Root Doctor in the early 90's that Freddie's star began to rise.
Freddie's dynamic and powerful voice has drawn comparisons to such greats as Joe Williams, Lou Rawls, Sam Cooke, Bobby Blue Bland, Johnnie Taylor, and B.B. King.
James Williams - bass & vocals

Among musicians and music lovers alike, it is often said that a musician's feel or groove can make or break a band. With that said, the Tower of Groove also known as James Williams is a powerhouse of feel and taste.

James has shared the stage with such heavyweights as Buddy Guy, Kool & The Gang, Ray Charles, Koko Taylor, and Little Richard to name but a few. As the younger brother of Lamar Williams (bassist for The Allman Brothers Band 1972-1976, Sea Level) and the son of Lemon M. Williams (a gospel radio regular), music was no stranger to James in his formative years.

In fifth grade, James was given his first musical opportunity on the drums. From there he became fixated on the bass. While his first band was a modest high school project, it didn't take long at all before he was touring with many respectable acts over the coming years. In the early 90's, James became a co-founding member of what is now Root Doctor. And today his playing is nothing less than the essential heartbeat of the formidable Root Doctor sound.
Mike Skory - Hammond organ, keys, & vocals

When he enters, Mike always lights up a room! When it comes to music, it's obvious there's nothing he'd rather be doing than playing in front of a crowd.
Mike Skory is a Lansing area businessman who has also been a professional piano player for 35 years. Skory was taken by the boogie-woogie bug early on, he was mesmerized by Albert Ammons, Little Brother Montgomery, Memphis Slim, and Pete Johnson. The first two albums he ever bought were 'Meet the Beatles' and 'The Natural & Soulful Blues' by Champion Jack Dupree, and he still owns the Dupree vinyl.

Mike Skory's keyboard playing has a relaxed intensity while bypassing the million-note-a-minute solo trap. What a beautiful gospel feel he lays down.
Bill Malone - guitar & vocals

Bill was born and raised in the 'Motor City' - Detroit, Michigan. It's been more than thirty years since Bill received his first guitar and amp as a gift from his parents. The very first song he learned was "Bumpin' On Sunset" by Wes Montgomery. By the age of seventeen, he was playing professionally.

Being self taught, he took a personal interest in Blues which came from listening to his father's many early recordings of B.B. King. This initiated Bill studying various blues guitar artists and developing a style of his own. One day his cousin introduced him to Jimi Hendrix and it changed his life! He became more serious and he began playing with local bands.

With his roots deeply steeped in Blues it is no wonder Bill was influenced by artists including Albert Collins, Elmore James, Albert King, B.B. King and T-Bone Walker to Jeff Beck, Eric Clapton, Jimi Hendrix, Stevie Ray Vaughan and Johnny Winter. Bill has shared the stage with Tab Benoit, Larry McCray and Coco Montoya.
Younger fans comment that he 'shreds' on the guitar, and older folk say he 'just plain rocks'.

As one of the newest additions to the band, his vocals and jammin' guitar licks are a great addition to Root Doctor featuring Freddie Cunningham.
Bobby Gardner - drums & vocals

Bobby Gardner hails from Westchester County, NY. Bobby started playing drums at the age of thirteen and by age fifteen was already gigging professionally.
In his early years, Bobby was drawn to blues, funk, and soul music. He loved listening to James Brown and Wilson Pickett and getting into the feel of the rhythm parts. In the 1970s he moved to Michigan and played with bands including Chopper and Blue Money.

Chopper was a legendary Lansing band known for its grooves. Musicians would leave Chopper gigs shaking their heads, like 'what's the point'. Bobby has played with Jeff Baldori, Buddy Miles, and Chuck Berry. Bobby is a particularly tasty drummer who still retains a 'take no prisoners' mentality.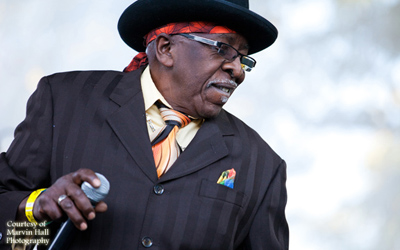 The Root Doctor ALBUM:

1. "Rear View Sight": With guest Dave Matchette (harmonica). An outstanding funky opener, fierce rhythm, fine soulful vocal, very tasteful wah-wah guitar and attractive keyboards. Too bad the guest leaves immediately after the first track, he's great! Especially the interplay between the various soloing instruments is noteworthy.

2. "Set Me Free": A classic New Orleans style piano. Trumpet, two trombones, tenor and baritone saxes. Freddie sounds here like Charlie Rich and I love Charlie, he even had a song with the same title. What a great swinging Rhythm & Blues piece!

3. "Bring It Back": This track brings us a Memphis soul flavored ballad. The Hammond B3 steals the spotlights and the whole number. The gospel like choir is spot on too. Mmm, yeah, bring it on!

4. "Pay The Rent": Another fine piano intro - this is going to be a slow jazz song. Fine guitar solos. Freddie takes his time to deliver relaxed vocals for this six minutes long track.

5. "The Other Way": Impressive confident soul. A steady rhythm. Trumpet, one trombone and the tenor saxophone are back too. Organ and stinging guitar solos. Freddie's vocal timing is impeccable!

6. "Louisiana Bound": Zydeco!!! Oh yes, a catchy highlight! Mike Lynch plays accordion and we even hear a washboard! Excellent, very convincingly done by these Northerners (except for Mississippi born Freddie), they could have fooled me, really. Lisa Bonotto sings harmony vocals. Two steppin' all night long? Why not?

7. "You're Gonna Lose": A touch of modern blues, with catchy rhythms and more fine organ parts. Don't play with Freddie's heart, you're gonna lose!

8. "Baby, You're Bad": Blues for purists, a slow ballad with soulful singing and again some fine piano and guitar parts. The Music Resource Group (MRG) nominated Root Doctor for the 13th Independent Music Award (The IMAS, 2014), in the category 'Blues Song of the Year' with -indeed- this song!

9. "Someone Else Is Steppin' In": Written by Denise LaSalle. Oh, I just LOVE the wah wah guitar solo - Bill Malone rules! The tight bass line throughout the song, groovy organ and Freddie's supreme vocal do the rest to make this track shine brightly! A very nice take on this cover song indeed.

10. "Land Of The Free": Written by Jason Strotheide. Tenor saxofonist Chad Bement comes back one last time. A funky look at social inequality as a fitting track to close off, with a message for all, while the instruments show off once more.


---
Ten tracks, but don't worry: the disc turned out to be 44m36s long. Eight songs are written by various Root Doctor members, Lisa Bonotto took care of the majority of the lyrics, songs of love and lovers who left. Wonderful stuff for sure. A fine piece of work on this superior project by an outstanding band with a unjustly overlooked seasoned and still super talented vocalist.

The album contains a mix of traditional blues, rootsrock, classic soul, R&B, funk. The musicians play every style just as skillfully, with an infectious groove in exciting inspired arrangements. Keyboards, guitar, horn section - it is all a real joy for our listening ears. And there's Freddie!! Highly recommended for anyone who likes the blues to be soulful.
-----
Written & compiled by Johanna J. Bodde - March 12th, 2015.
=====