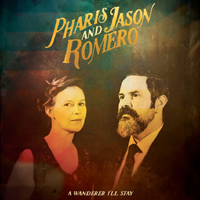 Just as their last two acclaimed albums, 'Long Gone Out West Blues' (2013) and 'A Passing Glimpse' (2011) seemed to have come together as if almost formed by nature, Pharis & Jason Romero's latest offering retains that familiar character and confirms them to be one of the most meant-to-be-pairings. Here again, they pull off that magical achievement of mixing the new with the old in a way that leaves the finished article burnished with a golden touch that is seamlessly complete.

There's a comforting reassurance that comes with every listen and that's what comes over when they perform 'live' too. On their first ever UK tour earlier this year (they played to a capacity crowd at The Mitchell Theatre in Glasgow during the city's Celtic Connections), reviewers all warmed to them as they connected so directly with their audience. Reviewing their Jumpin' Hot Club show in Newcastle upon Tyne, seasoned writer Maurice Hope reported that they had 'warmed the heart and soul of everyone present'. Feedback following their stunning BBC World on 3 'live' session from the event, was filled with praise.

On this highly anticipated new recording, their voices once again combine as effortlessly as their instruments, coming together on a fluid, instinctual level that enlivens the mind and captures the heart.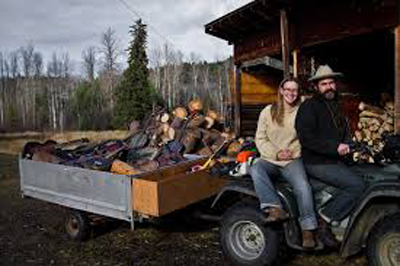 Pharis & Jason Romero's BIO (The Long Version):

It's a classic story. A matchmaker, some scratchy old records, a custom banjo and a fly fishing trip all conspired to a meeting in 2007 at an old-time fiddle jam. She was living in Victoria, BC and he was living in Arcata, CA. Both had been playing music for decades and loved early country, old time, folk, blues, and bluegrass. She sent him a copy of the 1928 recording "Tupelo Blues" from Hoyt Ming & His Pepsteppers, he thought she was a-okay, and they married three months later. In 2010 they moved their home and the J. Romero Banjo Company North to the central British Columbia town of Horsefly (her hometown). Surrounded by wilderness and good people they build their finely crafted banjos, serving custom banjo clients around world including Ricky Skaggs, Jerry Douglas, and Martin Simpson. They play their own hand-crafted instruments or pre-war acoustics on stage and on record, and the combination of these artisanal creations with their two voices is a rare and applauded one. They play the music new and old, having released two records as a duo and two records with other folks, and just releasing their third duo record.

Writing songs about ageless characters, hard lives, loss and love, Pharis' songs have been played on radios around the world. She was called a 'historical treasure' by the BC Folklore Society. On stage from a very young age with her family's country band, classically trained and country schooled, she was a co-founder of the award-winning and innovative roots-folk band Outlaw Social, releasing two celebrated albums from 2005 to 2009 before venturing out musically with Jason.

Jason was a fixture on the Arcata, CA bluegrass and old-time scene before coming to BC, and is deft in banjo styles from early fingerstyle to clawhammer to bluegrass. When not playing banjo, his resophonic and acoustic guitar playing is a distinct texture, melodic and percussive. His singing and his playing has been called both seductive and badass.

In 2008 Jason and Pharis started up The Haints Old Time Stringband with fiddler Erynn Marshall and the later addition of mandolinist / guitarist / songwriter Carl Jones. Releasing their debut recording 'Shout Monah' in 2009, SingOut magazine said: "This is a very special recording, one that we'll return to time and again". "They play and sing superbly" (fRoots), and 'Shout Monah' was named one of the best banjo releases of 2009 (Banjo Newsletter).

In 2010 Jason and Pharis went on to release an instrumental album of fiddle tunes, 'Back Up And Push'. With nineteen West coast old-time fiddlers and Pharis and Jason's guitar and banjo back-up, it earned them the accolade 'old-time duo of Canada' (Penguin Eggs).

2011 brought the release of their first duo album, 'A Passing Glimpse'. A beautiful collection of songs - originals or lovingly sourced from old recordings - it featured plenty of powerful duet singing over acoustic & National guitars, fingerstyle and clawhammer banjo. It won the 2012 Independent Music Award for Americana Album of the Year, hit #1 on the North American Folk DJ playlists, and won a 2012 Canadian Folk Music Award for New / Emerging Artist of the Year.

Their second release as a duo, 2013's 'Long Gone Out West Blues', found a new place in their songwriting, picking and closeness as a duet. It was featured on NPR Music's Favorite Sessions, Utne Magazine's Monthly Music Sampler, and in Folk Alley's Hear It First. It also brought a Canadian Folk Music Award for Traditional Singer and a nomination for Traditional Album of the Year, two Western Canadian Music Awards nominations, and an Independent Music Award nomination for Americana Album of the Year.

Pharis & Jason's releases continue to attract audiences and radio play globally. Their delight in making music for music's sake no doubt contributes to the joyful lack of pretense in their albums and performances and to the rapidly-growing fan-base for both.

Performance highlights include several appearances on A Prairie Home Companion, the Winnipeg, Vancouver and Edmonton Folk Music Festivals, Celtic Connections and Pickathon. When not building or performing, they also spend much of their year teaching at music camps and workshops including Voiceworks, BC Bluegrass Workshops, Festival of American Fiddle Tunes, Fiddle Works, 108 Mile Bluegrass Camp, Georgia Straight Guitar Workshop, and others.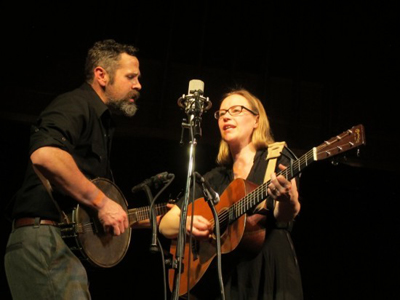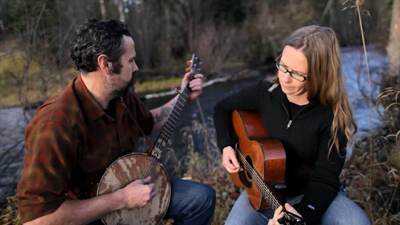 Pharis & Jason Romero's ALBUM
:

Pharis plays: C.1943 Gibson J-45
Jason plays: J. Romero Banjo #10250, Gourd Banjo, C.1934 Gibson L-00

The album was recorded in the Romero's home / banjo workshop in Horsefly by David Travers-Smith (The Wailin' Jennys, Ruth Moody, Oh Susanna). Notably, it is the first of Pharis and Jason's recordings to bring in other musicians: Josh Rabie, John Hurd and Brent Morton traveled to this remote part of BC to record fiddle, bass and drums, and Marc Jenkins' pedal steel was layered on from a studio in Victoria, BC. Surrounded by old friends they arranged songs, ate food, and played music for joy's sake when it wasn't being recorded.

1. "A Wanderer I'll Stay": The album starts off with the title track, about a contentedly restless wanderer. Having never heard this duo before, the resemblance between the voices of Pharis Romero and Gillian Welch strikes me immediately. Jason sings a flawlessly blending harmony vocal, accompanied by very nice relaxed guitar playing. Pharis wrote the song in a very convincing old-timish style.

2. "Ballad Of Old Bill": Here Jason's banjo enters the album and the duo sings in close harmony throughout, to tell the life story of a local man, who was eaten by a bear. Don't worry, that doesn't happen during the song! It fits in with the concept theme of loners and their wish to either stay that way or eventually end up in the arms of a loved one.

3. "There's No Companion": A sweet country waltz, from a spurned yet hopeful lover's point of view. Josh Rabie plays fiddle and Marc Jenkins plays the pedal steel. "There's no companion / Like the misery of an unfilled desire / Filling you up, dragging you down / Setting your rage on fire".

4. "New Lonesome Blues": "Jason learned this up-picking style from our friend Travis Stuart". A banjo led song with three verses of three lines, articulating the desperation of upcoming loneliness. Written by Pharis and Jason together. "Baby don't you blow that horn / When that judgement day comes so near." It has the feel of a simple old-time revival gospel.

5. "Lonesome & I'm Going Home": Beautiful imagery: "There's a growing line of cars killing time / Driving East towards the setting sun / As their mirrors all flash by, I'm bound for Western skies." This is a slow guitar ballad with fine finger picking by Jason, Pharis singing the yearning leadvocal in a jazzy Patsy Cline tradition.

6. "Backstep Indi": "Jason wrote this tune on the Gourd banjo shortly after our daughter took her first steps". A pleasantly unexpected instrumental, reminding me of the world music inspired works of Béla Fleck.

7. "Goodbye Old Paint": "From Jess Morris (Alan Lomax recording in Dallas, TX, 1942) and from Bruce Molsky and Big Hoedown (Rounder, 1997). Jess Morris said he learned it as a child in Texas from Charley Willis". Jason sings lead vocal on this typical cowboy song, making full use of his handmade banjo.

8. "It's A Sin To Tell A Lie": "When he was a child, Jason heard this song in the movie 'Pennies From Heaven', it has haunted him, we've since learned it from one of our all-time favorites Riley Puckett (Montgomery-Ward, January 1940). Pharis wrote the second verse". The plaintive pedal steel is back for this cover song, the duo took it from a 78rpm record by crooner Puckett, but it was already written in 1936 by Billy Mayhew. We might know this in Slim Whitman's version or one of the many other cover versions.

9. "Poor Boy": Back to the album's theme exploring the breadth and depth of loneliness and longing. "One hard thing I know about a wandering mind / Never contented, ever denied", Pharis sings the heartfelt lead vocal and the song gets a more contemporary sound by the sparse drumming of Brent Morton, while the fiddle plays pretty solos.

10. "Cocaine Blues": "As far as we can tell this was the first cocaine-related blues recorded. We learned it from both Luke Jordan (Victor Records, August 1927) and Dick Justice (Brunswick Records, May 1929)". Jason, singing lead vocal, does a good job of re-imagining the old blues in an updated Delta style, Josh Rabie and his fiddle are also still there, Pharis sings an enthusiastic harmony vocal.

11. "Old September": "This tune came from late Summer evenings spent playing in the garden". Another banjo instrumental, it employs hefty reverb on a hypnotizing melody and almost becomes a haunted musical journey through the backwoods.

12. "The Dying Soldier": "A Civil War Era sentiment we learned from the singing and playing of Buell Kazee (Brunswick Records, January 1928)". Pharis and Jason seem to feel at home in bygone eras, this ballad -sung in close harmony- is another strong example to close off the album.
Spending so much time immersed in the folk tradition, adorned with touches of bluegrass, country and blues, both Pharis and Jason Romero have a wealth of knowledge to draw from. They are not lecturing us, they keep it entertaining, like watching old music documentaries on DVD can be lots of fun. They take the origins of their style and bring it to us with a fresh, cleverly arranged, modern day sound and production. The originals, written by the duo, fit so well in with the traditionals that it's often hard to tell the new from the old, without looking at the credits. Speaking of, the lay-out is gorgeously stylish with very complete information in the booklet, my compliments!

The voices of Pharis and Jason Romero were destined to be harmonising, there's easiness in the way they sing and deliver, coming together vocally on an instinctual level. Instrumentally, they draw deep beauty out of the wordless subtlety of their playing. His finger-picked guitar work (sounding more like flat picking) percusses and weaves over the spaciously solid rhythm guitar of Pharis, it's all about the fluid interplay.

Needless to say, any music lover who appreciates the Gillian Welch and David Rawlings type of duo, really should check out Pharis and Jason Romero! They embrace their lifelong love and passion for old-time music on this perfect album.
Written & compiled by Johanna J. Bodde - May 19th, 2015.
=====