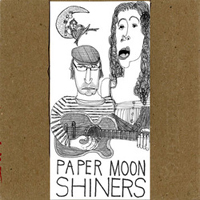 "Our music is linked with the past, sometimes surreal and funny, sometimes operatic and sad. We mine time periods that conjure up smoky, over-crowded speakeasies, dust-bowl medicine shows, Mississippi Delta juke joints & Harlem renaissance nostalgic night clubs." Nobody can explain it better than this duo themselves! Paper Moon Shiners are based in Austin, Texas. They specialize in vintage songs and originals inspired by American music from the early twentieth century. Their old timey sensibility and vaudeville undertones command an infectiously entertaining evening with cracker blues, vintage jazz, swing, ragtime, americana, roots and folk.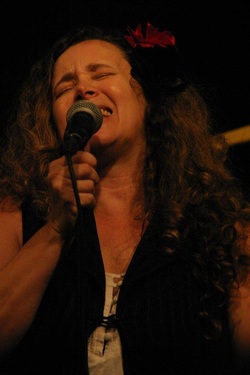 Elena Antinelli
fronts the band with her shoo-fly pie syrupy vibratos and turpentine tinged belly growls. This is her first endeavor as a performer and she is an ambassador to preachin' that no matter what stage of life you are in, there are hidden talents to be revealed... if you just open yourself up to them.

She tells: "I'm grateful to have found such a positive and creative way to express my inner landscapes and each show possess a journey of emotions captured subtly in a beautiful ballad or tumultuously in a gutteral blues piece."

Songwriter and vocalist Frank Meyer is the string man in the band and his fingers pull thumpin' notes from the stand up bass, delicate ripples from his ukulele and soothing rhythms from his jazz guitar. He also plays dobro and the invisible kazoo! Mix all that with deep vocal tones that resonate like shifts in tectonic plates.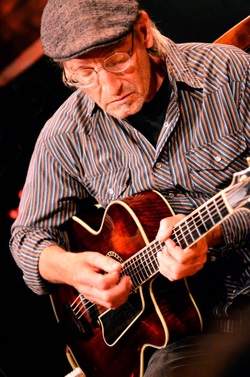 In his earlier career Frank co-founded The Mannish Boys with harmonica legend Gary Primich, played bass with B.B. King and roadied for Junior Brown once. He made an all original children's CD 'Get Serious Mr. Pancake' and two for immature adults: 'Scrounger's Paradise' and 'Dagnabit'. He explains: "Songwriting is like building a tree house. Once there is a tree there; it's just a matter of filling in the missing parts. It seems scrounging the pieces is always richer than buying them at the store."
For the famed Kerrville Folk Festival he played the 'Favorites' game:
Favorite number: 11
Color: Mexican Blue
Day of the Week: Today
Passions: Dirt and stuff that grows in it.
Favorite Latest Technology: Model A Ford.
Fondest Memory: I forget.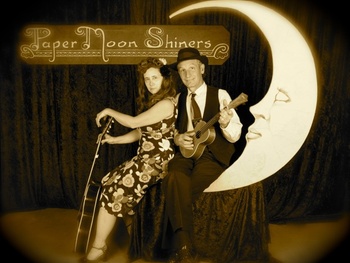 About the songs
: The record starts off appropriately with the traditional "Who's That Knockin'?". Elena has a sweet girlish voice with a nice timbre and a little bit of a Texan accent, she reminds me of Carrie Rodriguez. Oh yes, there's the invisible kazoo! Frank sings the lead vocal in his self-penned, little creepy "Devil Up There". When Elena joins in, it is clear how very well these voices fit together. Not in the harmony singing way, but in the talking to each other way, if you know what I mean. There are more acts like this, but then usually one girl is singing, so these duets are a very nice variety on the idea. With the sparse instrumental accompaniment the vocals are the center of attention and need to be good, to keep the attention of the listener focused. The quirky sense of humor is important too!
I just love Elena's take on Robert Johnson's "Come On In My Kitchen", which is skillfully played on the dobro. "Can't you hear that wind howling?" Beautiful! Just as gorgeously sung is the classic "Carolina Moon", written in 1929 by Benny Davis and Joe Burke. "Git" is another favorite, the duo wrote this little song together. "That's My Weakness" (from 1928, written by
Sam H. Stept and Bud Green)
sounds almost like a cute children's song and the album ends with a barely one minute long duet "Space". A very nice surprise: Marvin Dykhuis recorded this album and plays a bit of percussion. We all remember Marvin from his European tours with Tish Hinojosa, don't we?
---
Some people in the music world credit the movie "Oh, Brother Where Art Thou?" for this current resurrection of old time music from the Depression Era. Very well possible, but musical styles are like waves, they surprise you and go and come back again. The Paper Moon Shiners breathe life back into the vintage songs of days gone by, basically the 20's to the 40's and that's a wonderful effort! They specialize in covering music from the Vaudeville Era to the present and write their original compositions in the same vintage spirit. The matching musical styles are swing, jazz, blues, ragtime, folk and skiffle. A quote from Terlingua Music says it all: "They're like a musical time machine, showing how and why the 20′s and 30′s were so musically interesting and fun."
-----
Written & compiled by Johanna J. Bodde - December 29th, 2014
=====