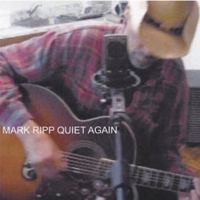 MARK RIPP telling about himself:
"I'm a singer songwriter in the Americana genre. My start was in the coffee houses of Toronto some thirty years ago. Those folk beginnings were followed by a ten year run as front man and writer for Toronto roots rockers The Bel-Vistas. The last decade and a half or so has been spent raising a family and pursuing music as a solo artist.

I work away in my home studio now and am sometimes involved in recording and producing for others. My latest release is called 'Quiet Again' and is a completely self-produced effort. It marks a return to my urban folk roots and already received some great reviews from critics and fans in the US and Europe.
Influences are many but the ones who set the bar high for me then and now include Bruce Springsteen, Tom Petty, Bob Dylan, John Hiatt, Van Morrison and the ever so cool Nick Lowe.

My repertoire consists of original songs that span the length of my career as well as plenty of covers in the classic rock, pop, folk, blues and country styles. For the most part I perform as a solo acoustic act and when all stars align I have a most wonderful band called The Confessors, who make me look good.
Mark recalls Some Highlights:
- Songs published by Sony Music
- Recording artist with Eureka Records
- Album release in Europe with Blue Rose Records
- Radio play across Canada, the U.S. and Europe
- Video play on MuchMusic, CMT Canada and Europe
- Extensive live experience, including cross Canada touring
- Opening act for The Tragically Hip, Blue Rodeo and Tom Cochrane

---
Mark released an EP and two full albums with The Bel-Vistas, one of which was the above mentioned Blue Rose release (1990-1994) and two rootsrock / powerpop albums as Mark Ripp & The Confessors. "Wherever I Go" (1997) was an independent release under his own name and now we have 'Quiet Again' in our hands. An entirely self-produced album. Apparently this title is a wink at his much noisier efforts in the past! Mark explains: "This record happened in an unintended way. While working on my last CD I would get a bit overwhelmed by how hard it was to not only look after the artistic side but also be the engineer guy as well. As a response I began recording songs sparsely with guitar, voice and a do-dad or two. I did this at my in-laws cottage and my studio at home. After a time enough music piled up, that -as a group- these quieter ideas seemed to have a vibe of their own, I hope you agree!" The picture on the cover, man with acoustic guitar, is a bit conceiving. Mark has added overdubs, so the record is not strictly minimal, but rocks in a raw way when it needs to and every note is his own. Besides the guitars, we also hear a bass, keyboards and some percussion.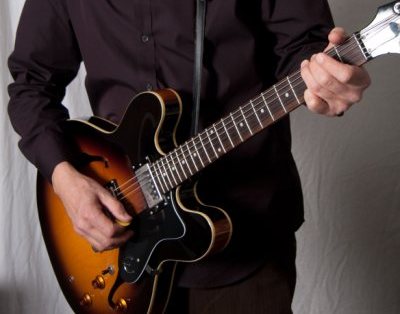 Mark's Tracks
:

1. "The Thing You Want The Most": "When the thing that you want the most / is the thing you can not have". A warm voice singing in your ears, a beautiful acoustic guitar played with the slide. Mark Ripp demands attention for his songs!

2. "Walkin' Around": "I've been singing the same old song all day long." Obviously about Mark's past as a busker in the streets of Toronto. The sound is filled out by electric guitars, keys and rhythm.

3. "Old Weeping Birch": A tree in the yard is older than Mark himself and he wonders if it will ever be necessary for him to cut it down. Smart use of words.

4. "Ballad Of Canadian Soldier X": A comment on the war in Afghanistan, the story of a young man, disillusioned in love, who joins the army purely out of boredom. A depiction of the effects of IEDs and rehabilitation of injured soldiers. Raw, emotional and uncompromising with energetic slide guitar riffs. "Born On The Fourth Of July" in a song, basically. Not only angry, but also leaving some hope in the end.

5. "Circle Round The Sun": Not just another troubadour song, it deals with weighty issues in a seemingly playful way. The rippling arrangement is very fitting!

6. "Bumble Along": An almost random mentioning of everyday events and thoughts - in a little catchy song, with a bit of harmonica.

7. "Year Of The Gun": This poignant rock song deals in no uncertain terms with stateside firearms control. Remember, Canadians are not so gun crazy! The harmonica screams along with the preacher.

8. "No One Else But You": Affairs of the heart, oh yes. A simple and tender love song.

9. "Bob Dylan": An ironic, self deprecating song that puts everything, including getting autographs from the rich and famous, in the right perspective.
10.
"A Generous Man"
: Absolutely my favorite on this album!! An urgent, raw and somewhat claustrophobic song with beautiful crying slide guitar. "Only the good die young". Fade-out...

11. "In My Room": Cover of The Beach Boys, from their 'Surfer Girl' album. With a great electric guitar but without typical sunny choruses, this is an introspective, stripped down and rather dark version!

12. "Too Many Black Coats": Instrumental. Refined finger picking in an atmospheric piece. Gorgeous!

13. "Duct Tape Jesus": The illustration is on the back cover of the CD. Telling quite a story in a couple of simple verses. I'm curious how this song came about!

14. "Poignant": A long track to close off. Not sure if the plops at the beginning are made on purpose. After that the song builds up nicely.
It is often hard for a troubadour to hold the attention of an audience, or keep the listeners captivated to a record for a longer time. Some good ones, like Mark Ripp, can do it! With his wonderful voice, inventive guitar playing and other accompaniments, but most of all with his smart, genuine and thoughtful songwriting, based on considerate, appreciative observations. 'Quiet Again' is a subtle yet powerful and very inspiring album.
-----
Written & compiled by Johanna J. Bodde - December 29th, 2014.
=====