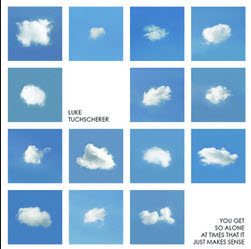 Luke Tuchscherer
'You Get So Alone At Times That It Just Makes Sense'
(The Little Red Recording Company, 2014)
www.luketuchscherer.co.uk
It's a little bit like in school: once you took the time to memorize the long, difficult names in the geography and history lessons - you remembered them for the rest of your life!
Luke Tuchscherer
's
surname is pronounced 'Tuck-Shearer' (that's not so hard, is it?) and the title of his debut solo album is borrowed from a collection of poetry by
Charles Bukowski
. Luke is a 31 year old singer-songwriter from Bedford, England.
In his home country he is already known as the drummer in a quite successful altcountry band
The Whybirds
. They released their first EP in 2007, three studio albums followed after that and also a CD with live-recordings. He and his band mates
Ben Haswell
and
Dave Banks
share lead vocals and songwriting duties. Luke tells: "Well, originally it was just Ben and Dave who sung. That's why there are songs on the first EP and the first album that I wrote but don't sing. But then me and Taff -the original bass player- gradually started singing our songs from there. We'd both sang before, me on my own, Taff in a band at uni, so I guess maybe we missed that. Once I figured out that I could sing and drum at the same time, that was it". Yes, Luke will continue to work with The Whybirds too! "I've always done solo gigs since the band started, so that's not too strange. It has been a bit weird trying to promote the album and getting the backing band together, but the boys have been very supportive, which I deeply appreciate. But it won't be difficult at all doing Whybirds stuff again, it's what I've been doing for seven years or more! It's been a while since we've played and I really miss playing drums. You can't top the feeling of battering a drum kit. But then I have to carry and set the kit up… actually…"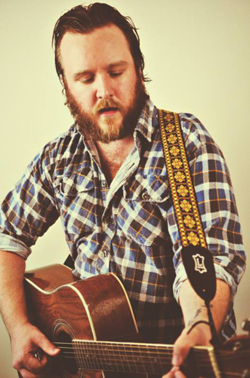 The main songwriters, who genuinely influenced Luke's sound have always been and probably always will be Bruce Springsteen, Steve Earle, Pearl Jam and Neil Young. He was originally a big grunge fan. Via Kurt Cobain and Pearl Jam, he first got into Americana through Neil Young: "I think 'Harvest' was my introduction to country and into singer-songwriters in general like Bob Dylan, Leonard Cohen and so on. Around the same time, Ben and Dave [the other two Whybirds] were really into Springsteen, and that rubbed off on me. Ryan Adams' 'Gold' came out and there was a review that compared him to Neil and Boss, and so I got the record. That was my entry into altcountry. From there, it went to Whiskeytown to Uncle Tupelo to Wilco and so on and so forth."
Already in 2011, Luke and producer Tom Peters, who previously worked with
The Whybirds
, went into the studio to record Luke's solo album. It took them seven to ten days, only... those days were spread out over three years! Luke recorded his vocal and guitar parts in a single day, with the sound being filled out by the other musicians as and when time allowed. Finally the 'baby' was born this month... A pretty looking CD baby it is: blue skies in just my favorite color, a booklet with the lyrics and all the other information, a couple of fun pictures showing Luke sitting on a chair in the middle of a street and then the chair is empty...
For a tour in support of the new album he formed his own backing band called
The Penny Dreadfuls
.
1. "(Lord Knows) I'm A Bad Man":
Oh yes, this is going to be a wonderful musical journey! I love the dobro, that's always one of my favorite instruments. Luke's voice sounds great, expressive, a little bit of Bruce and a little bit of Townes - which was to be expected. Nice warm timbre too and his pronunciation is just right, no annoying sloppy or unnatural accent. The theme of the song is guilt over finding love through cheating, she has already a man...
2. "When Day Is Done":
This is traditional country with pedal steel, a wink at Dwight Yoakam and the Bakersfield sound. Nice rhythm too, double bass plus drums plus percussion. Here our song character longs for true love from a lady holding rosary beads. Will he have a chance?
3. "Three Long Days":
More mid tempo country with pedal steel and double bass, Ben Haswell's electric guitar joins in and makes it even better. The love affair has gone wrong, but once the pain goes away, she's truly gone...
4. "One Of Us":
The single or 'scout track' of this album. Smart interplay of the Hammond organ with the banjo! A very convincing sad story song, like the ones on Springsteen's 'Born To Run', about a teenage boy in one of the poor neighborhoods - who spirals out of control fast, when he takes the package that feels like a gun.
'You know, this ain't me / But I've been lonely for most of my life'
.
5. "Hold On":
The tempo slows somewhat down to this weary song, the lapsteel cries while the mandolin tries to keep the courage up. This probably happens to a man in the same neighborhood: too many bills, his wife already packed her bags, the Bible on the bookshelf has never been read, but there's a bar on the corner...
6. "I Don't Need You To Tell Me":
Influences of the best work by Ryan Adams. An acoustic ballad with violin, viola and cello. A monologue, taking place just before the lady left, while he's trying to convince her not to go. Yes, he's drinking too much, he's a worthless man, but someday he may change...
7. "Women":
Lyle Lovett could have done something like this. A bit more upbeat, a catchy melody - our song character tries hard and realizes:
"Women are like dreams / Don't try to understand 'em, control 'em / You'll wake up in the morning / And they'll be gone, gone, gone."
He got that pretty much right!


8. "(To Make It Worse) I'm Falling In Love Again": Now I know who Luke also makes me think of : the Australian singer-songwriter / cab driver Perry Keyes. A pretty arrangement with cello, piano, harmonica and even a mellotron! Well, we have already a long album title - this is an appealing long song title.

"This stupid heart / Seems all it wants to do is hurt me."

Sometimes it takes quite a bit of courage, to throw yourself into a new love affair!

9. "You Don't Know Me":

Another melancholic mournful ballad, pedal steel and harmonica both cry here together - while the alcoholic woman literally leads the man to his death bed. And we thought Townes' stuff was dark...

10. "Two Ships (Caroline Please)":

'Though we burned so hard and bright / I know that we were just two ships / Passing in the night'. Even as a teenager I already thought this was one of the best expressions ever. Uptempo country rock song with lots of good guitar work.

11. "Dear Samantha":

Similar theme as Springsteen's 'The River'. Lots of wonderful memories, but he heard she's getting married soon. 'Do you ever wonder if we'd ever had that kid?' Some country songs are just mini soap operas, but hey - I watch EastEnders!

12. "Darling, It's Just Too Hard To Love":

The last and lengthiest track, five-and-a-half minutes. Starting off with a strummed acoustic guitar and emotional vocal, then building up to a climax with lots of electric guitars and keys. "Yes, I know that I was distant..." and exactly this, gentlemen, will kill any good relationship.





Luke Tuchscherer

followed his heart and delivered an excellent set of explicit songs, very personal, with a sense of tradition, going back to country and folk from earlier decades. He definitely has a fine voice and a seemingly effortless delivery, perfect for these sad tales of lost love and pain, useless conversations, the scars of life, doomed romances, emptiness and solace in a bottle. He makes us really feel for the characters in his songs, well, most of them.

Although Luke is officially a drummer, he is actually an accomplished acoustic guitarist, as demonstrated on this CD. He is supported by his

Whybirds

band mates:

Dave Banks

on acoustic and electric guitars, mandolin and banjo,

Ben Haswell

on guitar too - along with

Max Hart

(We Are Scientists, he also worked with Katy Perry) on piano and pedal steel,

Nick Mailing

(The Quireboys) on bass,

Simon Rinaldo

(Pearl Handled Revolver) on Hammond Organ and (The Ravines and a solo career) on dobro, banjo and lap steel, while producer

Chris CorneyTom Peters

handles drum duties.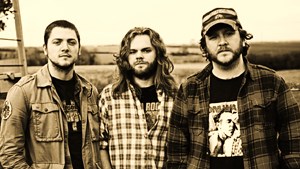 Luke Tuchscherer says that the album complements a change in
The Whybirds
' sound following the departure in 2012 of bassist Taff Thatcher ('He moved to Canada. He is releasing music -entirely for free- under the name The Quaint & The Curious. You should check it out'). "Nowadays, I guess I'd describe our music as rock music," says Tuchscherer. "Americana-tinged melodic rock. Since becoming a three-piece, it's not quite as country as it was before. We're a lot heavier now than we used to be, which kind of naturally happens when you strip it back to one guitar, bass and drums. However I had a lot of songs that were too folky or acoustic-based for the band. My new album is far more country than anything The Whybirds have ever done."

The album has a feeling of retreat into a place of melancholy, akin to Bruce Springsteen's classic 'Nebraska'. When he started recording it, Tuchscherer 'wasn't in the best of places': "It's quite a sad album. The theme running through the record -and the word crops up in most of the songs- is 'dreams', specifically dreams going unfulfilled.
With the drums, I wanted someone else's perspective, so that's why producer Tom Peters played on it rather than me, although I do play on the last track," he says. "As for the other musicians, it was mainly just friends I've met along the way. Chris Corney, whose live band Taff and I used to play in, played a lot on it. Nick Mailing, who produced our first and third records, played electric and upright bass. Tom met Max Hart, who played the pedal steel and piano, when he was on tour with New Young Pony Club when they were supporting Katy Perry. Max is Katy Perry's keyboard player. But enough about that, Mick Jagger told me never to namedrop."

"I'm very proud of the whole record, but I think the songs with strings -'I Don't Need You To Tell Me' and '(To Make It Worse) I'm Falling in Love Again'- turned out really nicely. I really like Max's playing on 'You Don't Know Me' and 'Dear Samantha'."

Luke Tuchscherer will be playing live to support the album: "I've been doing solo gigs since uni, even during the band's busiest times. So that will continue. But now I've got a backing band called The Penny Dreadfuls to play with too, which is great fun."



-----
Written & compiled by
Johanna J. Bodde
- October 13th, 2014. (Interview quotes from Local Secrets and Slate The Disco.)
=====