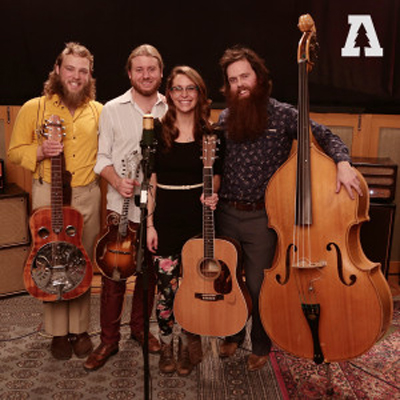 The TRACKS
:

The group explains: "This record was created live without isolation or overdubs around a few vintage design mics in the dining room of 230 LaFayette St, Ionia, Michigan over the course of four days in the Fall of 2014. The studio came to us from New York. Amidst the rains of October and the glowing Michigan maple leaves, we captured these twelve songs with trueness, nowness and sincerity. Thanks for listening."

1. "Hot Hands": A remarkable lively little opener. The tick-tack percussive sound of the plucked mandolin and the banjo gets immediate attention, together with the dobro part and later on the bass on these start and stop chords. It is very obvious that the group has played countless live shows and they probably don't even have to look at each other to make clear what's supposed to be played. And there's Lady Lindsay Lou front and center on delicious, sultry, soulful vocals, especially on the bridge of this attractive track.

2. "Everything Changed": Lindsay Lou builds up the dynamics right from the start, based on a staccato bass rhythm. Especially towards the end she explores the whole considerable range of her exceptional voice, flexibly using a falsetto trick to optimize the urgent sound. Acoustic guitar and mandolin get into a spell binding sparring game, Joshua winning in a long and very fast solo at the end.

3. "Interlude": A half minute long instrumental piece by dobro and beautiful bowed bass.

4. "The Fix": The little soundscape makes room for this song, with ascending arpeggios building up in a similar way as the second track, although this shorter one has more of a jazz influenced sound, giving Lindsay Lou another opportunity to show off her vocal skills, her band mates nicely harmonizing. The sound is very good, crisp and crystal clear. Recorded in a dining room... While many expensive state of the art studios come up with unimpressive results. Something to think about. This song was also featured on the 'Here Between EP'.

5. "Old Song": A fresh country ballad tributing the love of grandparents with a strong melody, Lindsay Lou being the torch singer, choruses added by the whole group. Instrument swap: for this track Joshua picked up the banjo and gave his mandolin to PJ, while Mark plays bass. In the meantime, let's not forget that lovely Lindsay is also a confident guitar player on most tracks, I like her often somewhat percussive playing style that suits the whole sound very well.

6. "Sometimes": Written by Ben Fidler for Winter/Sessions, a band Mark Lavengood played in previously. So, it's no big surprise that Mark sings lead vocals, while he still plays the big bass. PJ is heard on harmonica and cajón, for this fine funky folk blues, reminiscent of a lost Levon Helm tune. I love that all vocal ending!

7. "Criminal Style": Written by Todd Grebe. Yes, let's find a place to hide the body! Uhm, what happened? I hear a reference to Thelma and Louise. Well, all band members are still there, so I'm not too worried. A loose jug band style number with a big wink! Mark shines again on dobro, he plays just as great as my all time favorite dobro player James Burton on Rick Nelson's country records.

8. "House Together": A song full of hooks, with a challenging backdrop of unusual rhythms, the band is in the start and stop mode again. Joshua makes the mandolin work very hard! That little instrument can be just as influential as a lead guitar, really.

9. "The River Jordan": Written by May Erlewine of the duo Seth and May, for the album 'Golden'. This lovely gospel ballad was also featured on the previous 'Here Between EP'. The first part of the traditional structured song is somewhat restricted on purpose, with beautiful dobro and guitar again, so Lindsay Lou can spring a big surprise at the end with a joyous vocal eruption, reminiscent of a soul singer in a revival church somewhere in the deep South.

10. "Here Between": This was also the title track of the previous EP. The bowed bass introduces the melancholic first verse, the tempo picks up and the dobro makes the melody flow, adorned by mandolin and guitar. Another perfect song that showcases the velvet voice of Lindsay Lou in her elastic twists and turns.

11. "Ionia": The instrumental title track. A rhythmic ode to various musical traditions, with a Celtic flavor. PJ contributes cajón again, together with flatfoot and hambone (as in body parts?) for this catchy banjo and bass driven number.

12. "Smooth And Groovy": Vocal, in an old time blues with a jazz phrasing and then the big bass kicks in, together with my friend the dobro going all out, while PJ plays acoustic. Joi de vivre in a smooth and groovy way, indeed.
What else can I say? Please, check this out! Repeat and repeat again. It might be the best tight 'live in a room' production I've ever heard. It is powerful, has lots of variety and energy, the songwriting is very good, with dynamic arrangements full of masterful picking and strumming. Lindsay Lou's voice is definitely one of a kind! The base might be bluegrass, but many modern bands add their own particular twist to the tradition and combine it with elements from folk, country, blues, gospel and rock. That's exactly what happens here. I sense lots and lots of dedication!
And for a little extra: if you love the dobro as much as I do, you must also love Mark Lavengood! The (Laven)good news is, that he makes solo records.
I was able to sample a few tracks and I was impressed, again. I recommend you do the same!
'No Part Of Nothin'' (Self-Released, 2014)
'Mark Lavengood' EP on 7 inch Vinyl (Self-Released, 2013)

'From Dust To Steel' (Self-Released, 2010)