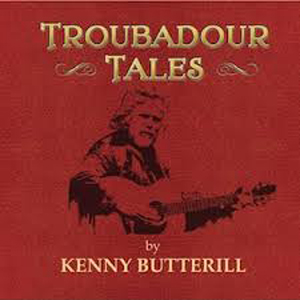 Kenny Butterill
talks about
'Troubadour Tales'
(No Bull Songs Records, 2014)
www.kennybutterill.com
First there was only a lonely single-CD of Kenny Butterill in my collection: 'The Townes You Left Behind' subtitled 'A Tribute to the Late Townes Van Zandt' from 2001, for promotional use only. I'm very happy it is now joined by an autographed, beautiful, brand new full album 'Troubadour Tales'. A fitting title indeed and who else can better talk at length about it than Kenny himself?

Kenny said about his third album: "I didn't really think I would produce a second CD album (let alone the first one) when I started on this journey" - but it was certainly worth the long wait of ten years! Why all that hurrying anyway?

I like Kenny's voice very much, it's warm and relaxed and makes me think of everybody's hero Kris Kristofferson more than once. My favorite tracks (hard to take a pick from all the fine stuff) are: "Pajaro Dunes" with the wonderful accordion and harmonica playing together; "Dead End Of The Dirt Road" where Washboard Hank adds banjo and of course washboard; "True North", the country blues with other favorite Ray Bonneville on harmony vocal, excellent electric guitar and harmonica. You will have fun selecting your own songs that 'speak' to you...

The disc arrives in a luxury digipack, with a thick booklet that has all possible details about the recording, lyrics and various nice pictures. Recommended, it's certainly worth your hard-earned money. My package even has its own 'Kenny stamp'!

"Welcome to these tales of life and love, brought down to me on the wings of a dove. Where music and song dominate the play and harmony and passion rule the day."
Introduction:
'Troubadour Tales'
, Northern California based Canadian Kenny Butterill's third, self-produced album is a compelling collection of stories and songs about real life, love and romance - all transcendent. Early reviews of this body of work, ten years in the making, indicate the long anticipated CD has a sound and feel that is true to Butterill's legacy of delivering 'rootsy, folksy, bluesy, Americana, alt.country, feel good music'.

Kenny's influences include the legendary J.J. Cale, Gordon Lightfoot, John Prine and the original Donovan Leitch, who makes a cameo appearance on "Gaia Blues", adding what can only be called a perfect duet to Kenny's vocals interchanging two harmonicas on this track. The song, a siren call about Mankind's relationship with Mother Earth, features most of Butterill's musical guests singing as a choir at the end, championing the cause.

Tracks such as the blistering satirical "Good Thing That Couldn't Happen Here" reveal Butterill's mastery of presenting relevant, accessible songs for the common man while "Flying With Buddha" is a comfortable piece about the simple notion of life and death - acknowledging that we all are born - and we all will pass. Having Tibetan Monks chanting at the beginning of the song is so apropos.

A real highlight is the song "Hocus Pocus", Butterill's homage to J.J. Cale, a hero to many. The song was recorded in 2013, three weeks before Cale's passing. Cale's long-time colleague and friend, producer David Teegarden, who mastered this CD in Tulsa, shared that 'It was an honor to work with Kenny. This is one of the best albums I've ever heard - I know Cale would have liked it too'!

Recorded in ten studios over the past year, Kenny's high standards are evident in the illustrious cast of over twenty world class guest musicians he hand-picked for 'Troubadour Tales'. Beside the great Donovan, Cindy Cashdollar and Redd Volkaert weigh in with signature riffs on several tracks. Rob Ickes (dobro) and John Reischman (mandolin) lend their inimitable magic, especially on the beautiful, tender "Woman In A Canoe". John Lee Sanders returns again with Kenny, contributing smooth keyboards and soulful harmony vocals on several tracks and old friend Ray Bonneville is back too, turning in some of his finest work ever on four tracks.

The CD includes a heart-warming, heart-wrenching tribute to Butterill's close friend and supporter, the late Willie P. Bennett in "Willie We Miss Ya". Then there's "Cyrano Song" - a piece Cyrano de Bergerac may have given to his princess if he'd had the courage. The renowned David Grier lays down fantastic lead on acoustic guitar on this track and on "Greatest Love Story Never Told".

Importantly, this CD also marks the last recording of the late, great Sarah Elizabeth Campbell who adds rich harmonies on "Greatest Love Story Never Told". Other stellar female harmony performances are delivered by Audrey Auld on "Dead End Of The Dirt Road" (co-written with Washboard Hank), Americana favorite Zoe Muth on "Gaia Blues" and Linda McRae on "Willie We Miss Ya".

Through the years, Butterill has been praised as a songwriter of great substance and depth. His repertoire continues to deliver on both counts. Richly textured but never overproduced, Butterill's music has the warm ambience of an intimate setting with an up-close, personal vibe. This is due in no small part to the creative control that Butterill, the producer, exercises from recording to mixing, a role he takes very seriously. 'Troubadour Tales' gives us a glimpse inside the man whose insightful, sometimes imaginative perceptions about mankind bear the signature stamp of his personality. Yes, the enigmatic Butterill is back - delivering musical magic that truly connect with Americana, Roots and Folk Blues fans around the world.
Kenny Butterill In His Own Words:

After ten years working on this album, I am finally releasing it. Recorded over the last year in ten studios with more than twenty world class guests musicians, including Donovan, there's a story behind this album and each of the songs. Hope you agree 'Troubadour Tales' was worth the wait.

Before jumping into the songs, I would like to express my deep appreciation to my fans, radio listeners and concert goers who come to listen and buy our music and merchandise. Meeting folks on the road makes touring like visiting friends across the country and world. A special thanks to the radio and media folks who have followed me over the years and kept asking when the next album would be released. I'd like to express my gratitude to all the musicians, studio pros, colleagues, advisers, artists and everyone else who helped me produce this album. And a special thanks to Donovan Leitch for adding his special magic to this record.
As I shared in my 'Just A Songwriter' CD, I'm in this for the art. After wrapping the long run of promoting that album, I retreated into the redwood forest of Northern California where I have lived for over twenty years, became a 'big boat' certified sailor and built a new cottage up in my native Canada. I have gone to that cottage property all my life and it is where many of the 'Troubadour Tales' tunes were written - with a guitar given to me by my friend Willie P. Bennett I might add.

The songs on this album capture my observations about the current world we live in and our relationships to each other. Whether it is a song about love, romance, life and death, or the state of the world, each song was inspired by an event(s) or people. For those of you who know me, I write from the heart and I have to be truly inspired. These 'Troubadour Tales' fit that bill.

I hope you enjoy these songs as much as I enjoyed writing them and producing this album.
Thanks for listening!

Peace,
Kenny (Summer 2014)