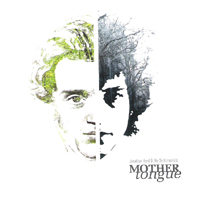 The Mother Tongue Project (explained by Jonathan Byrd):

Jonathan Byrd and The Sentimentals' new project 'Mother Tongue' is a Danish-American collaboration. We explored Søren Kierkegaard and Bob Dylan to find a lyrical language, so that we could write songs that held together on an album. We read and listened. We recorded ideas and e-mailed them to each other. Kierkegaard praised and used Danish, his 'mother tongue'. He broke through the language barrier with the power of his ideas. Dylan used hymns and folk songs to get a new kind of lyric over. They wanted to be heard on their own terms. Dylan and Kierkegaard forced opposing elements into a single idea, "…to separate what is inseparably joined in order to put it together again," says Kierkegaard. Dylan sings, "to live outside the law you must be honest" and "I was so much older then / I'm younger than that now." They build a house of hope on a foundation of despair. Kierkegaard, "Into this night of hopelessness (it is death that we are describing) comes the life-giving spirit and brings hope, the hope of eternity". Dylan says, "When you got nothin' you got nothin' to lose". With a foundation of these related themes, M.C. Hansen (of The Sentimentals) and Jonathan Byrd laid a mosaic language for Mother Tongue. M.C. sings in English, which seems paradoxical, but it is in the spirit of Mother Tongue. English is an international language. M.C. wants to be heard on his own terms. On the Mother Tongue project, The Sentimentals create room for the songs. The music respects the lineage of the ideas. There is space for thoughts and a human heartbeat. The mother tongue is personal and universal. The Mother Tongue project is a sort of audio handshake and international conversation between philosophy and rock 'n' roll.
---
Jonathan Byrd
introduces himself: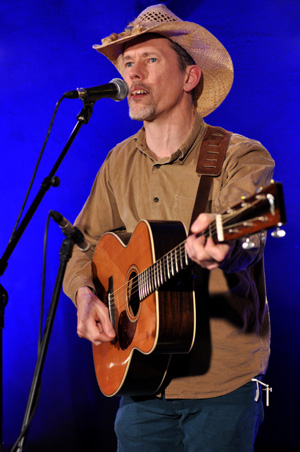 On Friday the 13th, November 1970, I was born at the Cape Fear Valley Hospital in Fayetteville, North Carolina, probably the biggest military town in the country, Fort Bragg alone covers 250 square miles. We left for Fort Worth, Texas when I was about 2 or 3, so that Dad could attend Southwest Theological Seminary. My first memory is of crossing the Mississippi in a U-Haul. Dad got a commission to preach in an English-speaking church in what was then West Germany, in a little town called Vernheim. In church, my father preached and my mother played piano for the services. I learned how to sing in that church and even did a solo of 'Amazing Grace' for the congregation. We had a piano in the house and my mom gave me some lessons. I did really well, but I got bored with the workbook / lesson plan style. My brother had a guitar and that was cooler. We moved to Giessen a few years later and he got 'The Wall' for a birthday present from a friend. Mom and Dad almost didn't let him keep it, 'cause there were 'disturbing images' on the inside. They relented and Gray taught me my first guitar piece, that cool acoustic guitar solo in A minor. I was 8.

When I was about ten, we came back to the States, my Daddy lost his mind, divorced my Mom, and started drinking and managing Eckerds drug stores. He went through another wife and found the construction industry, wherein he could stay drunk all day. That finally lead him to recovery and he spent the rest of his life building houses for storm victims and Habitat whenever he could. He was a good man with a lot of demons. His favorite song was "Amazing Grace" and his vinyl bluegrass collection influenced me greatly, especially Flatt & Scruggs and The Stanley Brothers. Mom was a rock through all of that, got a good job at UNC, paid a man to build her a log cabin in the country outside of Chapel Hill, and did her best to raise me. Once I got my own guitar, I had a place to put all my teen angst, but it didn't help my schoolwork at all. Four years in the high school jazz big band program taught me the majority of what I still know about music theory. Along with an early enlistment in the Navy, music got me through and out into the real world.

I spent the next four years touring the Mediterranean on a tank landing ship out of Little Creek Naval Base in Norfolk, VA. I carried a guitar behind my bunk everywhere we went and made strange four-track recordings when we were in port and there was an empty berthing to use as a late-night studio. Of all the guys I knew on ship, I still remember the names of the ones I played music with. After my time was up, I spent some days in Virgina Beach, playing in a heavy rock band called Coup d'Etat at first, and then Day 11, which was just a license plate we saw at a grocery store one day. A girlfriend gave me my first acoustic guitar, a Fender; I think she stole it. She stole enough money from me that I think I paid her for it.

Virginia Beach outright sucked, so I came home to work at Weaver Street Market and started another band called Scalliwag. The rock band thing wasn't working out, so I started playing the acoustic more and met a lot of other acoustic musicians. My friends told me about an old-time fiddler's convention up in Buena Vista, VA and it sounded like just a laid-back, weekend-long party. I cruised up there and hung out with them; I can't even remember if I had a tent. It changed my life and it changed my music, just banging away on an A chord for hours at a time and sippin' that corn liquor. The music was intense, lyrically cut down to the bone, no bullshit. People got killed, died or fell in love and then got killed or maybe drank themselves to death. I started finding old-time jams at home and on the road, anywhere my new friends lived. I figured nobody was writing songs like that anymore, at least nobody I'd heard, and I knew that style was just technique. In other words, those songs didn't sound old because they were old; they sounded old because they were written in an old style.

"Ashe County Fair" was probably the first song I wrote like that. Another one was "Velma," a song I wrote about the woman who killed my grandfather. I think somebody dies in most of the songs on my first album. Three of them die in "Velma". I was also playing Irish music by the time I recorded, so I played the guitar parts in an alternate tuning. In retrospect, it gives the whole album a dark, open sound that takes the themes over the edge and out into the dripping woods.

I started touring full-time in 2000, realizing that I could do it as a solo performer and actually make a living. Of course, that's what every other singer-songwriter in America was doing, too, but I didn't even know what a singer-songwriter was, so that didn't bother me. I thought I was a folk musician.

In 2002, I went to the Kerrville Folk Festival in Texas, where there are lots of these folk musicians, only mostly songwriters. It ended up being an amazing and inspiring experience and I've been for all 18 days every year since. At the 2003 festival, I won the New Folk competition and got hired on as a performer for the next three years. In 2004, Dromedary and I recorded an album together called 'The Sea And The Sky', which brings beautiful instruments from all over the world into my sound and songwriting. The next album was a rock 'n' roll album called 'This Is The New That'. Rock 'n' roll, because I just didn't know how else to play these songs. Dromedary came back into the studio with me and played electric guitars. Rock 'n' Roll Hall-of-Famer and Muscle Shoals session guitarist Will McFarlane sits in on a few. It was amazing to watch him work, a blue-eyed gent in a kilt ripping the blues from stem to stern. When the first take was done, there were no questions and nothing left to be done but get the cat off the ceiling. What a pro.
Also, on the side, I've recorded a collaboration with Diana Jones, from Nashville, called 'Radio Soul'. We went to a barn, sat down in two chairs, and recorded the whole album in 7 hours.

Texas is a huge influence on my writing. 'The Law And The Lonesome' is what might have happened if Townes Van Zandt had made a record with Doc Watson.
I beat 'Radio Soul' and recorded 'Cackalack' in six hours with a handful of the best musicians in Toronto, although it sounds like it was recorded in a barn in North Carolina.

The Barn Birds is an eleven-song duet with Chris Kokesh. Chris and I met in 2007 at the Sisters Folk Festival in Sisters, Oregon. I invited Chris to play with me during my set. The overwhelming popular reception encouraged us to team up and hit the road. After touring cross country, we went back to Oregon to make our first recording in a barn, but we were foiled by the intermittent noises of the barn's resident birds. We became 'The Barn Birds' and did a live re-recording in Texas at Blue Rock Studio. In a day, of course.

In 2014, I released 'You Can't Outrun The Radio', a collection of songs inspired by an impromptu song circle in 2009 at the Green Room in Montreal.
-----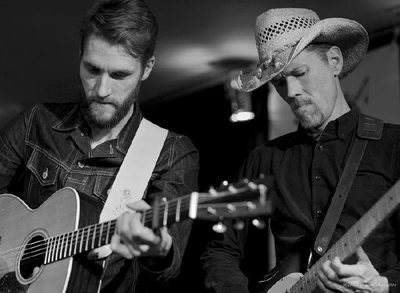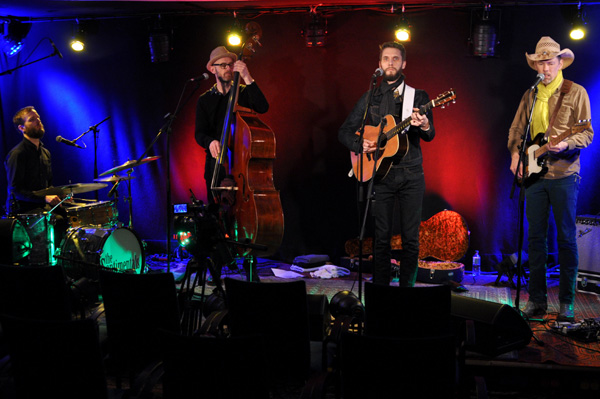 The Sentimentals
are M.C. Hansen on guitar & vocals, Nikolaj Wolf on bass & vocals and Jacob Chano on drums and vocals.

Danish folkrock band The Sentimentals have toured and recorded in the U.S.A. and Europe with various international artists since 2004. What the Band was to Bob Dylan in the 60's The Sentimentals aim to be to the artists they tour with... Past tours include Gurf Morlix, Ed Romanoff, Corin Raymond, Ana Egge, Matt Harlan, Dana Cooper, Sam Baker, Anthony da Costa, Sarah MacDougall, and more than twenty Danish artists.They had a residency at Mojo Blues Bar for four years backing up songwriters from all over the world travelling through Denmark. M.C. Hansen is a successful singer-songwriter and recording artist in his own right. More about him another time!
-----
The album 'Mother Tongue'
:

1. "Love Is The Law": Atmospheric guitars at the beginning, Jonathan playing acoustic, M.C. and Nikolaj electric. The relaxed ballad keeps the focus on the lyrics. "Every light shines from a single flame". Philosophical poetry indeed. Beautiful harmonies on that little bridge halfway.

2. "Natural Supernatural": Tempo picks up here. M.C.'s highstrung guitar and banjo enter the scene. Funny folkrock with quirky rhyming, like: "See the arch in the archery / Hear the psalm in the psaltery".

3. "Mother Tongue": The title track is co-written by Jonathan and M.C. The whole band hums along. M.C. sings lead vocals and I just love his sensitive voice: "Every promise every lie / Every whisper every cry". Jonathan plays electric to great effect. Gorgeous and impressive song, more than worth being the title track.

4. "Malchik": Jonathan wrote this song with Amy Speace and sings it himself, accompanied by his own acoustic guitar and Nikolaj's upright bass.

5. "On The Edge": What a wonderful melody! Builds up in a great way and Jonathan sings better than I've ever heard him do. This makes me think of Leonard Cohen's "Suzanne", by the way. "She just turned around to wave / And the agent at the gate said 'Your exodus has been delayed'." Another highlight.

6. "I Thought I'd Seen It All": M.C. Hansen sings lead vocals again on another co-written song. "I watched Venus from the window seat / On a cold winter flight." Oh yes, this is also a favorite!

7. "Working Man Blues #3": I like the religious overtones: "I will lay down my hammer / Tonight when the lights are low / And leave the only church / Where I ever knelt to pray". They even sing 'Hallelujah' as a chorus. I like that set-up, with M.C. singing and Jonathan on the electric guitar.

8. "There's A Storm Coming": Fitting the title - a convincing rock song! A little bit of Creedence Clearwater Revival. Please, play that guitar riff again?

9. "Sun On The Water": Back to a blues influenced ballad, written and sung by Jonathan, M.C. effortlessly creating a airy soundscape on his electric guitar.

10. "Harvest Time": Shakers and two acoustic guitars. It is actually possible to paint a picture by guitar. These guys find the best fitting sound to the lyrics all the time. "The burning meadow / calls our names". Brotherly harmony singing, although they're no brothers.

11. "I'm Going To Change The World": Urgent uptempo singing and playing, perfect for the subject. The world needs changing, fast! Cool sarcastic wink: "Here, take the money / I'll get more of that. It's easier to find / Than a lasting peace of mind."

12. "Sins Of Your Father": A M.C. Hansen original. Impressive folk gospel singing.

13. "I Don't Understand Myself": The album closes off with a Jonathan Byrd ballad, accompanying himself on acoustic guitar.
-----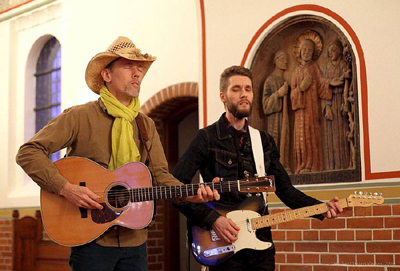 I was already a big fan of M.C. Hansen and The Sentimentals, now they added Jonathan Byrd, then it only gets better! Jonathan is known as a skillful guitarplayer, used to accompanying himself in various traditional acoustic styles. Give him an electric guitar and he will surprise you more. M.C. Hansen is an excellent songwriter with a beautiful voice and The Sentimentals are in high demand for their 'less is more' approach to backing international artists. If you are -just like me- not university educated, don't let the references to philosophers scare you away. The lyrics are poetic, not too complicated and often easy to relate to. A unique collaboration resulting in a beautiful album!

-----
Written & compiled by Johanna J. Bodde - January 26th, 2015.
=====