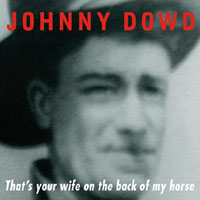 Johnny Dowd
'That's Your Wife On The Back Of My Horse'
(Mother Jinx Records, 2015)
www.johnnydowd.com
Sept. 14, 2014
Hello friends. I'm knee deep into my new record. So far, I have about 30 tracks in a semi-finished state. That's too many songs. Have to separate the wheat from the chaff. This record is a return to my 'Wrong Side of Memphis' style of recording. I'll be doing all the music, and the talented Anna Coogan will be helping out on vocals. The title of the record may be 'That's Your Wife On The Back Of My Horse' or 'Nasty Mouth'. I'll need a little help financially to get it done, so I'll be doing a KickStarter campaign soon. If it all comes together, I plan to tour Europe in April and do some U.S. dates, as well. All for now. Back to work. -- Johnny
---

Johnny Dowd has always been one of my HEROES. I first heard him live on the radio, June 13th, 1998. Back in the days when they hadn't kicked out ALL the good experienced DJ's and producers yet, just to replace them with music computers and a few screaming youngsters. VPRO's Studio Amstel Festival invited Johnny Dowd, The Handsome Family and Bonnie Prince Billy as their guests. I had never heard of them before, but I had an already used tape in my cassette recorder, just in case. What can I say? I think I still have the tape, yes. I became a big fan of Johnny Dowd and The Handsome Family, I've traveled to concerts and I don't do that for just anybody. And I feel honored to review Johnny's new album!
---

December 17, 2014
"That's your wife on the back of my horse. That's my hand in your pocket. Around my neck is your mother's locket. Your sisters will dance at my wake. Your brother will blow out the candles on my birthday cake. That's your wife on the back of my horse". Hello people. This little Johnny 'Guitar' Watson-inspired poem kicks off my new record entitled, obviously, 'That's Your Wife On The Back Of My Horse'. I went back to basics on this one. Played all the instruments myself, then turned the recordings over to voodooman Matt Saccuccimorano to mix and master. Miss Anna Coogan added some great vocal parts, and there you have it. I think there's something for everybody on this one: funk, country, blues, noise, pop. Some funny stuff and dark stuff (see if you can tell which is which). All in all, I'm pleased and looking forward to the tour in Europe this April. My old buddy Mike Edmondson will be helping me out on keyboards. It'll just be the two of us playing, but we can still make a racket.The release date for the record is March 9."
---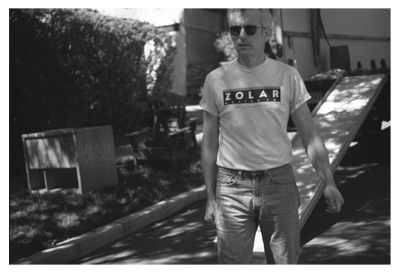 Johnny's BIO
:

Johnny Dowd was born in Fort Worth, Texas on March 29, 1948. "My mother married my father because he was a good dancer. They grew up in the big band era: Glenn Miller, Tommy Dorsey. When my father was in the army, he had his picture taken with Frank Sinatra". The family moved to Memphis, Tennessee in 1950. "My father worked at J. C. Penney in America's first shopping mall. By all accounts, I was a bad-tempered child. In 1953 my father got angry at his boss and quit J. C. Penney. We moved back to his hometown of Pauls Valley, Oklahoma. This is where my musical education took place". He received a record player for Christmas in 1956 and began buying records at a local appliance store. Although the first LP he owned was by the Ray Conniff Singers, it was the music of Hank Williams, Elvis Presley, Ray Charles and James Brown that changed his life. "Around this time, my mother taught me to dance. I had a pair of pointy shoes and a red shirt that I wore when I pretended to be James Brown. 'Live At The Apollo' remains my all-time favorite record".
In 1965, along with his mother and sisters, Johnny returned to Memphis after his parents' divorce. "The first Bob Dylan record was released. I was mystified.
Something was happening, but I didn't know what. My mom bought me an acoustic guitar, but I was too lazy to practice. In
1967
I threw away all my records in a futile attempt to break rock'n'roll's hold on my imagination". He can't remember much of the time period between 1970 and 1979, except that he met his future wife, Kat Dalton. Apparently, after serving in the U.S. Army and living in California he drove across the United States in the early 1970s with longtime friend Dave Hinkle and settled permanently in Ithaca, New York where his mother and sisters had also relocated. "In
1980 I b
ought a green Italian electric hollow-body guitar and later sold it. I'd love to have it back. My friend Dave Hinkle and I started a moving business called Zolar Moving Co. and also a band, The Jokers. We did songs like "Lucille" and "Harlem Nocturne". It was loads of fun". The band included Johnny (guitar), his sister Jennifer (drums) and Dave Hinkle (bass). "In
1988
Dave, Jennifer and I started a second band, Neon Baptist, with Mike Edmondson and Max Ormand (guitars), and Cally Arthur and Kim Sherwood-Caso (vocals). I am related to most of these people. Again, we had loads of fun. More fun than is legal".

"The band members grow up and begin to lead adult lives. I persevere". Johnny was recording songs alone in the office of his moving company. These songs first appeared in 1995 on a home-made demo cassette as 'Wrong Side Of Memphis', which credited Dowd as a solo artist and featured Kim Sherwood-Caso on background vocals on two songs. Most of these tracks were either re-mixed or completely re-recorded for a new version of the same album, which was initially pressed as a self-released CD. Favorable reviews led to some of his first European appearances in 1998. "I put together a band with Brian Wilson (drums), Mike Edmondson (keyboards), and Kim Sherwood-Caso (vocals). We begin to tour". In the wake of all the critical acclaim, Johnny Dowd released his second album, 'Pictures From Life's Other Side', in 1999, also to positive reviews. "More tours in U.S. and Europe. More guitars". After the self-released, experimental 'Down In The Valley' (2000) came 'Temporary Shelter'. "Justin Asher joins the band. More touring. Living the life most men only dream of". A Dutch TV documentary on Johnny Dowd was filmed in 2000, and in early 2001, the New York Times highlighted him as one of four 'Country Singers Who Still Display a Country Heart'.

"In 2002 yet another album, 'The Pawnbroker's Wife', is released. That is the first album without a photo of me on the cover. Does this signify a change in direction? Not really. More tours". 'Wire Flowers: More Songs From The Wrong Side Of Memphis' was released in Europe (2003). That same year, he was handpicked by The Simpsons' creator Matt Groening, a self-described fan of Dowd's music, to perform in the All Tomorrow's Parties festival. He also made his major film appearance in 2003 with 'Searching For The Wrong-Eyed Jesus'. The album 'Cemetery Shoes' was released in 2004. "Basically, this album is just Johnny and Willie B. (Brian Wilson) doing their thing. Justin helped mix it. New band line-up is Mike Stark (keyboards) and Willie B. (drums, bass pedals, and keyboards). Toured with the Mekons, the world's greatest rock 'n' roll band, in March". 'Cruel Words', released in 2006, went on to win the Alt Country award in the 7th Annual Independent Music Awards the following year.

In 2006, Johnny Dowd, drummer Brian Wilson (aka Willie B.) and Jim White formed the band Hellwood. Their album, 'Chainsaw Of Life', was recorded in a cabin in New York, the walls of which were covered in musician obituaries. Hellwood toured the album in Europe. In April 2007, Johnny Dowd joined Beukorkest, a collaboration of various Dutch musicians and artists, for a nine-show tour of the Netherlands. In 2008, after an album of tracks from the tour was released, Beukorkest re-formed with a new team of musicians.

Dowd released 'A Drunkard's Masterpiece' in early 2008 in the U.S., Canada and Europe, followed by a European tour in April and May. In October, he formed the trio Black Elastic with former band mates Kim Sherwood-Caso on guitar and vocals and Mike Edmondson on guitar. After several shows in the Ithaca, New York area, an expanded Johnny Dowd band was formed, composed of Sherwood-Caso, Mike Stark (keyboards), Matt Saccuccimorano (drums) and Willie B. (baritone guitar). The group released its debut album 'Wake Up The Snakes' in 2010.
-----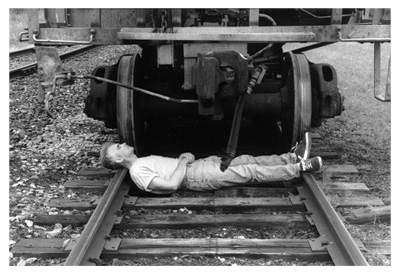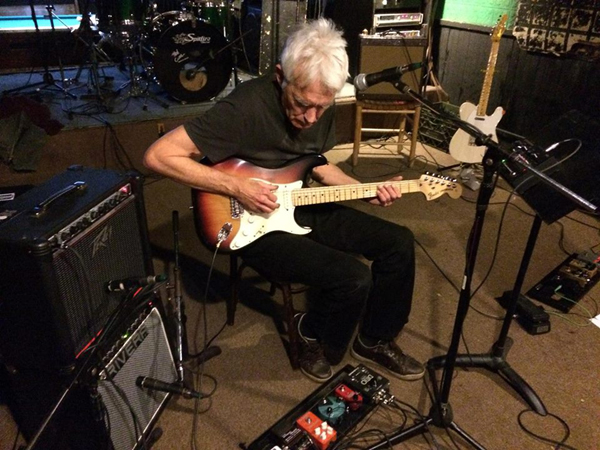 Johnny's ALBUM
:

Oh yes, there's Johnny again! The album starts off with the title track, drenched in distorted guitar loops and some keyboard notes on the end. He was so right, to announce the making of his new album with the lyrics of this song. On "White Dolemite" the drum machine enters the scene and so does vocalist Anna Coogan. "To the devil my soul I traded" - we enter old familiar territory when it comes to the lyrics. Using effects on the microphone, Johnny even namedrops Archie Bell and of course his own moniker! Then we go to New Orleans, Anna echoes Johnny's words. I love the guitar riffs. Instant favorite! "Come and take a ride in my Cadillac Hearse..." and there they go! "The Devil Don't Bother Me" features Johnny's typical trademark ominous speak-singing; followed by a frantic and possessed "Empty Purse".

"Why?" makes a terrific combination between the fine soul sounds of the music and Johnny's stubborn off-key singing. Along comes Anna with a few lovely additions: "I wish I could sail away on a rocket ship", an instant classic. "Fair is where you go if you want to see the pigs race / Fare is what you pay the bus driver to get you to another place". Wisdom about fairness from the man who easily mentions the F-word with the name of Jesus in one line and gave us "You don't have to be a postman to mail a letter / Be content with your life, it may not get any better".

Pop and doo-wop influences from the fifties color "Sunglasses", although I doubt if there would be any mention of 'getting laid' at all back then - Johnny address the crowd! "Nasty Mouth" and "Words Are Birds" (guitar solo by Mike Cook) return to a blues approach, still with the drum machine and synth all over the place. Funny, I never even liked synths, but here it's an essential part of the music. This proves again, what a master manipulator Johnny is, to make people like what they officially dislike!

Some more rhythmic rap poet speak-singing in "My Old Flame". It gets even better in that fast "Dear John Letter", where Anna's singing culminates in a sort of fascinating banshee shrieks! In "Female Jesus" Johnny tries to be compassionate over the background of cold electronic beeps and bleeps. By the way, did you know that the female Jesus played guitar in a punk band? Some altcountry touches for "Poor, But Proud", another great duet with Anna who even practices her best female country diva vocals. The album ends with a long (5m38s) track, called "Teardrops", where Johnny plays guitar, with his trusted old mates Willie B. on drums and Mike Edmondson on keyboards. Great live feel! That last part, where Johnny pretends to thank the audience and leaves the building: with your wife on the back of his horse - is just priceless!!

Ithaca's Master of the Absurd strikes again, as only he can, delivering his full-on adventurous sonic assault with experimental noisy breaks and all - as promised.
Forget comparisons with Captain Beefheart, Nick Cave or Tom Waits > this is THE Johnny Dowd we're talking about in this item! Of course, there are influences from blues, country, folk, rock and funk, but he will never fit into any music genre or box, he is so totally his own man. Or should we say genius? He succeeded with his plan, returning to the spirit and recording process of his first CD and he created another captivating combination of lo-fi meets electronic beats.

I like that picture of Johnny's great-grandfather, I'm missing a lyrics booklet, but Johnny never looses his touch or black humor in creating a gothic cycle of dark, wayward, gloomy songs.
---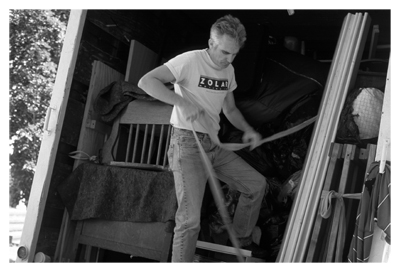 Johnny's INTERVIEW
:

Ithaca Journal (Jim Catalano):
For the past 20 years, the only thing constant about Johnny Dowd has been change. He's made more than a dozen studio albums and played with some of Ithaca's top musicians, yet he has rarely stayed in one place musically for very long. That's certainly the case with his latest album, 'That's Your Wife On The Back Of My Horse'. Reverting to the DIY approach of his first solo album, 1995's 'Wrong Side Of Memphis', Dowd recorded all the instruments for the new album by himself at his studio in the office of Zolar Trucking, with guest Anna Coogan adding vocals on several tracks.

"This album is sort of driven by twin motivations," Dowd noted. "One, it was getting harder to afford to keep a band together - at this point at least, though hopefully not in the future. Also I haven't done anything on my own in a long time - so many of my records are band records, with Brian (Wilson) and Mike (Stark) or Kim (Sherwood-Caso) or whoever else. But I had to add someone else who could sing on there, and Anna's contribution was enormous. It was really fun working with her."
Dowd said he put together the album over a two-year period, first laying down the music on his seven-track recorder (one track is broken), and then diving into his notebook for lyrical inspiration. "Some of the music tracks and some of the lyrics are really old, and some are new," Dowd noted. "It has similarities to 'Wrong Side Of Memphis', because I did it all myself, and there are lot of the same beats because I've been using the same drum machine for 25 years (an Electro-Harmonix DRM16). If you listened to all my albums, you'd find some of the same beats but on completely different songs."

Like 'Wrong Side Of Memphis', the new album blends blues, country and minimal electronic influences tied together by Dowd's noir-ish lyrics and distinctive singing / talking style. But while 'Wrong Side Of Memphis' remained pretty much a solo effort, except for a few vocals from Kim Sherwood-Caso, through its release, Dowd enlisted former bandmate Matt Saccuccimorano to mix and master the tracks for the new album. "Matt took it another level," Dowd said. "Dave Hinkle and I have mixed the last few albums and we have a certain way we do things, like anyone does. But I wanted to hear something else, so I told Matt, 'Don't worry about what I want, just give me your take on the music.' Mostly he took it and made it bigger. The album was made in a little room, and Matt put a mix on it to take it to the stadium level."

Coogan, who had Dowd contribute vocals to the title track of her 2014 album "Birth Of The Stars," was excited to return the favor. "Over the past year, Johnny has kind of been my mentor, whether or not he'd call it that, and he's taken me under his wing and helped with my guitar playing and the way I mentally approach playing and writing," she said. "They were pretty short sessions. He'd have an idea, and would ask me to do it. He's a perfectionist, so I tried a couple of ideas on each song. "Then he wanted some opera singing, so even though I wasn't as warmed as I could've been, it came out better - you get the opera singing with a rock edge," she added with a laugh.

Dowd took the album title from a line in blues legend Johnny Guitar Watson's 1957 song "Gangster of Love," and spun it into a poem that opens the record; it also ties in with the album cover art. "That phrase always been very evocative," Dowd said. "Then I had that picture of my great-grandfather, who was a sheriff and seven-shooter in Oklahoma, so it came together that way. I wanted to do a song with ten tracks of guitar hitting the same chord to get those massive harmonics. It's a very simple thing, but I've never actually done it before."

The album also touches on blues ("Nasty Mouth"), 1950s pop ("Sunglasses"), soul ("Why?") and rock 'n' roll ("Cadillac Hearse"). And, no Johnny Dowd album would be complete without a self-referential lyric, and he once again delivers on "White Dolemite", his homage to the Rudy Ray Moore movie series. "Nobody refers to themselves on their records as often as me!" Dowd joked.

In April, Dowd will return to Europe for a three-week tour, on which he'll be accompanied by Mike Edmondson on guitar for part of each show. "We've got so we can pretty much reproduce every song in some form," Dowd said. "That's been the goal. The tour will be a retrospective - sort of a greatest hits from every era of the band, but without the band."
---

It all started when Johnny sent me an E-mail, with the title of his new album in the subject line. "Would U like a copy of my new record?" My reply was enthusiastic and his answer was: "Xcellent. On the way." EXCELLENT. An excellent album indeed.

-----
Written and compiled by Johanna J. Bodde - January 28th, 2015.
=====