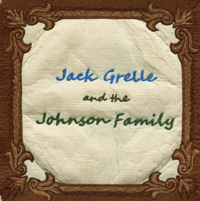 Jack Grelle
'Jack Grelle and The Johnson Family' (2012)
'Steering Me Away' (2014)
Both albums released on Big Muddy Records
www.jackgrelle.com
Jack's BIO:
Jack Grelle (pronounced Grell-ee) is a proud Missouri boy in his mid-twenties, who sings his personal stories of the road and the people he has met along the way. A country, folk and honky tonk songwriter and performer, Jack joins a new wave of young transient musicians who play America's music in bar rooms and living rooms across the globe. Whether with his band (made up of telecasters, pedal steel guitar, bass and drums) or solo, an
authentic honky tonk performance is delivered every night that will captivate both the dancing and listening crowds.

The cliché image of a traveling musician comes to mind when thinking of Jack Grelle's lifestyle, but his travels aren't merely geographic. This troubadour has moved from genre to genre, style to style, and drawn inspiration from songwriters generations removed from his own. He has played in bands such as hard-hitting punk outfit Task Force and offbeat pop-punk group Bookmobile. Pete McDevitt (a longtime friend of Grelle's) says: "It's common for punks to mellow out and morph into singer-songwriters with time. Musicians progress and eventually develop their focus."

Grelle says his musical maturation began once he started traveling. After growing up in St. Louis, Grelle moved to Columbia to attend MU, where he studied sociology. This move first exposed Grelle to punk and metal culture. He surrounded himself with traveling musicians in that community and followed their lead. "It was kind of that point that I was just like, 'Yeah, I can do this'," Grelle says. "I started meeting people and traveling full time. We weren't really making money, but we were getting by, playing music." Grelle toured Kentucky and Wisconsin, where he heard old-time fiddle tunes. Trips to Texas added honky tonk and country-folk to his musical catalog. He also made a tour stop in New Orleans, which is famous for its Cajun music and jazz.


Grelle's current style is often categorized as a country-folk, singer-songwriter blend. He is influenced by songwriters such as Townes Van Zandt, Jerry Jeff Walker and Blaze Foley - all of whom helped to define traditional country-folk in Texas in the 1970s. "I just love a good, honest, bare-bones folk song," says Grelle.


Taylor Bacon, a friend and a fellow musician, sees Grelle's style as a product of the Missouri native's geography. "He's got this really cool, Southern-Missouri, Ozarky style," Bacon says. "He's got a wide musical talent." For Pete McDevitt, Grelle's current style is reminiscent of another folk music legend. "He kind of reminds me of Woody Guthrie," McDevitt says. "It's almost like they're kindred spirits."


Over the past five years Jack has travelled across the US by way of thumb, trains and vans. He has earned his title as a Missouri troubadour by writing song after song performing in over 35 states. Jack Grelle has had the honor to sit in with the great Dale Watson in Texas, and the privilege to open for the legend Billy Joe Shaver, not once, but twice.

Jack Grelle also plays with Ryan Koenig as a roots country duo of two St. Louis natives. Koenig is most known for touring the world as Pokey LaFarge's multi-instrumentalist. Together, Grelle and Koenig play a mix of original tunes in the style of honky tonk, old time, western and southwestern country.

Besides the two releases reviewed here, Jack's discography contains 'Jack Grelle' (2010) and the 45 RPM record 'Simple Needs' (2013).
(Quotes from Vox Magazine)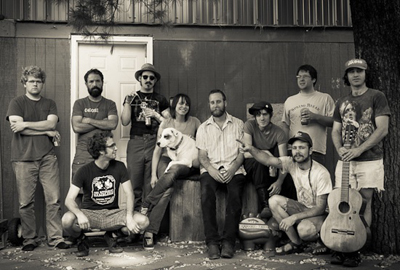 Jack's ALBUMS:

Jack Grelle's new album, 'Steering Me Away' (2014) out now on Big Muddy Records, features ten original songs reminiscent to the sounds of Bakersfield and 70's Texas Outlaw. The progression from his previous two records is noted as Grelle's strengths shine through with clever wit in his words and the catchy hooks thru instrumentation with the support of a full band. This roots country release will satisfy the longing for any true American music fan.


--
Jack told Craig Shelburne at CMT Edge about the song "Four Doors": "I had bought a '95 GMC Vandura conversion van and had been telling people I was a homeowner due to the size and sleeping capabilities. My buddy Paul Weber of The Hooten Hallers, who played harmonica on the record, came to me shortly after and says: "You should write a 'Swinging Doors'-style tune about your van! Call it 'Four Doors'!" I thought that'd make a good honky-tonk tune, so I wrote the first half later that week. I called Paul to tell him the lyrics, and he immediately sends me a text back with a second verse as well as the closing line to the chorus. I wrote a third verse and brought it to the band that week. Probably one of the easiest songs I've written. I owe Paul Weber a thank you for that, and I guess modern technology.

The phrase 'steering me away' is a big part of this song - and ended up being the title of the album. What is it about that term that seemed to fit this record as a whole?
"I often tell people that I write three kinds of songs - road songs, love songs and heartache songs. "Four Doors" kinda turned out to be all three. I wanted the title of the record to be a lyric from one of the songs that was relevant to the rest of the album. 'Steering Me Away' seemed appropriate. My van has become my second and sometimes first home. This record will pretty much be distributed out of the back of it, too… so I was set on keeping a van theme.

You gotta love the steel playing here. What does that instrument bring out in your style of music, do you think?

"Tom Heath did an excellent job on this record. The pedal steel is a delicate instrument that is not only a distinctive sound in country and honky-tonk music but is able to convey a lot of emotion through the simplest melodies. I'm writing and singing songs where I pour my heart out. The steel guitar helps convey those feelings and can hit you right in the gut."


---
Jack's TRACKS:

1. "Four Doors": "She's got four doors and a wheel / That are steering me away / From the heartache you made me feel." This is one of the occasions, when you know within one minute of listening where the disc is taking us. Sometimes that's reassuring and I like it. A full traditional country band, with lots of great pedal steel and although Jack winks at the old country greats while singing, he sounds like many of his peers in the new dedicated country movement of bearded young men.

2. "Santa Fe": A gorgeous mournful ballad full of heartbreak, acoustic guitar and a nice rhythm, pedal steel in the background and a lovely duet vocal by LeAnn Fisher. Paul Weber plays fine harmonica solos.

3. "(She Thinks I'm) Cheatin'": Back to uptempo, with a fresh take on the subject of countless country songs. Lots of fine fiddle on this track, there are two players in the credits: Ryan Koenig of Pokey LaFarge fame and Gary Hunt best known for his time with Colonel Ford and the most recent incarnation of Son Volt.
4.
"3314 Wyoming"
: A dry, matter of fact acoustic story ballad, reminiscent of early Kris Kristofferson LPs. Sweet backing vocals and I'm getting more and more impressed by the pedal steel player, Tom Heath. He knows how to keep his often exuberant instrument under control, playing beautiful restrained parts here.

5. "Only In My Dreams": Twanging Bakersfield style guitars, Justin Brown is the lead guitar player. An early Johnny Cash beat changes very convincingly to a half-time sway in another tale of the touring musician: tomorrow a gig with a guarantee, the tape-deck went out so he has to search the radio, with even a wink at 'Goodnight Irene'. What a remarkable, smart song!

6. "Don't Follow A Line": That's a good steady rhythm tandem, drummer Leo Jalipa and bassist Brice Baricevic. A great melody, adorned by the pedal steel, together with LeAnn Fisher's vocals a constant counterpoint to Jack's earthy voice.

7. "Dallas In The Afternoon": I love songs where a Greyhound bus drives through! "I'm meeting the band in Dallas in the afternoon". A little bit of Texas Outlaw country appears in yet another excellent song.

8. "Chase You 'Cross This Country": Piano and the full band ripping into this very fast track, like it's a catchy rockabilly song, more plucky guitar licks!

9. "Lazy Love": A throaty world weary acoustic ballad, I hear a little Billy Joe Shaver here and the fiddle is magnificent.

10. "Hooked On Your Lovin'": A catchy love song to close off, giving the pedal steel one more chance to shine in vintage Buck Owens style.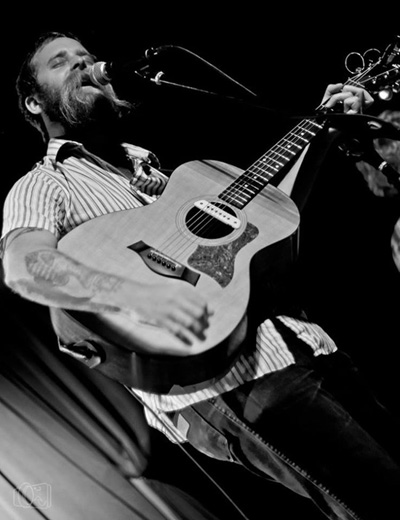 This record gives me the same feeling as first listening to Dale Watson, sometime in the mid-nineties, although the voice is quite different. Allow me an anecdote: Dale came for his first European tour, used to playing four hours straight in Texas. He was gently pulled off the Paradiso (upstairs) stage, just when he took the audience into his 56th (!) song: "Sir, the personnel really needs to go home now...". I sense the same dedication, enthusiasm, respect for tradition and energy here!

Jack plays some bona fide country, with all the right themes, yet with the new altcountry troubadour attitude. Going from one gig to another, hoping enough CDs are sold to buy gas for the next stretch of the tour, couch surfing and washing up at the kitchen sink. Until more of the right people are listening, a festival gets booked and some music lovers will already be waiting with their CD to be autographed. Until then, it's fascinating to follow this real deal young country star in the making!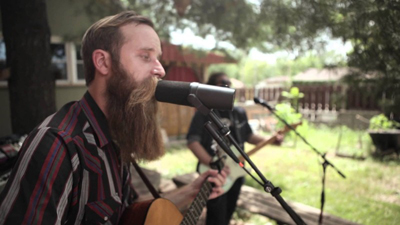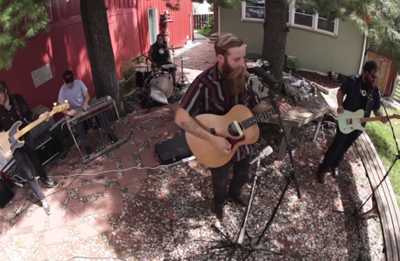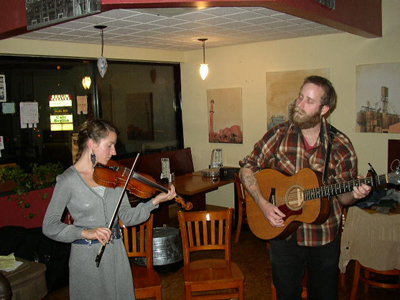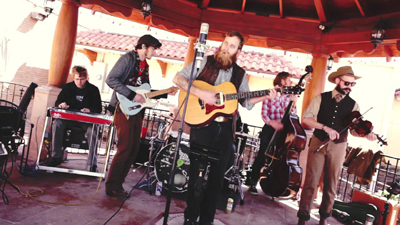 'Jack Grelle and The Johnson Family' (2012)

- Jack was so kind to pack his previous album with the current promo. I say 'packed' on purpose, this album has very cool packaging: a brown paper bag, nicely fitting and printed with tracks, etc. The Johnson Family has been described as
a folk group
consisting of three to seven guys, depending on who's available; their sound is simplified and unpretentious, which makes their shows more intimate.

This album has indeed more of a loose acoustic feeling, on first song

"Blind Dog

" Ryan Koenig is playing some fine mandolin, along with Jack's guitar.
"Darlin'" gets a fuller sound, with some honky-tonk piano, harmonica and pedal steel. Jack speak-sings the verses, the whole family sings too, so there's always a good harmony vocalist at hand. More and more instruments and voices join in at the chorus, I like it. The album has been recorded on two Summer days. Jack's voice has matured over the past two-and-a-half years, here he still gets a bit Robert Earl Keenish off-key at times, which isn't bothering me by the way.

When I start listening to "Red Roses" I ponder again that the instrumentation, the often long story telling tracks and the large line-up of The Johnson Family makes me think of that Californian group with their impossible name The Good Luck Thriftstore Outfit. I love this stuff, but it's quite different from the new record, although several of the musicians are the same. Ryan Koenig is more prominently present, he plays fine harmonica throughout melancholy slow ballad "Emily", for example.

Especially "Winter Wind" is very atmospheric, the melody and vocals are just like Townes Van Zandt's until the electric surf guitar and other instruments come in like Calexico for the soundtrack of a spaghetti western, a great twist! "Hard Thing To Describe" goes back to basics, with just the acoustic guitar, still slightly haunted by the likes of Townes and Guy Clark.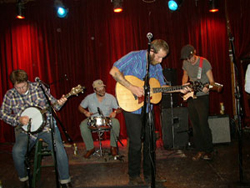 Did I tell you already, that all songs are Jack Grelle originals? Only catchy uptempo "Turnpike Boogie" is a co-write, this would have also fitted perfectly on the new CD, with the road song theme, twangy electric guitars, pedal steel and harmonica. The banjo is bravely keeping up! "Little Room" turns out to be another long ballad, adorned by Ryan Koenig's fine and frantic fiddle, I can imagine them playing this live together too. Harmony vocals join in, ah, they're doing that trick from the second song again - there's the kick drum, more drums, the banjo, more vocals, the fiddle still taking the lead. I just love this approach. "Forgot About The Rain", great song title, perfect for our rainy European countries. Chris Baricevic plays the honky tonk piano and this is another track with the full band jamming. I get the feeling from the flow, that they might have recorded the tracks exactly in this order. "Tired Hands" is a quiet reflective folk blues, acoustic guitar, fiddle and a very nice harmony vocal. That's all. Country ballad
"Lonesome Heart" with harmonica and piano in the background, plus choir and pedal steel at the end - lead us to closing track
"Ain't The Man". Very interesting New Orleans style vintage jazz arrangement: washboard, triangle, jug, piano, harmonica. I definitely would have loved to hear more of this! But the disc has already stopped...

Thank you, Danny from Half Knots (elsewhere on the Insurgent Country page) for making the connection: any friend of yours is a friend of mine!

Well, I want to ask you, music lover, what I always do: if you're considering to purchase the new album, grab this one too! Please?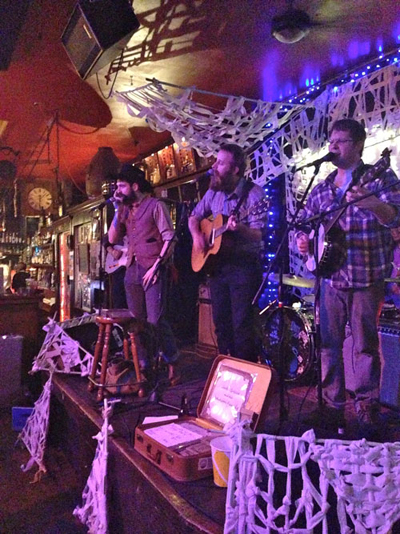 Jack's INTERVIEW:

From St. Louis Mag (Thomas Krone, November 2014):
Last week, a last-minute trip to Louisville brought an unexpected plus. While The Budos Band was who we'd traveled to see, a St. Louis group was playing just down the way. Jack Grelle's band was found at Nach Bar, a classic corner tavern, where a young fella simply going by Alexander was playing the warm-up slot. Even with The Budos Band arriving to their show a couple of hours late due to snow in the Smoky Mountains, there wasn't a chance to catch Grelle. But others were filing in as we left, filling up the little club's booths and tables and old couches. Grelle and his group (Leo Jalipa, drums / backup vocals; Brice Baricevic, bass; Justin Brown, lead guitar / backup vocals; Matt Hughes, pedal steel guitar) were among them, chatting with Louisville's finest young people and generally looking very much at home, the bandleader chief included.

Brown, a longtime member of the Dock Ellis Band among other groups, writes to us from the road that: "Jack is a guy who manages to keep his life loose, but his connections tight. This allows him to move freely around the country and play shows whether he's with the band, tagging along on another tour or just alone. Jack knows someone great in every town, so there's always a cold, domestic beer and a patch of hardwood to sleep on. A word of advice to anyone over 35 who may find themselves in Jack's band: a small air mattress will be the best $30 you ever spent."
"So far, we've been seeing a pretty diverse mix of crowds, which is always good when trying to promote new music," Baricevic added. "As a whole, the tour has been a success up to this point. Shows have been good, and have been able to catch up with friends."

We threw Grelle a variety of questions about his tour, band, and his night in Louisville. That we asked them on a night when he was in New Orleans was almost cruel; after all, there's more than a little bit to do when in the cultural capital of the South. But Grelle was up to the challenge, waking up and sending this postcard from the road.

Question: What's good about this particular lineup? What seems to work?

Jack Grelle: Leo, Brice and Justin have been playing with me for about a year or so. Leo and I have been playing music for about seven years in various forms. It's a natural thing having him on my songs, giving input on arrangements and adding his own simple flair. He's also a brother to me so that dynamic is important. Brice has been playing with me for around two years now. I'm learning it's a good idea to have a consistent bass player and drummer. The backbone of the band then becomes more solid and consistent. Justin has been playing with me for about a year, and has been a real treat. It's good to have someone on the team that's been doing the honky tonk thing longer than me. The Dock Ellis Band has been at it for years now, and his input and talent is really important to have around. He's someone to whom I can say: "Play it like Don Rich," and he knows exactly what I am looking for. Matt Hughes is a new addition for this tour. Our usual steel player couldn't make it due to work. I had done a duo show with Matt about six months ago or so. Matt plays the 12-string steel, which allows him to play the C6 (Hank Williams) tuning on the steel with ease. He's been a great addition on this tour.

Q: How did the Nach Bar show go, in particular?

JG: Nach Bar in Louisville was great! I had gone to Louisville a few years ago passing through, and played an old-time jam at the bar. I walked inside and saw the Hank Jr. portrait on the wall, and was sold. Just a great neighborhood bar that's extremely laid-back. It's the second time bringing the band there, and can't wait to go back. Folks come out and two-step, tip the band (no cover) and want to have a good time. Louisville is a great town of humble people that love roots American music. I have some good friends there, too, who are always real supportive.

Q: At first glance, the cities you are traveling to seem like good fits for your sound. Correct assumption? What are your favorite most-supportive towns?

JG: This tour has been one I've been looking forward to for a while. I tend to go to towns where I have some friends to help promote. I planned this run around playing Country Night in New Orleans. A weekly event on Tuesday hosted by an incredible honky tonk band, The Wasted Lives. I couldn't play in New Orleans and not play this event. People come to dance! It's a potluck, and an incredibly friendly atmosphere. I have played in Texas once before a few years back. I was blown away by how receptive people were to my music. It's the state where most of my influences are from historically. Other towns that I love playing are Columbia, Missouri (I lived there for years and feels like a second home, still) and Minneapolis, Minnesota, a town of rock 'n' rollers and punks that have shown me a lot of love and kindness. There's also a great variety of sound there that folks seem to appreciate.

Q: Any particular anecdotes from this round of dates? Whether show-wise, catching up with folks or from traveling?

JG: I have been to all of these towns besides Chattanooga and Lafayette. I played a generator show in Pittsburgh, Pennsylvania a few years ago with a band called the One Timers, from Chattanooga. It was one of those things where we traded records and stayed in touch. It was awesome to finally go there and play a variety show of punk / honky tonk. Lafayette is tonight, and I have no expectations except falling in love with the town. It's a city with roots in Cajun music and culture that I admire, and I hope that I can deliver my take on country music there well.

Q: To what degree does roadwork influence or inform your songwriting?

JG: Being on the road is where I get a lot of drive and inspiration for my songs. About half my songs are traveling or road songs that are based off of true stories. I have spent a lot of time on highways, and feel at home doing so.

Q: Talk about your upcoming touring with Ryan Koenig?

JG: Ryan Koenig and I have been playing with each other for a few years now. He sits in with the band when he can, and we pretty much just nerd out on country music together. Having this new record out, I'm trying to play as many out-of-town dates as I can, and Ryan threw out the idea of November shows. It'll be a lot of fun. We are trading off songs in a variety of styles, all in honor of roots country music. It will be a variety show of styles, which I always enjoy. I'll have one night in town after this tour, then start another tour for about two weeks. Our tour will end in Chicago to meet up with Pokey LaFarge so Ryan can record. Then I'm selling merch for them for a few dates and will be a fun way to end a three-week long tour.

Q: Do you have a rough sketch in mind for 2015, or do you organize your time and projects in shorter bursts?

JG: Ryan and I are starting to book another duo tour with our friends The Yellow Bellied Sapsuckers, from Wisconsin, in January. There're a few small festivals in the Spring that have reached out. Other than that, nothing's set in stone. I'd like to hit the West coast again sometime in 2015. My brother, Kyle, lives in Portland, Oregon, and would be great to visit him again. Also like to get back into the studio. I'm about half way there with material.


-----
In case you're wondering what it might be like to open for Billy Joe Shaver, here is a review - by Jason Warren at KDHX:

"A little bit of Texas heat found its way into the Old Rock House on an unseasonably cool St. Louis July night. Billy Joe Shaver, the original 'Honky Tonk Hero', took the stage, bringing his history, unique brand of song and storytelling to an audience of neo-urban cowboys, greasers, hipsters and anyone faithful to '70s outlaw country. His songs have been recorded by Waylon, Willie and Cash (just to name a few) and survive a historical genre label. In his 74th year, Shaver is still an ornery cuss and is still having fun when those stage lights shine on him.

St. Louis' own Jack Grelle opened the show; his set was graced with the steel guitar of Tom Heath. Grelle has a knack for bridging the gap of Hank Williams and Webb Pierce to Townes Van Zandt and Steve Earle. His legs are firmly planted in the common language of country's founding fathers and the poets who elevated the genre's sensibilities.

Dressed in his trademark jeans, denim, cowboy hat and boots, Shaver and his band launched into a love letter for his home state: "Heart of Texas". They were just warming up through the first two songs when guitarist Jeremy Woodall rocketed into high gear with the opening lines of "Georgia On A Fast Train". The energy and anticipation of the night came to fruition and did not relent through the nearly 75-minute set.

Shaver was backed by a powerhouse band that included bassist Matt Davis and drummer Jason McKenzie who provided a drive that match Shaver's songs. Guitarist Jeremy Woodall covered the remaining bases harmonically, switching effortlessly from rhythm and lead with a tone that is clean, dirty, country, rock 'n' roll and purely Texas. The star of the evening were the songs. "These are all songs that I have written", Shaver said a number times, never letting us forget the man behind "I'm Just An Old Chunk Of Coal", "Honky Tonk Heroes" and "You Asked Me To".

"I married my first wife three times," he quipped. "That makes her the dumb ass, not me." To see Billy Joe Shaver is not complete without his wit, humor, stories and one-liners. His ability to write a great song is matched by his gift for gab, that includes his ever changing soliloquy that precedes the song "Old Ragged Truck" to his most recent exploits that include a confrontation outside a Lorena, Texas honky tonk.

"I didn't say 'where do you want it'," in reference to the Dale Watson-penned song about the incident. "You see, he came across the street and fired three times. He wasn't that good shot because he missed, and I must have got lucky because I hit him right between the mother and the f*cker. I never said, 'Where do you want it'."
The most poignant moment of the evening came when Shaver paid tribute to his departed son, Eddy Shaver. His aged voice echoed through the silent hall alone as he sang "Star in My Heart", and in that moment the loss and love for his son carried more weight than any story Shaver could tell. The tribute continued as he and the band played "Live Forever", a song that he co-wrote with Eddy.

"How long are we suppose to play to? 75 minutes?" he asked. "We will play 'til we are g*ddamn ready." That is the spirit that has brought the crowd through the doors to see and hear the man who personifies the outlaw country sound. Shaver summed up his 74 years of life and songwriting and ended the night with "Try And Try Again", a gospel rendering that re-enforces the fact that we might not succeed at first, but, like Shaver himself, we just have to keep going."
-----
Written & compiled by Johanna J. Bodde - March 12th, 2015.
=====