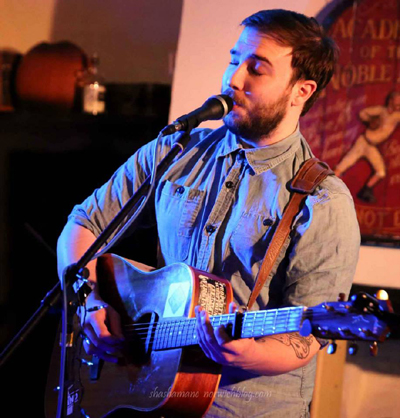 Since signing to Wild Sound Recordings in 2013, Harry Harris, the Welsh-born and London-based musician, has been building a reputation for himself as one of the UK's most formidable and unique singer-songwriters on the circuit. A ruthless guitar player with a voice that moves from the explosive to the intimate. He writes songs that grab you by the neck and refuse to let you go. With influences ranging from the great American songwriter Warren Zevon to the bar rock vibe of The Hold Steady, to the Scottish folk singer Karine Polwart.

'Songs About Other People' is Harry's second album, the follow up to the self-titled debut, recorded when he was only seventeen years old and produced by his now label boss Polly Paulusma. The new album is a more intimate affair, recorded with analogue equipment and vintage instruments at Soup Studios in London and featuring a sparse smattering of musicians, including sibling folk singer Jack Harris, Treetop Flyers' guitarist Sam Beer and Nizlopi bass player John Parker. Across the record's ten self-penned tracks, Harry takes you from football matches on suburban streets, the heroic goal scoring talents of Ronnie Radford who, having knocked Newcastle United out of the FA Cup, calmly went back to his roofing job the next day. To tragic love stories in the Deep South,
to the love affairs of Hans Christian Anderson. Via the cowboy friends of John Wesley Harding to gulchy courtroom dramas of the Wild West. Harry delights in telling us his stories - and interprets them warmly, and quite strongly - always invitingly. Like any good storyteller, Harry is someone that you will want to sit down and listen to.

Partly funded
through IndieGoGo, the record is a testament to Harry's storytelling ability and the considerable impact he has already made on the scene. In the past Harry has
been championed
by the likes of Tom Robinson, The Telegraph and fellow songwriters including Anais Mitchell and John Smith. 2014 saw him hit the festival circuit for the first time, which included a memorable unplugged set to an enraptured crowd at the beautiful Festival No. 6 in North Wales. Harry will be

touring extensively in 2015, sure to win over audiences wherever he goes.

"I first met Harry Harris when he was a fresh, early teenage boy. He played us a song or two and impressed me, immediately, as a kid with focus and fearless dedication, both aiming at building songs. All these years later, I find the same focus and fearless dedication. This man can write and build songs and stories." - Eric Taylor, Blue Ruby Music, USA.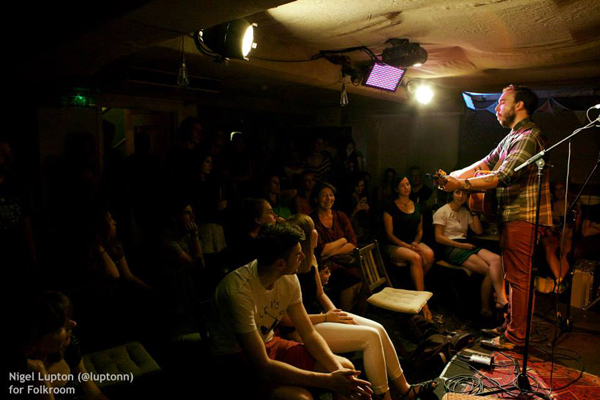 A Bit About Harry's Album
:

"I like songs that tell stories, I think that's important to start with. People often assume songwriters are confessional or introspective, but in the words of W.P. Mayhew from Barton Fink - 'I just like making things up'. I went into Soup Studios in London to record ten songs about other people - some real people like Hans Christian Andersen and Ronnie Radford and Wild Bill Hickok, some made up people like the businessman who wants to go back to nature, or the kid who wants to play football in the street, or the man who met Elvis. All interesting people with interesting stories.
We recorded on old analogue gear playing some really special, vintage instruments. I wanted it to sound warm, crackled and intimate, like these stories were being told to you after dinner and a few drinks, or around a campfire, or before you go to bed. The wonderful Miranda Foxx has designed beautiful, bespoke art for the packaging - take a look at her work, it's brilliant."
---

1. "Stag": "And my mobile phone, I left it on charge this weekend / I changed my message tone to let them know I'll be away". Oh yes, this young man knows his way with words! Besides that, he convinces with a strong, passionate, slightly hoarse voice and the music is simple but super nice too. The background vocals by Nina Hunjan are angelic. Very good first track. And he saw indeed a stag and doe and fawn during his weekend in the wild!

2. "I Was There": This song has a very interesting little chorus, the almost hesitating female vocals "I don't believe you", underline the point this story song makes. Why is it, jealousy or something else, that people don't believe others who are more adventurous? "You saw no such waterfall at that place from whence you came". I bet Harry's classmates didn't believe he wrote his stories all by himself in school!
HH: This is the story of a sailor back from a great voyage trying to make sense of the things he's seen - bewildering sunsets, mighty humpback whales and an imposing waterfall - and convince those who doubt him.

3. "No Ball Games": A very basic acoustic song, with full focus on the story. Nostalgic memories: "Me and my brother play together / penalties out by the wall". A neighbor who brings home strange women in short skirts and threatens to take the boys' football. Of course there's mother too, who prepares dinner: chips and sliced bread and fried eggs. The power of the song brings everybody who hears it, back to their own childhood. Maybe slightly different in circumstances, but the feeling is the same.

4. "The Ballad Of Ronnie Radford": "You could hear the crowd roar all the way down the street, boys". Another spell-binding ballad, with a very interesting subject. A former neighbor of my family was also a roofer and played football in his free time. Cool story! Harry has such a nice timbre in his voice.
HH: About the greatest FA Cup goal ever scored, when Hereford United knocked out the mighty Newcastle United in 1972, thanks to Ronnie Radford's strike - the day after he went back to fixing the roof of a house, back when footballers had to supplement their income, even if they were FA Cup legends.

5. "Wild Bill": Quite a variety of well-researched subjects, as was to be expected for these 'songs about other people'! The trial
of Jack McCall, the man who shot Wild Bill Hickok in 1876. Harry gets into character and plays his role with lots of dedication.

6. "Jenny Lind": An 'a capella' song, as a loving tribute to the once very famous opera singer Jenny Lind, also known as the Swedish Nightingale.

7. "Kitty's Daddy": Neil Cowland plays electric guitar and gives this song a fine full sound. Harry almost sounds like a young Springsteen here, in a touching desperate story about doomed young lovers in a gloomy world. My favorite track!

8.

"Whale"

: An almost eight year old boy and his mother in London. He sure has lots of fantasy and sees interesting things where the grown-ups only see reality. "Today I saw a whale, not five minutes from my house / It must have gotten lost in the dark".

9. "The Day I Met The King": This is an ambitious 6m51s long story about a simple young man, his bride, their still-born baby and also about his candy pink Cadillac, the trombone he sold and the house he worked on, where the King lived...

10. "Kandinsky Was A Synaesthete": Ending on a more upbeat note and lots of smart wordplay. Great bass part!

HH: This song is about brilliant people who do brilliant things, and the awe that inspires. Aptly, it features Nizlopi's John Parker on double bass.
It's impossible to gauge how successful music is going to be, but all you can have is self belief. I think these songs are the best songs I have, I think we've recorded them beautifully and I think that lots of people will like it. We've got to reach those ears. Then, we go on the road, then, we make another record.

My thoughts: It's quite impressive to pull this off, making such an original, sparse album with basically just acoustic guitar, voice plus lots and lots of words. To keep this fresh and interesting from start to finish and live up to all the big expectations after a debut at seventeen! The additional vocals and musical parts are very well executed, thoughtfully situated in the tracks and nicely recorded too. All of this gives the record an intimate feeling, like we are very much welcome in the circle round Harry's fireplace, to listen for a while. He shows genuine compassion for his characters and that's probably the most important quality of this noteworthy album.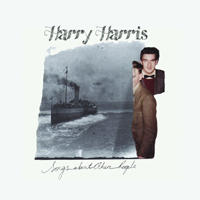 Harry says:

Hey. Look above. Why have you scrolled down? You've missed the good bit. The good bit is above... no, not that bit, too far, that's just my picture... yes, that bit! That's my new album! 'Songs About Other People', in all its glory. It's out now. Come see me live 'n all!

I'm dead proud to be on a lovely little indie label called Wild Sound Recordings, with some other brilliant acts including Polly Paulusma, Stylusboy, Maz O'Connor, Mortal Tides and The Pollyanna Band. I have one album already out on the label, produced by Polly.

I also occasionally write things, for Vice, Sabotage Times, and once for The Telegraph, and sometimes for this website called Work In Prowess. The editor of that last one is an Irish genius called Caroline O'Donoghue, and sometimes we sing folk / punk / erotic songs under the moniker Greyhounds Greyhounds Greyhounds.
What else, what else. Oh yes. I occasionally make movies and music videos with Moral Hangover - once I was in a film they made called 'Echo Restless' - and do electronic music stuff with Chemikal Recipe.

So yes, thanks for coming, stick around. If you like it, tell your neighbours. If you want to stay in touch and be the first to know about things like gigs, albums and stuff, let me know on my website (I won't spam you, in fact, if anything, I'll forget to send you stuff), and follow me on the old social media.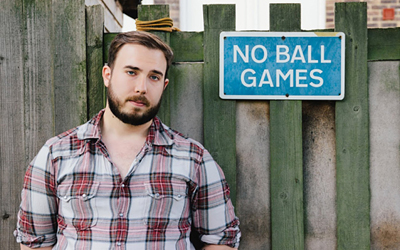 Interview
from IdeasTap (November 2014):

Question: Name / age / what you do?

HH: My name is Harry Harris and I'm 25, and I'm one of those singer / songwriters they have these days.

Q: What does your creative work involve?

HH: A lot of scratching down ideas in notebooks and making things up. Not a great deal happens in my day-to-day, which makes the whole 'write what you know' thing quite limited.

Q: Describe a typical day?

HH: A typical music-focused day (I have a day job - a nice one though) involves sending out a lot of emails and making a lot of calls. I learnt early on the benefit of being proactive in terms of getting people to notice you. So I see where people in my kind of genre are playing gigs, and which DJs are spinning their records, and target them. Writing songs is more haphazard; I'll keep a notebook on me at all times but the actual writing of the song is done over my desk when I get a spare moment.

Q: Tell us about one thing in your portfolio that you're proud of?

HH: The short film 'The Day I Met The King' is something I really enjoyed working on, even though I had the least to do with it. I wrote a song about a man who's looking back on an old relationship, and a chance encounter with Elvis Presley - it's quite a sad song and the ending in particular is pretty tragic. I gave it to a writer I know called Carlotta Eden, who edits an online magazine called Synaesthesia and writes beautiful Americana-inspired stories and poetry. She wrote a monologue for the character singing the song, and then some other friends -production duo Moral Hangover- pulled it together into this beautiful short. I loved collaborating on it, and it's a great companion to the song itself.

Q: How did you learn your craft?

HH: No formal training, self-taught guitarist, though I had mandolin lessons for a long time. I listen to a lot of music, and read a lot of books. Those are the best lessons to teach you how to write stories, I think.

Q: Are there any big lessons that you've learnt in your career so far?

HH: I think don't rush. I made my first album when I was 17 and I was convinced I was going to get signed to a big deal and be the next Ray Lamontagne. For a while I was really quite gutted it didn't get picked up, but then you've got to remember it's all out of your hands. I don't know what's going to happen with this new album but I like it, and that's the most important thing.

Q: In a parallel universe, what would you be doing instead?

HH: I think I'd be a butcher. In fact, there are times at my lowest creative ebb when I feel I should jack it all in and become a butcher in a small town somewhere - you'd always meet people, could strike up relationships with great chefs who'd cook you delicious things, easy access to a lot of delicious meat.

Q: What are you up to at the moment?

HH: I'm very excited to have my second album coming out in February. It's called 'Songs About Other People' and is a warm, intimate, stripped back record of narrative songs. I'll be going on tour in this new year too, and putting out a single. It all feels very proper.

Q: Who are you looking to connect with?

HH: I've been co-writing songs lately with a friend - you end up coming up with something new and different, with this entirely different character than you could create on your own - so I'd love to do more of that. I love film too and would love to do more scoring / instrumental work. Any kind of collaboration teaches you something, I think, so who knows.
-----

Harry about Ways You Can Help An Artist:

Spread the word. If you like a song, tell a friend about it. Come to a gig, bring your Mum. Put a song on a mix CD (do people still make mix CDs?). Ask your local radio station to talk about me. Ask your local record shop to stock my stuff. Ask your local promoter to give me a show. Share, share, share. That's the most powerful, wonderful thing you can do and that's the way these things grow. Who knows how far we'll get.
-----
Written & compiled by Johanna J. Bodde - February 25th, 2015.
=====