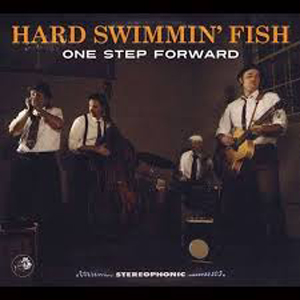 Hard Swimmin' Fish
'One Step Forward'
(Self-Released, 2014)
www.hardswimminfish.com
Best band name I came across this year? Probably, yes. Here's how they introduce themselves: Hard Swimmin' Fish is a blues quartet that has been honing their unique sound for over twenty years. They put a fresh spin on old school blues and roots music. The band plays a range of styles covering the country blues of Mississippi and The Piedmont, the urban blues of Chicago and funk infused varieties with roots in New Orleans' second line. This versatility allows Hard Swimmin' Fish to offer either acoustic or electric performances.

The juxtaposition of old and new is also evident in both the band members and their playlist. The work of guitarist/vocalist Demian Lewis and harmonica player/vocalist Waverly Milor is deeply rooted in traditional styles and is powered by the sophisticated rhythms of drummer/percussionist Jason Walker and the virtuosity of bassist Randy Ball. Together they churn out a vibrant combination of originals, rearranged traditional material and recognizable standards.

The band has cultivated a significant local following through word of mouth and regular appearances at area wineries. They also perform at clubs and festivals throughout Maryland, Virginia and DC. Last year they had the pleasure of performing at the Frederick Festival of the Arts, the Mountain Folk and Roots Festival, The Bluemont Concert Series and the Western Maryland Blues Festival.
The band's original three members (Demian Lewis, Jason Walker and Randy Ball) grew up in Montgomery County, MD and played music together for years before forming Hard Swimmin' Fish a dozen years ago. Waverly Milor connected with the group as stage manager of the Frederick Blues Festival and joined the band in 2008. Members are spread out across the tri-state area, though Lewis' home in Frederick is the band's base of operations. Demian Lewis also is a prolific songwriter and the band has a sizeable repertoire of originals.

The band is known for its retro style, on stage they like to wear white shirts with a tie, dark pants, wingtips and even pork pie hats! "Band members have a penchant for taking little known blues songs and giving them their own flair, thanks to drummer Jason Walker's world music percussion influences, bassist Randy Ball's technique and singer/guitarist Demian Lewis' arrangements", harmonica player/vocalist Waverly Milor said in an interview with Jan Mercker. "It gives the song a different twist, Demian's so skilled at taking an old song and keeping the essence and updating it."

They're known for putting on hard drivin' live shows that get the people up on their feet. Eclectic, high-energy and fun. "It's part of who we are as a group… I love the fact that kids love to dance when we're playing," Waverly Milor, who teaches special education at an elementary school in Charlottesville, said. "The band is very energetic and we really engage the audience. We make it feel like it's a party. We draw people in and give them permission to have a good time."
"One Step Forward" is their fourth CD. Unlike previous recordings: 'Knockin' At Your Door' (2007), 'Ain't It Hard' (2009) and 'Hard Swimmin' Fish Live' (2011), this album features mostly original material. It was recorded by a legendary producer...

I always look for familiar names. A habit I already developed during my teens, as probably many of you, music lovers, did too! The familiar name here: Mitch Easter. Blogger Bill Kopp also looks at the names: "When I hear or read the name Mitch Easter, thoughts of a certain kind of music fill my head. The Winston-Salem-based producer/musician was a key part of the success of R.E.M., The dB's and his own band, Let's Active. And that's only naming three from a much longer list. And while all those bands had/have their own sonic personality, they do share a certain sensibility. All of this makes Hard Swimmin' Fish's 'One Step Forward' a bit unexpected. This electric blues quartet from Frederick, Maryland plays a swinging style of blues that relies on the sonic textures found in hollowbody electric guitar, snare-centric drumming, solid doghouse bass playing, overdriven harp wailing and soulful vocals. And none of that has anything to do with producer Mitch Easter. At least I didn't think so until I heard 'One Step Forward'. The band generally employs a DIY approach, but this time 'round they wanted something different. I haven't heard any of their earlier self-produced material, but one listen to the album makes it clear that Easter knew what to do: set up the mics, get the levels, and then get the hell out of the way. And if that's not how it went down, it's how it sounds. The production never calls attention to itself."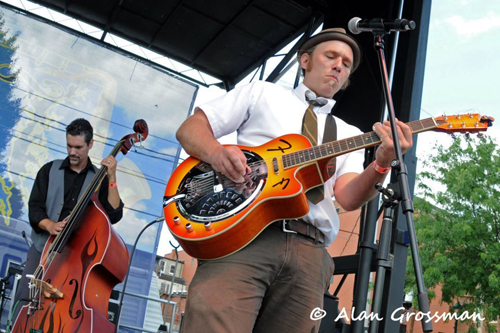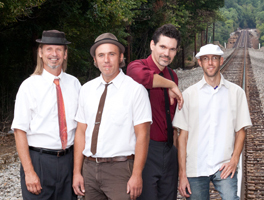 Time to spin the disc... Demian Lewis wrote most (seven) of the songs, Waverly Milor three and the standards are "Can't Judge A Book" by Willie Dixon and "Shake 'Em On Down" by Bukka White.

I like it when an opening track begins like "Put Me Down", enthousiastic, with the various instruments playing - so you know within half a minute what the music is basically all about and approximately what you can expect. Great interplay between voices and that beautiful harmonica - like it's an extra vocal. The singing is very good too, strong and often in a typical rhythmic speak / shout style - with answer, like on "Hear Your Mama Calling". I absolutely love the soulful take on "Blind Love", where the band slows somewhat down.
Drums, (foot)percussion and shakers lay a pleasant solid base, together with the electric or acoustic bass. The lead guitar is excellent, some solos are simply astonishing. That slide guitar on "Just What You Need" is definitely a highlight on the album! I always liked "Shake 'Em On Down", but this driven arrangement adds new levels to the old song. For "Sorry Baby, But It's True" Carl Disque joins the band with his saxophone. He should come back sometime, this sounds no less than wonderful! Speaking about saving the best for last: "I Don't Mind" is a gorgeous little song - only vocal and slide dobro.

The songs touch indeed on various styles: jump / hill country / Chicago / Delta blues, even jazz and a bit of soul. The blues idiom can be occasionally restrictive. When a band doesn't play it right - everything starts to sound the same. Or they stray so far, that it barely sounds like the blues anymore. None of that happened here. After twelve songs I'm still sitting up and paying full attention, at the same time feeling like I want to swing! Highly recommended, I'm hoping ALL my blues tiger friends will check this album out.
Johnny Castle (bass player in The Nighthawks) has some nice praise for the musicians: "Great muscular stripped down grooves, rock solid upright playing! Love Jason's rim shot sound on the drums, the CD starts with it and I found myself enjoying it whenever it appeared... not too much... but just right. The solos were delightful departures from the usual blues cliche' riddled stuff that's out there these days. Waverly makes every note and tonal opportunity count during his harp solos, and has the rare ability to hold down a supportive groove behind vocals and solos. In fact, the band displays great restraint throughout, without sacrificing exuberance! Demian's guitar solos are mini-journeys that totally bypass the grab bag of hackneyed guitar licks for the satisfying phrases that are honest, communicative and clever. The vocals are handled admirably, in a sort of Bob Hite / Johnny Winter-esque 'shout it' style, "Can't Judge a Book" sounds like you got Bo to do the vocal. A very enjoyable listening experience!"
Let's close off with the band's liner notes:

"One Step Forward. Though perhaps we should have titled this offering Next Step Forward. For an eclectic blues combo that began life over twenty years ago as a high school Goth band there have been quite a few steps indeed. But this one, we think, is different.
For one thing the music on this album is overwhelmingly ours. Ten songs out of twelve are original compositions honed over months of live performances. For another, we sought outside help for this one. We have always been a DIY sort of band. Up till now all production has been done in house (not to put too fine a point on it, but primarily in Randy's house).
This time, however, we took a band vaction down to the friendly confines of Fidelitorium Studios in Kernersville, NC to work with sonic wizard Mitch Easter. The idea was to give Randy a break and also find out what 30-plus years of professional studio experience could lend to our humble offering. We were not disappointed. And when you hear the result we think you will be equally pleased.
So here it is folks, One Step Forward. Who knows what the next will bring..."

---
=====