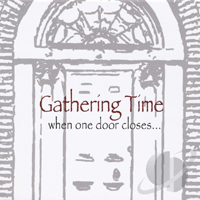 Gathering Time
talks about
'When One Door Closes...'
(Treble-G, 2014)
www.gathering-time.com

Gathering Time is an Acoustic Folk-Rock Harmony Trio:
Stuart Markus (lead and harmony vocals, acoustic guitar, bass)
Hillary Foxsong: (lead and harmony vocals, acoustic guitar, mandolin, percussion)
Gerry McKeveny: (lead and harmony vocals, acoustic and electric guitars, bass)
with guest Mike Agranoff (concertina)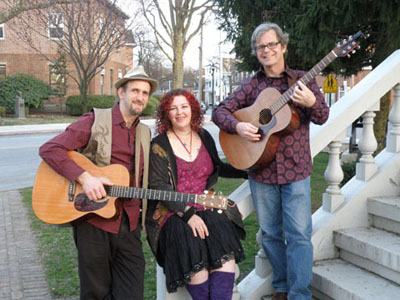 Well, I knew Gathering Time already from their very good first album 'Songs Of Hope And Freedom' (2006) and I have also a promotional single here: 'Red Apples & Gold / Moonlight Row', from 2011 probably, with a personalized sticker on the back, wishing me a Happy Autumn! I'm always glad to be back in contact with the artists I like - especially when there's a beautiful new album involved... New member Gerry McKeveny's electric guitar is a wonderful tasty addition to an already great sound. Hillary's gorgeous warm voice only gets better over the years, perfectly blending with Stuart's tenor and those flawless harmonies still seem heavenly made.

My favorite tracks are: the traditional "Rain And Snow" with the fine guitar solos, "Sincerely Yours" brilliant with these matter-of-fact but at the same time heart wrenching lyrics, the Phil Ochs classic "There But For Fortune" and of course "Suite: Judy Blue Eyes"! I'm not so sure about "The Fox" though, the music is definitely infectious but I feel too much pity for that poor gray goose in the story...

The CD is nicely packaged and has all the lyrics printed on the inside. A must-have album for everybody who loves the more traditional folk and still longs for those great classic folk rock sounds of the late sixties and early seventies. This is as close as you can get without a time machine!

As I had lots of information, I decided to let the trio talk about themselves for a bit.
Gathering Time's Introduction:

Start with the spirit of a high-energy Peter, Paul & Mary, add the vocal complexity of Crosby, Stills & Nash, with various parts of The Byrds, Joni Mitchell, the Eagles and America, and you have Gathering Time - a head-turning folk-rock harmony trio, which was voted best band runner-up (and top folk band) in the 2011 Long Island Press readers' poll and described recently as 'getting a whole beehive-full of buzz' on the NorthEast regional folk scene.

Founded in 2006 by Stuart Markus, Hillary Foxsong and former member Glen Roethel, Gathering Time quickly became a fan favorite. With their seamless vocal blend, precision guitar playing and inspired percussion, Stuart, Hillary and Gerry McKeveny display strong roots in traditional folk as well as '60s and '70s folk-rock, and they've been known to sprinkle in some of those classics among their original sets. From Tricentric showcases at NERFA 2009 and 2010 and a Formal showcase in 2011 to an Emerging Artist showcase at Falcon Ridge 2012 at which they were voted 'Most Wanted' to return to the Main Stage, it's clear that word has begun to spread.

No less an authority than WFUV's John Platt has written that they are 'among the finest performers in the New York metropolitan area, whatever the size of the venue, from a house concert to an outdoor festival, with harmonies that can charm the birds out of the trees, strong original songs and a savvy repertoire of cover songs, ranging from traditional folk to classic rock. They appeal to audiences of all ages'. In addition to its concerts of original music, Gathering Time performs specialty tribute shows such as the 'Great Folk-Rock Festival', featuring the acoustic classics of the '60s & '70s, 'Jews Who Rock', showcasing the work of famous Jewish songwriters and musicians, and 'Songs of Conscience', focused on songs of social justice. Bob McKillop of MaineFolkMusic writes: 'Gathering Time has perfected two separate but related art forms: three part harmony and having a ball on stage! When they harmonize, some sort of fundamental, cosmic concordance occurs that makes you very happy that you have ears'.

Gathering Time's 2007 remake of Peter Yarrow's "Light One Candle" has been spun on stations ranging from NYC's top-rated WCBS-FM to Israel's Galilee plains; their 2008 CD 'Songs Of Hope And Freedom' won wide acceptance on folk stations nationwide. In 2012 the trio's second CD 'Red Apples And Gold' rose to #5 on the Folk DJ charts in September and to #12 on the national Roots Music Report radio charts in October, charting at #76 in the year-end Top 100 Albums.
In March, 2013 Stuart and Hillary were joined by Long Island folk luminary Gerry McKeveny. Gerry brings a mellow tenor and unparalleled guitar wizardry to the lineup, and both the band and longtime fans of the trio are excited to move into Gathering Time's next era.
Gerry introduces himself: "Back in the summer of 1982 I took a guitar lesson with a finger stylist whose albums I owned and admired. The lesson consisted in large part of his talking about how he had come in from the road several hundred dollars in the red, and had finally resolved to get out and get a day job. My response? I doubled down in my resolve to make my living from my guitar. That decision put me on a road that would lead through pubs in the West of Ireland, the ballrooms of the Plaza and Pierre Hotels, the clubhouses of outlaw motorcycle gangs, churches, synagogues, funeral parlors, wineries, lock-in wards at psychiatric hospitals... and led to my getting a phone call from Stuart Markus two years ago, asking if I might be interested in joining Gathering Time.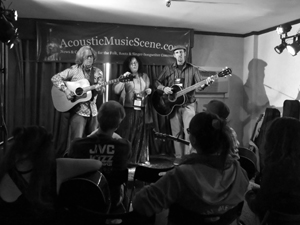 I had a sneaking suspicion that there was adventure lurking in this opportunity, and felt compelled to follow it wherever it might lead. I have not been disappointed."

'When One Door Closes' is the trio's third release and the first since welcoming new member Gerry McKeveny. It contains two 1960s classics faithfully interpreted, three traditional tunes on which they've put their own spin and a number of originals. You may note that five tracks are fully re-recorded versions of songs previously released on last year's 'Red Apples And Gold' CD. As part of the terms of former member Glen's departure, that album has been retired from distribution. So the trio decided to reissue those songs on this one, and record slightly simpler, folksier versions.

'When One Door Closes' marks the end of one era in the group's history and the beginning of a new one. It contains thoughtfully paced songs about one's journey in life and the blessings of being alive; and ebullient, upbeat favorites that will have toes tapping and hands clapping. All replete with the signature, rich 3-part harmonies that make fans even out of non-folkies.
Gathering Time tells about the songs:

1. "Rain And Snow": Traditional. A haunting take on a classic murder ballad, minus the actual murder. Gerry first heard this song as a seven-year-old when his oldest brothers brought home the first Grateful Dead LP. Years later he heard Pentangle do the minor key variant, and about two years ago he thought he'd try it using an Open-C tuning favored by John Fahey and Jimmy Page, among others. An edgy slide guitar and haunting harmonies make this a memorable version.

2. "Sincerely Yours": Written by Hillary Foxsong. As we grow and move on, fading friendships affect us unequally. Peppy nonetheless, with a strong classic country flavor and a big chorus.

3. "Moonlight Row": Written by D.M. Tucker. Nostalgic and evocative as an October night by a bonfire, replete with reminiscences of young love and youthful celebration, simply stated with the sweetest of harmonies and sparse instrumentation.

4. "Leave The Dreaming": Written by Gerry McKeveny. A song inspired by a trip Gerry took to London while facing the heady prospect of becoming a father for the first time. All true. Medium-uptempo with a beat that pulses like a nervous new father-to-be's heart.

5. "It's Just So": Written by Stuart Markus. Slow, gentle and adoring, a musical take on the maxim that if you love someone, set them free to go or return of their own volition. The first song Stuart has written, in fact, with Hillary's voice in mind.

6. "The Fox": Traditional. This British/American trad classic has been sung by many, from Peter Yarrow to Nickel Creek, and even taught to countless schoolchildren despite its slight gory theme. Gathering Time is the first they know of to put it to a Bo Diddley beat, however, and Gerry's incredible work on the Telecaster gives it a real jolt of rock'n'roll energy.

7. "The Path That's Right For You": Written by Stuart Markus. Medium tempo and uplifting, a loving song of advice from an adult to a child just coming into his or her own or a young friend setting off on a new adventure, full of love and words of wisdom. Fit for graduations and new journeys.

8. "If It Would Only Rain": Written by Hillary Foxsong. A sparse, powerful song about the devastating aftermath of war on those left behind, and a young Civil War's widow's determination to keep her family and farm from collapse. Mike Agranoff guests on concertina for a plaintive, period note.

9. "There But For Fortune": Written by Phil Ochs. When Gathering Time was asked to play for the Long Island premiere of the Phil Ochs biopic that takes its name from this song, they searched around for a version to emulate. Not finding one, they came up with their own, which slows it down a bit, allowing its heart-rending gravity and soring beauty to shine through. Phil, if you're listening up there, they hope you like it!

10. "Good Day To Be Above The Ground": Written by Gerry McKeveny. Slow and very spiritual. Gerry says: "A good friend's dad was in the habit of answering the question, 'How's it goin'?' with 'Great - it's a good day to be above ground.' After he passed I wanted to write a song using the line that would serve almost as a prayer to help me practice gratitude - an area in which I tend to need a fair amount of practice!"

11. "Mingulay Boat Song": Traditional. Popular as a pub tune in Scotland but not nearly as well known here, this maritime 'forebitter' about returning to the last island in the Hebrides chain was learned by Stu at the chantey sings around NYC's South St. Seaport. Hillary's voice soars on this adaptation, which gets more elaborate and passionate as it goes on. You'll likely want to hoist a tankard of grog and sing along by the end.

12. "Suite: Judy Blue Eyes": Written by Stephen Stills. Stu says: "We knew we were onto something special when we realized we could pull of the vocal complexity of this masterpiece by Crosby, Stills & Nash." Gerry's two tracks of lead guitar work, both acoustic and electric, call to mind the Grateful Dead's Bob Weir and Jerry Garcia trading licks in the penultimate section. A joyous song about the angst relationships can bring. Sing along with the parts you know!
The future plans for Gathering Times: The year 2015 already holds a lot of excitement in store. A few examples would be returning to headline the South Florida Folk Festival in Fort Lauderdale, a weekend tour in Toronto and the Jacob's Ladder Folk Festival in Israel! We're also working on our fourth CD.
-----
Written & compiled by Johanna J. Bodde - November 19th, 2014
=====