Let's have some
FUN
with funk! I was going through my E-mails from all the kind promotion people, with their introductions of new albums. It was a rather depressing, rainy Saturday morning, with too much work & worries and not enough nice things to look forward to. You know what I mean. Then I came across some music samples of Flow Tribe, a name I had never heard of before and -really- everything changed, even the rain stopped! What a cool band... they are super fun! So cheerful and irresistible and upbeat, they immediately bring people in a good mood with their music! Besides that, they're from New Orleans and I have a big weakness for Louisiana. I agree with the nice promoter: anything from New Orleans is automatically awesome!
Who are these six enthusiastic musicians? Flow Tribe features: vocalist / trumpeter
K.C. O'Rorke
, lead guitarist
Bryan Santos
, guitarist
Mario Palmisano
, bassist
Chad Penot
, harmonica / washboard / keyboard player John-Michael Early, drummer Russell Olschner.
I found some very interesting background information, written by
KEITH SPERA
(TheTimes-Picayune) in 2011.

The members of local funk-rock ensemble Flow Tribe consider themselves more brothers than band mates. From late 2007 through 2009, five of the six lived together, first Uptown, then in Metairie. It was, at times, great fun. But being roommates, they discovered, was too much. "Basically what it came down to," front man K.C. O'Rorke says, "was the walls were way too thin. You need some separation." Flow Tribe survived its 'Big Brother'-like experiment and is stronger for it. In the days and weeks after their 2004 graduation from Brother Martin High School, O'Rorke, Penot, Santos, Olschner and former guitarist Blake Quick teamed with harmonica and washboard player John Michael Early, a Jesuit High School graduate, for informal jam sessions in Penot's backyard. By Summer's end, they realized they had the makings of a band and they vowed to keep in touch, even as they went their separate ways: O'Rorke to the University of Alabama, Quick to the University of Southern Mississippi, Early and Santos to Louisiana State University, Penot to the fire academy and Olschner to Iraq with his National Guard unit.

But after Hurricane Katrina, they resolved to reconvene the band in New Orleans as a serious pursuit. The storm "made us realize that New Orleans was where we needed to be, to try to put our little musical stamp on the city, or just do something for New Orleans."
They landed a regular Sunday gig at the now defunct Friar Tuck's in the Summer of 2006, building a following and a sound. Individual influences ranged from Santos' Cuban pedigree to Quick's Grateful Dead inclinations, but all six musicians were keen to honor their New Orleans heritage. "It's that feeling of when you go see Dr. John, or George Porter Jr. and Johnny Vidacovich at the Maple Leaf on Thursdays," O'Rorke said. "It's kind of indescribable, but it's definitely rooted in New Orleans tradition. The crossroads for us is the backdrop of New Orleans and that funk feel that permeates."

A more irreverent variation on Galactic, Flow Tribe operates under the philosophy: "Take the music seriously, but don't take yourself seriously." To that end, they christened a 2009 EP 'Sloppy Seconds'. On stage, they often rock second-hand suits purchased at a store called Super Bad in Charleston, S.C. O'Rorke's is purple; Santos selected sharkskin. "When you put on a funk suit, it takes a shorter amount of time for people to respond," O'Rorke said. "It's game time - let's suit up."

Stage hi jinks were set aside during the recording of 'Flow Tribe' in the Spring of 2011 at Dockside Studios outside LaFayette. The musicians focused on crafting a professional record, aided by such mentors as producer John Snyder, the head of Loyola University's music business program, and engineer Dave Farrell. Bill Summers, the legendary percussionist whose epic resume includes jazz-funk crew the Headhunters, Herbie Hancock, the 'Roots' soundtrack and local Latin jazz ensemble Los Hombres Calientes, laid down percussion on most songs. "We didn't need to use a click track - Bill was so on time with his percussion, we locked into that and were good to go," O'Rorke said. "He's a great teacher as well."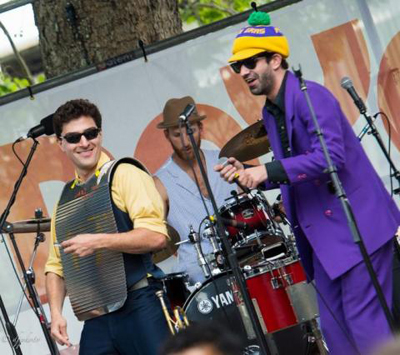 The ten concisely arranged tracks on 'Flow Tribe' were couched in a consistent sheen, yet still crackle and pop with youthful exuberance. The opening "Helping Hand" speaks to the neighborliness of New Orleanians. "Tightwire" is a curt dose of James Brown-inspired funk.

"Delta Blues," by contrast, addresses the violent deaths of two friends. Early on Jan. 1, 2009, Adolph Grimes III, a Brother Martin classmate, died in a hail of police bullets while sitting in his car outside his grandmother's house. In April 2010, Chad Huth was shot to death during a home invasion in Gentilly. The lyric "14 shots to make him fall, but who's right and who's wrong?" refers specifically to the Grimes shooting. "We're not saying it was the police's fault, or his fault," O'Rorke said. "But because of the heightened tension that everyone's living in, a simple mistake can lead to tragedy. In New Orleans, there's a lot of laughter, a lot of fun, but also a lot of darkness and things that are unsettling."

In 2010, Flow Tribe appeared on MTV's 'The Real World: New Orleans' when cast member Sahar Dika joined them on stage at Tipitina's. They've established a touring base throughout the SouthEast. In November 2011, they embarked on their first trek up the East Coast, eager to represent their hometown.

"It's been a crazy and fun journey." O'Rorke said. "Every step of the way when we could have given up, we doubled-down. Slowly but surely, we're trying to make our way out there, and do our thing."

More CDs (EPs as well as live-albums) followed. While browsing through some sound samples on-line, I particularly liked "Fire On Esplanade" from last year's 'Painkiller'. It came with the recommendation: "The energy they put out could light a city block!"
Now we know a bit more about the band, let's listen to this EP! It's nicely packaged and yes, that white alligator is looking at us... Don't worry, he just smiles!

"The White Alligator is native to Louisiana," explains K.C. O'Rorke. "It's not albino because it's got BLUE eyes. It stands out, and it's similar to how we see ourselves. It's a crazy pimped-out swamp monster. We're both rare breeds."
1. "Gimme A Line":
In case you still need to get used to this music - I'm sure the woodwinds will win you over immediately! Besides K.C.'s trumpet, there are three guests on saxophone, trombone and high trumpet. Also some fine keys are being played. The lyrics are uplifting as well as funny (the mouse...); the choruses spot-on and I just love this Southern accent! 'That's the classic bar party song,' according to K.C. O'Rorke. 'You roll in at five in the morning and try to patch up your differences with your girlfriend. It tells the story of partying down in New Orleans'.
2. "Back 'n Forth":
That intro is so good... With the additional powerful vocals of Walter Williams aka Kango Slim. There's also a synth on this track, usually I don't like those things - but here the sounds just fit. Great electric guitar solo! I close my eyes and walk the streets of New Orleans...
3. "Ooh Yeah":
I hear ska influences and that's some fine rhythm! The song was tailor-made by the band, to sing along to in any tropical paradise. Seductive guest vocals by Amanda Ducorbier. The extra woodwinds are back. Did I already mention that the band also shared the stage with Trombone Shorty? "I wanna be with you till the stars fall down / or till the love is gone". How's that for a memorable line?
4. "Gon Gitcha":
The sounds of a hot sweaty night. I absolutely love that wah-wah guitar! Washboard - wonderful and then later on that bass, again such a great combination of instruments. K.C.'s smooth voice makes it sound like singing is just as easy as talking... (It is not!)
5. "Won't Be Long":
An uptempo rock song with harmonica and -surprise- lap steel guitar, played by Colin Lake, beautifully intertwined and it also works very well with those effects on the vocals. This is the band paying tribute to their roots in blues and Southern rock. The most intriguing song on this EP. Yes, only five tracks = 22 minutes. There's always the repeat button!
I feel like dancing around the office... They're irresistible and passionate in spreading the message of good times. Flow Tribe describes their sound as a groove-based gumbo, a mixture of classic Louisiana traditions like funk (which comes from the second line culture of New Orleans), jazz, soul and electric blues with modern-day influences like rock and hip-hop. There's also some Latin mixed into this intoxicating blend. Music that sounds as celebratory as the Big Easy itself. John-Michael Early says: "It's a genre of movement and rhythm. We're rooted in funk. We move a lot on stage and we want the audience to move, too. You won't hear us do a lot of ballads. We're not gonna cry with you, but if you are crying, we'll help you forget whatever's troubling you." See: that is EXACTLY the music we need these days!!
No covers or warmed up traditionals - all songs are new and have been written by the band during their time off, in between taking long walks on the beach. The production is crisp and clear, the mixes well-balanced. All of that was done by Eric Heigle. According to Flow Tribe: "We had a blast recording this album and we feel it really captures the essence of who we are as a band. We can't wait to share with you these five tracks dipped in hard work, determination and without a doubt a ton of funk." The delivery of their music is confident and flawless, the lyrics are just plain fun, nothing too serious was expected anyway.
Being close friends for such a long time already, they have a natural chemistry. Their love for New Orleans shines through, John-Michael recalls the days when their city was recovering from the devastation left by Hurricane Katrina: "There was a big debate going on about the importance of New Orleans. We thought about our love of the city's music, the history, the culture. We were just a bunch of 18- and 19-year-old kids, rebuilding our parents' homes during the Summer... and we knew the only way we could contribute on a bigger level was with music."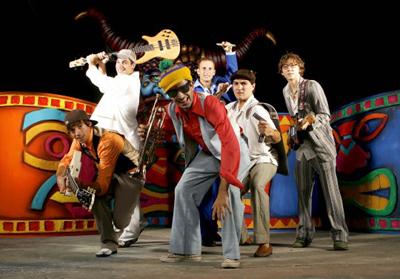 KEITH SPERA
went back to talk with the band recently:
New Orleans' Flow Tribe intermingles rock, funk, Latin influences, reggae and a pronounced sense of humor. They've built a following, both in New Orleans -more than a thousand people turned up for a recent free show at Tipitina's, which also featured a surprise appearance by Allen Toussaint- and beyond. Steady touring over the past year has honed the band's sound, as evidenced throughout the five songs on the new 'Alligator White' EP. The album is named for a creature with whom the musicians say they can relate. Going forward, frontman K.C. O'Rorke and his band mates plan to release an EP of new songs every few months. But for now, take a listen to 'Alligator White'.

Flow Tribe front man K.C. O'Rorke has a special affinity for white alligators. Due to their genetic distinction, they must struggle to survive their younger years. Once established, however, their distinction makes them special. O'Rorke considers Flow Tribe the white alligator of New Orleans music. Because of the group's eclecticism -part rock band, part funk band, part Latin band, part goofiness- he and his band mates struggled through some lean early years. But nearly a decade after the first backyard gigs, Flow Tribe is an established band in New Orleans and beyond.

"I see us as this rare beast, this weird anomaly, that's out there doing its thing," O'Rorke said. "It's definitely flashy - you can't not see it. And you're either going to like it, or you're not."

Taking the alligator analogy to the next level, Flow Tribe named its new, five-song EP 'Alligator White'. To celebrate its release, they headlined a free show at Tipitina's in September. That final installment of the 2014 'Free Foundation Fridays' Summer concert series at Tip's also included Cha Wa and Seven Handle Circus.

Costuming and other hi jinks factored prominently in early Flow Tribe gigs. Though O'Rorke, bassist Chad Penot, guitarists Bryan Santos and Mario Palmisano, drummer Russell Olschner and harmonica / washboard / keyboard player John Michael Early still maintain a sense of humor, their presentation isn't as dependent on gimmicks. Steady touring has honed them into a tight unit, one that can keep a full club in motion. "We'll always have a sense of humor as a band, but you can tell that we're better musicians," O'Rorke said. "We've grown a lot in the past two years. We have a clearer focus on writing good songs. The other stuff will always be part of our personality - we want people to have fun. But by grinding it out, you wear off all those imperfections: OK, here's what it is. We know what we're doing."
The five songs on 'Alligator White' are all road-tested. "These are the ones that stood out and were fun to play. There's room for improvisation - being from New Orleans, there's always that, 'You want to take it some place else? Let's do it.' But we want to make sure the songs are as tight as possible when we hit the stage. To take that next step and explore them even more (in the studio) was a lot of fun." In the studio, "we wanted to break everything down to its simplest form and create something that highlights all aspects of our personality as a band. It's almost like a different band could have written each of these five songs."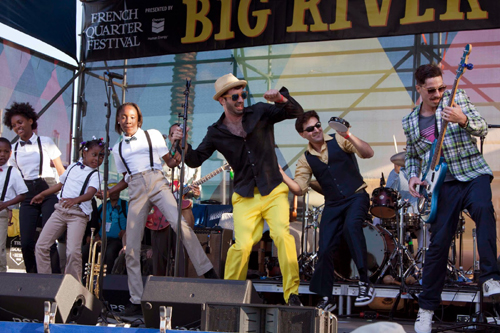 Brazilian music inspired the opening "Gimme A Line" with its horns and slinky groove. "Back N Forth" features rapper Kango Slim of Partners-N-Crime. "We grew up listening to Partners-N-Crime," O'Rorke said. "We wanted to have a little bounce feel, a hip-hop feel, something that is danceable. We were lucky enough to work with him."

The hook of the Latin-tinged "Ooh Yeah," originated with Santos, whose family is Cuban. "He's always throwing Latin hooks in there," O'Rorke said. The laid back funk of "Gon Gitcha" is a "cautionary tale of New Orleans. If you're dealing with the wrong stuff, or running with the wrong crew, you can get by for a while, but eventually it's going to get you."

Big guitars, harmonica and drums drive the final "Won't Be Long". The song's message, O'Rorke said, is that "whatever you're going for, as long as you're doing it with passion and you believe in what you're doing, you'll reach your goals."

He and his band mates have clearly progressed toward their own goals. In the past year, Flow Tribe has signed with manager Stephen Klein, who previously represented Cowboy Mouth and Deadeye Dick and Los Angeles-based booking agent Eric Gerber, whose clients include Snarky Puppy. The result is a more efficient touring schedule. On a recent East Coast run, they filled the 500-capacity Hamilton in Washington, D.C. and played to their largest crowd to date in New York City's East Village. They shared a stage with the legendary John Fogerty. They graduated to the Acura Stage at this year's New Orleans Jazz & Heritage Festival, it was already the third time the band was invited to play the prestigious festival.

"We all love what we're doing," O'Rorke said. "Doing it for this long, it's fun to see that we're making an impact. It's humbling, and we're excited to keep doing it. As long as that passion and creativity are there, we're going to be at it for a while."
"It's like that white alligator again. It was a little awkward for a while, but now this thing is prowling the swamp. And he's hungry."


-----
Written & compiled by
Johanna J. Bodde
- October 13th, 2014.
=====