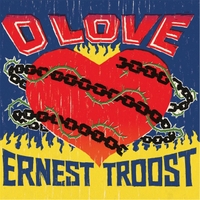 Ernest Troost
'O Love'
(Travelin' Shoes Records, 2014)
www.ernesttroost.com
Ernest Troost lives in Los Angeles, but if he lived in my home country The Netherlands, nobody would look twice at his last name - assuming it was Dutch. Just so you know: it means 'comfort'!

Many young dreamers go to California, hoping they will make it as a rock musician or as an actress. Sometimes it works, but more often it doesn't... You can find the sad examples on every sidewalk in Hollywood, often next to those 'stars' of the rich & famous. Ernest Troost took the opposite approach. After studying jazz guitar and classical music at Berklee College of Music, he emerged with a pragmatic desire to make his living composing music, which led him to Hollywood. He's earned numerous Emmy Award nominations and one Emmy composing scores for TV and films, including the cult classic 'Tremors', HBO's 'A Lesson Before Dying', many Hallmark Hall of Fame specials and -more recently- the Campbell Scott indie film 'Crashing', which features the title track from Troost's album 'All The Boats Are Gonna Rise'. Ernest Troost is a recipient of the prestigious Kerrville New Folk award (2009) for his songwriting. He also composed, arranged and produced two critically praised albums for Judy Collins, using the words of Emily Dickinson, Robert Browning, Gertrude Stein and others.

That's a resume on which many artists would happily rest their laurels, but commercial success didn't still the nagging restlessness Ernest Troost felt inside. Then, years ago, he had an epiphany when he strolled into McCabe's - Santa Monica's legendary guitar shop and concert venue. "I walked in there and was overwhelmed with this feeling, this amazing vibration from the place, very warm and friendly."
Let's interrupt the bio of Ernest Troost here - as the first time I heard about him, was when his excellent album 'Ernest Troost Live At McCabe's' (released on his own label in 2011) was sent to me for airplay. I love that place and I know they don't accept just anybody to play there. So the CD had my immediate attention and kept it -while listening through all fifteen tracks: Ernest first playing solo and later being joined by some great guests on other instruments and on harmony vocals.

My expectations are high for 'O Love'... "Ooh, Love!"
1.
"Old Screen Door"
: The first line of any story is meant to grab your attention immediately. How about "There was blood on the handrail and some on the floor"? Yes, this is an intriguing song about a troubled relationship between a father and a son. Outlined with scatter gun guitar sounds on a blues back beat, we almost see the grisly crime scene: the snakes in the yard, the rats beneath the floor, a cold moon and did I already mention lots of blood? Although we don't really grasp yet what happened in this dark and violent little thriller - I'm already impressed!
2.
"Pray Real Hard"
: A return to Ernest's familiar rhythmic Piedmont blues style and he adds some tasteful mandolin to the short song. I'm blown away by the harmonica though, it even imitates a Cajun fiddle! Mark 'Pocket' Goldberg plays electric bass.
3.
"O Love"
: We know the title track already from the 'Live At McCabe's' album. It starts off peacefully with some fragmented images and it builds up with a somewhat distorted guitar to a blues laced prayer for deliverance by the full band, including Nicole Gordon on harmony vocals. "O Love, don't turn your back on me now".
4.
"Close"
: Another at McCabe's introduced song. A simple, classic, graceful and sunny country love ballad that brings us back to the early seventies. Beautiful rippling guitar sounds, mandolin, even a pump organ and effective shakers throughout.
5.
"Harlan County Boys"
: The sad story of a Kentucky coal mining family, written as a funeral tribute to their beloved grandmother, who has lost most of the men in her life over the course of decades in the perils of mining and union struggles. A true mountain music song, Ernest singing with lots of empathy: "Now she'll be forever with her Harlan County Boys".
6.
"The Last To Leave"
: The sweet country waltz, that was previously ending the McCabe's concert. "Since you have gone on that Greyhound to Boston"... That sounds like a goodbye indeed, Ernest singing close into the microphone about lost love and hurt and how painful the end of a relationship is. Charlie Bisharat guests on fiddle here.
7.
"Weary Traveler"
: Fast full band track, with a great Southern rock vibe - thanks to the lap steel guitar, played by Johnny Hawthorn.
8.
"I'll Be Home Soon"
: Uncomplicated sunny road song with lots of very convincing feelings of longing and love. Nicely built up by the pump organ, while Dave Stone slaps the upright bass. "Oh, baby..."
9.
"Storm Comin'"
: An efficiently revamped song from McCabe's - it's a bluesy growl here: "There's a storm comin' and she's gonna make a mess out of me." This kind of effect that love has sounds very familiar, don't it? Anticipation, excitement and resigned desperation. Gorgeous combination of acoustic guitar picking with the ominous sounds of the electric guitar.
10.
"Bitter Wind"
: Also a McCabe's song, Ernest's mournful vocal just makes me melt here... Even better than Townes Van Zandt circa 'Our Mother The Mountain'. The rest of the band comes in with a nice bass drum kick!
11.
"When It's Gone"
: I love that reoccurring pump organ, also played on this track by Ernest himself. That sublime harmonica too! A bluesy track, flowing like the big river.
12.
"All I Ever Wanted"
: "I spoke in tongues at an old revival show / I chased the devil down where no one else would go". Twanging guitar, soulful harmony by Nicole Gordon, a very nice mid tempo love song and country music goes so well with love songs! What else can we ask for? Everything is just all right!
13.
"The Last Lullaby"
: A perfect goodbye to close off. Just like at McCabe's Ernest pays an Irish inspired tribute here, to friends gone before...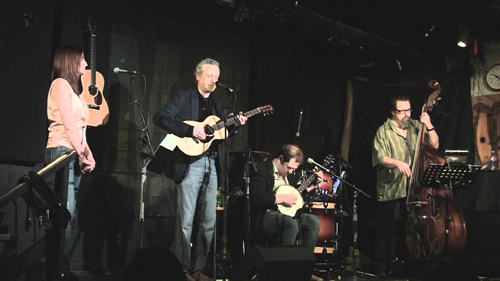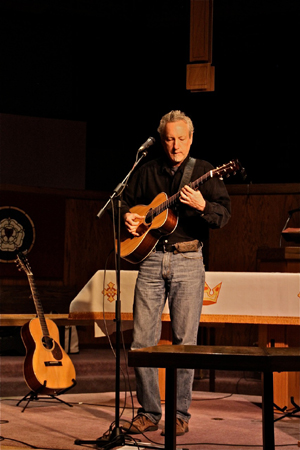 Ernest Troost calls this "a collection of love songs, viewing love from different angles". He could be a heir to the singer-songwriter movement of the late 60's and early 70's, remaining true to the form of this craft, but also pushing it forward to an energetic and fresh originality. He takes us into the stories and moods of his song characters, like we are reading novels by eccentric writers, in the meantime amazing us with his mix of Piedmont style blues, Appalachian mountain music and big city coffehouse folk, adding more edge and excitement with the electric guitar and other instruments.

The songs are accessible, honest but not so personal that it gets uncomfortable to listen, yet still substantial enough to challenge our minds.Yes, the attention is on the subject 'love', but there are many kinds of love for sure! The lyrics are indeed written from original angles: we find death, anguish, loss, joy, highs and lows side by side. Ernest gives us the feeling of a first-hand experience, he sings with a lot of empathy about the failed relationships, although he luckily still believes in Love with a capitol L.

His vocals are convincing, emotional, both flawless and natural at the same time. We can hear the longing, the regret, the passion or whatever feeling the song might require. Just so beautiful!

No fewer than six songs already debuted on the 'Ernest Troost Live At McCabe's' album. Usually it's the other way around, with live versions following the studio effort. This doesn't bother me, the songs are obviously well rehearsed now, which is always a plus and they often sound quite differently. Production was done by Dennis Reed (is that perhaps Dennis Roger Reed from the album 'Cowboy Blues'?), Ernest himself and Louise Hatem.

We can rest assured: the tradition of story telling is not lost and neither is natural inventive playing!
There's more to tell in
Ernest's bio
: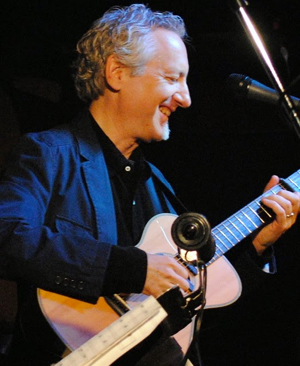 "A masterful craftsman with a fluid guitar style, he boned up on Piedmont blues and resolved to write more songs. Concurrently, the house he and his wife had recently bought provided another pivotal moment in his artistic evolution, as he learned about the woman who'd built it with her family in 1937. "She kept stacks of books and a rocking chair on the front porch, and neighborhood kids always hung out there because she'd read to them," Troost relates. "She had a knack for drawing out each child's unique qualities. Our neighbor said the house was blessed with incredibly good karma. I don't know, there was just something about her story . . . it made me feel I could let go and try something different. Songwriting was something I had put in the trunk and sat on for 20 years because it was an impractical thing to do. But I said, 'OK, the scariest thing I could do in my life is write a song and go up on stage and play it.' I had not done it since high school. So I decided, 'That's what I'm going to do.'"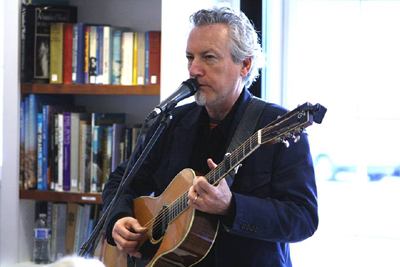 A month later he returned to McCabe's for an open mic night, where he played "All the Boats Are Gonna Rise". "I thought I was going to have a heart attack onstage, I really did," he says with a laugh. "But I got through it. And people went nuts for the song. Three or four open mic nights later, I played "Evangeline", and the pro soundman grabbed me and said, 'that's the best song I've heard at an open mic in the last ten years.' Those people gave me the confidence to take time to focus on my songwriting." In 2004 he released his first solo album 'All The Boats Are Gonna Rise', which earned accolades for his graceful melodies and guitar playing, and comparisons to the likes of Dave Alvin and Richard Thompson. He started playing more coffeehouses, house concerts and festivals, and launched a monthly singer-songwriter night in Venice called the Juke Joint Gang. As word spread about Troost, other LA singer-songwriters started covering his songs, including Lauren Adams, Lisa O'Kane and Nicole Gordon. "Ernest's songs allow me to go into character and find new places within myself," says Gordon, who also adds harmony to several tracks on Troost's album 'Resurrection Blues' (2009). "It's as if I get to bring to life a chapter from a 1920s whodunit mystery. His songs are thoughtful and timeless."

Troost says, "I can remember as a kid my father reading aloud Coleridge's "Rime of the Ancient Mariner" and Poe's "Raven" to the family. I was too young to really appreciate those poems, but I think their musicality and dark romantic nature had a powerful effect on me. It's storytelling that really excites me. I call my songwriting style cinematic folk - I try to create a vivid world of images and music that envelops the listener."
-----
Written & compiled by Johanna J. Bodde - October 27th, 2014.
=====