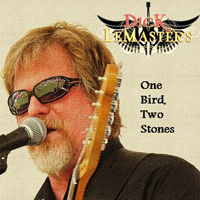 The name of
Dick LeMaster
s first caught my eye, when he teamed up with long time favorite Douglas 'Just A Man' Greer. When Dick contacted me about his new solo release 'One Bird, Two Stones' my immediate reaction was: "Any friend of Douglas, is a friend of mine!" So my expectations were already high and let me tell you this: Dick lived up to them and more!
He considers the eleven songs he carefully picked for
'One Bird, Two Stones'
to be his best ever and he obviously worked hard on them. Pleasant surprise: Douglas Greer sings with him. Dick plays all the (acoustic and mostly electric) guitar parts, Adam King is the drummer and sings too on occasion, Dan Moser plays a mean harmonica on "Three Fifty Seven" and "Held On Too Long". Although they sound like a full larger band, it's a rather basic set-up - in which case all the songs need to be really good to hold up a whole album.

The opener is a fast rocker with a great story - blood traces in the trunk of the Big Ol' Buick? "Three Fifty Seven" is another one - I love those crime stories, on TV as well as in music!

In the few slower paced songs we have a chance to hear even better what a great voice Dick has. With a slightly ragged edge, I love the timbre and he also expresses feelings very well. An intriguing song inspired by the Biblical story about Pharaoh and the plagues in Egypt, another one about a snake-handler, now we're talking about Song Subjects - with capitol S's! Even the love songs, sometimes the weakest link of an album, are just right: a little sad, a little desperate and a little bluesy.

His electric guitar solos are excellent, he makes the guitar cry, scream, moan... It brings great energy and a certain urgency - to get those stories across.
It's not like comparisons pop up immediately, I was thinking Bob Seger, a little bit of Joe Ely, John Cougar Mellencamp and the early Bruce Springsteen (of course), but most of all a favorite you might not know: David Lykins - also a master of the story song.

As Dick is planning his first European tour -together with Douglas- for next year, we better get to know him fast... Dick introduces himself here and talks at length about his new CD. He loves being in contact with music lovers all over the world and he even has a 'no-spam e-mailing list'. But get this album first, friends!!
Cool, those dark sunglasses... Secret Agent Man Dick!
Dick LeMasters' Bio: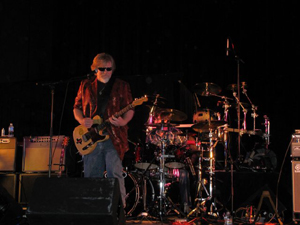 Beaumont and Port Arthur, Texas, are refinery towns. On January 10, 1901 the Lucas Gusher blew in just South of Beaumont, destining the area to become a petrochemical hub. Over the next several decades countless thousands of workers flocked to the area, creating a cultural melting pot. These people from diverse cultures and backgrounds all brought their music with them.

Located on the Eastern border of Texas, adjacent to Louisiana, the styles of music thrown together in Beaumont included Cajun, Zydeco, Blues, Swing, Country, Jazz and Rock-n-Roll. The Beaumont / Port Arthur area spawned a vibrant and active live music scene, especially during the 1950's and 1960's. Some of the better-known artists to hail from the area include Janis Joplin, Edgar and Johnny Winter, The Big Bopper and George Jones. Billy Gibbons and ZZ Top played their very first show as a band at the Elks Lodge in Beaumont. The area truly has a rich musical history.

Dick LeMasters was born and raised in Beaumont. Although a generation younger than many of the musicians noted above, LeMasters shared many common experiences with them. Some of the coincidences are striking. The Winter family lived in the same neighborhood as the LeMasters family, LeMasters' father and the Winter Brothers's father served together in the Army Reserves in Beaumont and LeMasters' mother and aunt both taught Edgar and Johnny in junior high school. Dick LeMasters attended high school with The Big Bopper's son, Jay Richardson.

LeMasters played the piano as a child and excelled on the baritone saxophone in the high school jazz band. But playing rock music on the guitar was always a goal. Starting with a pawn shop bass guitar in the 9th grade, he taught himself to play bass and then guitar by looking at the pictures of chords in music books.

During his teenage years in the 1970's, Dick LeMasters gravitated to what was at the time known as 'Progressive Country' music. This movement, which had its start in nearby Austin, Texas, combined the rural feel of country music with the instrumentation and more relaxed attitude of rock and folk music. Jerry Jeff Walker, Townes Van Zandt and Guy Clark were favorites of LeMasters, along with more rock-oriented Texas songwriters such as Joe Ely.

Dick LeMasters began writing songs while in high school - but he says you won't be hearing any of those early efforts. And, despite playing off and on in bands over the next few decades, LeMasters does not regret waiting until his 40's to seriously delve into songwriting and performing.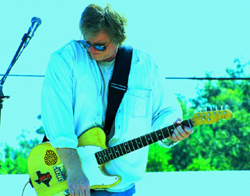 "To be honest, I just wasn't all that good in my 20's", said LeMasters. While some would-be full time artists might regret not 'taking their shot' as a youth, LeMasters has no regrets about pursuing an education in chemical engineering and law. "I think my life experiences are my strongest asset as a songwriter," he noted. As a singer, LeMasters credits a move from loud, electric bands to acoustic performances with improving his singing ability. "Being able to actually hear yourself sing is huge when it comes to singing the right notes", he quipped.
A father of four (all of whom are currently in college, which is a reason you really should purchase his CD... maybe even buy two!), the inspiration to take a serious foray into music came after LeMasters 'coached' three of his children for a performance at a school talent show. "I figured if I could teach a band of 4th and 5th graders to play a very good version of "Born Under A Bad Sign", I could put together my own band of adults," he stated.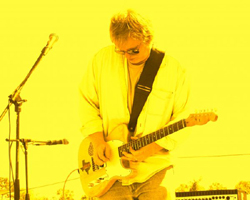 Once LeMasters got serious about a second career in music, things began to move quickly. A duo with acoustic musician Keith Rodgers led to LeMasters forming the band Longneck Road. LeMasters' original song "The Way You Walk", which appears on the band's debut CD 'Texas Rock', skyrocketed to No. 1 on the Radio Free Texas site and held that No. 1 position for weeks.

As the principal songwriter, guitarist and vocalist for Longneck Road, LeMasters achieved quick and significant success, opening shows for Chuck Berry, The Charlie Daniels Band, Ronnie Milsap, John Anderson, Joe Nichols, Craig Morgan, Paul Thorn, Wayne Toops & ZydeCajun, and others. Longneck Road continues to perform as a three-piece band and is comprised of Ron Arceneaux on bass, Adam King on drums and LeMasters on guitar and vocals.

One event at which Longneck Road has performed is an annual Janis Joplin Birthday Bash held in Port Arthur, Texas. During the recording of his current album 'One Bird, Two Stones', LeMasters learned from Port Arthur studio owner and recording engineer Floyd Badeaux that Janis Joplin had recorded with Badeaux in the very same room while she was a high school student. More synchronicity.

In addition to performing with Longneck Road, LeMasters performs across Texas with duo partner Douglas Greer. The duo is planning a European tour for 2015. Douglas Greer's album 'Just A Man' reached No. 1 on the EuroAmericana Chart in 2006. The duo performs both LeMasters' and Greer's original songs in addition to classic rock and country music.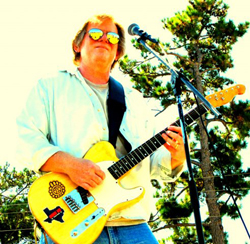 LeMasters devotes a considerable amount of time to songwriting and makes frequent trips to Nashville where he performs at writers' nights and other showcase venues. He has performed at the Commodore Grill and The Listening Room in Nashville, among others. LeMasters also performs quarterly at a Texas Songwriters' Café event and has performed at Nashville Songwriters Association International songwriting events in Houston, Texas, and at Austin Songwriters Group events in Austin.

Although LeMasters believes that his songwriting for other genres helps with his Americana / Roots songwriting, he notes a distinct difference between writing for Nashville and writing for himself. "Douglas Greer often has to remind me that I am just as 'qualified' as some Nashville publisher or song evaluator to know what is a good song and that sometimes I need to just go with my gut feeling and write a song the way it feels right to me," he commented.

The eleven songs chosen for the 'One Bird, Two Stones' album highlight LeMasters' strength as a songwriter. From songs of lost love to story-telling songs using characters to paint a picture, to sing-along anthems, Dick LeMasters has crafted a powerful album.

The album features LeMasters himself on rhythm guitar, lead guitar, bass guitar and vocals. Douglas Greer adds background vocals and Longneck Road member Adam King plays drums and also contributes background vocals. Harp man and renowned tube amp designer and builder Dan Moser adds harmonica parts on the songs "Three Fifty Seven" and "Held On Too Long".

The folks in Texas know how to work - whether it's pulling a long shift down at the refinery or staying up all night finishing a song. You can definitely hear that oil town work ethic on Dick LeMasters' album 'One Bird, Two Stones'.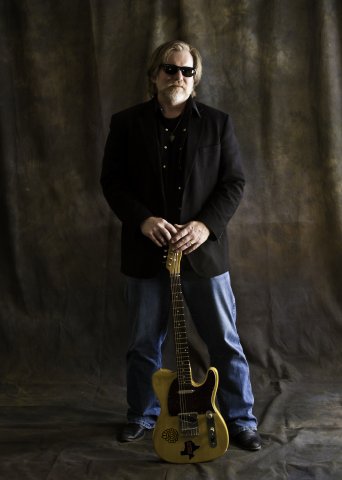 The Stories Behind the Songs on 'One Bird, Two Stones' by Dick LeMasters:

I have always felt that I could say things in my song lyrics that I could never say in real life. Kind of like Jim Croce's line: "I'll have to say I love you in a song." I like the fact that nobody knows for sure whether a song is simply the product of creative writing or whether it's the only socially acceptable way to communicate something that you really feel or believe, or need to say to someone but never could in any other way. Putting the inspiration and stories down in black and white is a little scary to me; however, my public relations man deems it to be a positive step. So, here goes.

I write songs with the intent that they will be songs that I will perform at my shows. If I ever write a song that is good enough and it gets heard by the right person, some big-time singer might record it and I might actually make some money off of my musical adventure. Fingers remain crossed. For now, I have recorded an album of eleven songs that I wrote. The album is titled 'One Bird, Two Stones', which is also the name of one of my songs. Throughout the process my friend, music duo partner, oftentimes background vocalist, and aforementioned public relations man Douglas Greer has offered valuable advice and guidance. He suggested that I write a brief description of the inspiration and story behind each song on the album This is that.
1. "Big Ol' Buick":
This song tells a story about the history of an old automobile 'from the bad side of town'. Maybe like the Stephen King novel 'Christine', but without the haunted part. I have owned my share of really old cars (current one is pushing 400,000 miles), but for the most part the lyrics of this song were an exercise in creative writing. The main music pattern suggests the intro pattern from ZZ Top's song 'LaGrange'. ZZ Top played their very first show as a band just a couple of miles from my house, at the Elks Lodge in Beaumont, Texas. We grew up on that music. Pretentious as it may sound, if my life has a soundtrack, it would heavily feature ZZ Top. Plus, Billy Gibbons is just so cool and is an absolute master of the double-entendre lyric, which I respect greatly. At any rate, I lucked out on "Big Ol' Buick" with some imagery about a neat car and some ZZ Top-sounding music. It still blows me away when someone hollers out: "Play Big Ol' Buick!" at one of my gigs. And, yes, that has really happened. I put "Big Ol' Buick" as the opening song on the album because it does seem to get a strong audience response and because musically it gets the listener's attention.
2. "River Blues":
Of course, the river in the song is a metaphor for time and its inexorable passage. I once performed this song at an art museum event where the average age of the audience was much older than my age. One person told me after the show that they loved the song, but it did remind them of their mortality. Note to self.
3. "Pestilence And Locusts":
This is a song with a kind of biblical reference - the plagues in the Old Testament. To which the narrator in the song compares his hard luck. I wrote this song based on a specific event. Names will be omitted to protect the innocent and guilty alike. "Pestilence And Locusts" was inspired by a show I played that involved a musician (who shall remain nameless for all time) of some renown. It turned out that my assumption that this musician would be a nice, friendly person with whom I would get along was woefully incorrect. Without getting into the details, the experience was bad enough that I didn't want to play music anymore. Tragic, indeed, because playing music is pretty much my favorite thing to do. Ever the songwriter, I came up with the line 'When the thing you love the most becomes a thing that drags you down'. That line came first and I wrote the song around it. I had written down the title long ago with the intention of writing a funny song, but "Pestilence And Locusts" seemed to fit perfectly with this song idea. I am a huge fan of the band Drive-By Truckers (and a fan of Patterson Hood, Mike Cooley and former DBT member Jason Isbell in their individual capacities). I consciously went for a rootsy, not-so-polished production sound on "Pestilence And Locusts" to emulate the production on some of my favorite Drive-By Trucker songs. It is definitely the most 'rock' sounding song on the album and another of my favorites.
4. "Lightning From A Clear Blue Sky":
I often think people believe that I am making up the story behind this song. I have no idea whether the underlying newspaper article was legit, but my story regarding the inspiration for the concept and the hook line is true as I experienced it. I saw an article in the newspaper about a man who was hit and killed by lightning while out on a boat. I am pretty sure the article said that this occurred in Louisiana. The article stated that the man and some friends were out on a boat on a clear, cloudless day. The man climbed up onto the bow railing, raised his hands to the sky and challenged God to strike him dead. God apparently took him up on that. Although the newspaper story sounds kind of improbable, the imagery of "Lightning From A Clear Blue Sky" stuck with me. I wrote and re-wrote the song several times before hitting on the final version. I used the phrase as a metaphor for an unexpected love. I really like the concept and again I tried to keep the song general enough that hopefully lots of people can relate to and fit the song into their own experiences.
5. "Three Fifty Seven":
I got the idea for this song when I woke up in the middle of the night and looked over at the digital alarm clock, which read: 3:57. The thought to combine that with the .357 pistol concept immediately hit me. I know better than to think that I will remember an idea without writing it down, so I got up and wrote most of the song on the spot. My 'real' songwriter friends -who write songs that well-known artists might record for the country music radio- tell me that a song like "Three Fifty Seven" will never get cut because it makes the singer look like a killer and a bad guy. My response is that I don't believe that Johnny Cash really 'shot a man in Reno just to watch him die'. Apparently, mainstream radio listeners a generation ago were better able to discern between the singer and the character from whom the singer is narrating. Oddly, it never bothers me at all to sing my songs that are in the first person and written from the point of view of a flawed character. The recording of this song turned out as good as I could have ever hoped. We recorded the CD at Great Recordings, a studio in Port Arthur, Texas, owned and operated by music veteran Floyd Badeaux. This studio has been around since the 1950's, and it feels like you are stepping into Sun Records or some such. Floyd told me that when Janis Joplin was a teenager he recorded her once in that very studio. Of course, she was just an unknown kid at the time, and he re-used the tape the next day for another project. Dang. My friend and harmonica player Dan Moser added a harp part to "Three Fifty Seven". Dan is not only an awesome player, but also is an expert tube amp designer and builder who manufactures a line of boutique harmonica amps. Everything came together just right on "Three Fifty Seven".
6. "Last Time I Saw You":
A friend recently -and incredulously- asked me: "Has your wife heard Last Time I Saw You?" No scandal here, though; the narrative fits our pre-marital dating history. Or at least, to quote Jon Lovitz, "That's the ticket!" Honestly, I think that the sentiment expressed in "Last Time I Saw You" is fairly universal - we have all at times missed someone we used to know. More than once I have had people come up to me after a show and tell me that this song reminded them of a deceased loved one. That was not my specific inspiration for the song, but the words fit that scenario equally well. I am thrilled to have inadvertently stumbled on a song that people can relate to their own life experiences.
7. "Power In The Snake":
Before there was a surplus of rattlesnake-handling-church reality shows, a friend of mine stopped in at one such church in West Virginia to check out their Wednesday night prayer meeting. My song is based on his account of the service. I had always figured that such a church would have bluegrass or old-time country music. Turns out that this particular church had droning, deafening, almost trance-inducing metal music. Maybe it confuses the snakes. At any rate, he commented that there were lots of folks missing fingers from snakebites. During the service one man was bitten, so they sat him in a chair and rubbed oil on his head. The man lost consciousness and my friend said that they later dragged him out. No idea whether he lived or died. However, the preacher got up and commented that if the man did die, at least that would show the outside world that they weren't faking. Can't argue with that one bit. I think Steve Earle is a master of writing character songs in the first person, and I tried emulate that style in "Power In The Snake". My goal was to write from the point of view of someone who had grown up and lived in that environment. For recording, my original plan was to record the song with just an acoustic guitar, but it needed a bigger sound. I realized later that given the type of music played in the church, this was fitting. Nothing against the snake-handlers. No picketing of my shows, please.
8. "The Wages Of Sin":
One of my favorite songwriters and performers is Paul Thorn. His father was a preacher and many of his songs include biblical references. "The Wages Of Sin" is similar in that the title comes from a bible verse; however, the song is by no means a 'church' song. I am proud to have worked a subtle reference to Lynyrd Skynyrd into the second verse of this song, as well.
9. "Need Your Lovin', Baby":
In a time far away, I played in a great band called Cold Shot with guitarist James Downey and drummer Russell Stallings. We had an uncanny musical chemistry and each of us could anticipate what the others were going to play. When we started the band, James and Russell had the music for this song and I wrote the words. It is a kind of 'lost love' song. I had a specific person and specific memory in mind when I wrote the lyrics. But, in the hope that the song would be one that many people could relate to, it is intentionally not very fact-specific or detailed. I want the listener to be able to put themselves in the place of the narrator, whenever possible. The music is kind of jazz-oriented, which give me the opportunity to hopefully fool the listener into thinking that I am a better guitar player than I really am.
10. "Held On Too Long":
This song is another take on the same concept as "Last Time I Saw You". The recording again features Dan Moser on harmonica. The response to this song has been extremely positive, which I credit to the fact that most everyone can relate it to their own lives.
11. "One Bird, Two Stones":
The song title is, of course, a twist on the old saying 'kill two birds with one stone'. Many years ago I heard a retired refinery worker talking about how inefficient and disorganized his bosses had been down at the plant. He said it was so bad that they were 'killing one bird with two stones'. Great lines like that don't just pop up every day. I knew immediately that I would use this line in a song. But for the longest time I couldn't come up with a song that lived up to the strength of the hook. Several years later while messing around with trying to play slide guitar, I came up with the little signature lick that is in the song, and the words finally came. I decided to call the album 'One Bird, Two Stones' both because I think there is a little humor inherent in the phrase and because it is descriptive of this sort of project. Financing, producing, recording, designing, manufacturing, promoting and trying to actually sell an independent CD -especially in these days of mostly free streaming audio- really does fall into the category of killing one bird with two stones.



-----
=====