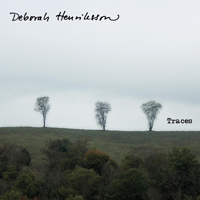 When I noticed the new release by Deborah Henriksson, I made sure to receive a review copy. I got to know her through her third album "The Heart's Cry" (2012), which received lots of well-deserved praise. I just fell in love with this voice of an angel!
Deborah was born in New Jersey, found the love of her life and moved to Västeras in Sweden. She occasionally goes back to the U.S.A. to play, at the Florida Music Festival 2013 for example. She performs not only in her new home country, but also in Ireland.

Deborah released her debut 'Simple Gifts' in 2007, a generous 23 tracks long album, where she sang and played the Appalachian dulcimer, with Jan Bülow accompanying her on piano. She described it as a combination of different kinds of songs in order to come closer to universal experience and in order to move the listener. It contained traditional Afro/Anglo-American, British and Celtic songs as well as songs by American composers Paul Bowles and Samuel Barber. 'Simply Christmas' was released in 2010, nineteen Christmas songs from different traditions. Then came "The Heart's Cry", twelve haunting songs and soundscapes from different folk traditions, some modern, with a little scent of country. Her producer was Mats Nyman. She covered traditionals and some other well-chosen modern day songs, by Loreena McKennitt and Eleanor McEvoy, among others.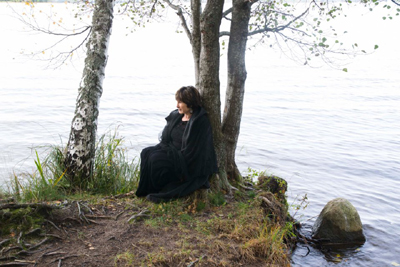 The big difference on this fourth album 'Traces' is, that Deborah wrote all the lyrics herself, while Mats Nyman composed the music. She didn't chose the easy way: "The process of writing that we engaged in was interesting, because at times, I was listening in the background as Mats wrote the song and the vibe reminded me of a special moment from my past. His music would often bring experiences back and then I would write lyrics based on those. On a more practical level, it was easier to have the music first, because it helps me know where to stress a vowel or accent a particular word. It set a certain parameter. Certain vowel sounds in a melodic line can affect the feeling of a song, too. So the phrasing has to be just right." The lyrics turned out to be poetic, as well as deeply personal at times, expressing heartfelt emotions, but also bringing a positive message and some spiritual vibes. At other times she just observes the world around her, with loving and compassionate eyes. It results in a rich, delightfully inspiring collection of songs.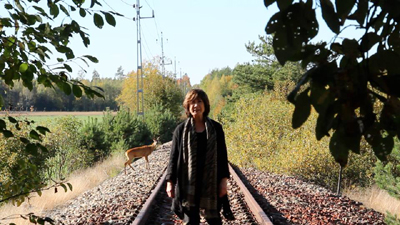 Her sound tends to be described as 'Celtic', although that is not completely accurate, let's call it Celtic based. It wouldn't surprise me, if she had some sort of classic background, as her style of singing is classical contemporary, which is more often heard in the folk music. We also find influences from country, new age and world music. The arrangements give some of the songs a modern day pop feeling, thanks to Mats Nyman, who also produces pop, rock, r&b, dance and soul albums. As Deborah keeps to 'just' singing, Mats plays all instruments, not specified. He is, as far as I know, in the first place a keyboard player and I also hear a synth on a couple of the tracks, or should I say soundscapes?. Bengt Andersson plays guitar on eight out of the twelve tracks and Kent Ihrén sings some backing vocals. The production is very good, these are natural and clean sounding recordings, only a few overdubs and a well-balanced mix with the key ingredient, Deborah's fine vocals, up front.

When it comes to comparisons, I would immediately say Enya. Some other names, besides Loreena McKennitt and Eleanor McEvoy, would be Sarah McLachlan, Orla Fallon, Aine Minogue and of course Clannad's Moya Brennan.
---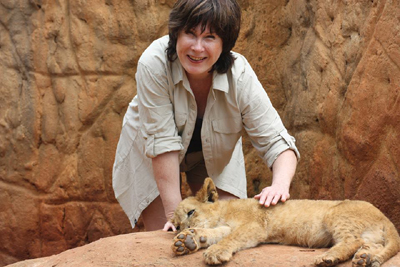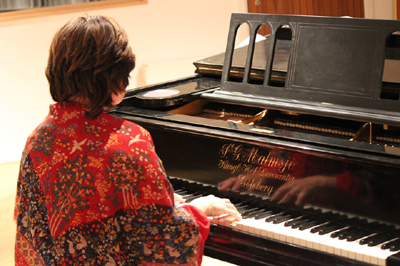 1.
"Trains"
: Deborah's crystal clear voice asks the train to bring her friend back, in a catchy country influenced midtempo piece. Both Bengt on guitar and Kent singing a harmony vocal, are introduced here.

2. "Fly": A piano ballad, with a little bit of a gothic (Within Temptation) hint, Mats creating a lush yet airy ("Fly on the wind and be free...") soundscape with strings and whistles.

3. "Traces": The powerful title track. "And the traces I know lead to places unknown to me".

4. "Evening Star": A Latin feeling is blended in, especially by Bengt's gorgeous Spanish guitar, together with the whistles and the upbeat waltzing melody it gives true meaning to the term world music. Beautiful haunting overdubbed choruses, sung by Deborah and Kent.

5. "Eveline": Sweet sprawling track, with acoustic guitar, piano and penny whistle backed by a spacious soundscape. Deborah's voice sounds fragile and hopeful at the same time, in this story about a young woman's regrets.

6. "Always Near": Absolutely my favorite track! A lovely, intimate and seductive ballad, accompanied by Bengt's refined acoustic guitar.

7. "Fallen Disguise": The most traditional, infectious and danceable, lilting Celtic melody in this collection. Show me the 'real you'!

8. "Only You": Slow, delicate piano ballad with acoustic guitar and strings. Uplifting graceful chorus. Everything builds up to a powerful climax and then fades out.

9. "Snow Falls": Deborah's own snow song. On her previous album she covered Loreena McKennitt's "Snow", which used the lyrics of an Archibald Lampman poem. This acoustic guitar ballad is just as pretty! I can see the snow flakes, while I listen...

10. "I Feel": Song with the most outspoken pop arrangement here. I don't like the beats at all. Deborah pulls it off, but this is by far my least favorite track.

11. "Soulscape": A creative jazz influenced track, based on acoustic bass rhythms. Deborah intrigues with eerie vocal parts.
12.
"Calling"
: Deborah tells: "This song
taps into a memory of me sitting on the beach at Cape Cod when I was 14, watching a beautiful sunset and the waves crashing on the shore". Once more a meandering, Celtic inspired melody, with some whistles: "Calling me, misty water..."

I'm surprising myself somewhat. Usually I go for the more organic music, I don't like overly creative keyboard sounds, most of all: I don't like synths and there definitely was one lurking around here. Yes, the more acoustic tracks are my favorites, but let's be honest - most of the magical soundscapes are gorgeous too. I do love Deborah's ethereal and sometimes surprisingly powerful voice. Her passionate, convincing siren's singing stays the focus point on every track and that is what counts!

-----
Written by Johanna J. Bodde - January 24th, 2015.
=====