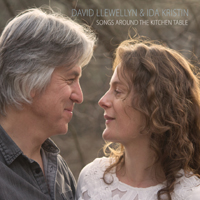 David Llewellyn & Ida Kristin
'Songs Around The Kitchen Table'
(Norna Music / Dabhand Records, 2014 USA / 2015 Europe)
www.davidandida.com
David & Ida's BIO: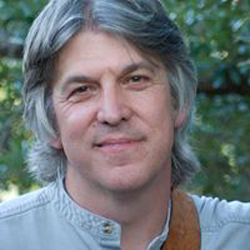 Paired at a Gotland (Sweden) songwriting retreat, Welshman
David Llewellyn
and Swedish
Ida Kristin
were presented with an afternoon to write a song about a couple sitting in a coffee shop, and discovered a magical connection, that has transformed into a finely honed acoustic duo. The spark kindled by this fortuitous collaboration uniting these two acclaimed solo artists, has resulted in the release of their debut folk album, 'Songs Around The Kitchen Table' - a beguiling toe-to-toe recording, infused with tenderness and intimacy.

"The moment we started collaborating, it was our minds meeting our souls; exhilarating, familiar and challenging all at once. We're pretty strong-minded people, but we've let our hearts lead on this one. We both knew in our gut that we wanted to follow what was unfolding, and because neither of us are that tied to the rigors of genre, we could be open and perceptive to each other's creative ideas".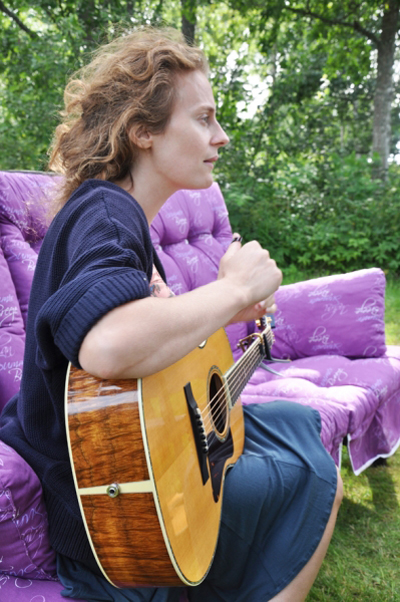 David and Ida each bring a successful and intriguing lineage to their duo partnership. Sao Paulo, Brazil born Swedish singer-songwriter Ida Kristin has written and recorded two critically acclaimed solo albums. Her debut, 'Stumble', was released on V2 records (Virgin) in 2001, after being signed up after her very first gig. The title track was featured in the movie 'Capricciosa', and the album also includes a duet with Ryan Adams, "Love Is How We Stay Alive". In 2005, Ida issued the exploratory follow-up album 'Comoção'.

David Llewellyn has spent the last twenty years working in the song writing capitals of Austin TX and Nashville TN. His song "Take Us Down" - a loving tip of the hat to his upbringing in the coal mining valleys of South Wales - was a Grand Prize Winner of the John Lennon International Songwriting Contest and won the Texan Kerrville Folk Festival's 'New Folk' contest. His self-titled debut CD was released in the US on DabHand Records in 2004 and quickly gained top 10 radio plays on the Folk DJ charts. It has proved a fast seller at gigs and house concerts around the US and back home, with tours in Wales, Ireland and the UK.

Although living on either side of the Atlantic has its challenges, it also brings big advantages. "We let the music develop in its own time, one songwriting trip at a time, one gig at a time, and we took our time with the record". The romantic veil of distance is reflected in one of the album's highlights, "This Morning Blues" - an emotional centerpiece of parting lovers after a short but profound love story. The co-write started online and was finished during a hectic trip to Stockholm after which David missed his flight back to the US.

In keeping with the organic flow of their creativity, Ida and David began to explore their music live at festivals and concerts as far a field as Copenhagen and Louisiana, Chicago and Cardiff, engaging audiences with their intimate and in-the-moment musicality and playful in between song banter. Their individual talents as singers and guitar players made the shows captivating with Ida and David blurring the lines between lead and supportive roles to create an intriguingly diverse concert experience.

The musical journey was taking flight, and creating a demand for an album of their work. Visits to David's Nashville home and studio were particularly productive and suggested the album's name. "We would have relaxed evenings around the kitchen table playing songs to each other," David says, and from those sessions comes the body of work on 'Songs Around The Kitchen Table'.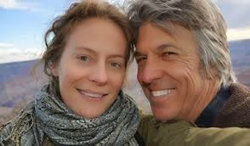 Ida and David captured their synergy the only way possible - by setting up a few mics and performing their repertoire on the spot. "We did one pass of 'Feeling Groovy' and just felt it captured how we listen and follow each other in real time. That became the basis of the CD," David explains. Mick Fleetwood once said: "I play a touch early, John plays late. We meet up somewhere in the middle." The same must be true here. Sometimes it just clicks.

The eleven-song album is sparsely scored with a mixture of dual lead vocals, solo lead vocals, innovative harmonies, and two acoustic guitars supporting one another. Talented musician friends from around Nashville, such as Robin Ruddy on dobro, Catherine Styron Marx on piano and John Mock on whistle / accord joined in adding subtle flavors, and the CD was born. More highlights on the debut are "Just Surrender" - about throwing up your arms and just saying 'yes' to life and love - and the delightful "Only God Knows", which asks the big questions: 'Why's this world in our safe keeping?' and 'Why does ice cream melt so soon?' 'Songs Around The Kitchen Table' also features the first song Ida and David ever wrote together for the assignment during that initial 2008 songwriting's retreat, "Coffee Shop Song".

The making of the album unearthed complimentary talents. David is a gifted songwriter, schooled in the traditionalism of the Austin and Nashville music scenes. Ida's approach to songwriting is more free spirited. "Ida is fearless as a songwriter. I have studied a lot of books and attended a lot of songwriting seminars, but this process really opened me up," David reveals. Ida adds: "Living in Nashville and hanging out with David and the community there, I feel that I've soaked up some of the craft and understanding of songwriting for sure". Another essential outcome of the collaboration has been providing an atmosphere where David could finally explore vocal harmonizing. A skill he had longed for but felt blocked. "It's something I've tried my whole life, but would for some reason always freeze up," David confides. "With Ida however, I felt like I could try anything, and one day in the car I started harmonizing to Emmylou Harris's song 'Boulder to Birmingham'. It was like wow, I can finally do this!" Together, they've merged their creative processes to create invigorating acoustic-based music.

"The process of making this album brought me back to the purity of music," Ida says, reflecting back on the past six years. David continues: "There is a distinct, clear 'magic something' that happens, whether writing, recording, or performing together live. This is all about doing what feels right."
(Bio written by Lorne Lehrman, New York 2014)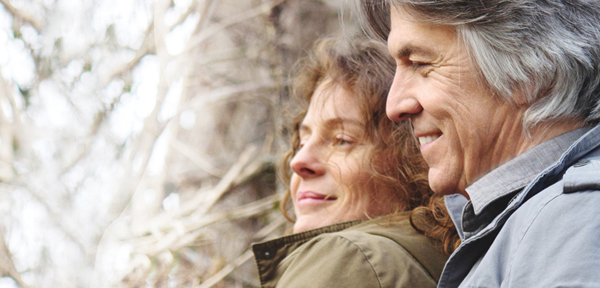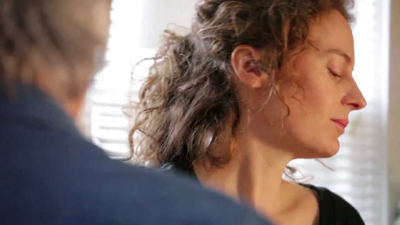 David & Ida's
ALBUM
:

Paired at the songwriting retreat in Sweden, David Llewellyn and Ida Kristin discovered a very special connection. The chemistry produced then, led to further co-writes, both online and during snatched trips across the Atlantic, the first being "This Morning Blues", a tender Appalachian-tinged song about parting lovers separated by the distance between them. The spark kindled by this fortuitous collaboration uniting these two acclaimed solo artists, has resulted in the release of their debut folk album, 'Songs Around The Kitchen Table' - a beguiling recording, infused with tenderness and intimacy. From relaxed songwriting evenings spent around the kitchen table in David's current home in Nashville TN, this eleven-song sparsely scored acoustic album sparkles with seven of David & Ida's fervent compositions and some well chosen covers. It was recorded live during visits to Llewellyn's home studio over 2011 and 2012. Realizing the effortless synergy of how they listened and followed each other in real time, David & Ida captured their interwoven harmonies and guitars in the truest way possible: by setting up a few mics and performing their repertoire on the spot. The title reflecting those laid back evenings - trading songs, their acoustic guitars complemented by talented musician friends and Nashville sessioners, joining in to add subtle flavors, like Robin Ruddy on dobro, Catherine Styron Marx on piano and Tim Lorsch who provided the violin and cello on "The Morning Blues".

The couple lists as their influences: Don McLean, Simon and Garfunkel, Carole King, Bob Dylan, Patty Griffin and Rickie Lee Jones.

With three very well-known covers, Paul Simon's "59th St. Bridge Song", Ewan MacColl's "The First Time Ever I Saw Your Face" and Pete Seeger's "Turn, Turn, Turn", it's the original songs that set this duo apart.

Throughout 2015 David and Ida will be touring in support of their new album, as well as working on several individual and collaborative projects; including an animated video of their song "Only God Knows" with Spanish illustrator Raquel Aparicio, and David's new solo album, inspired by his upbringing in the coal mining valleys of Wales.
David & Ida's TRACKS:

David tells: "This is essentially a live album. We borrowed a couple of extra mics, set it all up in the living room toe-to-toe, and the songs just kinda chose themselves. It was a magical time to write and put these down, hope you feel it too."
1.
"This Morning Blues"
: A love ballad, the second song David and Ida wrote together, a transatlantic co-write, so to speak. An achingly sad and emotional, romantic ballad of parting lovers after a short but profound love affair. Sung as a duet, Ida has a simply gorgeous angelic voice, David's vocal is warm and beautiful (think James Taylor), this duo sounds like they are born to sing together. Robin Ruddy plays dobro, Tim Lorsch violin and cello. A firm believer in transatlantic love affairs, this opening track captures my heart immediately.

2. "Homeward": Described as a poetic seafaring tale, played on just the acoustic guitar. David's solo offering, sticking with the theme of love, he sings the leadvocal in this song about distance between true hearts.

3. "Only God Knows": David tells: "This song was written together on one of those hot May Tennessee evenings after a full day of recording, as Ida caught her very first firefly". Gently fingerpicking, while Bruce Baxter plays a stunning minimalistic accordion part. With a twinkle in the eye, the lyrics bring up environmental concerns and philosophical questions, like "Why is this world in men's safe keeping?", "Why do we hurt the ones we love the most?" and "Why does ice cream melt so soon...?", calling on Ghandi, Jesus, Buddah and the Dalai Lama for answers.

4. "59th St. Bridge Song": Written by Paul Simon. "Feeling Groovy"! The choice of covers reflects the couple's roots and influences. This is an old fashioned, sunny and jazzy take on the always very pleasant sounding song. During the recording process, David and Ida stepped outside on the Nashville porch for an impromptu one-take video shoot, quickly garnering a lot of interest on YouTube.

5. "Just Surrender": Another co-write, explained as a rallying call for those of us, who ride the fence of love, to say 'Yes'! Sometimes you wish you could just surrender. Ida takes the lead, her voice a combination of Annika Fehling and the young Emmylou Harris, with an exquisite timbre. Is the rollercoaster ride worth losing one's mind?

6. "Dancing": Written by Grace Pettis (daughter of the great Pierce Pettis), a past winner of the Kerrville New Folk Contest, together with Sofia Echegaray. A nostalgic slow waltz. A husband's sweet memories to the backdrop of coming home after World War I.

7. "The Real Peter Pan": A piano ballad and a charming homage to J.M. Barrie's fictive character. Hopefully we all have at least one in our own lives. Inspired by their connection, this is clearly Ida's song for David, with lines about his silver hair and a visit to his Neverland. Catherine Styron Marx guests on piano here.

8. "Coffee Shop Song": The first little song David and Ida wrote together, during their very first meeting at a songwriting retreat on Gotland, Sweden. Featuring the humorous interplay between a couple in a coffee shop, watched by the waitress, reflecting her point of view, trying to encourage the bickering couple to finish up and leave. Smart lyrics based on an original idea and that for a first co-write, serendipity for sure! (I love that 'very mild language' warning.) The pair swaps lines, proving how 'together' they are as performers. Dave Jacques plays bass guitar.

9. "God's Waltz": Haunting slow love song with Celtic instrumentation. Not sure why it says 'extended version', as it only lasts three minutes. About a certain somebody singing beautiful songs, adorned by John Mock's Irish whistle.

10. "The First Time": Written by Ewan MacColl. The classic love song sung as an achingly emotional duet, showcasing the beautiful blend and emotional depth of the duo's voices. A welcomed new take on a much covered classic. Ida plays piano again on this track.

11. "Turn! Turn! Turn!": The closing duet is a refreshing tribute and loving homage to one of the great folk singer-songwriters of the 60's - Pete Seeger.
A beautiful, loving and intimate acoustic folk album. A relaxed recording, the pair variously singing together or providing harmonies to each other's lead vocal, creating a trademark sound of their own. Ida's use of the English language is perfect, only her pronunciation of some s-sounds gives away that she actually is Scandinavian. The songs are based on smart interwoven guitar playing, adorned here and there with fine touches of the other instruments. The lyrics are posted on their website and the CD looks sweet, with lovely loving pictures of the couple. The album breathes warmth and tenderness, which is a very welcome treat in this often cold and harsh world!
-----
Written & compiled by Johanna J. Bodde - April 14th, 2015.
=====