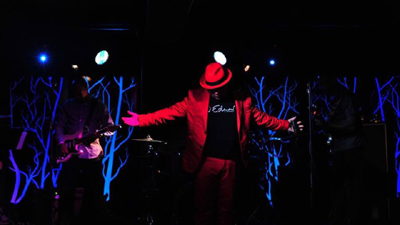 D. Edward's TRACKS:

D. Edward dedicates the album in loving memory to his mother Florence. He writes: "When I was a kid I used to sit and listen to old R&B and Pop songs. I would take out my three ring binder and write down the lyrics to probably hundreds of songs. Even though I didn't always understand what all the lyrics meant, I would live through those songs. I knew love was the goal and was what made a person happy and whole. This album is inspired by that era of my childhood. At least it starts there but it certainly doesn't end there. That time in my life is what made me want to be a songwriter. I've been a songwriter for over half of my life and I still have so much further to go to really be good at it. This album was a two year journey that is now at a place I never thought it would be when I began writing it. For that matter, I'm in a place I never thought I would be two years ago. It's amazing what can happen in such a short amount of time. So here's to the good friends still here and those that I've lost, to all the love that has surrounded me and inspires me everyday. This album is about, as the title would suggest, love. It's about relationships, love lost and found, physical and spiritual, it's about heartbreak and happiness. The cover suggests love is a leap of faith. I humbly offer this labor of love... 'Love Is', for your enjoyment.

1. "Waiting": What a beautiful sound! That's my first thought. The music, but most of all D.'s voice, he sounds a bit like Ellis Hooks, warm and sweet like honey, yet just a little hoarse in a smooth way. Great keyboards and electric piano in this midtempo R&B 80's styled song. "There's a burning ember / Deep down in my soul".

2. "Show Me": Co-written with Jenna Lavoie, who also performs the duet vocal on this funky track. The drums are a bit too prominent here, to my taste, too loud in the mix. Jenna also has a stunning, sultry voice and there's obvious a musical chemistry between these two vocalists.

3. "Hold On Intro": Laura Sullivan contributes the melodic introduction to "Hold On", half a minute on piano with sound effects creating a thunderstorm.

4. "Hold On": Wonderful, soul with touches of blues and pop. Seal recorded songs like this, but I hear also a bit of the late great Sam Cooke. More great keyboards and a real trumpet plus saxophones. Especially the layered vocals are perfect, D. sings lead as well as harmony, joined by Leah Tysse. Inviting to try and sing or at least hum along...

5. "One For The Money": I hear a modern pop sound here, although based on R&B and funk. There's a synth, even doing a solo, but you know that synths and I aren't big friends. It is a good contemporary song, well-executed, but not really my thing.

6. "Mezmerized": The soprano saxophone, that's much more my thing, indeed! D. croons closely into the microphone. Marlon 'Wild Bill' Curry plays remarkable percussion on this light, jazzy track. Moral of the story: we think that love has eluded us until the right one comes along. I swear, that saxophone is trying to seduce me...

7.

"Don't Say"

: The dark side of love comes along too. "You say you don't wanna hurt me baby / But it's killing me inside". The warm, bittersweet vocals by D. and his two lady singers are in sharp contrast with the cold, almost mechanical disco arrangement. Fascinating in a very strange way.

8. "I Love The Way": A real piano starts off, the trumpet and saxophones show up again, this is almost a big soul band from the 80s. The melody is surprising, the delivery well thought out, very nice choruses - and then it all suddenly stops!

9. "Pretty Eyes": This song was written about a girl named June, that D. loved dearly. Yes, I always read the small print. There's that relaxed sound from the first track again, the keyboards are great, all the sounds are created by D. himself and Omega Rae sings background vocals with him.

10. "Mighty Love": I love the natural feeling of this track, in true Motown soul style! Wah-wah guitar by Johnny De La Cruz. Yes, D.'s vocal definitely sounds like Ellis Hooks, although other music writers rather make comparisons with Stevie Wonder or Lionel Richie, I think (with all due respect) that D's voice is even more powerful! "Not a maybe love / But a mighty love", funny find!

11. "Love Is": The Single as well as title track, closing off. Another highlight, this duet with Leah Tysse. An upbeat song with a melody full of sunshine, a little doo-wop chorus, organ and trumpet plus saxophones. Super!

First off: I LOVE D's voice! So soulful and distinctive and vibrant and powerful and... I could go on. His charisma, energy and hard work are shining through - all over the album. His lyrics, about love and romance, are very charming. Yet he also addresses the less positive side effects, in relationships there's heartache as well as happiness and always hope! I appreciate the way he uses the expression 'making love' instead of all the less gentlemanlike lines often heard.

I understand that modern music needs a beat, lots of beats actually - but I don't like it when the beats get too overpowering, as is the case in a couple of tracks. I like the organic, natural, 'throw back' sound best, with as many 'real' instruments as possible. Why not just focus on the quality of his vocal chords? With a voice like D.'s, there aren't even many instruments necessary!

Last but not least: a big plus for the lay-out of the album (fold-out with booklet). Those pictures of D. (by DG) are among the best I've seen in a long time!
Love and soul music go perfectly together for decades already. Let's share the love!
Written & compiled by Johanna J. Bodde - February 12th, 2015.