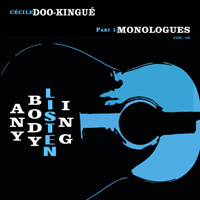 Cécile Doo-Kingué
'Anybody Listening ~ Part 1: Monologues'
(CDK Musik, 2015)
Cécile's BIO:

On record or in concert, with her exceptional stage presence, guitarist / singer-songwriter Cécile Doo-Kingué takes us deep into a series of musical grooves. Considered one of Canada's most electrifying and versatile guitarists by local press and groove aficionados, Cécile Doo-Kingué blends blues, afro-roots and soul to create a unique sound. Born and raised in New York City, first generation from Cameroon, she has lived in the USA, France and is now an adopted Montrealer. This meeting of cultures is reflected in the eclecticism of her music. Her bewitching, incomparable fretwork and deep, suave voice are no longer secret to Montreal's night owls. Cécile has sizzled and dazzled with Montreal cult bands Dibondoko and Aliens, played or recorded with Montreal Jubilation Choir, Bernard Purdie, Cafe Soul, Scarlett Jane, Tricia Foster, Cindy Doire, Soul City, United Steel Workers of Montreal to name but a few, and has opened for many icons including Manu Dibango, Angélique Kidjo, Eric Andersen and Youssou N'Dour.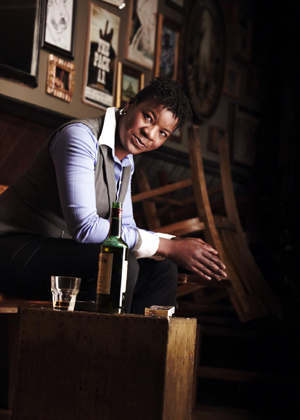 In June 2010, she released her self-produced debut solo album 'Freedom Calling' to critical acclaim. The 12-track collection is a smooth concoction of blues, soul and afro-folk on which one can surf to the end of the world, life and love. From one song to the next, her mastery is undeniable. In 2011, she embarked on her Discovering Home Tour with over fifty dates coast to coast in Canada, as well as a two week stint in France, Belgium and The Netherlands. 'Freedom Calling' earned Cécile a tune commission from the CBC, several Lys Blues Awards and Sounds of Blackness Awards nominations, as well as a Centre St-Ambroise Bursary.
In October 2012, Doo-Kingué launched her first French full-length album, 'Gris', also praised by press and music lovers alike. The album earns her 3 Lys Blues Awards nominations, as well as the SPACQ's 2013 Edith Butler Award for Excellence in Francophone songwriting.
Cécile Doo-Kingué has also toured this album extensively across Canada and Europe, firing up clubs, listening rooms and festivals alike with her face-melting playing, rich vocals, and sharp and genuine banter with her audience.
In February 2015, Cécile Doo-Kingué releases her third solo album 'Anybody Listening Pt. 1: Monologues', the first chapter of a trilogy exploring the various facets of the blues (Monologues solo acoustic, Dialogues full band, Communion live). From unapologetic sexuality to social engagement, Doo-Kingué plays and sings life: the good, the bad, the ugly, and the beautiful. She paints various facets of existence with the multiple shades of blues oozing from her signature picking and rich, deep voice. From the Delta to Montreal via NYC, her love, and eclectic understanding and mastery of the blues can be felt in each note, reminiscent of Taj Mahal or Keb' Mo' who, while steeped in tradition, open the genre onto wider avenues. Powerful, sexy and raw, Cécile Doo-Kingué's lyrics and sound, live or recorded, make for an enthralling and intimate communion. Regardless of subject matter, mood or language, Cécile captivates you with sincerity while her sound soothes body and soul.
-----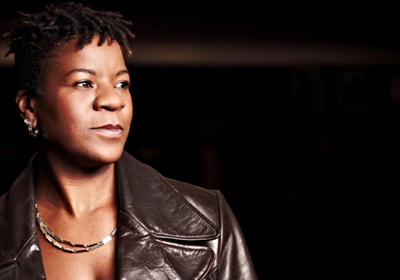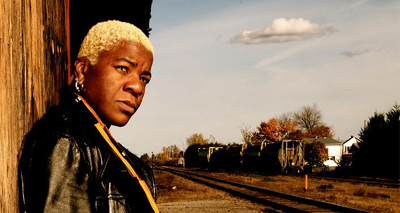 Cécile's ALBUM:

This is the first chapter of a trilogy exploring blues, roots and life in their myriad of aspects. For this album Cécile Doo-Kingué brings it back to basics, choosing a solo acoustic setting performed and recorded in the intimacy of The Bedroom, her personal studio. In a time where music is increasingly doctored, sanitized and overproduced, the artist presents a raw collection where message and solo performance are the priority. Fingerpicking goodness, flatpicking bite, savory rhythm, sweet licks and suave, smokey vocals are the ingredients of the groove infused slice of life opus which showcases Doo-Kingué both as a self-sufficient musician and as a songwriter.

A very sparse record: Cécile's acoustic guitar and voice plus a bit of rhythm, foot percussion probably. It all sounds beautiful and makes me, at first listening, think of Tracy Chapman's music. Unfortunately, I don't know enough about techniques to describe Cécile's playing properly, but to me it really sounds out of this world!
Let's go to the songs themselves.
The first track "Make Me" has been described as 'unapologetic sexual' and that's just it, with f-word and all. A bit too much for me, sorry.
"Third World Child" is clearly based on Cécile's own life story, but of course this is something many people can relate to: "Visas, random searches, profiling" - just go to any international airport. Cécile presents this in a smart way, as the secret is to keep your pride!

I love the amazing slide guitar parts in the more uptempo "Six Letters", also a deeply socially engaged song, addressing prejudice in its various forms. "Little Bit" has -indeed- a bit of a lighter tone. Celebrating an unencumbered love of life: "I asked my Daddy for his remedy / For keeping this crazy world from making him angry", the answer is basically a whole lotta love! The lyrics of "Home" are partly in French and that sounds absolutely wonderful. "If we open our minds, in time we might find / A state of grace". This is my favorite song on the album! It reveals Cécile's universalism, a desire to engage with fellow humans on a level that transcends culture, religion, race or language, seeing people for their soul as apposed to their shell.



"Bloodstained Vodka"

, underlined with the foot stomp, tackles the controversies in the world again, especially in Russia around the time of the Olympics: human rights versus profit, also mentioning Pussy Riot. The very angry words are sung in a seemingly relaxed way, which adds to the effect, Cécile is definitely not beating around the bush! "Sweet Talkin' Devil" has such a fine flowing melody, it brings me straight to the Southern United States. Temptation calling...

The subject of "Animal Kingdom" is interesting: vacation resorts, all-inclusive, where they only want the foreigners for their dollars or euros. "Anybody Listening", the long (6m09s) last track, addresses loneliness and has touches of jazz. "Living in a city full of people / Everybody's lonely as lonely be". Cécile asks us to care, as we all need some love. I do agree with her!
Written by Johanna J. Bodde - February 12th, 2015.
=====