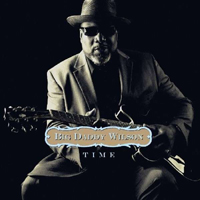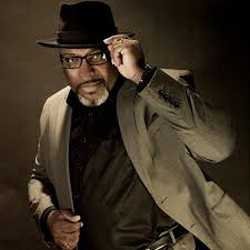 Big Daddy Wilson's BIO
:

Big Daddy Wilson was born less than 50 years ago in a small town called Edenton, North Carolina. The population of Edenton counts less
than six thousand, 55 percent African Americans, 25 percent below the poverty line. "We were very poor but I had a very beautiful childhood", Wilson remembers. "Me and my sisters were raised by Mom and Grandma. We lived a simple life, we went to church every Sunday, school on weekdays. I also worked back then on the tobacco plantation and in the cotton fields, I was a real country boy." Wilson sang in church but he never thought about going on stage. "I was extremely shy." His guardians meant well for the fatherless boy and they often sent him to church, also during the week. "That won't hurt him, keeps little Wilson away from drugs and off the streets."

Young Wilson quit school at sixteen, and sometime later joined the US Army. Being a poor black man in the South and living in a small town, jobs were scarce. After being stationed in Germany, the young man became homesick. "I found out the quickest way to go back home was to see that you got married. They'll allow you a vacation time about two weeks to go home to get married. Wilson convinced his officers of his impending wedding and returned Stateside, refusing to return to Germany. After six weeks his mom was so worried that she begged him to go back to the military. "And so I was back in Germany."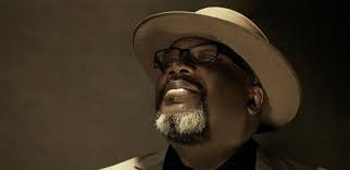 A few years later Wilson met a German girl who became his wife. She is the reason for him staying and also the reason for a poem which became Wilson´s first song.
And then Wilson heard the blues for the first time in Bremen. Back in Edenton he had listened to music only in church and from the local, country radio station. But now he went for the first time to a real blues concert in a club. "I met the blues here in Germany. I didn't know what the blues was before," Big Daddy Wilson says. "It was here that I found a part of me that was missing for so long in my life." It did not take long and the shy guy who had written some poems started looking for melodies. He went on stage, jammed all over the German blues scene and made an impression with his warm and soulful voice. He began touring with bands and as a duo and even released a few records. "My sister came all the way to see me perform and she couldn't believe it. No, that's not my brother. It seems like all my shyness was gone - thanks to my music. "

Champion Jack Dupree, Louisiana Red, Eddie Boyd… many musicians who made Europe their home and brought the blues with them succeeded here better than in the U.S. Even Luther Allison lived in Europe for 14 years before his big break.
And now there's Big Daddy Wilson, an American singer and songwriter who found his home in Northern Germany. But something is different regarding Big Daddy Wilson. When he came over from the U.S. there was no blues in his baggage. He initially discovered the blues here in Germany which is where he will begin his international career.
With his solo debut on RUF Records Big Daddy Wilson took one step further in his late career as a musician. For 'Love Is The Key' he recorded his own songs exclusively with a small band, taking it back to the roots, often reduced to acoustic instruments, but always full of soul. His good friend Eric Bibb guested on two songs and he was very proud of Bibb's presence because: "I've learnt so much from him," says Wilson. The fruits of this learning can be tasted on Big Daddy's European Tours. Does he dare to imagine that he could take this music all the way back to his roots in North Carolina? "That's a dream, but one that makes me nervous", the father of three laughs; it's clear that his homesickness is gone - along with his shyness.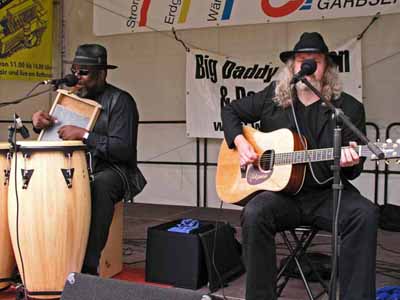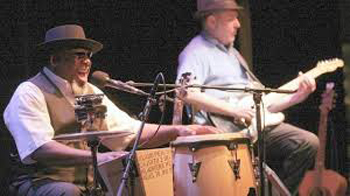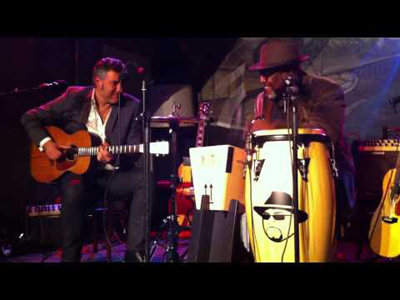 Big Daddy Wilson's ALBUM
:

The man himself promises us: "On this album you will hear a lot of blues, songs full of spirit and a touch of soul. As we say in the South - Look, Listen and Learn. If we listen closely, life can teach us many things. Life is a journey and all the people we meet, especially the good ones, add a bit of spice to the journey. I am proud to be called a blues man, some say I'm a preacher, some say I'm a storyteller, but I'm just a man who loves the songs of life The Blues."

Eric Bibb says: "As soon as you hear Big Daddy Wilson's voice, whether speaking or singing, you hear his Southern country roots. The sound of the original blues people comes through loud and clear, reminding you of a bygone era when music came from people's front porches instead of iPhones. Wilson has a voice baptized in the river of African-American song - a voice with the power to heal."

1. "Time To Move": The remarkable rhythm stands out immediately, on this opening track. Created by Eric Bibb on 6-string banjo and contra bass guitar. He also plays acoustic and electric guitar, with Olli Haavisto on dobro and Pepe Ahlqvist on harmonica. It's the first time I hear Big Daddy Wilson and I love his voice immediately! I like his philosophy: "Don't you worry about the mule going blind / Just load the wagon and hold the line / It's time to move." He met Eric Bibb about ten years ago at a German blues festival and their friendship has been growing ever since.

2. "Bullfrog": A co-write with Staffan Astner and Sven Lindvall. Staffan plays a wonderful slide guitar, diddley bow, additional acoustic guitars, bass, drums and percussion. Eric Bibb is still there with the 6-string banjo, he sings backing vocals together with three other singers. "Life is hard, nothing fair, it's the same everywhere." Great sound!

3. "She Loves Me": Ah, a very sweet soulful love song for Wilson's German wife, who stayed by his side for thirty years already. The classic soul sounds of the melody do great here, Staffan Astner (also the co-writer) gets attention with his restrained electric guitar solos, Paris Renita Gilbert sings a duet vocal. For this track the name of Sam Cooke comes to mind...

4. "Mississippi John": Written by Eric Bibb and Mathis Haug. While the birds sing, Wilson introduces the song with a few little jokes. The sound is a little different here, with the Hilo resonator guitar and ukulele, both played by Staffan. Eric Bibb whistles! An ode to... indeed.

5. "Some Say": Big Daddy Wilson uses effects on his microphone, to great vintage effect, together with the staccato traditional chain gang rhythm. Staffan shines again in strong electric guitar parts, he also plays the diddley bow, the slide guitar, the guitarlele (I'm getting curious...). André Monde De Lanq adds atmospheric backing vocals. Definitely a highlight!

6. "Time": Eric Bibb is back for the title track, on acoustic baritone and tremolo guitar. Staffan's slide is wonderful, the whole combination works for the full two hundred percent, these are the best blues songs I've heard in a long time! Big Daddy Wilson gets a bit more in a very convincing gospel mode here.

7. "Dead End Road": One of Wilson's spiritual poems, set to music and sung with all his heart. Yet a different sound, Kai Strauss guests on a more rocking electric guitar, while Staffan continues on the superb slide guitar.

8. "Would Ya Look At That Car": An Eric Bibb song, he plays acoustic and contra bass guitar in a rather simple arrangement, with Petri Hakala guesting on mandolin. A lighter note! We actually hear the car start at the beginning, I love thoughtful little touches like that! Eric gets the role of friend Chester, warning to slow down: "They gonna give ya a fine!"

9. "Like A Sunny Day": A hopeful and optimistic song in Sam Cooke style, with dubbed backing vocals. Multi-instrumentalist Staffan creates a full band sound, but even here the mood stays relaxed, never rocking out too loud.

10. "New Zealand": Big Daddy Wilson is very proud that he went all the way to New Zealand to sing. He stays close to his own experiences, while writing his lyrics and I can appreciate that. This is a lovely folk blues, with an assortment of acoustic instruments: two different resophonic guitars, steel guitar and ukulele, just mentioning a few. By now I've become a big fan, not only of Wilson, but also of Staffan. Paris Renita Gilbert sings backing vocals again.

11. "Miss Dorothy Lee": A song about Wilson's mother, he dedicated the CD to her. We hear a bit more of a rocking gospel sound, with a different line-up. Roberto Morbioli (acoustic slide guitar), Paolo Laqramandi (bass) and Nicolo Taccori (drums) have been added to back up Wilson, Staffan and Paris.

12. "Mama's Words": Oh, this fits perfectly in the sequence of tracks! Just Eric Bibb's acoustic guitar and pianet, Ulrika Pontén sings the duet vocal in this touching spiritual song, written by Eric and Staffan.

13. "We're Ready": Another Eric / Staffan co-write, a fine rhythmic track with some keyboards besides the guitars and a four piece choir.

14. "Daisy": A sweet little song for a cute little girl, one of Wilson's grandchildren I assume.
The CD comes in a deluxe packaging, with a booklet, lyrics, lots of pictures and extra info, plus a special page for the autograph - definitely worth its price! I love this album... Although I didn't know Big Daddy Wilson, after listening it was like having found a new friend! He wins people over with his warmth, his trust in sharing his own private thoughts, his strong faith and respect for his roots and culture. Although based on the (acoustic) blues, this album has very strong soul and gospel influences. Big Daddy Wilson has a wonderful voice, period. His cooperation with Eric Bibb is a match made in musical heaven, I've seen Eric in concert once, at a Dutch festival and I was impressed. The other players and singers are very talented too, I can't think of any critical remarks: all of them together created the perfect beautiful album.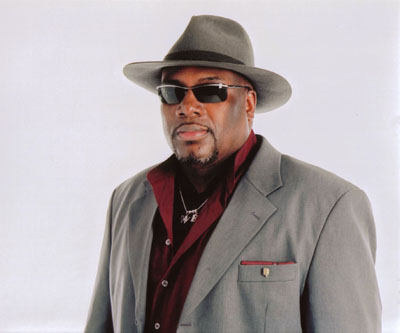 Big Daddy Wilson's Interview
:
(from The Highway Is My Home blog, by Bart Drolenga):

Question: Who inspired you to start singing?

Big Daddy Wilson: "I grew up in a church community and so gospel music was everywhere. My aunt, my cousin, and all of them were singing in a gospel choir. My first cousin Jimmie Blunt was a drummer and a bass player. I guess he is the one that started me with my love for music. In the beginning I was singing gospel. I was in a gospel choir. I was to shy to consider myself a singer. I was in the choir in the back somewhere. Where I lived all they had was gospel and country music on the radio. So that was all I listened to."

Q: How was it to grow up in North Carolina?

BDW: "It was beautiful, I had a beautiful childhood. I lived in the country in Edenton, NC, in a little small house with my mother and two sisters. My aunt and uncle and grandma stayed in the same house. On the left side was my other aunt's house and on the right side my great aunt's house, so the whole street was relatives and family. I just had a beautiful childhood. Most of my relatives were regular workers in factories and all of them were members of the church, so everybody was singing in the choir."

Q: Why did you enlist in the army?

BDW: "At that time in a small town in the South it was very difficult to find employment. You either went to university or in the army to get away from there as a kid and start life. So I joined the army to see the world. They said when you join the army you become a man and you decide what you want to do with your life after that. Many of my relatives had joined the army too, as marines or coast guard, that was the way to get out of the poverty that was there. For a short while I was military police, after that I was in the infantry. I was in the army for about seven years. I enjoyed being a professional soldier. Most Americans are very patriotic and I was too. We felt we were doing something for our country. Later I felt it was not for me anymore so I decided to get out."

Q: The army took you to Germany?

BDW: "That is right. It took me first around the US and then to Germany. That was great for me but at that time I didn't know that yet. I was a very shy guy and I got homesick very fast in Germany so I never left the army base. I didn't have army leave and I was really homesick and I heard that some people got home to get married. I thought that is a quick way to go home so I told the army I was going to marry. They gave me some days to go home to the US to get married. I went back to the US with the idea that I didn't want to return to Germany. So I was AWOL for 1 1/2 month until my mother convinced me to turn myself in and the army sent me back to Germany. This second time I began to go out in the city and to the clubs and to mingle with the folks. So I started to enjoy life in Germany. A little later I met my wife in Bremen. I ended my tour correctly, got an honorable discharge and we started a family and we stayed in Germany. In the beginning I did all kinds of work because I didn't speak the language too well. Being an infantry soldier you don't have any kind of credentials. So I had to take any kind of job. My first job was in construction, demolition. We did a lot of inside demolition, house renovation. I worked for the railroad company for a while. A lot of different things."

Q: How did you learn about the blues?

BDW: "I had never been to any concert. We were very poor back in North Carolina. There were no concerts going on around there. Maybe the school would organize an event sometimes but I would not call that a concert. So my wife said let's go out to a concert. It was a blues concert. My first blues concert ever. I had been writing some songs at the time, some inspirational songs. It was the Back Street Blues Band in a club in Bremen. I immediately knew this was for me. I really felt that I could relate to this music and that the blues had everything in it what I wanted. They even invited me on stage. The singer was a Dutchman, named Jan Rietdijk."

Q: What attracted you to the blues?

BDW: "I was writing songs, inspirational songs, psalms and such but people told me this is the blues what you are writing. So when I went to that concert I felt this what is calling me. This is my calling. I knew it right away that the way they were doing it and playing it, this is for me too. The simplicity, but the feel, there was a pure feel, real simple, the bass line, but the story was something I could really relate to. I felt it was calling me. Soon after I went to other concerts and I saw other German bands and I started looking up American artists and one of the first was Robert Cray and a little later Luther Allison, not the older guys but these guys. They were calling me in a big way."

Q: Are they still your main influences?

BDW: "Now I am more into acoustic blues. Taj Mahal, Keb Mo and my great friend Eric Bibb, they are my influences today. I am still a student. You can be a student of the blues forever. In my shows now I try to blend in a mixture of all I have learned and at the same time keep my heart into it. I was brought up in an old style of way, being an old country boy. Leaving home at a young age most of this is still in me. I am still from the old school. The way I speak. The way I write my texts. That is mostly the old type of way of doing the blues. Talking and telling the stories. That is also why I admire Eric Bibb so much and why he inspires me."

Q: Where do you find the inspiration for your songs?

BDW: "From life, whatever is going on. Some of the old stories that I heard as a child. The stories the old people told to my grandmother. I use the stories of that type of vibe to create music that people still can relate to today. I try to tell it in an old fashioned type of way. There are always life experiences. What you have been through as a child. The stories of others. I am working on a CD right now and Eric Bibb is the producer and we were in the studio working on a song. My good friend singer Greg Copeland was there too, he is originally from Portsmouth, Virginia but lives in Germany too, and we started talking about a little jingle in your pocket. That is what the old folks used to say: you need a nickel and a nail. If you don't have money you put a nickel and a nail in your pocket so it might sound like you have some change. That would be enough to keep you looking good. You can fake it. Folks might be thinking you are going to the club but you are broke and don't have a dime. If you have a nickel and a nail people think he is holding something, he got some money. That became a saying. So Eric and I started writing a song about this old saying: a nickel and a nail. I like to take an old saying and make a song out of it. Not only to keep the blues alive but also to keep these old sayings alive."

Q: Why is your history, the way you were brought up so important for you?

BDW: "You don't know where you are going until you know where you have been. For me black history is really important. A lot of time black people are ashamed of their heritage. I grew up very poor in a very small community. But that is nothing to be ashamed of. It was very, very beautiful growing up there. Everyone knew you, everyone watched out for you. So it is important for me to sing about that and to learn what my forefathers did. It is important for the children, my children too to learn about that. When I started playing guitar, I took my wife's guitar and stripped it of all strings except one. So I had a one-string guitar. And I wrote some songs on that one string guitar. What is funny I didn't even know that many bluesmen played on a one-string instrument. Four years ago I was invited to the Cognac Blues Festival in France and there was a guy playing a one-string instrument, a diddley bow and again that instrument was calling me. I put a song to it, I bought one and now I have three and play them during my shows. These old folks played simple music, but good music, music to last a lifetime with such a simple kind of instrument but so powerful and strong. I like that and I like to tell those stories so we know where we are going. But also I tell those stories, not to be bitter. There is nothing to be ashamed of. My blues is not bitter. It is a happy blues. I like to leave a positive message. If I talk about something bad I tell that there is a lesson to be learned and make it into something positive. The blues is a healer, it is a teacher."

Q: What's your definition of the blues?

BDW: "Blues is a feeling. I discovered to blues right here in Germany. My motto is, there is no color, it is a feeling, and it doesn't have boundaries, no limitation. One part of the feeling is to give tribute to the guys who started this music. To play with that flavor and style. When you can feel it, it is real. That is the best way to play the blues. Of course when you study hard you can copy a lot of different styles and musicians. But the real blues is when you play with your own distinct style and that is playing what you feel."

Q: How would you describe your own style?

BDW: "I am very limited in my ability to play an instrument. When I come up with an idea most of the time it is a bass line that I play on my guitar. I repeat that line over and over and then a melody comes to me. Then I put a text to that melody to say something because I like to tell a story. My style is just simple. A song writes itself for me. When you give it time and don't rush it will just come right out of you. My style is what I feel and what I try to bring across. Blues, roots, spirituals, singer-songwriter, and storyteller, it is all in it. That's what I do."

Q: You are a shy person, how is it for you to go on stage?

BDW: "I am always very nervous to be singing in front of people. I love to sing and I love music, so the love for music helps me to go on stage. Normally I am not a person who would go in front of a crowd and talk. Wearing shades helps. At the same time I must admit that I really love it too, to sing for people."

Q: How do you feel about getting older?

BDW: "I am happy about it. As long as I stay healthy I don't have a problem with getting older. I am learning a lot about life and about myself. About people too. I travel the world now, that is a dream come true for me. As a child I have never been on vacation. Never out of my hometown until I joined the military. I meet a lot of folks and I learn about how people live. As a soldier I was so patriotic but when you travel the world and meet all kinds of people you learn that everybody in every country is great. Especially for Americans that is an important lesson to learn. Nobody is better or less than anybody else. The blues has opened doors for me that I otherwise would never have seen. I am happy to grow older and hopefully grow wiser."

Q: Do you have dreams for the future?

BDW: "A lot. As long as we live we keep dreaming. Hopefully some of those dreams come true. I want to be reaching out for love, life, keep learning, that is what I want to keep continuing to do and keep playing the blues. Last year the mayor of Edenton honored me with a key to the town. It was the first time ever I was singing as a professional there. It was a homecoming to me. A great thing. They welcomed me back as a big superstar. I had never been singing there in my hometown. Images of me all over town. I had to talk to the kids in the school. It is such a little town. When you travel the world that is really something there. I also played in Durham, the capital of the blues in North Carolina. I could tell the stories of North Carolina in the place where I was brought up."
-----
Written & compiled by Johanna J. Bodde - April 14th, 2015.
=====