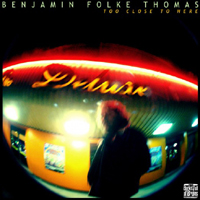 Yet another album that arrived on the continent long after its release - in fact, its successor 'Rogue State Of Mind' is already scheduled for a birth date in May 2015. We might receive that promo in 2017 or even 2018? Anyway, just like the CD by Benjamin's label mate Jack Day, this one is still worth checking out and here we go!


--
Benjamin's BIO:

B
enjamin Folke Thomas was born in February 1988, during the coldest Winter recorded in Sweden in the 80s, and grew up on a small island West of Gothenburg in the Kattegat Sea. The seeds of many of his more autobiographical songs were sown during this formative period.

Benjamin started out playing drums at the age of twelve in a skatepunk band that rapidly developed into grunge, due to an obsession with Nirvana. His life was transformed when he heard Kurt Cobain singing "In The Pines" on 'Unplugged'. He started listening to folk music, steeping himself in Leadbelly, Bob Dylan, Townes Van Zandt and Leonard Cohen. "Sad guys with guitars have always been my involuntary preference", says Ben. B
y the age of twenty he was an accomplished finger-picker, confident performer, and mature songwriter.
It has been seven years since Benjamin Folke Thomas left the Southern Swedish archipelagos to make his name on the London live circuit. He quickly found his feet; and his sound: an explosive brand of Americana, delivered through supersonic guitar picking offsetting moody baritone vocals, like a cross between Robert Johnson and Warren Zevon. His acoustic guitar skills are astonishing, while his songs reveal depths of emotion and stories from a young life that has been lived hard. This is a man who has loved and lost and channels his feelings into his work. His uniquely engaging stage presence displays the kind of humor sadly missing in the work of so many introspective singer-songwriters.
Jaded Londoners didn't know what had hit them when they first heard songs like 'Paradise Lost (Heaven Found)', and saw this robust performer with a stage presence of the Bob Dylan of two decades ago.


Folke Thomas's live ability has attracted a dedicated fan base and rave reviews, including Q Magazine ("stunning playing… his finger-picking is the best you will ever hear") and The Guardian ("stands out like Oliver Reed at an AA meeting"). In an attempt to capture his talent on record, Bucketfull Of Brains released his eponymously titled EP in 2010, described by Stewart Lee in the Sunday Times as "a convincing called card… reminiscent of Greenwich Village circa 1965".

Tours followed and a string of festival appearances including Glastonbury, Green Man, Larmer Tree and No Direction Home.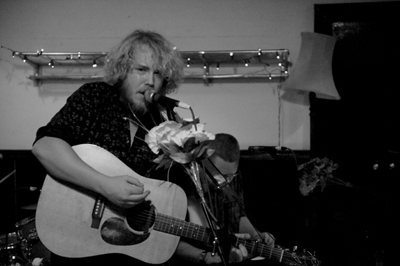 Benjamin talks about his ALBUM:

It's been a long time coming, this record. I moved to London when I turned nineteen, from a little island just off the West coast of Sweden. Been trying to make a full-length album ever since.

Did my first recording session in my friend Trent's bedsit in Holloway, on an old TecAmp, when I was fresh off the boat. It was fun and there's a few copies of the result still floating about.

My second try was in an old Victorian house in Crystal Palace where organised chaos and Andy Hankdog ruled. We must have recorded 25 songs together and none of them saw the light of day. The only thing I remember from the sessions is that Hank did the engineering and I provided the beer.

I've worked with some really nice people. Some not so nice, and some not nice at all. The music that I've recorded up until this records has never been quite what I wanted. It was my old friend from Sweden that suggested I should do something with his band. I decided to go for it. It's recorded in Rosa Huset ('The Pink House') outside Gothenburg. The basement was converted into a studio. Upstairs hosts a church that functions as a community centre. The band that'd been in the studio just before us consisted of five eight-year olds. It's a nice groove in there.

We stuck three SM58s on the drums, mic'd up the amps, and recorded everything we could live. Guitar, vocals, drums, bass and electric guitar. We didn't have any access to fancy keyboards so the closest thing to an organ was a setting called 80s on a MIDI keyboard. It sounds cool.

The first time I'd ever played live was at an end of term gathering in a church on the island. I chucked out a version of 'Shelter From The Storm'. When I got to the verse about the woman with silver bracelets on her wrists and flowers in her hair I looked my first girlfriend in the eye. I felt like I was the coolest guy on the planet. Or the coolest guy in that church. There's a song about her on the album.

Just a year after that I was sacked for the first time by the grunge band I was playing drums in. I don't blame them because I sucked. Turned out they couldn't find another drummer, maybe because they sucked too, so they took me back, only to sack me again two weeks later. After that I more or less stuck with my guitar for fear of rejection.

When I arrived in London I thought I'd be famous by the time I was 21. That I would go back to Sweden and show everyone what a star I'd become. That didn't happen. This happened instead.
Benjamin's TRACKS:

1. "Someday": This album opener is a driving mid tempo song, with an early Dire Straits guitar feel and a little of Dylan in the vocals too. For a comparison I would go to Boris McCutcheon. Well, we know the secret of the keyboard after reading Benjamin's piece... I like the dark religious and murderous themes very much. There is a booklet, but it doesn't contain lyrics. Will the record labels ever learn?

2. "Love Somebody!": A more improvised acoustic sound, even with a mandolin and a great bass line, for this melodic love song - urgently telling us to hold on to a good thing. Drummer Erik Berndtsson tinkles on the piano.

3. "Blues For You": It's that we know Benjamin is not a native speaker, but he convinces completely - sounding like an American with British influences. This is a 60s style folk blues ballad, effective with acoustic and electric guitar plus some percussion. Then the harmonica, played by Johannes Mattsson, delivers!

4. "Extend No Greeting": The great BJ Cole accompanies Benjamin's acoustic guitar, playing dobro on this one cut recorded in London. Oh yes, Benjamin's vocals sound just like Boris McCutcheon's, a favorite by the way. Sometimes I change my mind after a few songs, but not here. Superb flowing finger picking by Benjamin!

5. "Bye Bye Baby (Bye Bye)": Benjamin has listened very well to Warren Zevon's "Carmelita", that's for sure and yes, he gives credit by name checking. Great Californian guitar twang, later the piano and pedal steel come in, while Hanna Sernhede sings backing vocals.

6. "Let Her Down": The singing saw, played by Olof Duus, is always very good at creating a haunting atmosphere. There's again some pedal steel and we enjoy Hanna's lovely vocal as she gets a duet part here. A moody alternative country noir track, my favorite on the album!

7. "OK Blues": Now we go back to the seventies for real, with the exact same riff from Billy Swan's hit "I Can Help" paired with Bob Dylan's delivery. Too much ripping off going on, for my taste. The acoustic (slide) dobro in this country blues is great though and so is the harmonica solo.

8. "Fire": Ah, this is so much better! The emotional heartfelt singing brings Joseph Parsons, circa his black album, to mind. I just love those electric guitar stabs!

9. "I'm Alive": A lovely piece of soulful Britfolk, with more subtle and highly skilled guitar playing and more of Benjamin's warm vocals to enjoy.

10. "One More Ride": A blackbird is singing on the radio. I like that image! Benjamin refers in his lyrics about all the aspects of (complicated) relationships - to literature, religion, mythology and more, I give him lots of extra credit -as English is not his native language- for writing such good stuff.

11. "Postcard From Cazal": This simple ballad closes off, winking at the early Tom Russell and a variety of Benjamin's favorite singer-songwriters.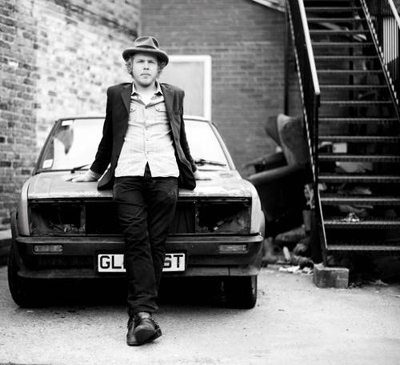 For such a young man, this is a very good album. There's a little of everything: folk, country, blues, pub rock, with just enough pop influences to make this very enjoyable music. Benjamin made this record just like he wanted to, with the songs he needed to get out in the world, filled with his own timeless emotions, trusting that others can relate to them. Underlined by his excellent guitar playing and talent for composing strong melodies, very well arranged and performed by his band.

Yes, he is a singer-songwriter in the Dylan mould, with a slew of influences, but he sings and plays with lots of commitment. Give him some time and he will find more of his own sound and basically anything is possible then. I'm getting curious about the new record... Hope we don't have to wait another two years before it arrives here!
-----
Written & compiled by Johanna J. Bodde - March 12th, 2015.
=====