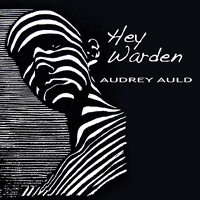 Audrey's BIO: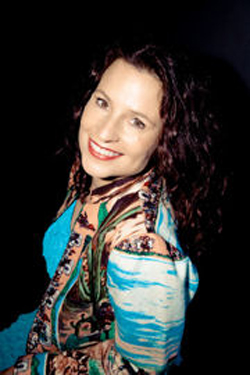 Audrey Auld wasn't raised in a white-bread Australian home. She was raised in the bush, in Tasmania, with no TV and no Pop radio, in a house filled with animals, siblings, books and live music, her own classical violin (including a stint with Tasmanian Youth Orchestra), jazz ballet classes, her dad's jazz piano and her step-dad's Dixieland trumpet. Ayn Rand, Brahms, Satchmo and Peggy Lee were more at home than Jesus or The Beatles. "Mum and Dad didn't want us to perceive music as wallpaper. They taught us to listen and enjoy, with an open heart and enquiring mind, to the layers of colour, emotion and dynamics in music."
In 1974, at age ten, came the family breakdown, the move to town and the indiscriminate assimilation of 1970's supermarket vinyl records: Elvis, Smash Hits, Helen Reddy, ELO, Jackson 5, Slade, AC/DC, Suzi Quatro and Glen Campbell. "The first time I ever heard country music was when my recently divorced mother and her girlfriends were having a party and were belting out "Stand By Your Man". Even at ten years of age I sensed some kind of irony."
Then came the teen years, which collided with the punk explosion, spearheaded so colourfully by The Sex Pistols whilst the true angst was captured by Suicide, Bauhaus and The Birthday Party. Pogo, pills and parties. Small towns like Hobart encourage individuality. Though an Art School teacher, Sean Kelly, offered a cassette tape of great Country and Texas Music (Jimmie Dale Gilmore, Bob Wills, Patsy Cline, John Prine, Dwight Yoakam). Art School itself encouraged conformity and creative repression. So waitressing, bar-tending, hanging out with musicians and staying up all night offered the greater education.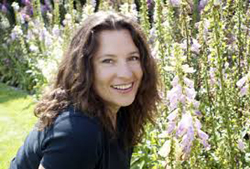 Sydney, on the other hand, was filled with actors. So followed Audrey's study of theatre and performance through Terry McArthur, Grotowski, Peter Brook, exploring that special bond between artist and audience, without device or artifice. The path led to Audrey's involvement in the 'Get Real' project - a project initiated by the excess income of Dire Straits after a successful Australian tour, aimed at educating 14 to 24 year-old people on AIDS and recreational poly-drug use. It gathered together a bunch of Australian pop-stars (Sean Kelly, Kate Ceberano, Mark Hunter) to record a Neil Finn composition "We Are Young With Everything To Live For" accompanied by a music video with four directors including Stephen Hopkins (who later directed "Nightmare On Elm Street") and Alex Proyas ("The Crow"). The project attracted national media and government attention and was deemed a success. Audrey's role was to be part of the working group who formulated the gist of the campaign (and to dance like a fool in the video). Live action film production work followed (music clips, feature films, corporate videos and commercials), then a six-year stint in animation - from traditional 2D cels to digital animation; from cel painting, tracing and colour styling to running studios, from small studios to Yoram Gross, Walt Disney and MGM.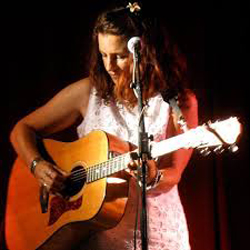 At some point in the 1990's, Audrey took a trip to the Kimberleys, in the North West of Australia, which stirred a longing in her blood. So she packed up her ute (pick-up) and took a one-way trip to Alice Springs in Central Australia. Though always an avid poet and prose writer, this is when the words and music came together in song. Sitting by a waterhole trying to write a Slim Dusty song. Along the way she raided the record collections of farmhouses, roadhouses and stations - taping and pillaging. Most of this music was new and strange to Audrey. It was honest and plaintive, upbeat and cornball-funny, so harrowed the bones showed through. It was country music. She dug out that old tape from Art School and re-listened.

Returning to Sydney from the Outback, in search of like-minded musicians, Audrey found her voice and learnt the uplifting harmony of singing a-capella in a small group, led by Tony Backhouse. As the music of Gram Parsons, The Carter Family, Loretta Lynn and Dolly Parton unfolded in her life, it influenced her writing and singing. Audrey formed 'The Cowbelles', an 'a-cow-pella' trio. Subsequent Sydney-based bands she formed were The Harmony Grits and Audrey & The Rhythm Wranglers, both with a focus on swing music and tight harmonies. As a performing songwriter, Audrey realised it was time to record; to invest in her faith.

Searching for a producer proved difficult as the popular focus was on creating radio friendly, positive up-beat songs. There seemed to be no one in the Australian country scene who appreciated and understood the traditional country music, like that of Hank Williams, Ernest Tubb, Patsy Cline or Jimmie Rodgers. Auspiciously, Audrey met Bill Chambers in 1996, on Hank Williams' September 17th birthday, and she quickly realised that he was the person to produce her music. He knew the artists she listened to and he was passionate about traditional country music. She also discovered he was also one of Australia's finest musicians, and father to Kasey Chambers and the Dead Ringer Band.


--
Bill offered inspiration and refinement to Audrey's singing, playing and writing that only the honesty of a trusted collaborator can bring. He credits Audrey with doing the same for him. Her debut EP, 'Audrey', was released in 1997. It offered four tracks of hillbilly, swing, torch and honky-tonk unlike anything released in Australia before.
"Audrey Auld is one of my favourite Songwriters. Not only does she have a way of telling it straight with passion, she's totally fearless. She reminds me of Steve Earle. Scary! Audrey's the real deal." (Bill Chambers).

Realising there was a lot more music to explore between them, Bill and Audrey recorded 'Looking Back To See', an album of traditional country duets and close harmonies inspired by The Louvin Brothers, Loretta Lynn & Ernest Tubb and Gram Parsons & Emmylou Harris. They soon realised there was no record label in Australia who'd want to release such an old-time record. So, they created their own label -Reckless Records- in 1998. They quickly discovered there was an audience eager for the music they created together. The album garnered rave reviews, won Best Independent Australian Album of 1999 and scored a story in the US Billboard magazine.

Bill & Audrey have subsequently been credited for introducing a new wave of interest in traditional country music amongst Australian audiences and musicians. Their weekly 'Hillbilly Jam' sessions in Sydney and Tamworth encouraged the hillbillies and roots musicians out of the woodwork and gave them an avid audience. As she was learning the ropes of running a record label, Audrey wrote, recorded and produced her first solo album. 'The Fallen' was released in 2000, it includes a duet with Texan singer-songwriter Dale Watson. The album is a departure from the old-time feel of the Bill & Audrey album, with a more contemporary, though still very country, style. Audrey's first U.S. tour was in 2001, playing solo in Nashville and Austin.

Canadian singer/songwriter, Fred Eaglesmith, was the next Reckless release, who now has a fast-growing audience of 'Fredheads' in Australia. Audrey has subsequently toured with Fred in Australia & the U.S., playing support and singing harmonies with him.

Audrey's second solo album 'Losing Faith' was released in 2003. The album features duets with Kieran Kane, Mary Gauthier and Fred Eaglesmith. The diverse range of songs chronicles the demise of her personal relationship with Bill Chambers and introduces Audrey as more than simply a country songwriter. "I consciously decided not to be restricted by genre when choosing the songs for 'Losing Faith', says Audrey. "The songs were written during a tumultuous passage of my life, and the album reflects that."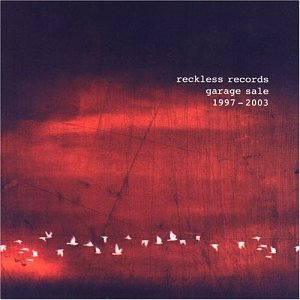 With Audrey's marriage to Mez Mezera and relocation to the U.S. in 2003 it seemed fitting to close a chapter of her life with the release of 'Reckless Records Garage Sale: 1997-2003' a sampler of unreleased and deleted tracks from Audrey and Bill Chambers with special guests Camille Te Nahu and Rick Carey, plus bonus tracks from Fred Eaglesmith, Mary Gauthier and The Yearlings.

A tour of Texas in 2004 resulted in the recording of a live studio album 'Texas'. Her third solo album and the first release from Audrey since becoming a U.S. resident and adopting her married name, Audrey Auld-Mezera. Recorded live in the studio with Texan greats Carrie Rodriguez, Gabe & Kimmie Rhodes and Darcie Deaville, along with members of Jimmy La Fave's band and Bill Chambers. 'Texas' is about people: Woody Guthrie, Harlan Howard, Billy Joe Shaver, Karla Faye Tucker, Dead Ringer Band, father, husband, and the universal family. It's also about people gathering in the studio to capture the magic moment when, united by music, the here and now is transcended.

After settling in Marin County, Northern California in 2003 it was only a matter of time before Audrey crossed paths with one of the greatest accompanists in the world, Nina Gerber. The magic created by the two was evident from the start and after hearing the recording of their second show together they realized they had something special. 'In The House' (2006) a live double CD is the result.

In January 2005 during an Australian tour, Audrey went into the studio with Bill Chambers as Producer. Audrey's fourth solo album, 'Lost Men And Angry Girls', was released in 2007. With special guests Bill Chambers, Nina Gerber, Karl Broadie and Raechel Lee, the album chronicles the first three years of her new life in America.
In 2005 Audrey joined the Bread and Roses organisation. Its motto - 'fresh art delivered daily' comes to life via their work bringing musicians into institutions: rehab centers, homeless shelters, women's refuges, hospitals and prisons. In 2006 Audrey performed in San Quentin Prison which lead to her regular songwriting workshops with inmates. "Working with the San Quentin inmates is one of the most fulfilling and meaningful things I've ever done. Their writing is truthful, gritty, poetic and heartfelt. I hope we can write enough for an album one day", said Audrey.

In 2007, seeking Mecca, Audrey and Mez relocated to Nashville. In Music City, USA she found a small but flourishing city filled with music of all styles and lessons in the business that prove invaluable. A Winter project in 2008 became a songbook, 'Write Out Loud', a collection of Audrey's recorded songs from 1997 - 2008.
Audrey's American fan requests prompted the 2009 release 'Billabong Song', a 5-song collection of Australian folk songs recorded with Camile & Stuie and co-produced by Mark Moffatt.

Audrey's 2011 release was 'Come Find Me', Produced by Mark Hallman of Congress House in Austin, Texas. Musically it ranges from gentle acoustic ballads to rock, rap and a-capella. Lyrically it reflects the artist as a mature, satisfied, strong woman, unafraid to sing her truths. 'Resurrection Moon' was Auld's 2012 release, a retrospective of favorite songs from the last decade, plus two new tracks recorded in Nashville. To celebrate Woody Guthrie's 100th birthday, July 14th 2012, Audrey created a hand-made acoustic 5-track CD, 'WOOD'.

Recorded in Nashville, 'Tonk' was Auld's 2013 release. Produced by Kenny Vaughan and George Bradfute, 'Tonk' is a breath of fresh country air, right out of a Saturday night honky tonk. Backed by some of Nashville's best musicians, including Marty Stuart's The Fabulous Superlatives, Auld's voice is strong and clear and the songs are fun, poignant and catchy. Her first vinyl release is a 7 inch single of two additional songs, recorded during the 'Tonk' sessions, but not available on the 'Tonk' CD.
On receiving a cancer diagnosis in 2014 it was clear to Audrey that she should return to the healing and supportive community of Stinson Beach, California. Before leaving Nashville she recorded an 8-song album, 'Hey Warden' featuring 5 songs co-written with inmates of San Quentin Prison, a result of her writing workshops with the inmates.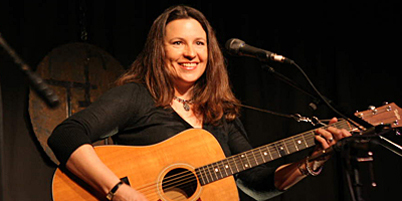 Audrey's ALBUM
:
The Alternate Root explains:
Changes in life curved Audrey Auld back to the support found in the Northern California community of Stinson Beach. Before leaving Nashville to cycle her life with the West coast, Audrey needed to complete a project she was involved in with prison inmates. 'Hey Warden' is the recorded result of a project that goes back eight years, when Audrey Auld played a show in San Quentin Prison in California. The performance led to Audrey hosting writing workshops which continued after her relocation to Nashville in 2007. Her group ranged between those who had never written creatively or shared their writing with anyone to experienced musicians who wrote and played in bands within prison walls. Audrey would initiate the writing session with a song swap, and then propose an idea or a title to explore in writing and after each session she would gather the papers. She would edit the inmate's words at home, crafting the stories and feelings into a song. Audrey added the melody, staying as true as possible to the words on their pages. An inmate dubbed the session as "our words, your voice". 'Hey Warden' is a collection of songs that opens prison doors for those on the inside to free words and thoughts. There is inspiration in the undertaking of 'Hey Warden', and redemption in the words of humans whose entire lives have become judged (often) by one moment in time. The songs on 'Hey Warden' are all results of the time Audrey Auld spent offering her experience and expertise with the inmates of San Quentin.


---
Although I never met Audrey in person and never saw her play live, I 'know' her already a long time, since the 2004 release of her 'Texas' album. I got interested by her open minded choice of song subjects and I was deeply impressed by the fact that she managed to move to the U.S.A. during a time, that almost nobody (married to a citizen or not) was allowed a permanent resident status. For a radio show ('AltCountry Cooking' at the time) I had to cut a decent session from two discs full of live material and it drove me crazy, as Audrey just never stopped talking! She was funny though... And I could easily imagine how well she went along with Fred Eaglesmith, a very similar type of performer, she toured extensively with him in 2008, creating the same kind of loyal following he has. Audrey received praise from great female singer-songwriters like Mary Gauthier and Eliza Gilkyson, she even won the heart of tough, sometimes acid tongued critic John Conquest (3rd Coast Music). What also impressed me: her song 'Too Far To Fall' was placed on the 'NCIS New Orleans' TV show (I love the various NCIS series).

I thought she would be much younger, but we are only a few years apart. Audrey has something 'indestructable' about her, that's probably why it came as a big shock when she had to cancel her European tour of 2014 due to her illness. Luckily she left us with this interesting EP and we wish her all the very best!

This album was recorded at Studio Forty One Fifteen, Nashville. Cover art by Felix Lucero: 'Blind Curve'.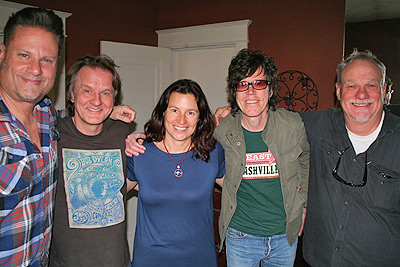 Audrey's TRACKS:

1. "Hey Warden": This is the first song to come from the sessions. Audrey says: "I hadn't hosted a songwriting workshop before, so I decided to give them the first line of each verse over a simple blues structure and see what happened." Oh yes, Audrey comes in with a strong, confident country holler and a wink at the Johnny Cash prison songs. Walking up to the warden, with a few requests... Kenny Vaughan plays guitars, Jeffrey Perkins is the drummer, they both sing along in the chorus, together with Mez Mezera, Audrey's husband, a plumber in daily life. This all results in trademark Audrey music, in a different (prison) setting.

2. "Poor Joe": Audrey received a letter from inmate Joe Askey, which prompted this beautifully arranged song. A 5m10s track, Audrey sings the plaintive melody, the backbone is a haunting and very effective rattle beat. I love the ominous electric guitar solo!

3. "Walls": In the songwriting workshop this song started with the powerful line: "If these walls could talk". A traditional midtempo country song, about tearing down the prison walls. It features another great guitar part, fine interplay with the keyboards. Dennis Wage plays piano and other keys on this album, Ralph Friedrichsen is the bassist and he also sings harmony vocals.

4. "I Am Not What I Have Done": The title of this song came from a line in an inmate's letter. There's redemption for all of us in the contemplation of this concept. One day in a life defining the future, the facts becoming clear within the story that unfolds. A simple acoustic yet urgent ballad, which sounds a bit flat when it comes to feelings, but that might have been done on purpose. Bad guy not showing his true feelings, that kind of thing.

5. "Oh Love": Audrey proposed writing a love song, which revealed the duality of love for the incarcerated men - the sweet, the bittersweet, anger, romance and remorse. Eamon McLaughlin plays the violins and Percy Person takes care of the programming, yes, samples have been used for this track. It creates an interesting tension between threatening voices from the underworld and Audrey's sweet romantic singing of the lovely, violin adorned melody. The lady never turned away from something unexpected and although this basically results in a pop song, I can appreciate what happens here.

6. "Naked And Nameless": When Audrey sang this song to the inmates during a writing session, the guys spontaneously sang along to the chorus. It was a very powerful moment. Within prison walls, the song takes on a very different context. Also outside prison walls, this is a catchy rocking song with a perfect organ part.

7. "Bread And Roses": It is with thanks to the 'Bread And Roses' organization that Audrey, and many other musicians and entertainers can connect with and entertain people living in institutions. Prior to Audrey's first visit to San Quentin Prison, she was given a list of rules to abide by within prison walls, including that it is forbidden to give anything to an inmate. Basically a long list of "no's" attached to what she could take: her guitar. This song is Audrey's gift to all the inmates. Another simple acoustic ballad, with smart and loving lyrics.

8. "Sunshine": This classic piano ballad was prompted by people's responses to Audrey's cancer diagnosis, which sparked the recording of this 'Hey Warden' album.

-----
Written & compiled by Johanna J. Bodde - May 3rd, 2015.